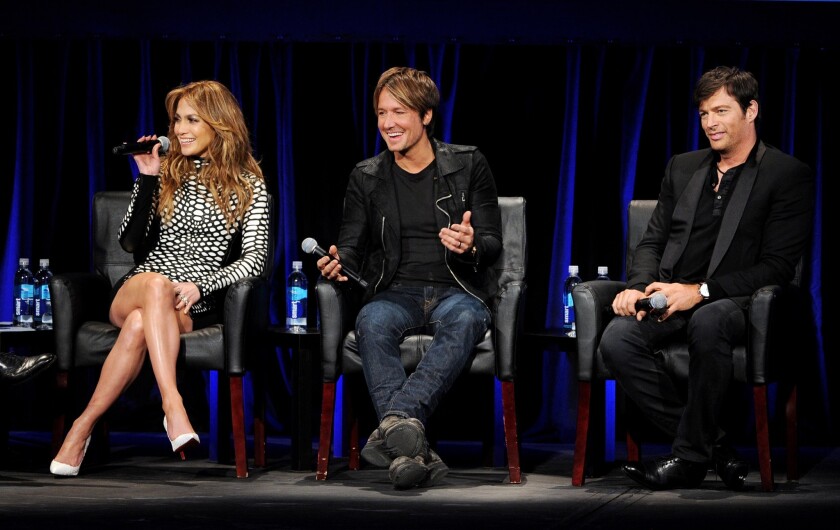 "American Idol" has done the unthinkable: It's gone back to basics.
After years of trying to find its mojo with high profile judges and format switches, the aging singing franchise has dialed it down for its latest season, which premieres Wednesday and Thursday.
Last season proved to be a disaster for the one-time ratings and talent juggernaut.
Ratings hit a record low and the talent -- as fierce as some contestants were -- took a backseat to the petulant behavior between superstar judges Nicki Minaj and Mariah Carey.
It was a conflict played up by producers in the hopes of finding ratings gold, and it was great TV until it became uncomfortable to watch Minaj and Carey pretend they wouldn't rather be going toe-to-toe with brass knuckles.
Can "Idol," now in its 13th season, bounce back? Ratings will be the first answer, but judging from the show's premiere team, "Idol" has smartly learned from its licks.
PHOTOS: 'American Idol' judges through the years
The new look is a mix of old and new.
Country crooner Keith Urban is now the lone returning judge from last year (veteran Randy Jackson will have a mentoring role on the new season). Jennifer Lopez, who departed in 2012 after two seasons, makes her return, and Harry Connick Jr. (he's mentored hopefuls in the past) joins the panel.
Viewers will sigh with relief to see this trio actually get along with one another. They listen, share in the laughs and coolly talk through decisions -- it makes for a captivating panel that's fun to watch.
While "Idol" feels breezier, the producers have figured out a way to build tension without opting for schmaltz.
The new season opens with a contestant's final moments alone before appearing before the judges. Courtesy of a well-placed camera, viewers see her shake off her nerves, psych herself up and do a once-overs in the mirror. Then a green light flashes, signaling it's her time.
It's called "The Chamber," and as gimmicky as it sounds, it's a surprisingly effective way to jolt the show back to its roots as a starmaker. The heart of "Idol" is finding raw talent, and the success of Kelly Clarkson, Carrie Underwood, Jennifer Hudson and plenty of others proves it can be done.
But that quest came with a price. Commiting to "Idol" as a viewer had become laborious as the show felt beefier each year with so much screen time given to building backstories, silly song and dance numbers to peddle cars and showcasing the gloriously terrible voices.
PHOTOS: Unexpected musical collaborations
When an early contestant announces he wants to twerk for the judges, it feels like a disaster in waiting. He's a mediocre twerker, but a good enough version of "Over the Rainbow" gets him a golden ticket -- and a reminder from Lopez that it's OK to have fun, but even better to be taken seriously.
It was the first sign that the attention mongers would be taking a backseat. There's only a tiny offering of laughable auditions. The change is a small one, but long overdue.
Viewers who gave up on "Idol" should tune in, if only for Connick. He's magnetic, as well as the most eager to hear new talent, the hardest to impress and the first to offer technical advice.
Connick is also a scene-stealer, giving Lopez a breakdown of vocal acrobatics, telling one teenage hopeful "no" just because her song was too mature and having fun with contestants who've never heard of him -- and fawning over the one who adored him.
Even rejections under this new regime go down easily, as those who get passed on get a helping of sound advice from the judges. For fans of those expletive-filled meltdowns, sorry, there were none.
More important, this year's talent feels fresher, likely due to contemporary hits taking the lead over American Songbook classics (producers promise this will carry over to live shows).
Songs like Grace Potter and the Nocturnals' "Paris (Ooh La La)," Sia's "Titanium" and Underwood's "Cupid's Got a Shotgun" got hopefuls that coveted golden ticket to Hollywood. A jilting take of Ed Sheeran's "Lego House" from a shy guitar-strummer, an intimate imagining of Katy Perry's massive "Roar" and a football player with the voice of an angel are among the first can't-miss auditions.
Whether "Idol" can rebound from those battered days remains to be seen, but at least it's fun to watch again.
ALSO:
2013: The year pop stars got raunchy (again)
Coachella music festival strikes big with OutKast reunion
Listen: Five would-be pop hits that never quite were in 2013
---