Review: Beck does the robot, plus Congos, No Age at Aitken's "Station to Station"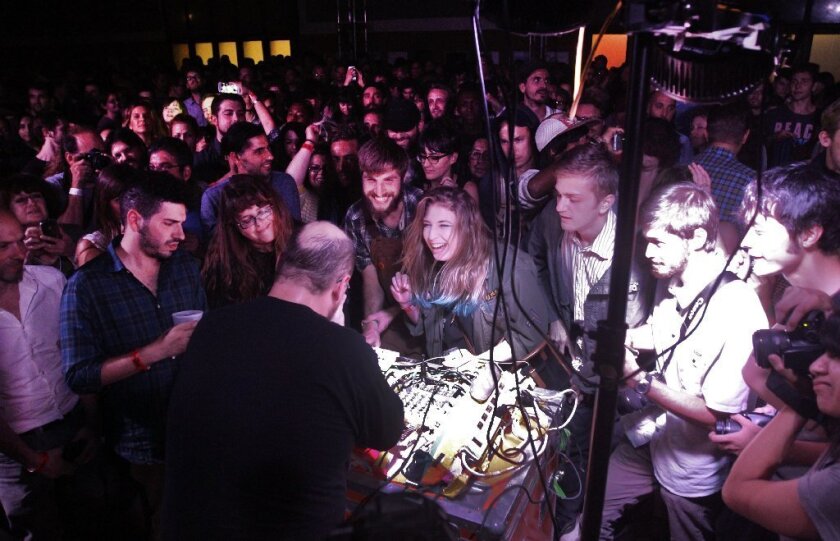 Los Angeles Times Pop Music Critic
Part ritualistic ceremony, part public art show, part corporate media event, artist Doug Aitken's "Station to Station" railroad art tour arrived at downtown Los Angeles' Union Station on Thursday night, parading through the grand waiting room with whip-cracking bluster and drum-pounding intent.
From Platform 13 and Aitken's train (itself part of the artist's work called "Nomadic Light Sculpture"), the procession passed travelers awaiting connections and spilled onto a big garden patio.
There to take over was L.A. guitar-drum-noise duo No Age, who offered a 20-odd minute wash of orchestrated hiss, strum and rhythm as hundreds of onlookers encircled them and helicopters passed overhead. The band concluded with My Bloody Valentine-suggestive feedback.
The assemblage then moved past yurts with experiential art from L.A. icon Kenneth Anger, Ernesto Neto, Urs Fischer, Liz Glynn, then into a grand hall where later in the night Beck would sing and rap, backed by an African American choir, and sound artist/sermonizer Dan Deacon delivered a smartphone-interactive concert/groove-contest/spiritual awakening/line-dance experience.
Take a breath. Absorb.
A wonderfully chaotic, expertly programmed mess of sound, vision and sensation unfolded over three hours, with stomping, flamenco-dancing twins; dueling auctioneers; and the sublime Jamaican vocal group the Congos, onstage with experimental band Sun Araw.
Inside a red yurt, Anger's influential films screened; in others, artisans were lettering and hawking Levi's.
STATION TO STATION: Inside the trip from Barstow to L.A.
The train and roving fair are on the final leg of a journey that began Sept. 6 in New York and has hosted a rotating band of musicians, including Cat Power, Ariel Pink, Suicide and Savages on the way to its last stop in Oakland on Saturday. With Levi's as the tour's benefactor/sponsor (and subliminally placed jeans logos all around), the goal was to generate art in public spaces, to celebrate rail, to document the vast expanse of America best viewed through the windows of rail cars. The cynic's take: Awesome way to market blue jeans.
And yet the Union Station happening, to put it simply, was pretty damned mind-blowing. This, though, is coming from someone for whom the program seemed specifically curated. To wit: Were you to ask me a list of my favorite works of the past half-century, high on it (among many others) would be: the films of Anger; the Congos' mystical album "Heart of the Congos," and Beck's "Sea Change."
The chance to experience so many foundational texts in a single evening doesn't arrive often. In one of L.A.'s most beautiful historic spaces, the crowd, comprising downtown hipsters, wealthy art patrons and Hollywood Hills movers/shakers, witnessed pieces of these magnificent creations and more.
In Anger's yurt, three high-definition screens showed his films, including "Lucifer Rising" and "Invocation of My Demon Brother." In the center were red sectional stools arranged to form a pentagram. While Anger's unsung work, vivid blueprints of the music video age, ran on the screens, his eerie soundtracks consumed the space.
Within the grand hall, sound bounced. An engineer's nightmare, yes, but given the music it was perfect. For example, as the Congos offered sweet vocal harmonies courtesy songs from their 1977 album "Heart of the Congos," bass and congas cascaded. With Sun Araw offering dub-heavy, mesmerizing rhythms, the trio and a backing female vocalist brought pure Rasta bliss into the room.
Between sets, experimental films from Nam June Paik, Olafur Eliasson, Bruce Conner, Raymond Pettibon and Nicolas Provost and others screened.
Deacon's set was, as usual, as much a musical happening as a concert, with the man at the center variously ring-leading the crowd through participatory dances. During one song, fans who had downloaded his "Wham City" smartphone app opened it as Deacon began the track. Music poured from phone speakers. Phone flashes strobed in rhythm, little screens moved through colors while Deacon screamed into a microphone pitched at helium-inhaler levels.
Closing the event was Beck, who played songs backed by percussion, keyboard and dozen-strong choir. Swapping from acoustic to electric guitar and back, the artist began with two of his most beautiful songs, "The Golden Age" and "Lonesome Tears," both from "Sea Change."
He began them singing alone, but as "Golden Age" moved into its sad refrain — "these days I barely get by" — the choir arrived through the crowd, offering accent while wending toward the stage.
"Where It's At," his ode to a pair of turntables and a microphone, was the night's exclamation point. Channeling an earlier self, Beck did the robot, led a side-step dance, rapped, testified and laughed. He got to his knees like James Brown.
The final gesture was the unspoken conclusion. "Station to Station" over, attendees departed through downtown's Union Station toward Metro trains, moving in unison along rails connected to those that led Aitken and his posse here, a vast web that, like the creations exhibited during the show, is so grand that it's easy to miss.
ALSO:
Late-night Kimmel show is timely gig for Paul McCartney, Justin Timberlake
Watch Haim cover Miley Cyrus' 'Wrecking Ball'
Rock the Bells cancels Washington, D.C., New York dates
Twitter: @liledit
---
From the Emmys to the Oscars.
Get our revamped Envelope newsletter, sent twice a week, for exclusive awards season coverage, behind-the-scenes insights and columnist Glenn Whipp's commentary.
You may occasionally receive promotional content from the Los Angeles Times.