Review: Miley Cyrus inspires a roar at Honda Center
Miley Cyrus emerges from a cloud of smoke wearing a shiny green one-piece reminiscent of the 1990s.
(Wally Skalij / Los Angeles Times)
Miley Cyrus leans in atop a car, showing off her cowboy boots with a money symbol.
(Wally Skalij / Los Angeles Times)
A massive face of Miley Cyrus that peers down at her fans serves as a backdrop to her concert.
(Wally Skalij / Los Angeles Times)
Miley Cyrus clutches a large red balloon -- just one of her props for the evening.
(Wally Skalij / Los Angeles Times)
Miley Cyrus crops up from a very Miley-esq prop. She slithers down a slide meant to represent her tongue. And she waves to audience -- she's back!
(Wally Skalij / Los Angeles Times)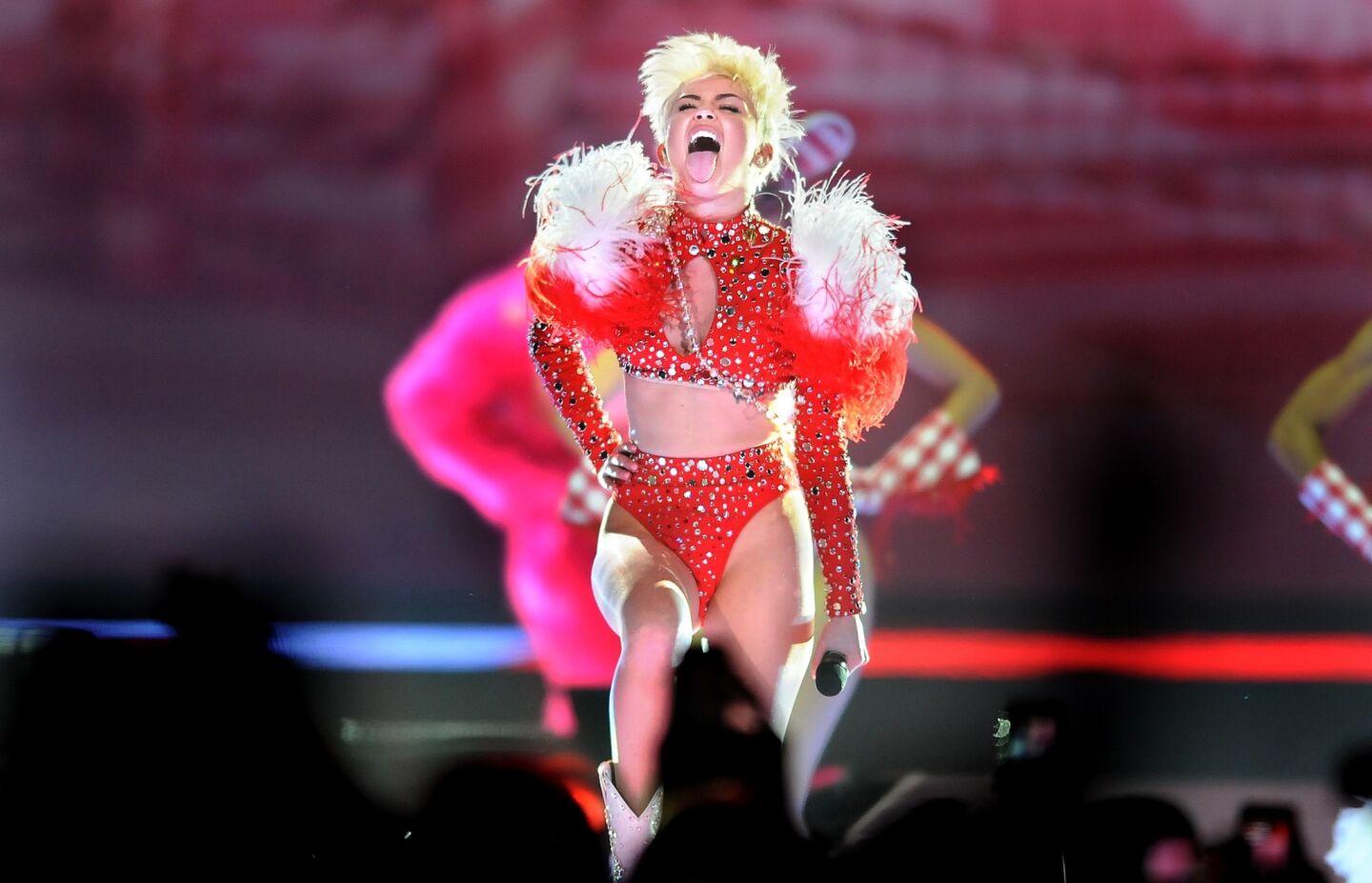 Miley Cyrus rocks the stage in a firetruck-red two-piece with feathers and sequins galore.
(Wally Skalij / Los Angeles Times)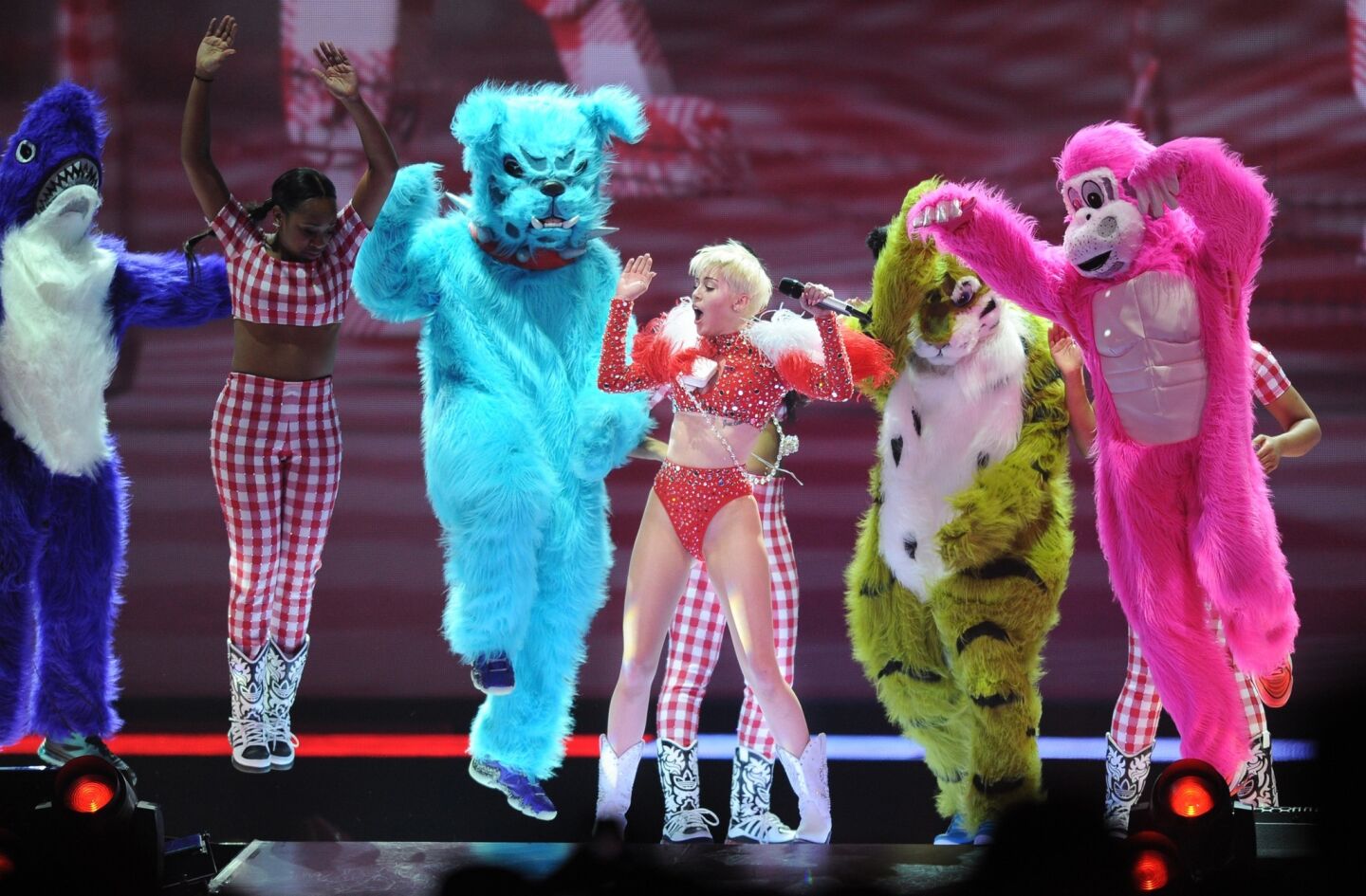 Miley Cyrus busts out dance moves with a handful of very large stuffed animals as her sidekicks.
(Wally Skalij / Los Angeles Times)
Miley Cyrus gets in synchronization with her back-up dancers as a blue stuffed animal tags along.
(Wally Skalij / Los Angeles Times)
Miley Cyrus looks to the side as the bright lights catch a glimpse of her blond pixie cut.
(Wally Skalij / Los Angeles Times)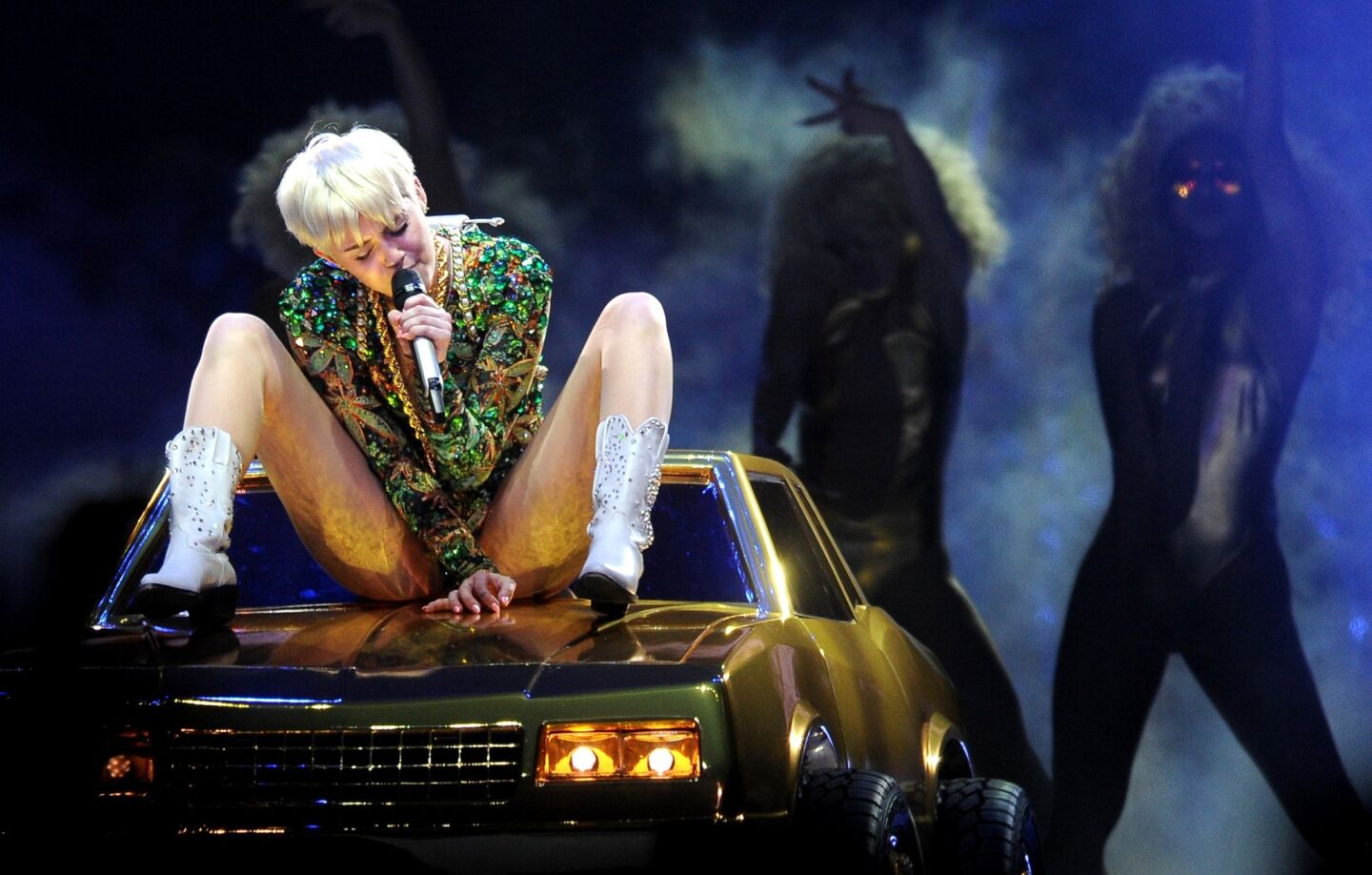 Miley Cyrus bursts into song atop a car, as dark, dark dancers glow behind her.
(Wally Skalij / Los Angeles Times)
With a swing, Miley Cyrus' hair gives off a Mohawk effect.
(Wally Skalij / Los Angeles Times)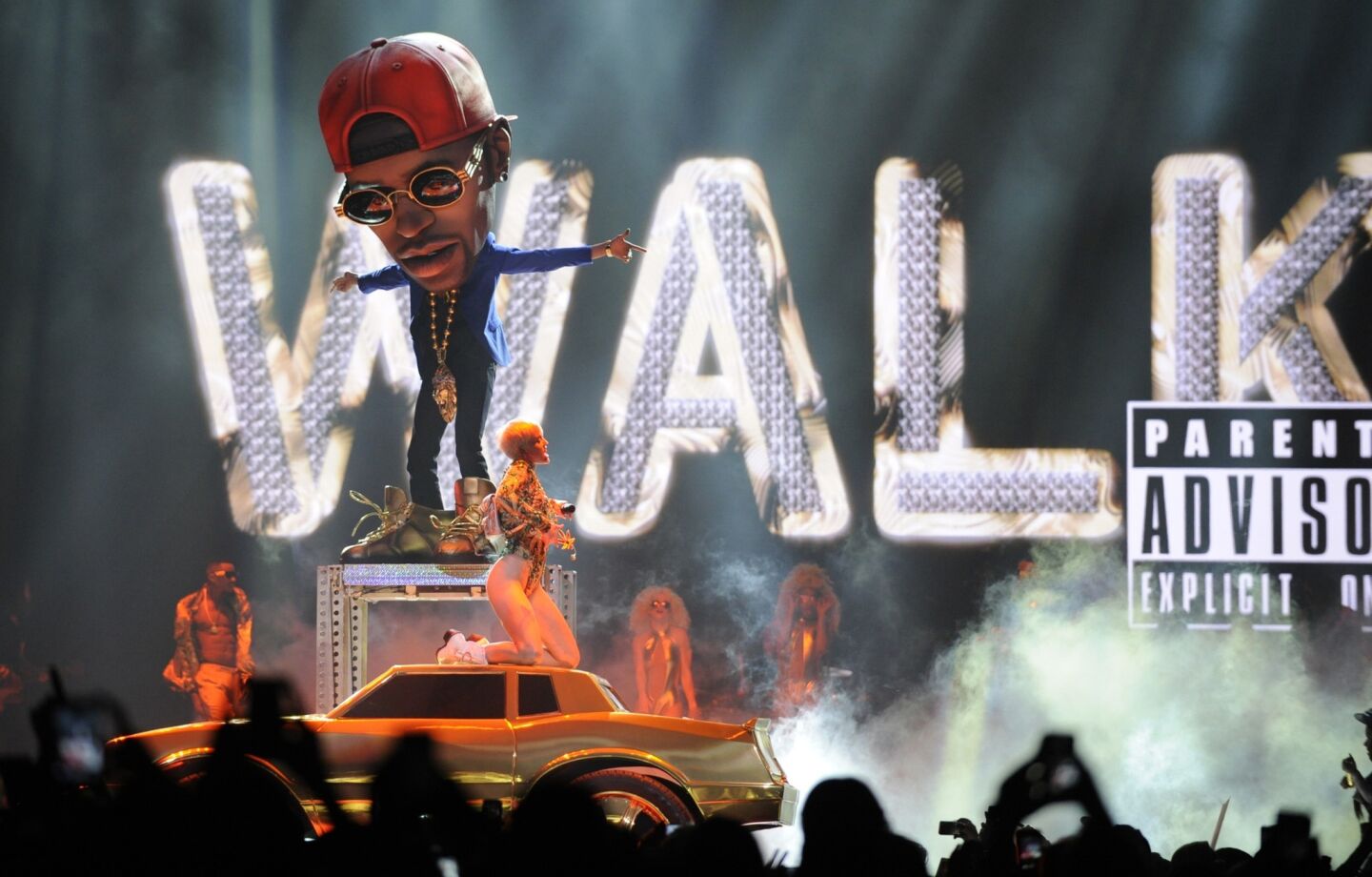 Miley Cyrus climbs to a car's roof, as a massive Wiz Khalifa look-alike statue glances down. Khalifa, Cyrus and rapper Juicy J. collaborated on a track called "23."
(Wally Skalij / Los Angeles Times)
Miley Cyrus gets cute for the camera.
(Wally Skalij / Los Angeles Times)
Miley Cyrus reaches high as the young pop provocateur adopts a power pose.
(Wally Skalij / Los Angeles Times)
Justin Bieber's crowd was loud. One Direction's too. And though they seem like somebody's uncles now, the Jonas Brothers once inspired the kind of shrieks that could knock down a lesser heartthrob.
But in my life as a concertgoer, I can't recall an audience operating at a higher volume -- and for as sustained a period of time -- as the one that Miley Cyrus thrilled Thursday night at the Honda Center in Anaheim. The Disney Channel child star turned hip-hop provocateur was kicking off the first of two Southland dates on her recently launched North American tour.
This wasn't an arena full of guys catcalling the 21-year-old singer, either. The capacity crowd had a female proportion large enough that some of the venue's men's rooms had been temporarily reassigned for women -- an indication that the outsize reaction Cyrus is looking for (and gets) is about more than titillation.
PHOTOS: See Miley Cyrus bring 'Bangerz' to the Honda Center
Thursday's show had plenty of that, of course; it held the male gaze with racy video projections and a series of high-cut leotards, including a sparkly green pot-leaf-patterned number Cyrus wore while twerking on the hood of a gold lowrider.
But though she's often pointed to as the nightmare embodiment of Millennial decadence -- indeed, several protesters milled outside the Honda Center, one holding a sign that threatened "The teachings of Smiley Virus will wreck your life" -- Cyrus' performance here felt like an affirmation of misfit tendencies, in whatever way they manifest.
She was offering uplift, not nihilism, and her fans, especially the young women, responded with force.
Many of the set pieces in the 100-minute concert were holdovers from the scorched-earth promotional blitz she's been on since the release last June of "We Can't Stop," the coolly assertive lead single from her hit album "Bangerz."
PHOTOS: Miley Cyrus before and after Disney
So you got the spanking and the stuffed animals from the "We Can't Stop" video, whose director, Diane Martel, put the show together with Cyrus. You got the foam finger from the Video Music Awards and the lip-syncing kitten from the American Music Awards.
And you got some of the country-fried musical arrangements that Nashville-born Cyrus used last month on MTV's "Unplugged," as in her cover of Dolly Parton's "Jolene" and "4x4," for which the members of her band donned red Devo hats in apparent homage to that band's Bob Casale, who died Monday.
Yet the production contained new bits too, and it was in these that Cyrus, scheduled to appear Saturday at Staples Center, channeled much of the positivity that coursed through the gig.
PHOTOS: Katy Perry in concert: onstage and offbeat
She emerged onstage sliding cheerily down an enormous replica of her oft-wagging tongue, one of many signs that Cyrus is in on the joke that some claim she's become. Later she took a sip from a fan's beer during "Maybe You're Right," in which she sang, "You might think I'm crazy / That I'm lost and foolish," over chiming pop-rock chords.
None of the faithful inside the Honda seemed to think that, though -- or if they did, they happily considered themselves the same. After close to a year in which so much of Cyrus' public activity has carried a pointedly oppositional energy, it was fascinating -- even heartening -- to watch her preach to her choir.
That inclusive vibe suffused her performance of "#Getitright," which had her frolicking on a giant bed with her dancers, the men more scantily attired than the women in boxer shorts and sneakers. It was there in "Do My Thang," accompanied by garish images of Cyrus in willfully unflattering (and un-pop-star-like) poses.
PHOTOS: Lady Gaga through the years
And it made a very powerful moment out of a gag, scored to her spacey ballad "Adore You," in which cameras roving the floor for couples willing to make out onscreen landed on two young men whose kiss inspired a deafening roar of approval from the crowd.
Leave it to Cyrus to make the vintage arena-rock custom of getting women to bear their breasts seem hopelessly old-fashioned.
Not that the singer had no use for arena rock. She employed its muscular guitars for appealingly grungy renditions of "We Can't Stop" and "Wrecking Ball," the latter of which could almost have passed for Lynyrd Skynyrd. And she remade "Party in the U.S.A.," one of two songs she played from her Hannah Montana days, as a kind of Rick Rubin-style rap-metal stomp.
Other styles swirled around her consistently assured vocals, including '60s-era soul in "FU" and Fleetwood Mac's polished pop in a dreamy take on OutKast's "Hey Ya!"
But the strength of Cyrus' music Thursday felt secondary to the strength of her message -- and how enthusiastically that message was received.
Smiley Virus saves.
ALSO:
Pharrell Williams, a 'Happy' and busy guy
Review: Demi Lovato keeps it real at Honda Center
Arctic Monkeys win album, group prizes at U.K.'s Brit Awards
Twitter: @mikaelwood
---
Your essential guide to the arts in L.A.
Get Carolina A. Miranda's weekly newsletter for what's happening, plus openings, critics' picks and more.
You may occasionally receive promotional content from the Los Angeles Times.