Review: One Direction brings the party to Staples Center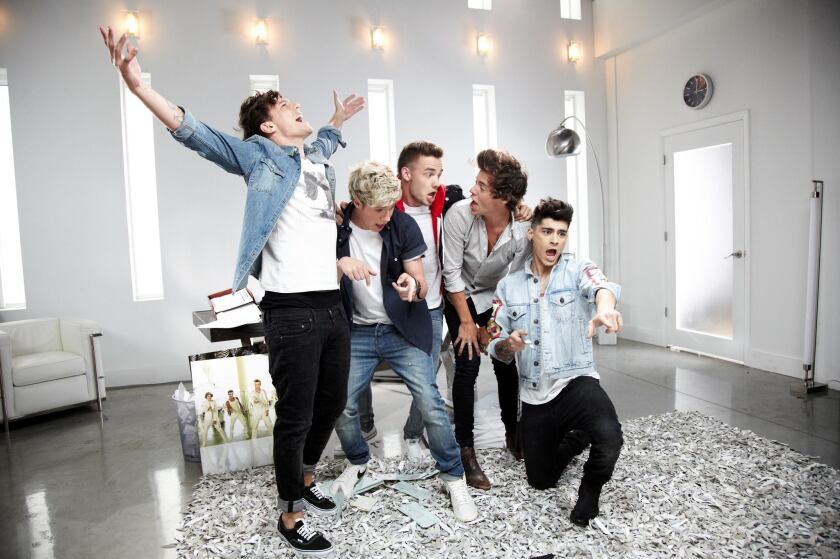 When Niall Horan of One Direction revealed Wednesday night that he'd "[come] here to party," it seemed reasonable at that point in the show to assume that "here" meant Staples Center.
That's where the British boy band was playing the first of four concerts this week -- as various members reminded the audience several times -- and where the group recalled taking in a recent Clippers game and watching Britney Spears perform in 2011. Selling out this room held some meaning for One Direction.
Within minutes of his pronouncement, though, you began to suspect that Horan was speaking more generally: He and his mates -- Liam Payne, Zayn Malik, Louis Tomlinson and Harry Styles, all between the ages of 19 and 21 -- had actually come to Los Angeles to party; Wednesday's arena gig merely justified using the corporate credit card.
TIMELINE: Summer's must see concerts
Assembled in 2010 after each of its five members tried out for the U.K. edition of "The X Factor," One Direction brings a sense of cheerful indifference to the boy-band experience. These lads don't dance -- not with any skill, anyway -- and they don't do the thing where each of them gets down on his knees and presents a rose to some lucky 12-year-old girl.
And though it reflects the handiwork of numerous Top 40 studio wizards, the rock-inflected pop of hits such as "What Makes You Beautiful" and "Live While We're Young" sounds like punk compared to the precision-geared R&B of 'NSync or New Kids on the Block.
None of which is to say that the band is lazy.
Its Staples run concludes the North American leg of a massive world tour in support of last year's "Take Me Home" album, which came out less than 12 months after One Direction's debut, "Up All Night"; the group has a third album due later this year, sometime after its 3-D concert film opens Aug. 30. There are also, inevitably, lucrative deals with Hasbro and Nabisco to tend.
PHOTOS: Iconic rock guitars and their owners
But at a moment when top-level pop acts such as Beyoncé and Bruno Mars are matching high-tech spectacle with old-fashioned razzle-dazzle, One Direction's concert felt almost comically laid back, two hours filled no more with music than with free-wheeling stage banter, including one bit where band members answered questions posed on Twitter and another in which Styles congratulated a crew member on his wife's pregnancy.
"They'd been trying for a while," he said with a mischievous smirk. "It was exhausting every day."
Ah, yes -- Harry Styles. If anyone in One Direction makes this bad-bro vibe work, it's the band's resident tabloid magnet, who judging by his outfit -- black jeans, black shirt, hair swept up beneath a stars-and-stripes head scarf -- has already entered his Keith Richards phase. (Media outlets seeking to document that outfit by photographing Wednesday's show were asked to sign a rather restrictive contract, which The Times declined to do.)
Here Styles got in the best naughty asides, leaving much of the night's singing to Malik, who soared in "Summer Love," and the stoking of the crowd to Horan, who strapped on an electric guitar and at least pretended to play during "Rock Me." Tomlinson and Payne were harder to tell apart, though Tomlinson scored a laugh when he informed the crowd that Horan's deep-necked tank top exposed some "brand new chest hair."
The music? It was fine, maybe even good-to-great in the jumpy "Kiss You" and the band's latest single, "Best Song Ever," which starts out exactly like the Who's "Baba O'Riley" before bursting into an ebullient mega-pop chorus about partying all night to a tune you can't remember in the morning.
That, of course, is One Direction telling us it's in on the joke, which it most certainly is. These guys may occasionally have been hard to hear over their fans' shrieking, but no one was laughing louder than they were.
ALSO:
Review: Tye Tribbett's frenzied, eclectic 'Greater Than'
Review: Bruno Mars brings Moonshine Jungle to Staples Center
Review: The Civil Wars' inner battle can be heard on latest album
Twitter: @mikaelwood

---
From the Emmys to the Oscars.
Get our revamped Envelope newsletter, sent twice a week, for exclusive awards season coverage, behind-the-scenes insights and columnist Glenn Whipp's commentary.
You may occasionally receive promotional content from the Los Angeles Times.