Review: Queen Latifah takes it easy at the Hollywood Bowl
Queen Latifah performs at the Hollywood Bowl on July 10, 2013, opening the venue's summer-long Jazz at the Bowl series.
(Lawrence K. Ho / Los Angeles Times)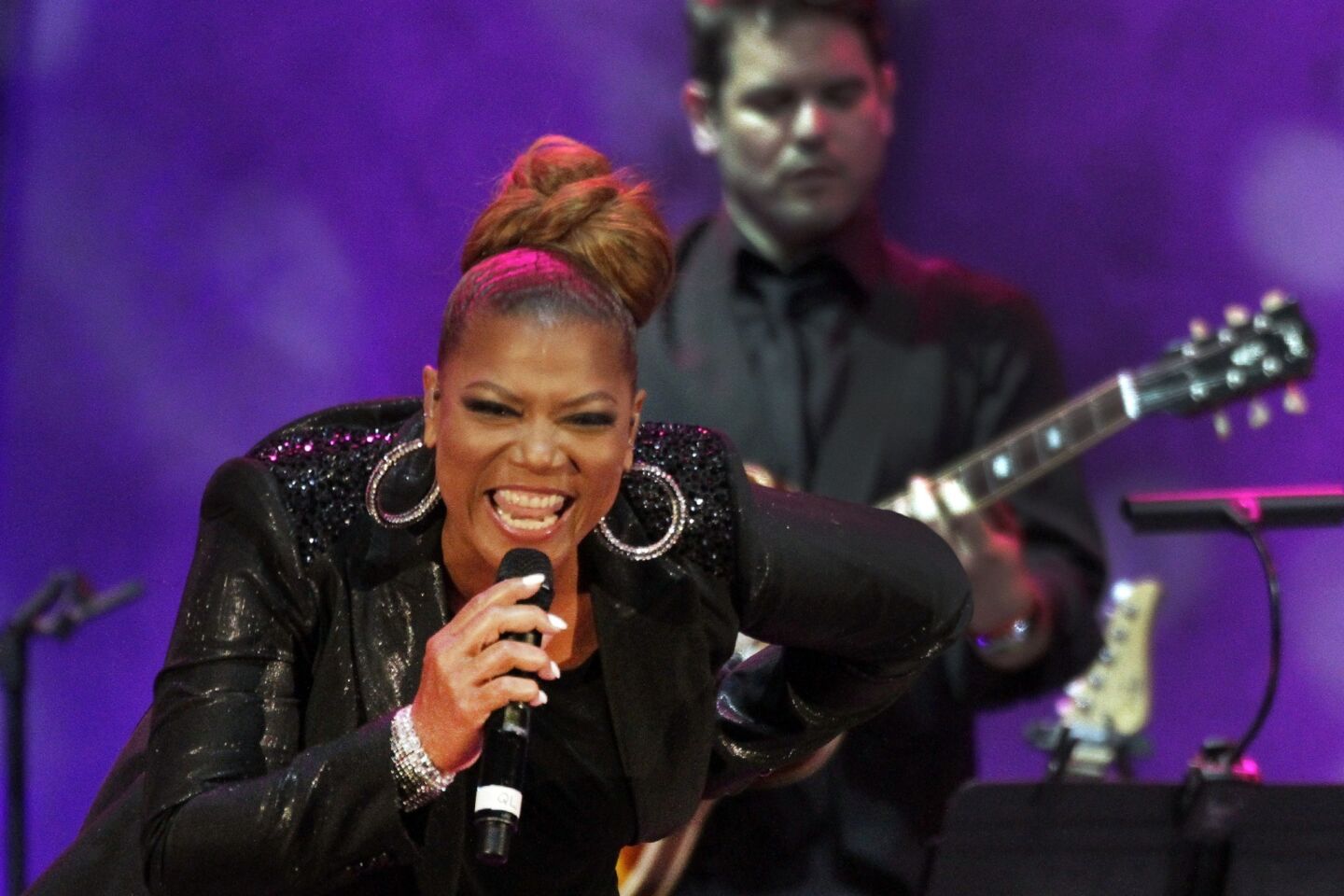 Queen Latifah
(Lawrence K. Ho / Los Angeles Times)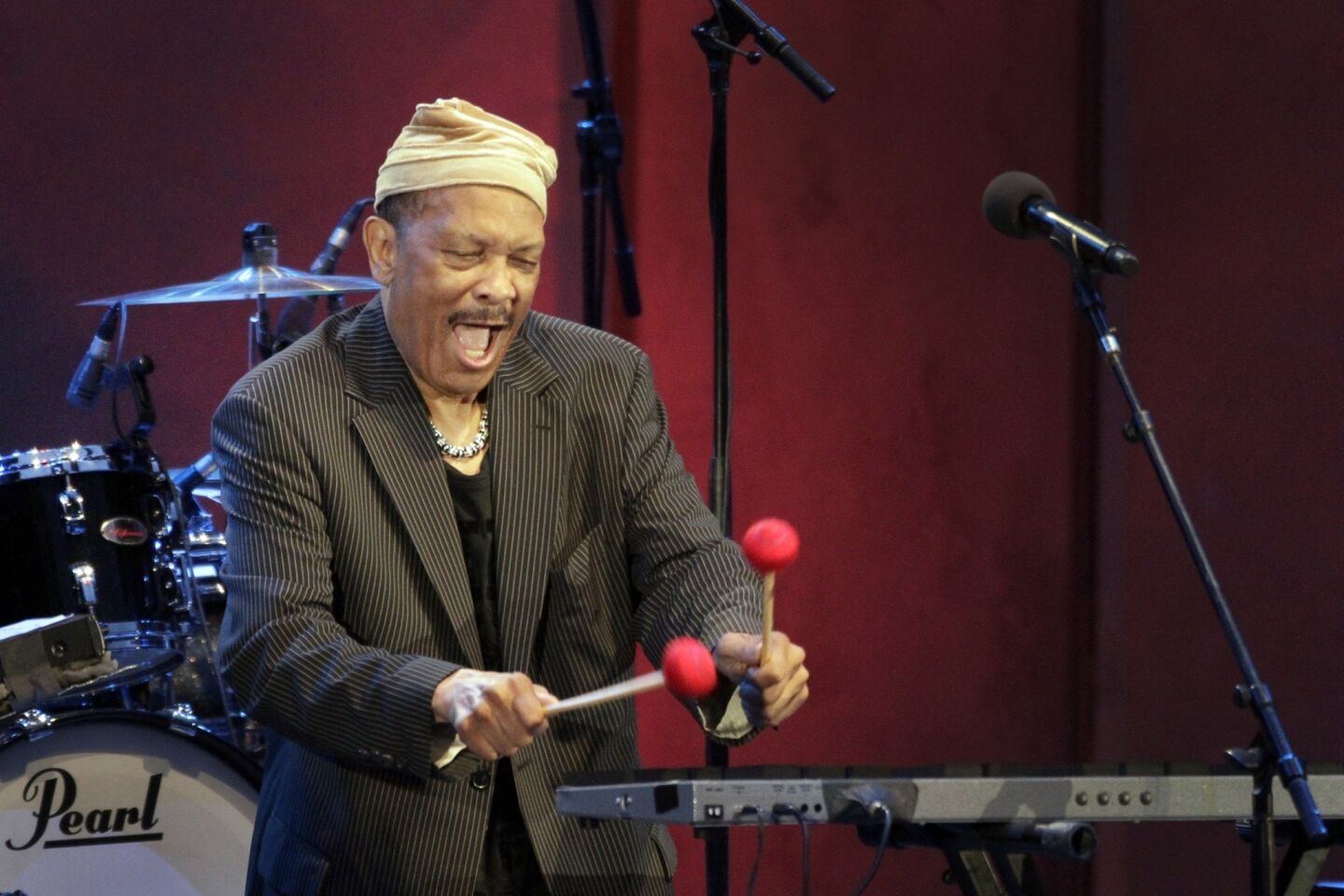 Vibraphonist and vocalist Roy Ayers.
(Lawrence K. Ho / Los Angeles Times)
Queen Latifah
(Lawrence K. Ho / Los Angeles Times)
Queen Latifah
(Lawrence K. Ho / Los Angeles Times)
Queen Latifah
(Lawrence K. Ho / Los Angeles Times)
Queen Latifah's Wednesday night concert at the Hollywood Bowl may have been the first installment in this summer's Jazz at the Bowl series, but it felt an awful lot like a dry run for her upcoming gig as the star of a daytime talk show to launch this fall on CBS.
From her first few moments onstage, when she promised the crowd that the evening's light drizzle was nothing to worry about, since "we're all gonna get wet together," Latifah seemed as much host as musician, guiding her audience through what she called a "musical journey" with the ingratiating ease of a television personality.
Which, of course, she already is: Not long after debuting as a rapper with 1989's still-vital "All Hail the Queen," Latifah began appearing in films and on TV; the new "Queen Latifah Show," in fact, is a redo of an earlier program that ran from 1999 to 2001.
TIMELINE: Summer's must see concerts
At the Bowl, where Latifah shared the bill with Roy Ayers, the veteran vibraphone player whose music has been widely sampled by younger hip-hop and R&B acts, she thanked her fans for sticking with her as she did "all the crazy things I've decided to try." It's a list that includes working as a model for Cover Girl cosmetics -- especially notable, she said, for a woman who's "a little girth-y in the hips."
She wasn't bragging, though. Or at least she wasn't bragging in a way that felt like it: The rundown of her accomplishments followed a peppy rendition of Peggy Lee's "I Love Being Here With You," a sign that Latifah understands that the secret of celebrity is making one's audience feel special.
As promised, her 90-minute set moved through a number of idioms and attitudes, from plush vocal-pop standards to brassy theater music to lithe old-school R&B; near the end of the show, she even dipped her toe into a bit of Dan Fogelberg-style soft-rock schmaltz -- risky, perhaps, given that she'd already said her shoes were pricey Jimmy Choos.
Backed by a capable 11-piece band, Latifah sounded fine in "I'm Gonna Live Till I Die" and "Trav'lin' Light," the latter from her 2007 album of the same name. And she comfortably navigated the sophisticated rhythms of Antonio Carlos Jobim's "Corcovado," which metamorphosed from a fluttering bossa nova to a busy salsa after Latifah told her musicians to "take it up a notch."
Yet these were remarkably shallow readings of such deep material, with nothing in the way of fresh insight into the music or Latifah's connection to it.
She made far more room for herself in "Simply Beautiful," the early '70s Al Green tune, delivering the lyrics in a breathy murmur that seemed to reflect real desire rather than its show-biz representation.
And she was better still in a pair of her decades-old rap songs: "U.N.I.T.Y.," about how "a man don't really love you if he hit you," and "Just Another Day…," for which Ayers reappeared and delivered a fusillade of notes on his instrument before steering the groove into his own "Everybody Loves the Sunshine."
Latifah was channeling the street-wise intensity she once embodied, providing some welcome ripples in an otherwise placid performance. But even here her media-star charisma served as a kind of lifeboat for anyone who felt thrown overboard.
"Some of you can say you went to your first rap concert tonight," she told the crowd, full of Bowl-subscriber types perhaps unfamiliar with her early work. Then she gave just a little push. "At the ripe old age of 75."
ALSO:
Blind Boys of Alabama to collaborate with Bon Iver
Jack White's Third Man Records to issue Jay-Z vinyl
Randy Travis is recovering from stroke, in critical condition
Twitter: @mikaelwood
Get our L.A. Goes Out newsletter, with the week's best events, to help you explore and experience our city.
You may occasionally receive promotional content from the Los Angeles Times.