Review: The soundtrack and score for 'The Amazing Spider-Man 2'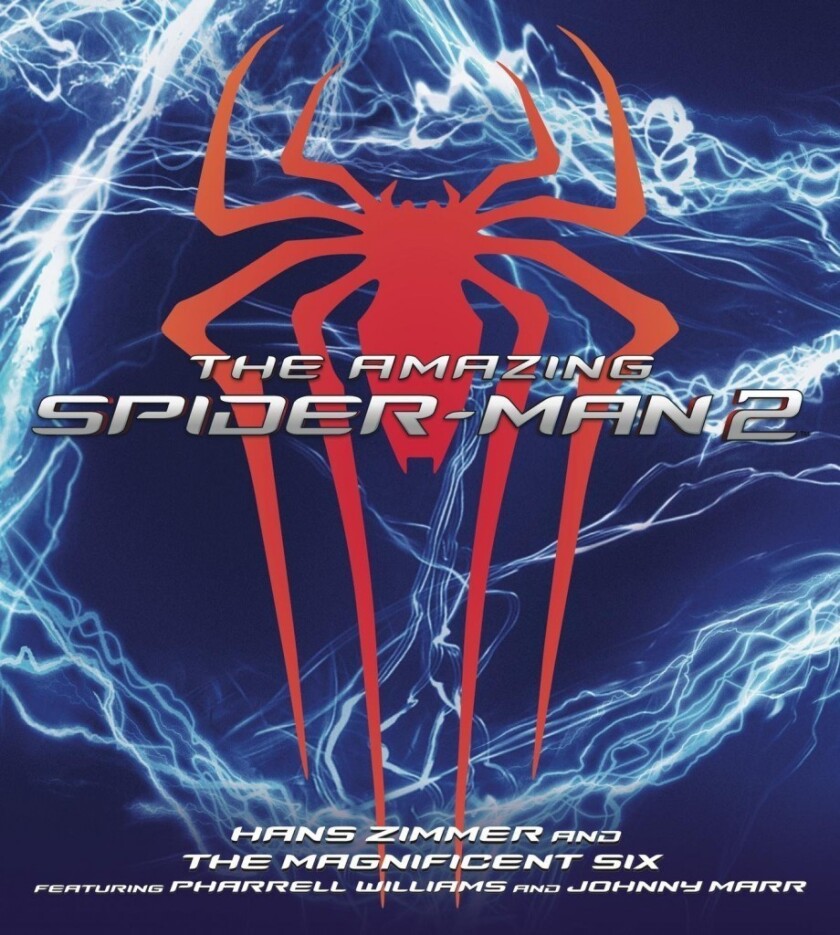 Los Angeles Times Pop Music Critic
Outside of the darkened theater, what use are stand-alone action movie soundtracks such as "The Amazing Spider-Man 2"? As a tool to relive Hollywood action via headphones while pretending to leap tall buildings? To add big-screen drama to, say, the act of filing your taxes?
Through two-plus hours of music from and "inspired" by the latest installment of Marvel's superhero franchise, the release offers 31 pieces -- screeching chase-scene strings, dubstep-inspired menace, synthesized melodies -- to accompany Andrew Garfield's arachnoid acrobatics.
A favorite for these kinds of films, Hans Zimmer composed music to be performed by a band dubbed the Magnificent Six: Pharrell Williams, Johnny Marr (the Smiths, Electronic), Michael Einziger (Incubus), Junkie XL, Andrew Kawczynski and Steve Mazzaro. But the all-star band conceit for such an endeavor, while impressive, seems pointless given that the goal of a great score is to vanish within the story, serving its needs without pulling viewers away to contemplate a Smiths reunion, or whatever it is Pharrell actually did here.
PHOTOS: Concerts by The L.A. Times
Still, tracks like "Sum Total" and "That Spider Guy" might be good for weight-lifting, and the hypnotic "Electro Suite," at over 12 minutes of bass wobble and creepy chanting, will freak out the easily spooked. It's certainly not recommended for kids.
But why consider buying a "deluxe edition" of this soundtrack? The label is banking on the bonus tracks, which feature new music from Alicia Keys, Pharrell, the Neighborhood, LIZ, Phosphorescent and, for a brief moment, Kendrick Lamar. But don't let that tempt you. This is a release best consumed through streaming services -- if only to punish Keys for her entry, "It's on Again."
Riddled with cliches, lazy phrasing and a concept seemingly rushed on deadline, the track is justifiably buried at the bottom of Disc 2. Within three minutes, she crams lyrics like "eye of the tiger," "there's no day off for heroes," "fate has spoken" and "a lonely hero trying to fight my battles" into a mishmash of catch-phrases as tired as they are uninspired. That the song "features" Lamar is only true for the first -- and best -- moments of the track.
L.A. band the Neighborhood works a stuck-in-cement rhythm within a stab at U2-esque EDM glory. Pharrell attempts his best "bored John Legend" impersonation on the ballad "Here," and succeeds. By the end of the second disc, the collection has confirmed its utility: As a loss-leader marketing tool for a billion-dollar film franchise -- and a recording to add to your Spotify queue for that one time you might actually listen to it from start to finish.
Various Artists
Original Motion Picture Soundtrack to "The Amazing Spider-Man 2" (Deluxe Edition)
(Columbia Records)
2 stars out of four
ALSO:
Coachella 2014: A makeover for Weekend 2
Exclusive: OutKast to headline BET Experience
Lana Del Rey, selfie-queen, dominates 'West Coast'
Follow Randall Roberts on Twitter: @liledit
---
From the Emmys to the Oscars.
Get our revamped Envelope newsletter, sent twice a week, for exclusive awards season coverage, behind-the-scenes insights and columnist Glenn Whipp's commentary.
You may occasionally receive promotional content from the Los Angeles Times.