Ringo Starr presents photos of the past, music for the present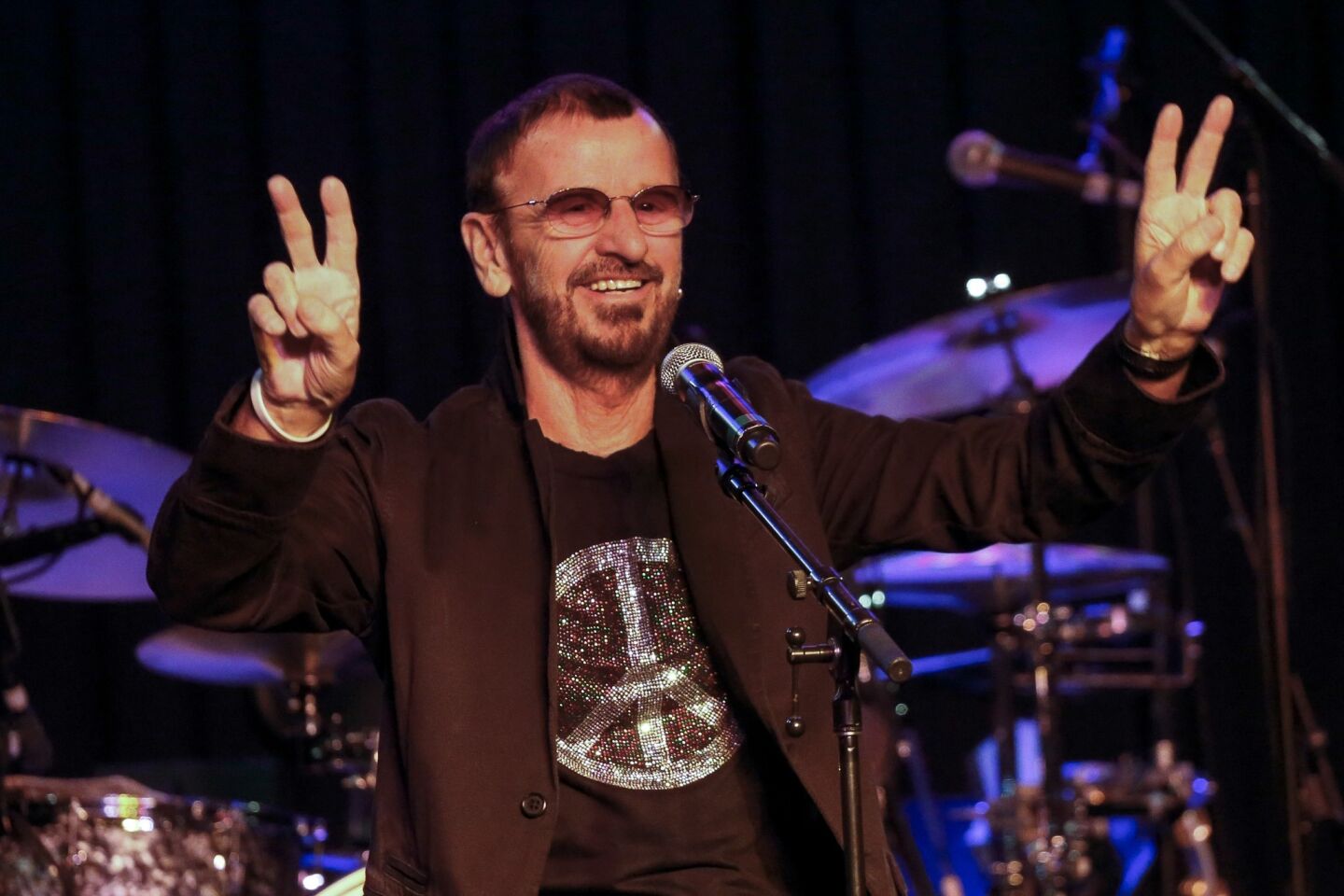 Ringo Starr performs in Hollywood as part of an intimate Wednesday event tied to his new book "Photograph," which includes images from throughout his life, including, yes, his years in the Beatles.
(Jay L. Clendenin / Los Angeles Times)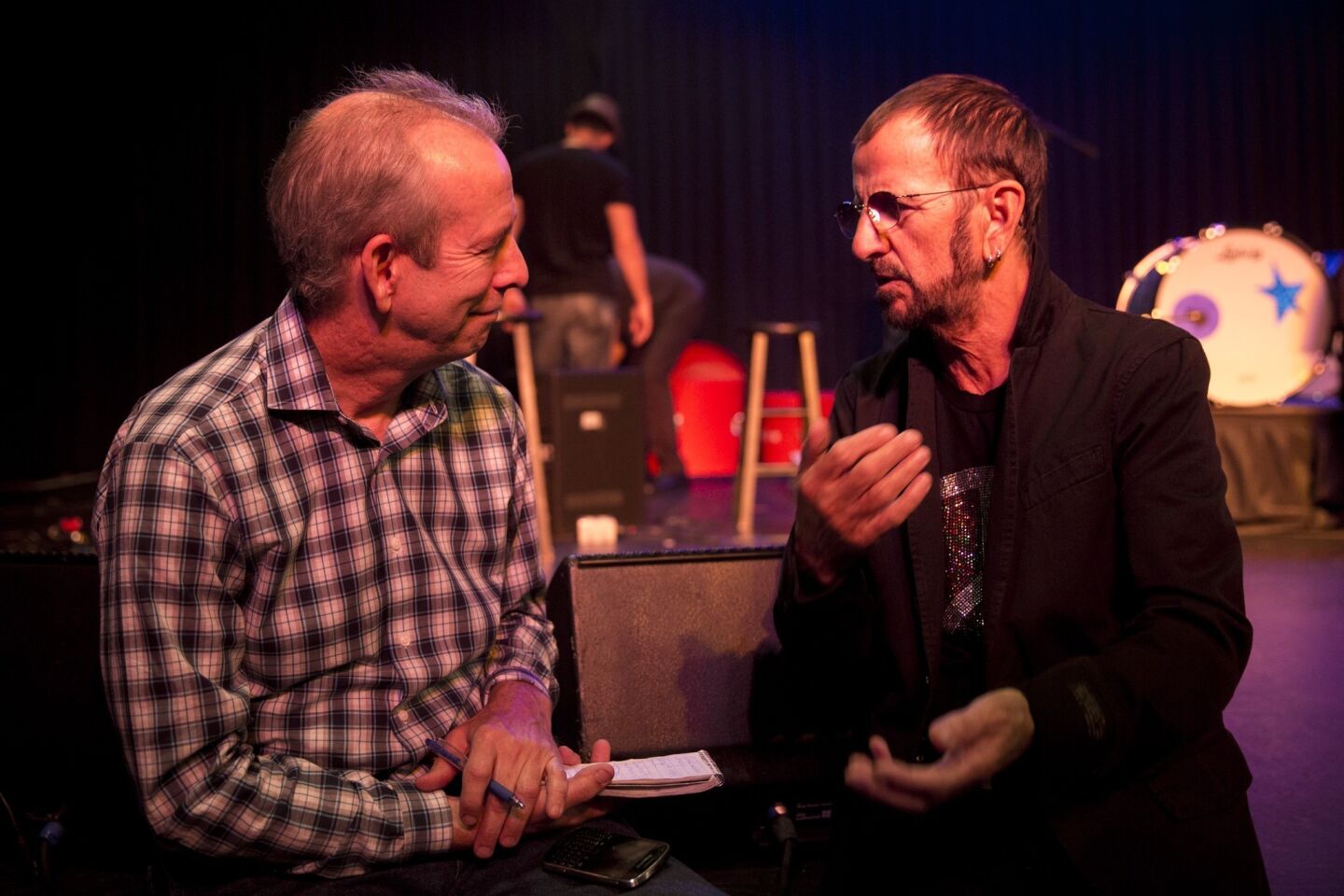 Times staff writer Randy Lewis interviews Ringo Starr.
(Jay L. Clendenin / Los Angeles Times)
Ringo Starr, left, poses for photos with a young fan.
(Jay L. Clendenin / Los Angeles Times)
Ringo Starr performs with his All-Starr Band at Studio Instrument Rentals in Hollywood.
From left, guitarist Steve Lukather (of Toto), bass guitarist and singer Richard Page (of Mr. Mister), Starr, drummer Greg Bisonnette and guitarist/singer Todd Rundgren.
(Jay L. Clendenin / Los Angeles Times)
All-Starr Band members Gregg Rolie (of Santana), left, Steve Lukather (of Toto), Mark Rivera, Starr, Richard Page (of Mr. Mister), Greg Bisonnette and Todd Rundgren.
(Jay L. Clendenin / Los Angeles Times)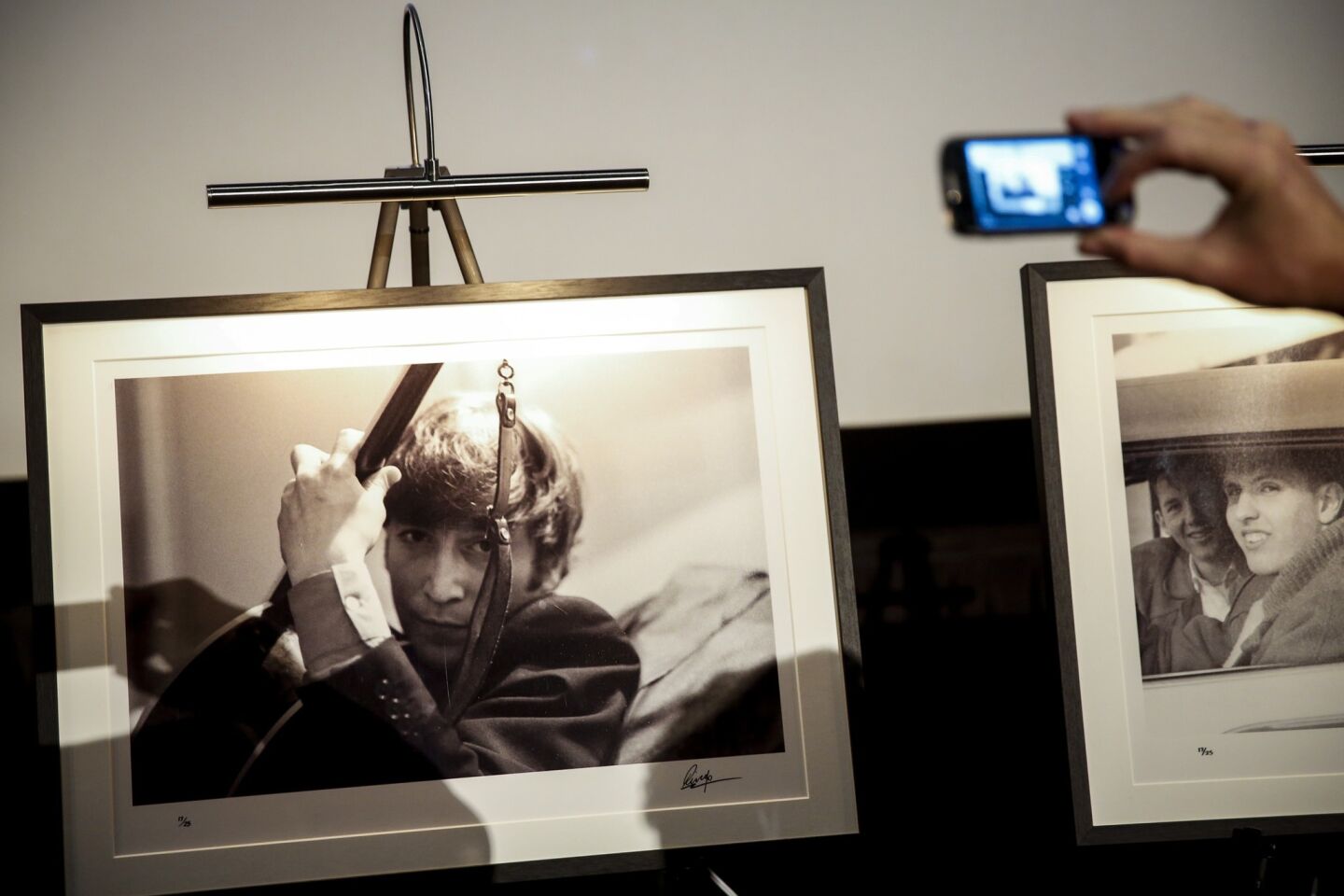 Ringo Starr's photography from his new "Photograph" book is displayed at the ArcLight Cinemas in Hollywood for Wednesday's gathering.
(Jay L. Clendenin / Los Angeles Times)
Ringo Starr speaks at the launch of his new photography book, "Photograph."
(Jay L. Clendenin / Los Angeles Times)
Ringo Starr recounts a story of kids in a car yelling to the Beatles.
(Jay L. Clendenin / Los Angeles Times)
"Photograph" documents Ringo Starr's life and the Beatles.
(Jay L. Clendenin / Los Angeles Times)
Slide shows of amateur photography aren't usually premiered at the ArcLight Cinemas in Hollywood, but when you're a Beatle, rules are often bent.
"That's one of me!" said Ringo Starr excitedly when he saw his face on the big screen Wednesday. "I like that one!"
Starr, 73, was kicking off a day of media interviews pegged to the publication of his visual autobiography, "Photograph," and his forthcoming All-Starr Band tour of South America and Mexico.
He offered up dozens of photos of, or by, himself and the three bandmates he refers to as "the lads" — John Lennon, Paul McCartney and George Harrison. The snapshots form a central part of the photographic narrative contained in the limited-edition "Photograph" book coming from England's high-end Genesis Publications.
PHOTOS: Ringo Starr: A day in the life
Starr told a small group of reporters and fans who scored admission to the morning session at the ArcLight that he first picked up a camera when he was 17 or 18 and has carried one with him ever since.
A dozen of his shots were enlarged, framed and put on display at the front of the theater where Starr held court following comments from several speakers including drummers Dave Grohl of the Foo Fighters and Nirvana, and Steve Gorman of the Black Crowes.
"I've spent my whole life paying tribute to or ripping off Ringo," said Gorman, who had just flown in from New York for the event.
Starr said the book, which came out earlier this year in a digital edition designed for iPads, is in part his response to requests for him to write a book about his life.
"I've been asked to do my autobiography," he said at the press conference, "but they're really only interested in eight years," referring to the span from when he joined the Beatles in August 1962 until the Fab Four acrimoniously disbanded in April 1970.
"But I had a life before I joined the Beatles, and I've had one after I left," he said. "There would be five volumes before I got into the Beatles. I can't remember ever reading anyone's autobiography. It's just too much reading. I thought this was a better way to do it."
PHOTOS: 'The Early Beatles Collection'
The physical version of "Photograph" is a hand-bound limited edition of 2,500 copies, signed by Starr, selling for $550 in the U.S. Its 304 pages include about 240 photographs, both those of Starr and many he shot himself and is sharing publicly for the first time.
About 100 fans attended the book launch session, some by paying $40 for admission. Others took advantage of two pricier packages, the first including a copy of the autographed book and VIP seating at the book launch for $740. A dozen Starr enthusiasts went all in for an "All Access Areas" ticket covering the price of the book, entrance to the book session as well as the rehearsal/performance, their choice of a signed, limited edition print of one of Starr's photos and a photo of themselves with Starr for $4,415. Genesis co-owner Nick Roylance said the AAA buyers flew in from Boulder, Colo., Boston, England, Germany, Japan, New Zealand and Australia.
Starr said his proceeds from the sale of the books and the photos will be donated to the Lotus Foundation, the nonprofit founded by Starr and his wife, actress Barbara Bach, to support charitable projects advancing social welfare. Roylance said the company, which issued Starr's previous book "Postcards From the Boys" in 2004, would also would make a donation to Lotus for each book sold.
Asked by moderator Melinda Newman if it was true he had never taken a photography course, Starr drolly replied, "Never took a drum lesson either."
Starr was accompanied by Bach and George Harrison's widow, Olivia Harrison, as well as the members of the All-Starr Band. The entourage departed with him at the end of the book session to put in a couple of hours rehearsing down the street at Studio Instrument Rentals, before reopening the doors to onlookers.
Invitees reconvened mid-afternoon to hear Starr preview snippets of the material he will be playing on the South American tour. As always since he started the All-Starr Band in 1989 with a rotating roster of rock and pop performers, Starr alternated his Beatles and solo hits with theirs. The latest lineup includes Todd Rundgren, Toto lead guitarist Steve Lukather, Mr. Mister's Richard Page and Santana's Gregg Rolie along with adjunct touring drummer Gregg Bissonette and keyboardist-saxophonist Mark Rivera.
For the rehearsal run-through, they offered abbreviated versions of Starr's "Boys" and "With a Little Help From My Friends," Rundgren's "I Saw the Light," Toto's "Rosanna" and Mr. Mister's "Kyrie." Starr noted another number had just been added to the set list with Spanish-speaking audiences in mind, Santana's "Oye Como Va": "I'd love to do 'A Little Help' in Spanish," he said with a laugh. "It could be done — but not by me."
In a question-and-answer session that followed the brief performance, Rundgren commented about the camaraderie among the members of the All-Starr Band, who have been together since 2012, noting that, "We hang out together, we eat together, we genuinely like being together."
Added the ever-witty host, "The spirit of this band is very close — they really do eat together." A few minutes later, he dropped the whimsical tone and said, "I don't want this band to break up because the chemistry is so good." As a result, plans are under way for more tour dates in 2014.
Asked about his motivation to continue touring, Starr responded with a quip that camouflaged his continuing passion for making music.
"For myself," he said, "I'm here because I've got nothing better to do."
Twitter: @RandyLewis2
---
Get our L.A. Goes Out newsletter, with the week's best events, to help you explore and experience our city.
You may occasionally receive promotional content from the Los Angeles Times.