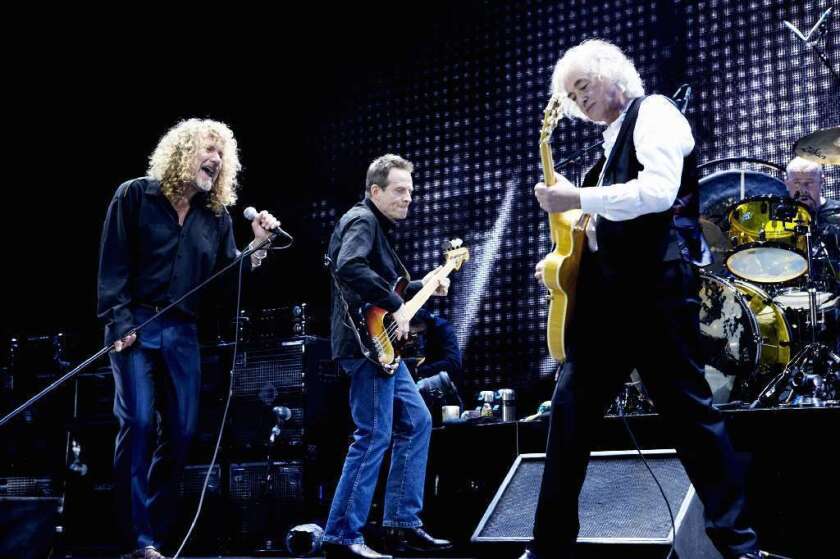 While Led Zeppelin fanatics are still holding out hope for a reprise of that 2007 reunion performance, they can at least count on a few upcoming dates with some the band's key members.
Starting in September, Robert Plant will tour alongside the Sensational Shape Shifters for a seven-show North American tour. They'll support his new album, "Lullaby and … the Ceaseless Roar," with an Oct. 7 stop at the Hollywood Palladium.
The new disc, due Sept. 9, will be Plant's 10th solo studio album. The 65-year-old declared in a press release that the album will be "a celebratory record, powerful, gritty, African, Trance meets Zep." He's posted a live video of the record's lead single, "Rainbow."
Led Zeppelin bassist John Paul Jones has also kept busy over the years with some noteworthy collaborations. He wrote and recorded with the Los Angeles-based supergroup Them Crooked Vultures, a trio that includes Foo Fighters' Dave Grohl and Josh Homme of Queens of the Stone Age.
Jones is currently featured in a group led by folk artist Gillian Welch's main collaborator, the Dave Rawlings Machine. They're booked for an L.A. show at the Cathedral Sanctuary at Immanuel Presbyterian. Coincidentally, it's on Oct. 6, the day before Plant's show.
Twitter: @jimeasterhouse

---