Slayer's Jeff Hanneman: 10 clips that showcase his fury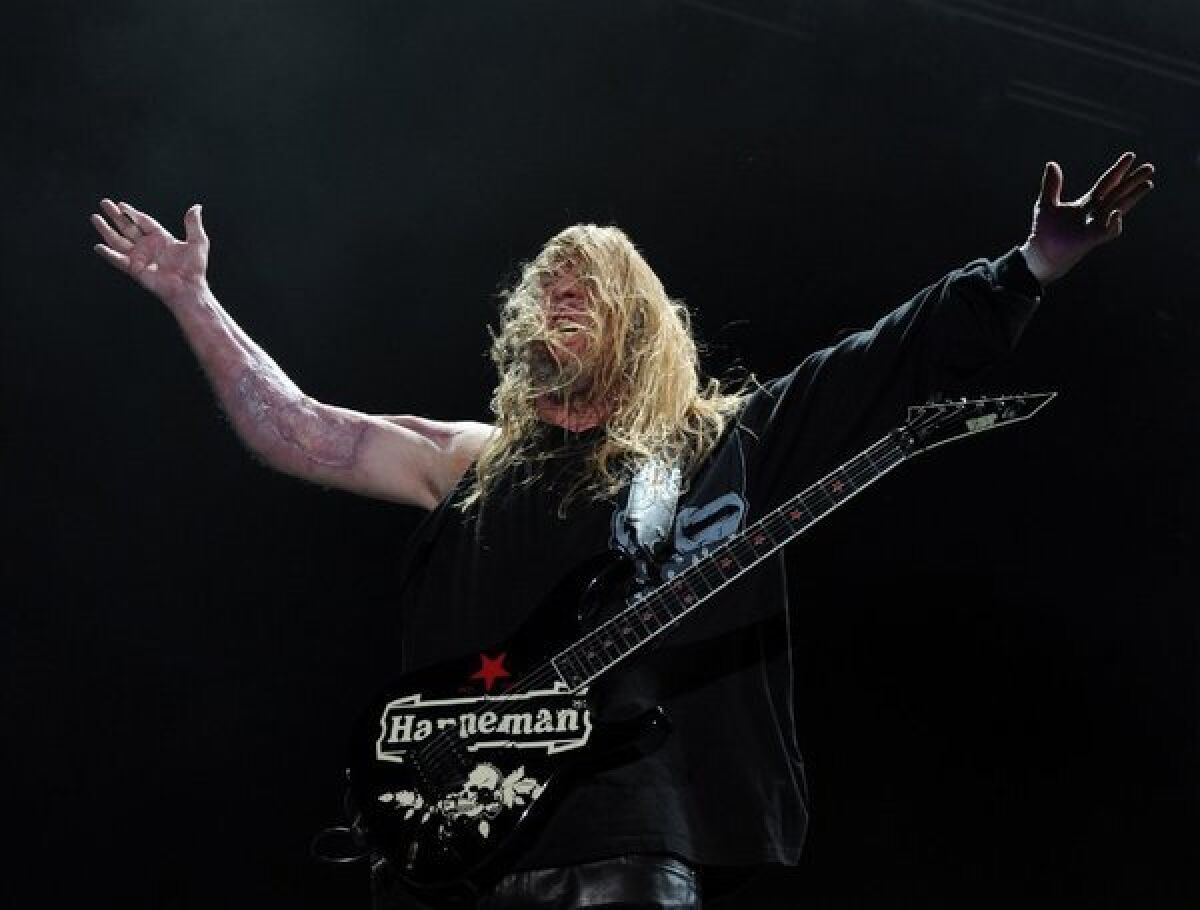 Los Angeles Times Pop Music Critic
There are times when it's best to let the riffs, tangled leads and headbanging speak for themselves. Slayer co-founder Jeff Hanneman, who died Thursday, was by all accounts a silent, reserved presence in real life, but when he stepped onstage to play guitar, his musical voice was monstrous.
His distorted onslaught continues to inspire fans of extreme music across borders and generations. Entire heavy metal subgenres including speed metal, black metal and doom metal wouldn't exist without his band's influence.
Below, via clips from throughout Slayer's career (though concentrated on those insanely feverish early years) are 10 reasons why Hanneman's loss has the metal community screaming his name.
PHOTOS: Iconic rock guitars and their owners
"Raining Blood," "Angel of Death" at the Stone, San Francisco, 1986. On metal site Decibel, writer Justin M. Norton captured Hanneman's playing: "Hanneman was a singular entity on stage: feral, driven, seemingly angry. There were never any niceties when he played: it was plug in, power through and move on — and possibly leave a venue without a few rows of seats. … Slayer and Hanneman's sound is an obelisk. No band can replicate it. For generations, bands that even tried to open for them had a long night ahead."
"Black Magic" at the Roxy, 1983. Hanneman met Slayer co-founder Kerry King when he was checking out a band rehearsing in the office building where Hanneman worked, according to an interview in Guitar World magazine (as referenced in Revolver's appreciation): "I worked in an office building at the time, and this other band practiced in one of the rooms. After work, I'd go hang out with those guys and play, just to learn the instrument. Kerry was actually trying out for that band, but we were more in tune with one another, musically speaking, so we decided to start a group. He also played with Tom [Araya] in another band, and he knew a drummer that lived on his block. So it all just fell together."
PHOTOS: Best albums of 2012 | Randall Roberts
"Chemical Warfare," 1984. Revolver magazine's Golden Gods ceremony on Thursday night turned into a tribute to Slayer's co-founder. "Jeff wrote some of the best riffs of all-time," said Testament's Alex Skolnick, according to metal site Loudmouth.com. "He was someone who carried himself not like he was a big star. He was a really down to earth guy. A lot of us claim to be that, but not all of us are as down to earth as we claim to be. But he was just that guy. He liked his beer and sports, but he just happened to write great riffs.
"Angel of Death," date unknown. Also unknown is whether any attendee of this concert ever fully recovered from the assault.
"Cult," live on "The Henry Rollins Show." Slayer's early innovation was blurring the line between hardcore punk rock -- at the time referred to as "thrash" -- with the searing heavy metal and banging heads of Venom, Merciful Fate, Judas Priest and Iron Maiden. In 2006, Slayer performed on former Black Flag singer Henry Rollins' show on IFC.
"War Ensemble," live at Wembley Stadium. By the late 1980s, Slayer was performing arenas. This version of "War Ensemble" is from Wembley Stadium, 1990.
"Hell Awaits," 1986. Whether or not one believes in the notion of heaven and hell, in Slayer's judgment the latter certainly exists, as illustrated above.
"Tormenter," Woodstock Club, 1983. This early performance at the Woodstock Club illustrates the power of the band a few years after it formed in 1981. Their six-song set included "Evil Has No Boundaries," "Crionics," "Tormenter" (shown above), "Black Magic," "Die by the Sword" and "Aggressive Perfector."
"Die by the Sword" first European performance, Poperinge, Belgium, 1985. Slayer not only changed American metal, but after they and kindred spirits Metallica landed in Europe, the longhaired upstarts quickly and loudly informed the region that birthed heavy metal where the music was headed next.
"South of Heaven," 2005. Metal writer Ian Christe attempted to explain Hanneman's importance on the blog of Christe's publishing house, Bazillion Points. "Sorry, I can't summon better words now to summarize what we all feel about surrendering one of the ten most important heavy metal figures of all time. I hope the general media understands how important this loss is. Not that it matters, except that Jeff Hanneman's name deserves to be lit up in neon, pressed into hard black memory, and carved into stone for the sake of the future galactic visitors who find our Earth in ruins." Exactly.
Follow Randall Roberts on Twitter: @liledit
Get our L.A. Goes Out newsletter, with the week's best events, to help you explore and experience our city.
You may occasionally receive promotional content from the Los Angeles Times.