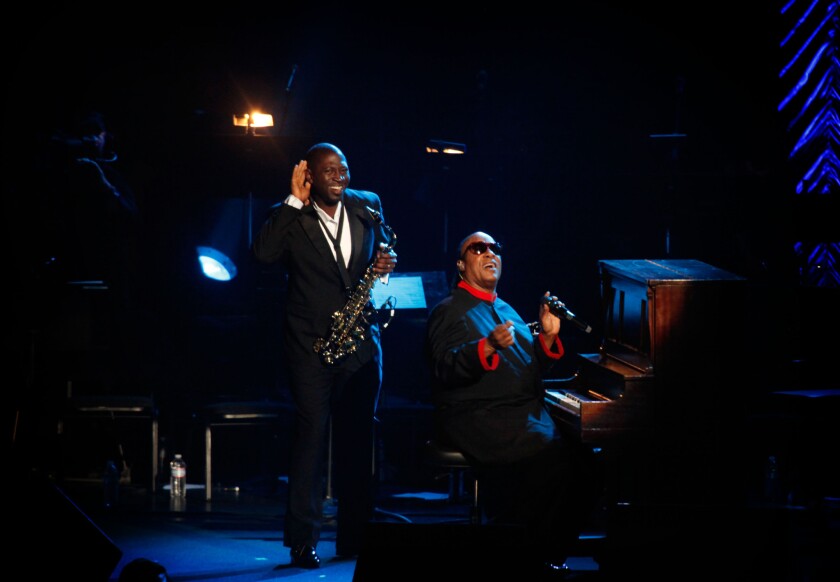 Stevie Wonder is set to reprise the show he brought last year to his annual House Full of Toys holiday benefit concert, a front-to-back full performance of his landmark 1976 album "Songs in the Key of Life," which he'll deliver again on Saturday at the Forum in Inglewood.
Last year's performance was more than just a holiday highlight, as Wonder revisited the work that took home the Grammy Award for album of the year, along with two other Grammys, and topped many a year-end best-of lists.
That inspired Wonder to take the show on the road, and he's capping a brief "Songs in the Key of Life" 11-city tour with Saturday's benefit performance, which collects toys and other presents for underprivileged families in Southern California.
"Songs in the Key of Life" will get yet another moment in the spotlight in February with a CBS tribute to Wonder and the album. Many of the performers who will take part will be in town for the 2015 Grammy Awards ceremony at the same time.
Last year CBS and the Grammy producers double-dipped in availing themselves of the assembled musical talent to put on the 50th anniversary Beatles tribute special. This year the focal point will be Wonder and his widely respected album.
"In the 56-year history of the Grammy Awards, Wonder is the only artist to have received album of the year honors in three out of four consecutive years with 'Innervisions,' 'Fulfillingness' First Finale,' and the seminal 'Songs in the Key of Life'," the Recording Academy noted in a statement announcing plans for the tribute special.
Indeed, when Paul Simon collected his album of the year honor for his 1975 work "Still Crazy After All These Year" — which came out the year between Wonder's "Fulfillingness" and "Songs" — he thanked Wonder for not releasing an album during the year.
Performers for the CBS program haven't been specified yet. The show is slated to be taped on Feb. 10, two days after the Grammy ceremony on Feb. 8, and it will air Feb. 16 at 9 p.m. Pacific and Eastern time.
"Stevie Wonder epitomizes the very spirit of the Grammys," Jack Sussman, CBS executive vice president of specials, music and live events, said in a statement. "His music is as poignant as it is appealing and his songs have the ability to illustrate our world in every note …. His influence is present in so much of today's greatest music. This salute will give everyone he's inspired a chance to show our esteem."
Longtime Grammy show executive producer Ken Ehrlich, in the same statement, added, "Some of my most memorable television experiences have been with my friend Stevie, both on the Grammys and off, and to be able to celebrate him in a way that only the Grammy stage allows is a treat that I've looked forward to for a long time. He is truly deserving of the term that is often used about him: an American treasure."
Follow @RandyLewis2 on Twitter for pop music coverage
---