Stratocaster turns 60 but for its musician fans, it never gets old
Robbie Robertson, lead guitarist for the Band, holds a recent incarnation of the Fender Stratocaster electric guitar, a music industry standard that is celebrating its 60th anniversary this year.
(Luis Sinco / Los Angeles Times)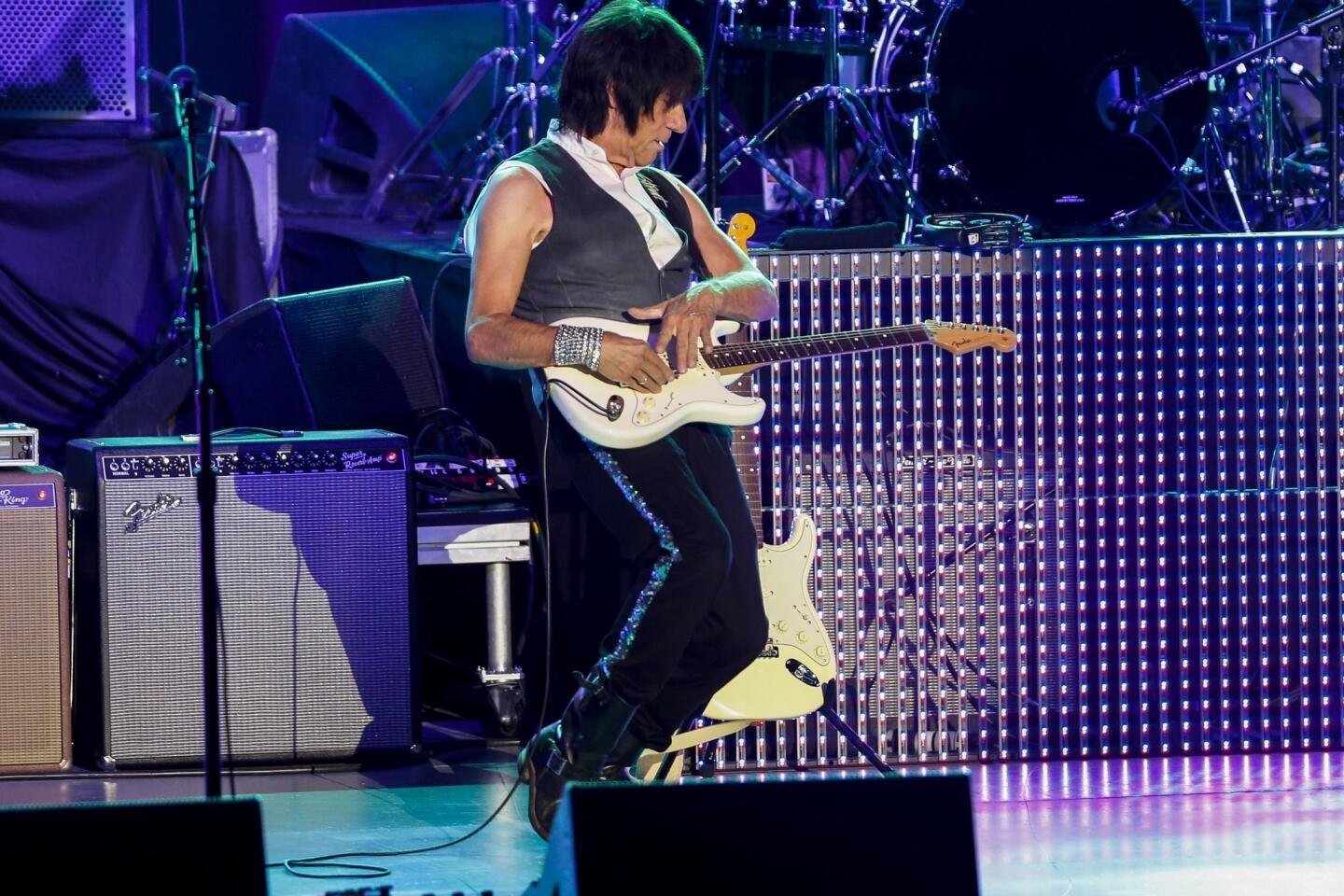 Guitar legend Jeff Beck performs at the Greek Theatre on Oct. 20, 2013.
(Jay L. Clendenin / Los Angeles Times)
Musician Joe Walsh performs at the David Lynch Foundation's benefit honoring Ringo Starr with the Lifetime of Peace & Love award at the El Rey Theatre on Jan. 20, 2014.
(Kevin Winter / Getty Images)
Bonnie Raitt performs during the 37th Montreux Jazz Festival in Montreux, Switzerland in July 2003.
(Laurent Gillieron / Associated Press)
Billy Joe Armstrong of Green Day performs at KROQ's "Almost Acoustic Christmas" in December 2000.
(KMKirk McKoy / Los Angeles Times)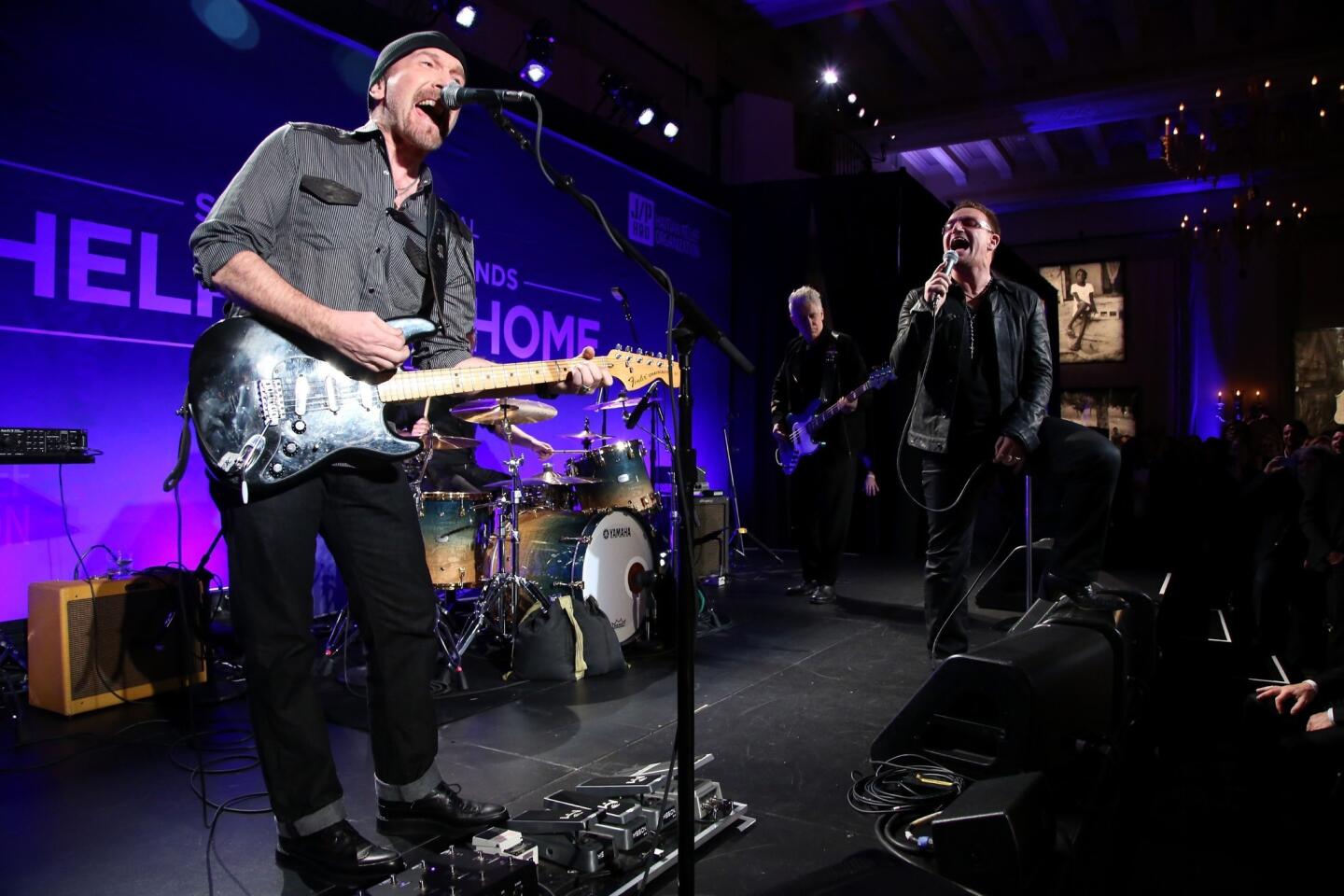 The Edge performs onstage with U2 during the Sean Penn & Friends "Help Haiti Home Gala" in Beverly Hills in January 2014.
(Jonathan Leibson / Getty Images for J/P Haitian Relief Organization)
Dick Dale before a private concert at the Santa Monica Airport in April 1996.
(Andrew Scholer / Los Angeles Times)
Pete Townshend of the Who plays his Stratocaster at Staples Center in January 2013.
(Michael Robinson Chavez / Los Angeles Times)
John Mayer performs in concert during his Born and Raised Tour 2013 at the Baltimore Arena in December 2013.
(Owen Sweeney / Invision / Associated Press)
Blues guitarist Buddy Guy performs at the new Fender Visitor Center at Fender Musical Instruments factory in Corona in September 2011.
(Glenn Koenig / Los Angeles Times)
Mark Knopfler of Dire Straits performs in March 2005 at the Burswood Dome in Australia.
(Paul Kane / Getty Images)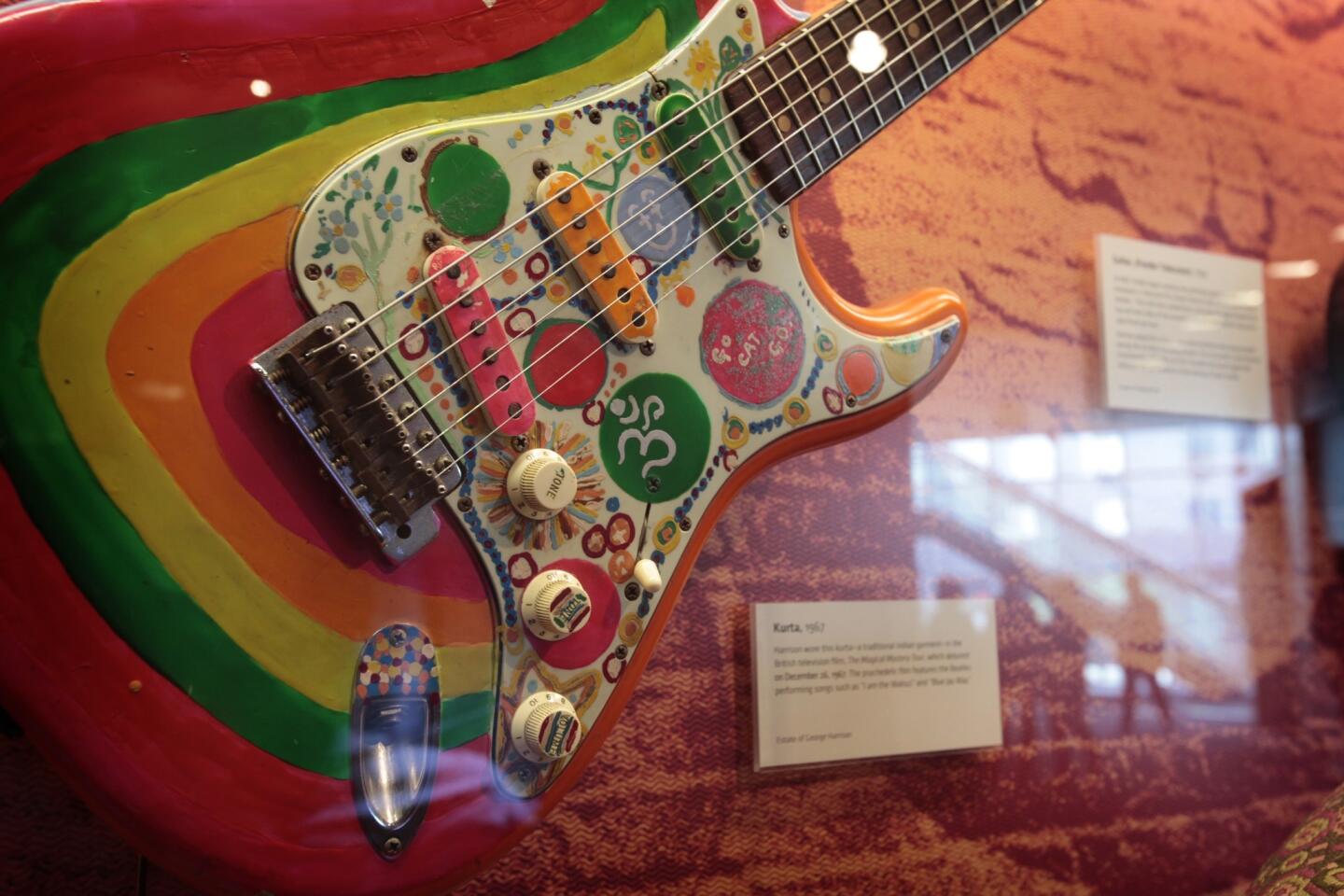 George Harrison's brightly colored Stratocaster, "Rocky," is among the former Beatle's memorabilia on display at the Grammy Museum in Los Angeles.
(Myung J. Chun / Los Angeles Times)
Rock guitar hero Jeff Beck remembers falling in love for the first time.
"I'd only ever seen Spanish-style or jazz guitars, and then I saw a Stratocaster," said Beck, 69, of his schoolboy crush. "I was fascinated by the shape, the double cutaways; it was all too cool. It had all these pickups and knobs and controls — it embodied all the excitement of modern living.
"A few years later I saw one in London hanging in a window, and the guy let me try it on," said the former member of the Yardbirds. "It fit me like it was made for me. That was it — we were married. I thought 'This is it,' and I never forgot it."
PHOTOS: Stars with their Stratocasters
Virtually all musicians have a similar story surrounding their first high-quality instrument, and for many guitarists, that tender memory revolves around the Stratocaster.
The Strat, which was created by electric guitar innovator Leo Fender in his Fullerton workshop, turns 60 this year.
"I don't think there was ever one soloist or instrumentalist that didn't at some point have their sights set on a Strat, including me and everybody I knew," said ZZ Top guitarist Billy Gibbons, whose solo on "La Grange" was played on one. "The Strat is really the global cornerstone, the reference point of the perception of the contemporary electric guitar."
Buddy Holly became the first major rock star to adopt the Strat as his career took off in the mid-1950s. It features prominently on the cover of his 1957 debut album, "The 'Chirping' Crickets," inspiring legions of followers to covet his guitar.
Jimi Hendrix, Eric Clapton, Stevie Ray Vaughn, Bob Dylan, Robbie Robertson, Dick Dale, Pete Townshend and Ron Wood are among players closely associated with Stratocasters.
"It came out perfected, and ever since then we've been trying to copy it, improve it, enhance it," said Rolling Stones guitarist Keith Richards, who admires Strats even though he usually plays Fender Telecasters, the Strat's older sibling. "Most things get better over time, but not in this case. Leo did it all in one fell swoop, which is amazing."
RELATED: L.A. Times readers remember the Forum
The Strat's main rival for supremacy among rock guitar players is Gibson's Les Paul, named for, although not designed by, another celebrated technology experimenter. It was introduced by Gibson in 1952, in response to Leo Fender's success with the Telecaster, which debuted in 1951.
Clarence "Leo" Fender was born and raised in Orange County. He was a quintessential tinkerer whose mission through most of his 81 years sprouted from an innate drive to make a good thing better.
Guitars had been played for hundreds of years, but in the early 20th century, the rise of large-band ensembles playing popular music for dancing relegated the acoustic guitar to a supporting role. Various people experimented with amplifying guitars in the electric age so they could compete against louder instruments such as trumpets, trombones and saxophones.
But amplified acoustic instruments could get only so loud before the signal started feeding back, creating a distorted sound. The goal was to create an instrument without an open sound chamber that created feedback.
Fender came up with his company's first functional electric guitar in 1950, the single-pickup Esquire, a predecessor of the two-pickup Telecaster.
Despite the odd appearance, the new invention's versatility, reliability and affordability compared with other designs found quick acceptance among blues and country musicians of the early '50s. Ike Turner, whose band the Rhythm Kings recorded "Rocket '88'" in 1951, often cited as the first rock 'n' roll recording, was an early adopter of Fender electric guitars.
Map: Discover songs of Los Angeles
Fender looked for the next step beyond his Telecaster and soon developed the Stratocaster, a three-pickup guitar, creating more sonic possibilities. It was curvier, with cutaway sections on both sides of the guitar's neck that allowed players better access to the upper parts of the fret board, the body further contoured to more closely fit against a player's torso.
The Strat eventually went into the Museum of Modern Art in New York for its elegant design. Its look was a key part of what drew Bonnie Raitt, one of the first women to be recognized as a master of the electric guitar, to the Strat.
"How you feel in the guitar is probably as important as how it sounds," Raitt said. "For portability, sexiness and the way it feels on your body, nothing beats a Strat. When you strap on a Stratocaster, you feel just like your heroes. I don't think you can separate how it makes you feel from the memory of other people playing it."
Indeed, influential musicians who used Stratocasters early on played a key role in the model's growth in popularity in the 1960s and beyond.
"What kind of guitar you're most attracted to is a reflection of what kind of music you grew up with," said John Mayer. "I'm a Strat guy. ... When I see Clapton play a Strat, it's like a kid putting his hands on a Spalding basketball when he sees Michael Jordan spinning the ball. It's how you approach that place you dream of getting to."
Fender's genius stroke was creating a quality instrument that could be mass-produced and still be affordable. For that he's often lauded as the Thomas Edison and Henry Ford of the musical instrument world.
New Stratocasters manufactured at Fender's Corona plant retail for about $1,300 and up. Cheaper versions manufactured in Mexico and Asia start around $500. Vintage models from the 1950s and early 1960s fetch tens of thousands of dollars at auctions. The Guitar Center paid close to $1 million for Clapton's celebrated "Blackie" Strat a few years ago.
Larry Thomas, Fender's chief executive since 2010 and former head of the Guitar Center chain of retail stores, has seen that principle in action from two sides of the business.
"The whole thing is about aspiration and inspiration," said Thomas. "People would come into Guitar Center to buy an instrument because they were in awe of some guy who was their idol. When you sold a Strat, people wanted to sound like Stevie Ray Vaughan, or they wanted to sound like Eric Clapton."
The same is true for those at the top of the guitar-food chain.
"The first time I saw one," Clapton said, "was in the Jerry Lee Lewis footage from [the 1958 film] 'High School Confidential!' His bass player was playing a Fender Jazz bass or a Tele bass, and I'd never seen anything like a solid-body guitar before. That was it for me. It was the perfect design. It looked like a spaceship. I loved that about it — it was new and exciting and science fiction.
U2 guitarist the Edge, whose given name is Dave Evans, recalled that, "The first guitar I ever bought was a Strat — it was my first decent instrument ever. When we got our record deal, the first thing I did was go out and buy another Strat.
PHOTOS: Iconic rock guitars and their owners
"The black one, that's the one I recorded a lot of our big important songs with: 'Pride in the Name of Love,' 'Where the Streets Have No Name' — major U2 songs," Evans said. "With the Strat, you get this plank of wood with a neck stuck into it. Yet it just sings — it's an incredibly inspiring instrument."
The Band's lead guitarist Robertson said there were "many, many times" in that group's career when the Stratocaster contributed significantly to songs he was writing. The Canadian musician first became enamored of the Stratocaster when he saw Buddy Holly play one in Toronto on Sept. 14, 1957.
"I hung around after the show because I wanted to know how he got that sound," said Robertson, a 14-year-old aspiring guitarist at the time. "So I waited until everyone was loading out, and I went around back and asked him, 'Mr. Holly, how do you get that sound: Is it the guitar? Is it the amplifier?'"
"And he said, 'So, you're a guitar player? OK, I'll tell you.' And I thought here I am, Buddy Holly is about to give me the secret. And he said, 'You see that Fender Twin [amplifier]? It's got two speakers in it. One of them quit — and I never fixed it.'"
Robertson and most of the rest of the musicians who later became known as the Band backed Bob Dylan in 1965 and 1966 when he famously "went electric," to the chagrin of folk music purists.
"When Bob Dylan strapped on one in the mid-sixties (yes, it was a Stratocaster that was supposedly booed so lustily at Newport) or when Jimi [Hendrix] played the Star Spangled Banner on one at Woodstock, well… that settled that," Bruce Springsteen wrote in politely yet expansively declining to be interviewed about the Strat when the guitar turned 50 in 2004.
LETTER: Bruce Springsteen on the Stratocaster
"However! There are two kinds of people in the world. Those that play Stratocasters and those that play Telecasters….and the twain rarely meet," Springsteen wrote, identifying himself as a Tele player "til he dies."
Not veteran blues musician Buddy Guy. Playing anything other than a Stratocaster, he said, "is like putting on a glove that's too small, then putting one on that you've been wearing for five years . . . [I]f you see me change from a Strat, it means I done broke a string."
Jeff Beck can relate.
"Nothing's been invented that's better than the Stratocaster," he said. "Fender has kept asking me, 'What could we do to make you a better guitar?' I always tell them, 'Give me a 1954 Strat in the box, and I'll be happy. You had it right from the start.'"
Twitter: @RandyLewis2
Get our L.A. Goes Out newsletter, with the week's best events, to help you explore and experience our city.
You may occasionally receive promotional content from the Los Angeles Times.