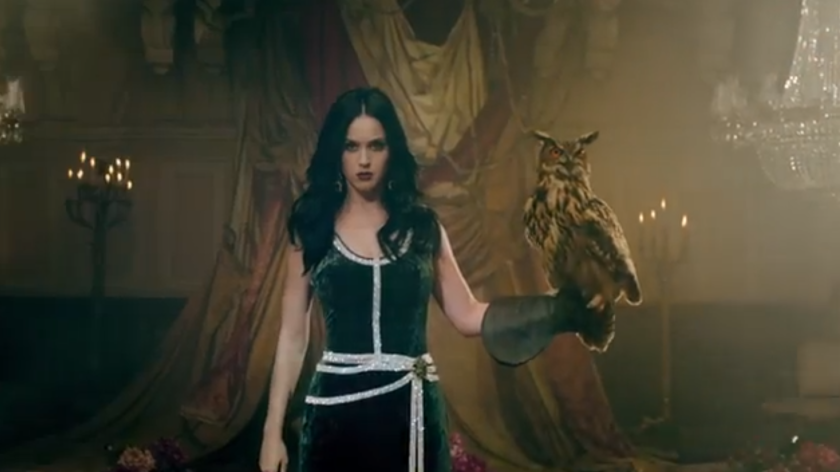 On Tuesday the Internet marveled at Kanye West's new music video for his song "Bound 2," in which the rapper rides though a digitized landscape on a motorcycle with his topless fiancée, Kim Kardashian.
The clip is strange but also strangely beautiful, particularly the several shots in which Kardashian is hugging West in a way that seems almost like a private moment between these two inveterate attention-lovers.
Now it's Wednesday, though, which means the commentariat needs something else at which to marvel.
PHOTOS: Katy Perry in concert, onstage and offbeat
Katy Perry, you're up!
The singer's new video for "Unconditionally" is up to the task: It's an elaborate costume drama starring Perry as — well, as what, exactly?
In some scenes she's singing outside in the snow while people in gala attire dance around her; in other scenes she's doing the same thing in an old-fashioned ballroom. So maybe someone hired her to be the entertainment at a party like Juliette Barnes in "Nashville"?
Except, wait, then she's outside again using only the power of her love to smash an antique car into smithereens. And then she's scattering zillions of flower petals all over the place. (For the domestic help, this seems like an overstep.)
PHOTOS: Celebrities by The Times
Oh, and the owl!
It's definitely not clear why Perry is holding an owl at one point — unless it has something to do with letting your love go and seeing if it comes back to you?
Hold on, here's Perry on Facebook: "Yes, unconditional love sometimes feels like being hit by a car."
And there you have it. Watch "Unconditionally" below.
ALSO:
Review: Against Me! turns pain into triumph at the Troubadour
Kanye West and Kim Kardashian go for a ride in 'Bound 2' video
Reporter's notebook: Chris Brown must turn off the music, for now
Twitter: @mikaelwood

---