How Woody Guthrie was radicalized by his time in L.A -- when he wasn't drawing cartoons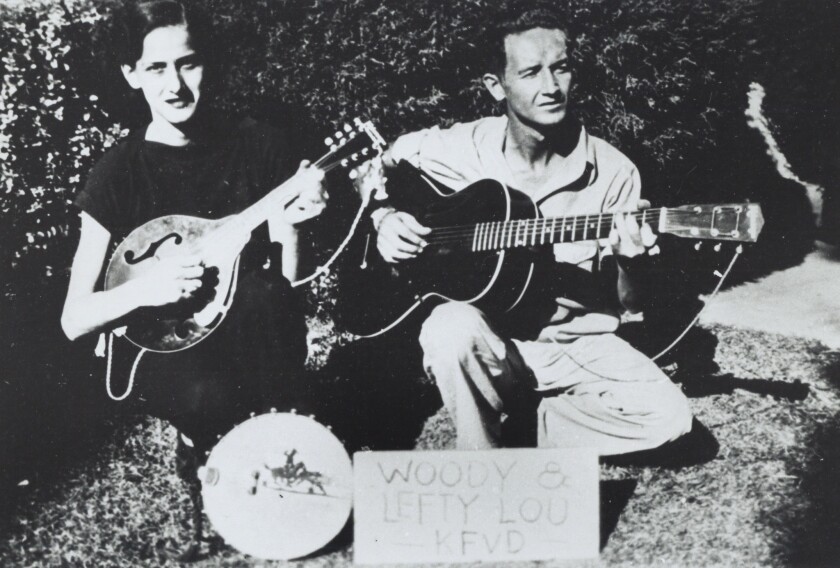 Woody Guthrie is best known for his work as a Dust Bowl balladeer and protest singer. But like many restless Oklahomans of the time, the singer and songwriter felt the pull of the West in the 1930s.
Looking for adventure and working on a life in music, Guthrie spent crucial early years in Los Angeles from 1937 to 1941. That time is the focus of "Woody Guthrie L.A. 1937 to 1941." Recently published by Angel City Press, the book goes deep into a formative period in the influential singer's life.
SIGN UP for the free Essential Arts & Culture newsletter >>
Co-edited by Darryl Holter and William Deverell, "Woody Guthrie L.A." offers a fount of information on not just Guthrie but the city's music culture -- radio, venues, studios -- of the time. Within the first few pages are notes on a Long Beach club called the Strand, Guthrie's "cheap room" in downtown Los Angeles (on Main Street), cowboy singers and his skid row gigs for tips.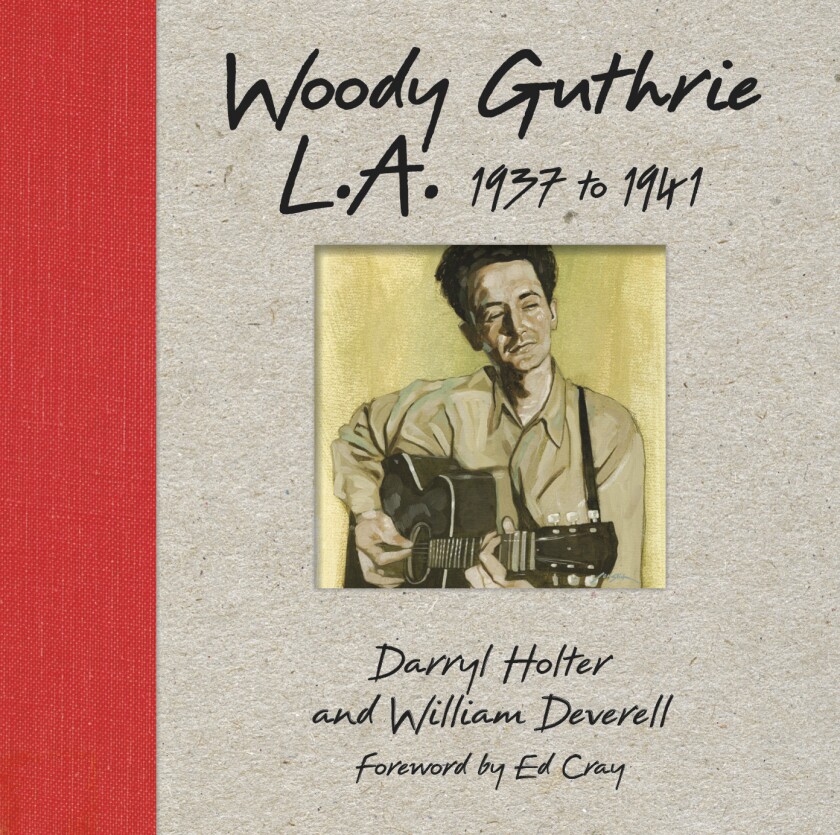 While in Los Angeles, Guthrie performed to a built-in audience of fellow prairie transplants, many of whom lived in encampments that came to be known as Hoovervilles. Eventually he and his cousin formed a duo and landed a spot on radio station KFVD. Soon they were the talk of western Okies -- dubbed "Dust Bowl refugees" by Guthrie -- and he was set on his path.
The photos illuminate a lost Los Angeles. One captures Guthrie and his guitar, his back facing the camera, singing to a group of workers at a labor camp.
During his time in Southern California, Guthrie continued to work on his illustrations, and like his songs, they became increasingly political as he learned more about workers' struggles. He railed against public land being consumed by oil-rich corporations and about the plight of farmers whose land was owned by mortgage companies.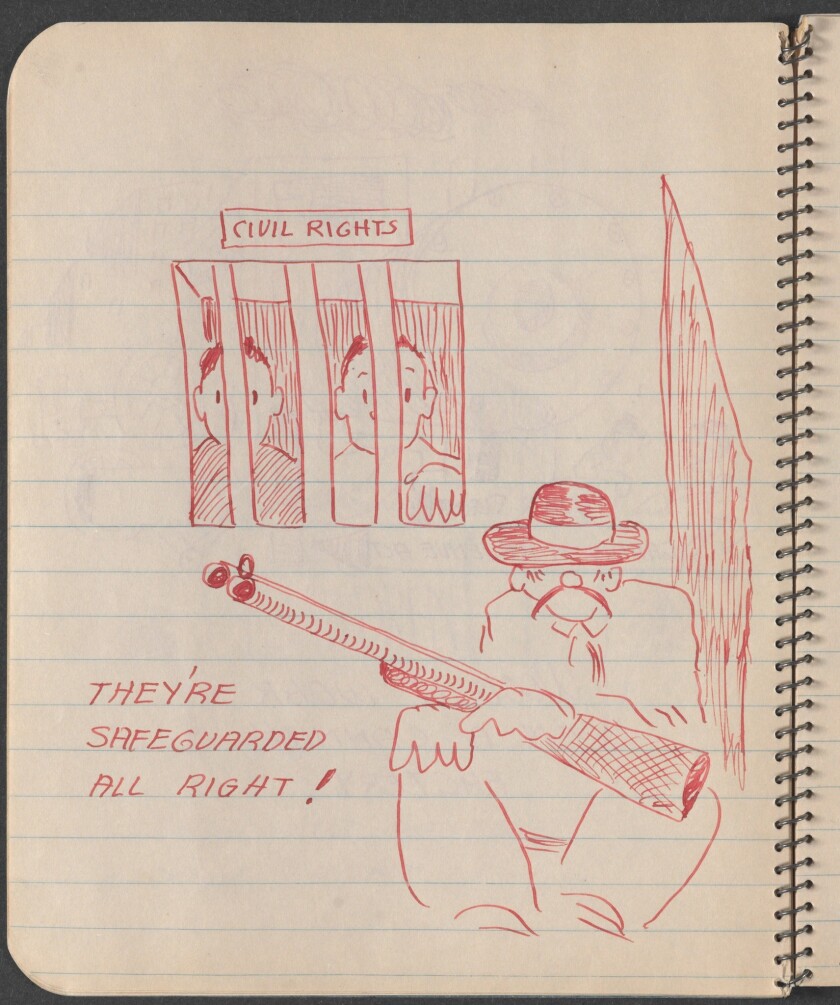 As Guthrie became more attuned to labor rights, he started working outside of his Okie community by focusing on the rights of migrant workers at the Mexican border. Writer and USC professor Josh Kun writes on Guthrie's show on the border radio station Radio XELO, and focuses on what he describes as Guthrie's "politicized migrant aesthetics." He suggests that those Mexican broadcasts could mark "the first time that Woody wasn't singing about borders but straddling them, immersing his songs and stories in a cross-border cultural economy of radio, tourism and entertainment."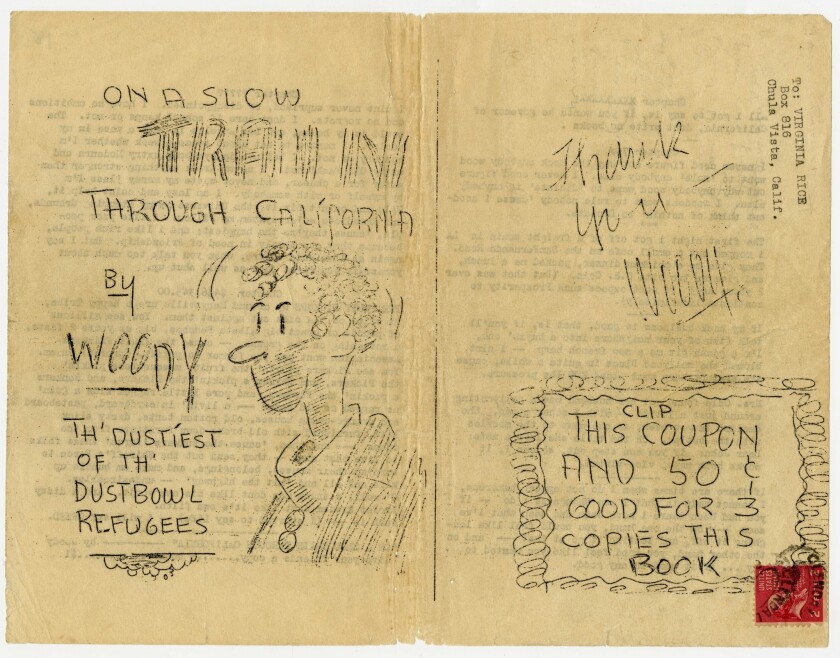 Where "Woody Guthrie L.A. 1937 to 1941" takes a scholarly tone in its prose and delivery, "Woody Guthrie and the Dustbowl Ballads," a forthcoming graphic novel by Nick Hayes, offers a different take on Guthrie.
The follow-up to his graphic adaptation of Samuel Taylor Coleridge's "The Rime of the Ancient Mariner," "Dustbowl Ballads" focuses on Guthrie's formative years, including those in Los Angeles.
Rich with sepia-toned browns, blacks and beiges, Hayes' free-wheeling style mixes panels with stand-alone illustrations while celebrating Guthrie's lyrical brilliance and keen ear for tension. The book, published by Abrams, is due to arrive in March.
For tips on playlists, Los Angeles music news and video clips, follow @liledit
ALSO
'Flower Drum Song' author C.Y. Lee eyes San Gabriel Valley for new stories
Keith Morrison on his true-crime beat: 'I sort of had to be dragged into the murder business'
Gustavo Dudamel and Youth Orchestra L.A.'s Super Bowl halftime show will be a win for the arts
---
Inside the business of entertainment
The Wide Shot brings you news, analysis and insights on everything from streaming wars to production — and what it all means for the future.
You may occasionally receive promotional content from the Los Angeles Times.