Greg Lake —founding member of King Crimson and Emerson, Lake and Palmer — dies at 69
English rock musician Greg Lake, who helped pioneer the expansive genre of progressive rock in the late 1960s and '70s as a founding member of both King Crimson and Emerson, Lake & Palmer, has died.
The singer, bassist and songwriter was 69, and had fought "a long and stubborn battle with cancer," his manager, Stewart Young, said in a statement.

For the record:
7:40 p.m. Dec. 8, 2016
A previous version of this article said that Greg Lake and Keith Emerson were introduced to Carl Palmer after Emerson had left King Crimson. It was Lake who left King Crimson.
Lake was best known for his keening tenor vocals on such ELP signature '70s hits as "Lucky Man," "From the Beginning" and his solo holiday perennial "I Believe in Father Christmas."
His was the voice of the band that, along with Yes, helped establish the prog-rock wing of pop music that included Rush, Genesis, Gentle Giant and others that brought dazzling musical dexterity and dance floor-defying song structures into the pop mainstream.
"We have a lot to thank him for," drummer Carl Palmer, 69, told The Times on Thursday. "If you look at the musical landscape of Emerson, Lake & Palmer, he wrote most of the songs that got played on American radio."
Lake's death — coming just nine months after Emerson died in March at age 71 in what was determined to be a suicide — leaves Palmer as the trio's lone surviving member.
"I had known for about a year that it was pretty bad, but I didn't realize it was as bad as it turned out to be — it had been kept a secret from me," Palmer added.
"What he brought was a uniqueness that the music business didn't have at that time," he said. "We weren't an out-and-out rock band, and we didn't play the blues. He was a choir-boy kind of singer, a very angelic sounding voice."
Beatles drummer Ringo Starr, who drafted Lake for the 2001 edition of his All-Starr Band, tweeted on Thursday "God Bless Greg Lake. Peace and love to all his family."
Lake and keyboardist Emerson first played together at a show in California, at San Francisco's Fillmore West auditorium.
Their respective bands — Lake in King Crimson, and Emerson in The Nice — were both on the bill, and the two musicians first jammed together there, sparking a collaboration that would continue for decades.
Of King Crimson, which Lake formed in 1967 with childhood friend and budding experimental guitarist Robert Fripp, Lake said: "One day we were playing to 50 people, the next day to 500, and the day after to 3,000. The public reaction spread like wildfire."
Part of the appeal to U.K. music fans was that they were hearing something more homegrown than they'd been accustomed to from other English bands who were enamored of American blues, R&B and early rock, such as the Beatles, the Rolling Stones and the Animals.
"People were used to bands playing American music," Lake said. "All of a sudden there was us — symphonic, tough, tight and impactful."
After that initial jam session in San Francisco, Lake left King Crimson and latched onto Emerson, and they were then introduced by English rock impresario Robert Stigwood to Palmer, who had been a member of Atomic Rooster.
As a trio they brought instrumental proficiency in rock music to new highs — Emerson leaning on his classical training as a pianist, Palmer adding a rhythmic complexity that owed much to jazz greats such as Buddy Rich and Gene Krupa, while Lake anchored the rhythm section with freewheeling abandon that expanded on the inventive use of the bass by such predecessors as Motown's James Jamerson and fellow Brits Paul McCartney and the Who's John Entwistle.
They released their debut album, "Emerson, Lake & Palmer," in 1971 and immediately found their way into the Top 20 of the Billboard 200 albums chart, jumping into the Top 10 with its successor, "Tarkus," later the same year.
The trio's 1972 album "Pictures at an Exhibition," an interpretation of Russian composer Modest Mussorgsky's best-known work, also reached the Top 10, and six months later ELP's fourth album in just two years, "Trilogy," reached No. 5 on the U.S. charts.
Following more hit albums, including "Brain Salad Surgery" in 1973 and the live album "Welcome back, my friends, to the show that never ends — Ladies and Gentlemen" that reached No. 4 in 1974 — the group's highest charting album —Emerson, Lake and Palmer went on a two-year hiatus from 1977 to 1979, but upon its return the tide of pop music had shifted away from prog rock.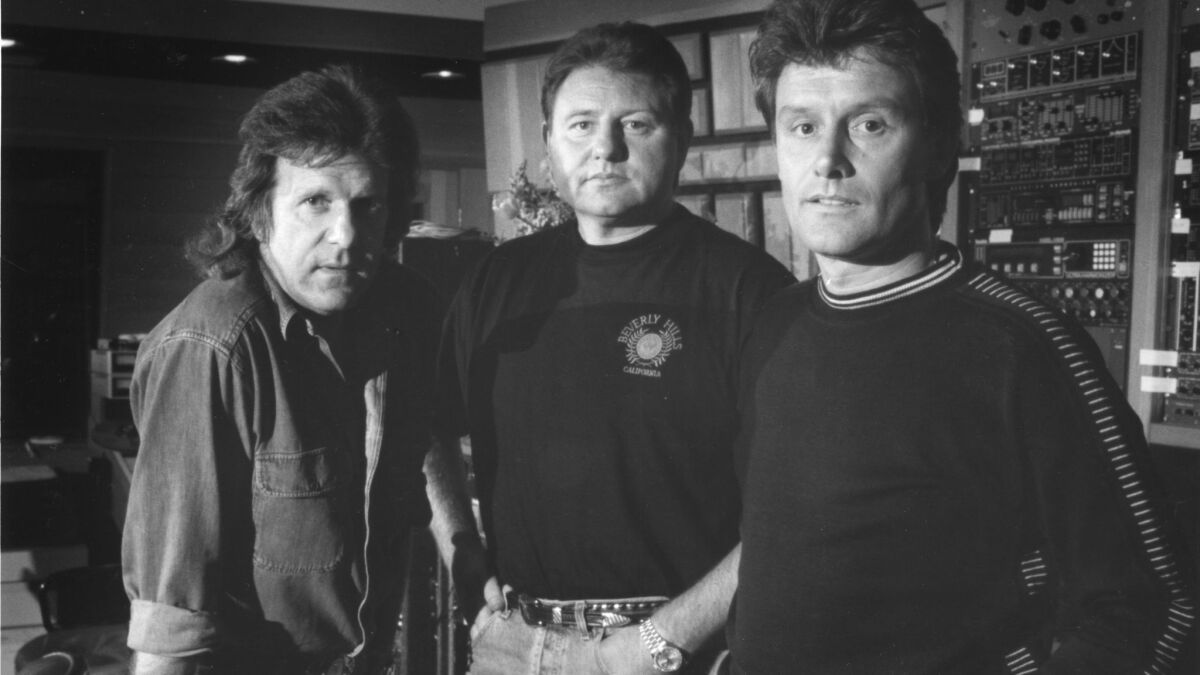 ELP, Yes and other prog-rock groups helped prompt the emergence of punk rock in the mid- and late 1970s as a new generation of music fans rebelled against the grandiosity of the prog-rock movement.
"To tell you the truth, that hit us rather hard," Palmer said. "Our first album was a hit, so we didn't really have to push hard to get our music across at the start. We knew what it was like to work hard creatively. But suddenly there was this movement against what we did."
ELP returned in the '80s as Emerson, Lake & Powell, with drummer Cozy Powell taking over for Palmer, who had moved on to other musical interests but rejoined his former band mates in the early '90s and continued to play shows until they disbanded in 1998.
The last reunion of the original lineup came in 2010 for a prog-rock festival in London.
Greg Lake was born Nov. 10, 1947, in Bournemouth, England. His father was an engineer and his mother a housewife. Lake has described his family as poor, saying they lived in an "asbestos prefab" house.
He and Fripp shared the same guitar teacher.
"We practiced guitar together, so when we came to form King Crimson we each knew what the other knew, we were like a mirror image," he said. "But because King Crimson didn't need two guitarists, I took over playing the bass."
He reached a career crossroad while working his day job and playing music at night.
"I was working as a draftsman for a firm in Dorchester, but because I was also performing in the evenings with a rock group, I kept falling asleep over my desk," he told a London interviewer in 2006. "When they put it like that, there was really only one choice."
In addition to his work with King Crimson and ELP, Lake issued a couple of solo albums and periodically reunited with Emerson and Palmer.
Still, ELP has not made it into the Rock and Roll Hall of Fame, an omission cited year in and year out by legions of progressive-rock fans.
Yes is on the current slate of nominees for induction in 2017 and is running third, behind Journey and Electric Light Orchestra — two bands whose music contains elements of prog-rock — but not Emerson, Lake & Palmer. Both Rush and Genesis have been inducted.
"There is a common thread throughout all the music," Lake wrote on his official website. "The forms may be different, but each one to some degree draws upon inspiration from the past. I am as proud to have been as influenced by people like Elvis and Little Richard as I am by composers like Copland and Prokofiev, and I'm honored when other musicians regard me as one of their inspirations."
He had recently finished writing his autobiography, titled "Lucky Man" and scheduled for publication next year, according to a spokesman.
Lake is survived by his wife, Regina, and their daughter, Natasha.
ALSO
Beyonce vs. Adele at the Grammys will be a battle of style: The new versus the tried-and-true
The snubs, surprises and oddities among this year's Grammy nominations
Surprise albums, exclusives, untraditional rollouts populate Grammy nods
---
UPDATES:
2:59 p.m.: The post was updated with a staff-written obituary.
This article was originally published at 7:40 a.m.
Get our L.A. Goes Out newsletter, with the week's best events, to help you explore and experience our city.
You may occasionally receive promotional content from the Los Angeles Times.