Beyonce vs. Adele at the Grammys will be a battle of style: The new versus the tried-and-true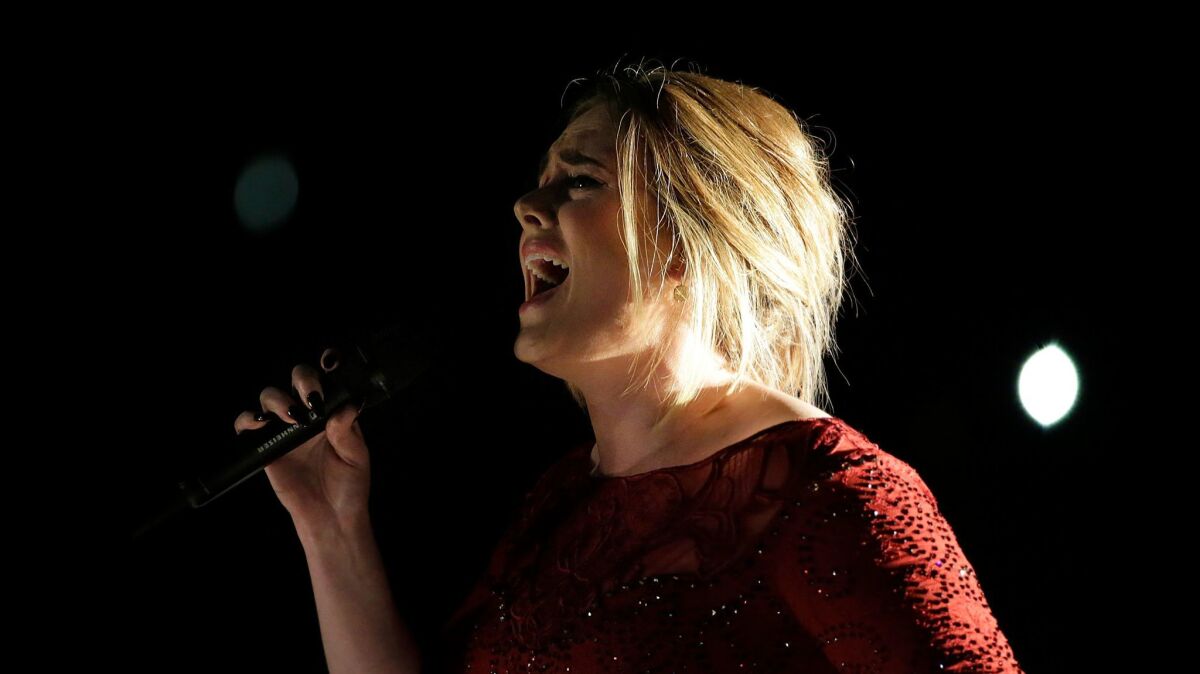 Tradition will take on innovation — accompanied by plenty of pop-diva razzle-dazzle — when two of music's most powerful superstars face off at the 59th annual Grammy Awards.
In nominations announced Tuesday, Adele and Beyoncé are competing against each other for three of the major prizes — record, song and album of the year — to be handed out Feb. 12 in a ceremony at Staples Center.
The work they're being recognized for reflects a stark contrast in how each thinks about sound, style, function — even how a musician should make music available at a moment when streaming is changing the way we listen.
Full coverage of the 2016 Grammy Awards »
Beyoncé has embraced and harnessed the digital revolution, while Adele has thrived on the tried and true. In turn, they represent an industry in transition.
And these differing impulses aren't limited to Beyoncé and Adele. You can sense them playing out across this year's nominations, which feel remarkably diverse by the famously fusty standards of the Recording Academy.
One sure path to Grammy glory is echoing the achievements of yesterday's winners, as Adele does on "25," nominated for the flagship album of the year award along with Beyoncé's "Lemonade," Drake's "Views," Justin Bieber's "Purpose" and "A Sailor's Guide to Earth" by country singer Sturgill Simpson. ("Hello," a dramatic piano ballad from "25," will compete for song and record of the year with Beyoncé's "Formation," among others.)
Like the British singer's first two full-lengths, Adele's blockbuster of a third channels classic sounds by Carole King, Barbra Streisand and Roberta Flack; it's a collection of vividly drawn love songs set to sturdy arrangements mostly played by hand.
There's a bit of throwback appeal to Simpson's album, as well, a proudly rootsy effort that points to Waylon Jennings and Ray Charles. And though the top categories are dominated by young acts — rather than the past-their-prime veterans the academy has often favored — many of them were nominated for music that takes a prematurely wizened view.
In Lukas Graham's "7 Years," up for record and song of the year, the frontman of this Danish pop-soul group imagines himself at 60 with children who regularly visit — a reassuring thought, perhaps, for an aging Grammy voter.
Also in song of the year are Bieber with "Love Yourself," his outlier of an acoustic track, and Mike Posner with a stripped-down rendition of "I Took a Pill in Ibiza," which became a huge hit as a more effective dance remix.
Yet the Grammys didn't ignore fresher, edgier sounds. Working with producers and songwriters at the vanguard of pop, Beyoncé arranged a staggering array of textures for "Lemonade," while Drake effectively dismantled the old boundaries between R&B and hip-hop on "Views."
Rihanna's single "Work," nominated for record of the year, and Bieber's "Purpose" glide by on state-of-the-art digital grooves (even if it was Bieber's confessional lyrics that finally won the academy's approval). And then there's "Stressed Out," Twenty One Pilots' spooky emo-rap tune that's up for record of the year.
Compared to the last winner of that award, Mark Ronson and Bruno Mars' retro trifle "Uptown Funk," it's a thoroughly modern production. "Stressed Out" also demonstrates the Grammys' attention to music that speaks to our uneasy times.
The most explicitly political tune nominated in a major category since M.I.A.'s "Paper Planes" in 2009, Beyoncé's "Formation" is a searing statement of black positivity in this year of widespread racial anxiety.
It was only 10 months ago that the song — in which Beyoncé declares, "I like my negro nose with Jackson Five nostrils" — touched off protests after she performed it at the Super Bowl backed by dancers wearing Black Panther-style berets.
And now here she is with nine Grammy nominations, more than anyone else this year (including Adele, who received five). Not far behind Beyoncé with seven is Chance the Rapper, the young Chicago MC whose gospel-inspired album "Coloring Book" — about how faith endures in a city ravaged by violence — led to a high-profile nod for best new artist.
For music fans eager to see superstars use their platform to engage the day's issues, whatever their politics, this represents a welcome endorsement by the academy.
And it's a sign that the Grammys are alert to shifts in the music business. For the first time this year the awards were opened to streaming-only titles such as "Coloring Book," which hasn't been officially released in a physical edition but can be heard on services such as Apple Music and Spotify.
"Lemonade" too reached listeners in an unconventional way, first as a so-called visual album that aired on HBO and then as a piece of music that could be streamed exclusively on Tidal, the streaming service overseen by Beyoncé's husband, Jay Z. (Soon after, the album — an unsparing examination of a marriage on the rocks — became available to download through iTunes and other digital retailers and to purchase on CD.)
Kanye West's "The Life of Pablo," which arrived in a similar fashion, earned several nominations in the rap field, though in a surprise to some the album was shut out of the major categories.
But maybe the Grammys can only evolve so much at once.
As longtime observers know, the academy's conservative streak runs deep. Even when voters recognize adventurous work, they tend to default to known quantities, as when Taylor Swift's "1989" beat Kendrick Lamar's "To Pimp a Butterfly" for album of the year. Or when Beck's pleasantly folky "Morning Phase" took the same prize over Beyoncé's daring self-titled 2013 set.
In a way, you can look at two of this year's biggest snubs — David Bowie's "Blackstar," left out of the top categories, and Paul Simon's "Stranger to Stranger," which was entirely overlooked — as evidence of the same, given that both albums diverge from the sound for which each of those veterans is known.
In other words, Beyoncé fans may want to brace for a clean sweep by Adele, whose old-fashioned "25" found success the old-fashioned way: as a physical product that moved millions (and millions) of copies.
Twitter: @mikaelwood
ALSO:
2017 Grammy Awards: Complete list of nominees
Grammys quiz: How much music history do you know?
The snubs, surprises and oddities among this year's Grammy nominations
Surprise albums, exclusives, untraditional rollouts populate Grammy nods
Get our L.A. Goes Out newsletter, with the week's best events, to help you explore and experience our city.
You may occasionally receive promotional content from the Los Angeles Times.