TV This Week, March 25-31: 'Dolores,' 'Roseanne' and more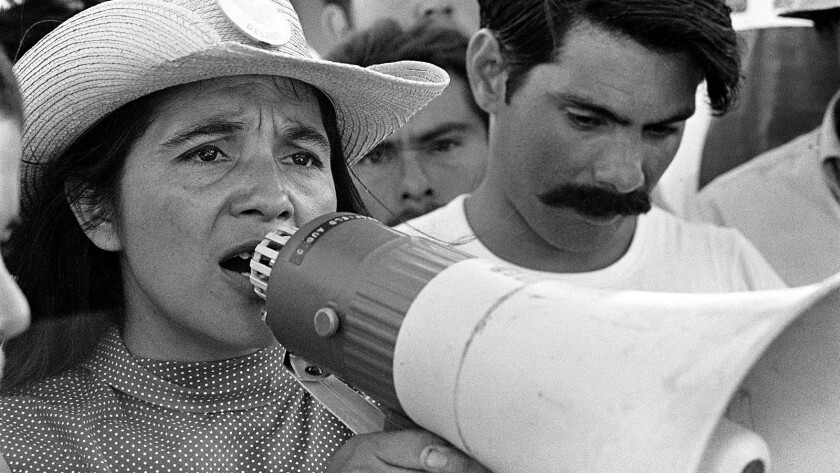 SUNDAY
The story of militant abolitionist John Brown is revisited as "Legends & Lies" returns with a new season. 5 and 8 p.m. Fox New Channel
"Call the Midwife" delivers two new episodes to begin its seventh season. With Jenny Agutter and Jessica Raine. 8 and 9 p.m. KOCE
She learns the shocking truth in the new thriller "My Husband's Secret Life." With Kara Killmer and Brett Donahue. 8 p.m. Lifetime
As seen on "Narcos": A new "Kingpin" focuses on notorious Colombian drug lord Pablo Escobar. 9 p.m. History Channel
Donald Sutherland, not Kevin Spacey or Christopher Plummer, portrays billionaire J. Paul Getty in the new fact-based series "Trust: The House of Getty." Hilary Swank also stars. 10 p.m. FX
Mike Judge's start-up send-up "Silicon Valley" is back. With Thomas Middleditch, Zach Woods, Kumail Nanjiani and Martin Starr, but not T.J. Miller. 10 p.m. HBO
Paul Giamatti and Damian Lewis battle it out in a third season of the drama "Billions." With Malin Akerman and Maggie Siff. 10 p.m. Showtime
Nice headshot! A hit man named "Barry" gets bit by the acting bug in this new comedy starring "SNL's" Bill Hader. With Stephen Root and Henry Winkler. 10:30 p.m. HBO
MONDAY
The two-part special "The Zen Diaries of Garry Shandling" remembers the late, great stand-up comic and star of "It's Garry Shandling's Show" and "The Larry Sanders Show." 8 p.m. HBO; concludes Tue.
The big sleep that awaits us all is pondered by an astrophysicist, a preacher, et al., in the new special "Into the Night: Portraits of Life and Death." 9 p.m. KOCE
"Rome's" Ciarán Hinds and "Mad Men's" Jared Harris face "The Terror" in this new historical drama about an ill-fated Royal Navy expedition to the Arctic in the 19th century. 9 p.m. AMC
"After Earth's" Will Smith is your guide to the wonders of this world we call home in "One Strange Rock," a new 10-part series from "Black Swan" director Darren Aronofsky. 9 p.m. National Geographic Channel
Poultry in motion: The 2017 documentary "Pecking Order" explores the wacky world of chicken-breeding competitions. 9 p.m. Starz
TUESDAY
She's baaack! Roseanne Barr is the once and future "Roseanne" as her classic 1980s-'90s sitcom reboots, original cast and all, for its 10th season. With John Goodman and Laurie Metcalf. 8 p.m. ABC
¡Si se puede! United Farm Workers co-founder Dolores Huerta is saluted in the documentary "Dolores" on a new "Independent Lens." 9 p.m. KOCE
WWII and its aftermath are recalled in the specials "Hitler's Death Camp: The American Prisoners" and "After Hitler: The Untold Story." 9 and 10 p.m. National Geographic Channel
"The Office's" Jenna Fischer and "Nashville's" Oliver Hudson continue to co-habitate and co-parent even as they consciously uncouple in the new sitcom "Splitting Up Together." 9:30 p.m. ABC
WEDNESDAY
No "Scrubs": Zach Braff tries to make his name in the podcasting game in the new sitcom "Alex, Inc." Michael Imperioli ("The Sopranos") also stars. 8:30 p.m. ABC
"Evita." "The Phantom of the Opera." "Cats." Just some of the mega-hit musicals on the resume of the composer celebrated in the new special "Andrew Lloyd Webber: Tribute to a Superstar." With Glenn Close, John Legend and "Hamilton's" Lin-Manuel Miranda. 10 p.m. NBC
Motown legend Smokey Robinson and rising country-music star Cam share the stage on a new edition of the concert series "CMT Crossroads." 10 p.m. CMT
Spies like them: Matthew Rhys and Keri Russell return as the 1980s-set espionage drama "The Americans" launches its sixth and final season. 10 p.m. FX
Got paper towels? An expanded edition of "Full Frontal With Samantha Bee" looks at how Puerto Rico is faring in the weeks and months since Hurricane Maria struck the U.S. territory. 10 p.m. TBS
"Expedition Unknown's" Josh Gates is your guide to "Legendary Locations" in this new globe-trotting travelogue. 10 and 10:30 p.m. Travel Channel
THURSDAY
Nerd alert! Billionaire techie Bill Gates puts in a cameo on a new episode of "The Big Bang Theory." 8 p.m. CBS
The scourge of influenza is the first of three "Invisible Killers" examined in this new three-part series. 8 p.m. Discovery Channel, Science Channel
Something's fishy: A mysterious young woman (Eline Powell) stirs things up in a small coastal town in the new fantasy drama "Siren." 8 and 9 p.m. Freeform
British pop stars Charli XCX and Rita Ora duke it out in a stiff-upper "Lip Sync Battle." Boy George mans the turntables. 9:30 p.m. Paramount
"Nobodies" are still trying to make names for themselves in the movie biz as the sitcom returns for Season 2. 10 p.m. Paramount
FRIDAY
A troubled teenage girl (Elvire Emanuelle) in the inner-city tries out for the boys' wrestling team in the poignant 2018 indie drama "First Match." Any time, Netflix
"SNL's" Noël Wells and "Parks and Rec's" Ben Schwartz may be on the verge of uncoupling in the 2018 rom-com "Happy Anniversary." Any time, Netflix
The dastardly Count Olaf (Neil Patrick Harris) is back after the Baudelaire orphans as "A Series of Unfortunate Events" returns for a second season. Any time, Netflix
"Avatar's" Sam Worthington prepares for a different sort of mission in the 2018 sci-fi terror tale "The Titan." Tom Wilkinson and Taylor Schilling also stars. Any time, Netflix
And they don't stop: The new eight-part docu-series "Rapture" gets up close and personal with such hip-hop artists as Nas, T.I. and 2 Chainz. Any time, Netflix
Radio, radio! A 1980s-era New York radio station that championed then-lesser-known artists like Elvis Costello, R.E.M., U2 and Talking Heads is saluted in the 2018 rock-doc "New Wave: Dare to Be Different." 8 p.m. Showtime
The docu-series "Bering Sea Gold" dredges up a 12th season. 10 p.m. Discovery Channel
SATURDAY
Hey, ladies! Regina Hall, Queen Latifah, Jada Pinkett-Smith and breakout star Tiffany Haddish take a "Girls Trip" together in this hit 2017 comedy. 8 p.m. HBO
An event planner (Poppy Drayton) has an unplanned romance in the new TV movie "Home by Spring." With Steven R. McQueen. 9 p.m. Hallmark Channel
A 1990s-era criminal enterprise that stretched from Miami to Moscow to Medellín, and the DEA's efforts to shut it down, are detailed in the 2018 documentary "Operation Odessa." 9 p.m. Showtime
Customized TV Listings are available here: www.latimes.com/tvtimes
Click here to download TV listings for the week of March 25 - 31, 2018, in PDF format
---
The complete guide to home viewing
Get Screen Gab for weekly recommendations, analysis, interviews and irreverent discussion of the TV and streaming movies everyone's talking about.
You may occasionally receive promotional content from the Los Angeles Times.