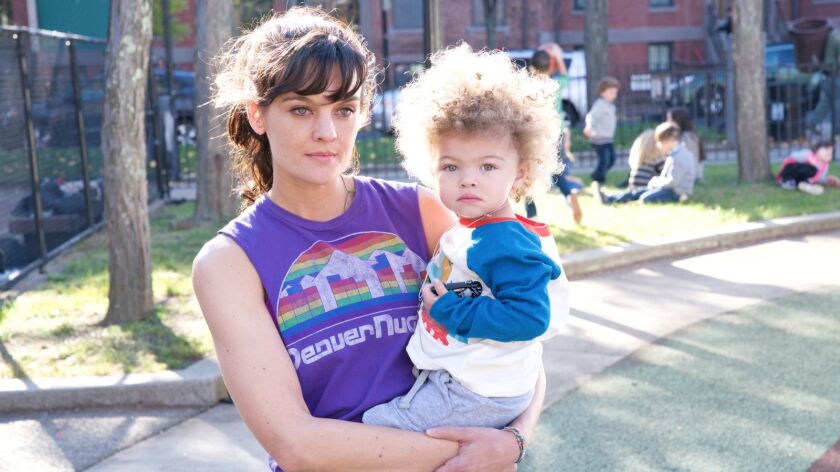 SUNDAY
The reality series "The Real Housewives of Atlanta" and "Married to Medicine" return with new seasons. 8 and 10 p.m. Bravo
Brooke D'Orsay dons her gay apparel for the new holiday romance "Miss Christmas." With Marc Blucas. 8 p.m. Hallmark Channel
The new reality series "Xscape: Still Kickin' It" catches up with the 1990s-era girl group. 9 p.m. Bravo
The Chicago-set dysfunctional-family dramedy "Shameless" cracks open an eighth season. With William H. Macy and Emmy Rossum. 9 p.m. Showtime
Frankie Shaw plays a twentysomething single mom from South Boston looking to get her love life back on track in the new comedy-drama "SMILF." Rosie O'Donnell and Connie Britton also star. 10 p.m. Showtime
Two new high-end escorts will be providing "The Girlfriend Experience" as this drama based on Steven Soderbergh's 1990 film returns for a second season. With Louisa Krause and Carmen Ejogo. 9 p.m. Starz
The travel series "Ride With Norman Reedus" returns with special guest, Reedus' "Walking Dead" costar Jeffrey Dean Morgan, a.k.a. "Negan." 11 p.m. AMC
MONDAY
The new documentary special "VA: The Human Cost of War" examines the inner workings of the Department of Veterans Affairs. 9 p.m. KOCE
Two sweet: Following the return of "Holiday Baking Championship," it's the debut of the new competition series "Christmas Cookie Challenge." 9 and 10 p.m. Food Network
The new two-night documentary "Rolling Stone: Stories From the Edge" looks back at four decades of the pop-and-politics magazine Jann Wenner built. 9 p.m. HBO; also Tue.
The importance of investigative journalism in today's crazy, mixed-up is illustrated in the 2016 documentary "All Governments Lie: Truth, Deception, and the Spirit of I.F. Stone." 9 p.m. Starz
The new special "Living Every Day: Luke Bryan" gets up close and personal with the country music star. 10 p.m. ABC
A giant of jazz is remembered in "Chasing Trane: The John Coltrane Documentary" on a new "Independent Lens." 10 p.m. KOCE
TUESDAY
Woo! Legendary pro wrestler Ric Flair is saluted in the documentary "Nature Boy" on a new "30 for 30." 7 p.m. ESPN
TV-news veterans Bryant Gumbel and Suzanne Malveaux are featured on a new installment of the celebrity genealogy series "Finding Your Roots." 8 p.m. KOCE
The new series "The Long Road Home" dramatizes the stories of American soldiers during the Iraq War and their families back home. 9 p.m. National Geographic Channel
It's rich versus poor and brother versus brother in 1930s rural American in the gritty new drama "Damnation." With Killian Scott and Logan Marshall-Green. 10 p.m. USA
WEDNESDAY
Country music's Brad Paisley and Carrie Underwood reunite to co-host "The 51st Annual CMA Awards" in Nashville. Slated performers include Garth Brooks and Miranda Lambert. 8 p.m. ABC
Who said cheetahs never prosper? "Nature" follows a family of the fastest of the big cats in the new episode "The Cheetah Children." 8 p.m. KOCE
The new sports doc "Danica" gets up close and personal with NASCAR racer and pitchwoman Danica Patrick. 8 p.m. Epix
You've got a "Hot Date" with this new comedy series about the lighter side of romance and relationships. 8 and 8:30 p.m. Pop
"Homestead Rescue" is back, followed by the new series "Bushcraft Build-Off." 9 and 10 p.m. Discovery Channel
The knives are out for "Iron Chef Showdown," the latest iteration of the cooking challenge. 9 p.m. Food Network
Heavy-metal hero and son hit the road again in the return of the travelogue "Ozzy and Jack's World Detour." 10 p.m. A&E
The imported autism-themed family drama "The A Word" begins its second season. 10 p.m. SundanceTV
THURSDAY
The medical drama "Grey's Anatomy" hits the 300-episode mark. That adds up to about 300 episode-ending musical montages. 8 p.m. ABC
"Project Runway" airs Part 1 of its two-part season finale. 9 p.m. Lifetime; concludes next Thu.
"The Braxtons" spinoff "Tamar & Vince" is back for a fifth season. 9 p.m. WE
"The Cromarties" are former NFL star Antonio Cromartie and his wife and kids in this new reality series. 10:30 p.m. USA
FRIDAY
Comic Maria Bamford lights the fuse on a second season of her somewhat-autobiographical comedy series "Lady Dynamite." Any time, Netflix
Glenn Close ("Damages") plays a spinster aunt back from the dead in the quirky new comedy "Sea Oak." Any time, Amazon
Country music's Lauren Alaina takes the "Road Less Traveled" back to her old hometown in this tune-filled romantic drama. With Donny Boaz and Charlene Tilton. 9 p.m. CMT
"Foo Fighters — Landmarks Live in Concert: A Great Performances Special" finds the Grammy-winning alt-rockers rocking the Acropolis in Athens, Greece. 10 p.m. KOCE
SATURDAY
Shepard Fairey, the street artist behind the iconic Obama "HOPE" poster, is profiled in the new documentary "Obey Giant." Any time, Hulu
Lacey Chabert plays a pastry chef who warms up to a former beau in the new TV movie "The Sweetest Christmas." 8 p.m. Hallmark Channel
Why so serious? 2017's "The LEGO Batman Movie" is a super-fun computer-animated romp for any true fan of the Caped Crusader, voiced here by Will Arnett. 8 p.m. HBO
The docu-series "The Warfighters" returns with a special four-episode Veterans Day mini-marathon. 8, 9, 10 and 11 p.m. History Channel
The new docudrama "Oscar Pistorius: Blade Runner Killer" revisits the dark tale of the South African Paralympian charged in the 2013 murder of his model girlfriend. With Andreas Damm and Toni Garrn. 8 p.m. Lifetime
Ladies night! "Girls Trip's" Tiffany Haddish hosts and Taylor Swift is the musical guest on a new episode of "Saturday Night Live." 8:29 and 11:29 p.m. NBC
Animal-behavioral experts try to get felines and and canines to cohabitate peacefully in the new unscripted series "Cat vs. Dog." 10 p.m. Animal Planet
Click here to download
TV listings for the week of Nov. 5 - 11, 2017 in PDF format
---