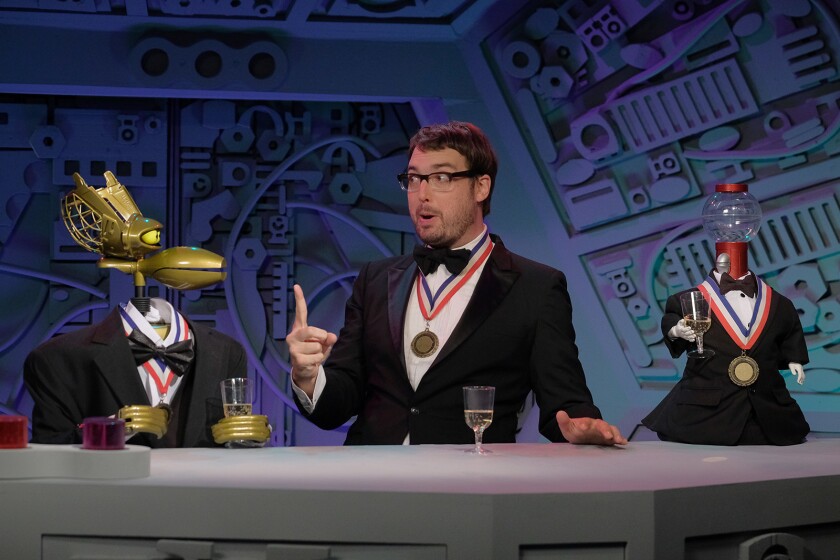 SUNDAY
Oscar winner Catherine Zeta-Jones plays a stop-at-nothing beauty pageant coach in the new online comedy series "Queen America." 6 p.m. Facebook Watch
The "Masterpiece" dramas "The Durrells in Corfu" and "Poldark" end their third and fourth seasons, respectively. 8 and 9 p.m. KOCE
Host Martha Stewart puts bakers through their paces in the new special "Macy's Thanksgiving Cake Spectacular." 8 p.m. Food Network
A designer connects with a hunky contractor in the new TV movie "Christmas in Evergreen: Letters to Santa." With Jill Wagner, Mark Deklin and Holly Robinson Peete. 8 p.m. Hallmark Channel
Tatyana Ali has a secret admirer in the new TV movie "Dear Secret Santa." With "New Girl's" Lamorne Morris. 8 p.m. Lifetime
"Enemies: The President, Justice & the FBI" is a new four-part docu-series from Alex Gibney exploring past and current conflicts between the Justice Department and various occupants of the Oval Office. 8 p.m. Showtime
The three-night docu-series "The Clinton Affair" examines the scandals that rocked the administration of the 42nd U.S. president. 9 p.m. A&E; also Mon.-Tue.
The winner is announced on the season finale of "Ultimate Thanksgiving Challenge." 9 p.m. Food Network
An Italian author probes the disappearance of her lifelong BFF in the imported drama "My Brilliant Friend." 9 p.m. HBO; also Mon.
The docu-special "Inside North Korea's Dynasty" concludes. 9 and 10 p.m. National Geographic Channel
The docu-special "Jonestown: Terror in the Jungle" also concludes. 9 p.m. SundanceNetwork
Secrets are revealed in the conclusion of the five-part adaptation of Wilkie Collins' 19th century mystery novel "The Woman in White." 10 p.m. KOCE
Benicio del Toro and Paul Dano bust out of the big house, with a little help from prison employee Patricia Arquette, in the new fact-based limited series "Escape at Dannemora." With David Morse and Bonnie Hunt. 10 p.m. Showtime
MONDAY
M.C. Beaton's amateur sleuth (Ashley Jensen) is on a new case in the mystery tale "Agatha Raisin and the Wizard of Evesham." Any time, Acorn TV
See who'll be taking home the mirror-ball trophy on the season finale of "Dancing With the Stars." 8 p.m. ABC
Hot enough for you? The new special "Mission to the Sun" tracks the progress of NASA's Parker Solar Probe. 8 p.m. National Geographic Channel
Prize-worthy: The multi-Emmy-winning sitcom veteran whose many credits include "Seinfeld" and "Veep" is feted by her comedy peers in the new special "Julia Louis-Dreyfus: The Mark Twain Prize." 9 p.m. KOCE
A British actress gets mixed up in international intrigue in a three-night adaption of John le Carré's 1970s-set espionage novel "The Little Drummer Girl." With Alexander Skarsgård, Michael Shannon and Florence Pugh. 9 p.m. AMC; also Tue.-Wed.
The house that Italian motorsports legend Enzo Ferrari built is celebrated in the new documentary "Ferrari: Race to Immortality." 9 p.m. Starz
A Palestinian women who became the first female jurist to sit on a Shari'a court is profiled in the documentary "The Judge" on a new "Independent Lens." 10:30 p.m. KOCE
TUESDAY
The host of "The Daily Show" gets personal in the new stand-up special "Trevor Noah: Son of Patricia." Any time Netflix
Two Holocaust survivors hope to locate long-lost friends on a new episode of "We'll Meet Again." Ann Curry hosts. 8 p.m. KOCE
"Frontline" continues its look into the resurgence of militant white supremacist groups in the U.S. in the new exposé "Documenting Hate: New American Nazis." 9 p.m. KOCE
WEDNESDAY
Shiri Appleby, Jason Ritter, et al., play along with host Jane Lynch on the return of "Hollywood Game Night." 8 p.m. NBC
The Peanuts gang gathers 'round for "A Charlie Brown Thanksgiving" in this classic animated special. 8 p.m. ABC
"Nature" get up close and personal with a pack of African wild dogs in Zimbabwe in the new episode "Dogs in the Land of Lions." 8 p.m. KOCE
"Sister, Sister's" Tia Mowry-Hardrict chills out in the romantic TV movie "My Christmas Inn." 8 p.m. Lifetime
Former "Kenan & Kel" costars Kenan Thompson and Kel Mitchell captain opposing teams on a very special episode of the kids' gameshow "Double Dare." 8 p.m. Nickelodeon
The new special "A Saturday Night Live Thanksgiving" features a cornucopia of holiday-themed skits from the long-running sketch series. 9 p.m. NBC
The peregrine falcon's need for speed makes it the "World's Fastest Animal" in this new episode of "Nova." 9 p.m. KOCE
Miami is the final stop for the climate change-themed series "Sinking Cities." 10 p.m. KOCE
A florist finds romance in the new TV movie "A Christmas Arrangement." With Nicky Whelan, Miles Fisher and Daphne Zuniga. 10 p.m. Lifetime
THURSDAY
Kurt Russell suits up to play Santa Claus in the new family-friendly fantasy movie "The Christmas Chronicles." With Oliver Hudson and Kimberly Williams-Paisley. Any time, Netflix
Are we really going spend the whole of Thanksgiving Day binging on new episodes of the movie-spoofing series "Mystery Science Theater 3000: The Return?" You bet your 'bots we are! With Jonah Ray, Patton Oswalt and Felicia Day. Any time, Netflix
Get your fill of marching bands, giant inflatable cartoon characters, etc., with "The 92nd Annual Macy's Thanksgiving Day Parade" and/or "The Thanksgiving Day Parade on CBS." 9 a.m. NBC; 1 p.m. CBS
A full slate of "NFL Football" match-ups kicks off with the Chicago Bears versus the Detroit Lions. 9:30 a.m. CBS
Prized pooches strut their stuff at this year's edition of "The National Dog Show." With host John O'Hurley and analyst David Frei. Noon NBC
Terrence Howard, Eric Stonestreet and Alyson Hannigan are among the famous faces featured in a "MasterChef Junior: Celebrity Showdown." 8 p.m. Fox
A former figure skater falls into a royal romance in the new TV movie "Christmas at the Palace." With Merritt Patterson and Andrew Cooper. 8 p.m. Hallmark Channel
Hilarie Burton and other alumni from the old WB/CW drama "One Tree Hill" reunite in the new TV movie "The Christmas Contract." Followed, not coincidentally, by the new special "'Tis the Season: A One Tree Hill Cast Reunion." 8 and 10 p.m. Lifetime
The former Ms. Markle is profiled in the new special "Meghan's New Life: The Real Princess Diaries." 9 p.m. ABC
Primatology 101: Visit a "Chimp Sanctuary" in Louisiana, then meet the "Chimps of the Lost Gorge" in these two new nature specials. 9 and 10 p.m. BBC America
Kristin Chenoweth, Tiffany Haddish and Tyler Perry are among the famous faces revisiting their childhood homes in the new special "I'm Coming Home." 10 p.m. ABC
FRIDAY
"Harry Potter's" Rupert Grint uses a cancer misdiagnosis to ill effect in the imported dark comedy series "Sick Note." With Nick Frost and Don Johnson. Any time, Netflix
Thanksgiving's over, bring on the Christmas specials! And those include the animated classics "Frosty the Snowman," "Dr. Seuss' How the Grinch Stole Christmas" and "Santa Claus Is Coming to Town." 8 p.m. CBS; 8 p.m. NBC; 8 p.m. ABC
Lacey Chabert finds romance with a restaurant owner in the new Jane Austen-inspired TV movie "Pride, Prejudice and Mistletoe." With Brendan Penny. 8 p.m. Hallmark Channel
Bethany Joy Lenz finds romance with a botanist in the new TV movie "Poinsettias for Christmas." With John Schneider. 8 p.m. Lifetime
"Great Performances" celebrates a Tony-winning titan of the American musical theatre in the new episode "Harold Prince: The Director's Life." 9 p.m. KOCE
Their kids throw a monkey wrench into one consciously-uncoupling couple's Christmas plans in the new TV movie "Every Other Holiday." With Schuyler Fisk and David Clayton Rogers. 10 p.m. Lifetime
The new stand-up special "Jim Gaffigan: Noble Ape" finds the clean comic reflecting on a medical crisis that hit a little too close to home. 11 p.m. Comedy Central
SATURDAY
The aforementioned Tatyana Ali joins Patti LaBelle for the new TV movie "Christmas Everlasting." 8 p.m. Hallmark Channel
Alicia Vikander makes a game Lara Croft in "Tomb Raider," the 2018 reboot of the action franchise based on the popular videogame series. Dominic West and Walton Goggins also star. 8 p.m. HBO
R&B star Toni Braxton plays a Scrooge-like executive in the Dickens-inspired tale "Every Day Is Christmas." With "ER's" Gloria Reuben. 8 p.m. Lifetime
A young woman finds "Christmas Harmony" despite having just been dumped by her pop star boyfriend in this new TV movie. With Kelley Jakle, Chandra Wilson and Sally Struthers. 10 p.m. Lifetime
Customized TV listings are available here: www.latimes.com/tvtimes
Click here to download TV listings for the week of Nov. 18 - 24, 2018, in PDF format
---