Katie Couric sees documentaries as the new journalism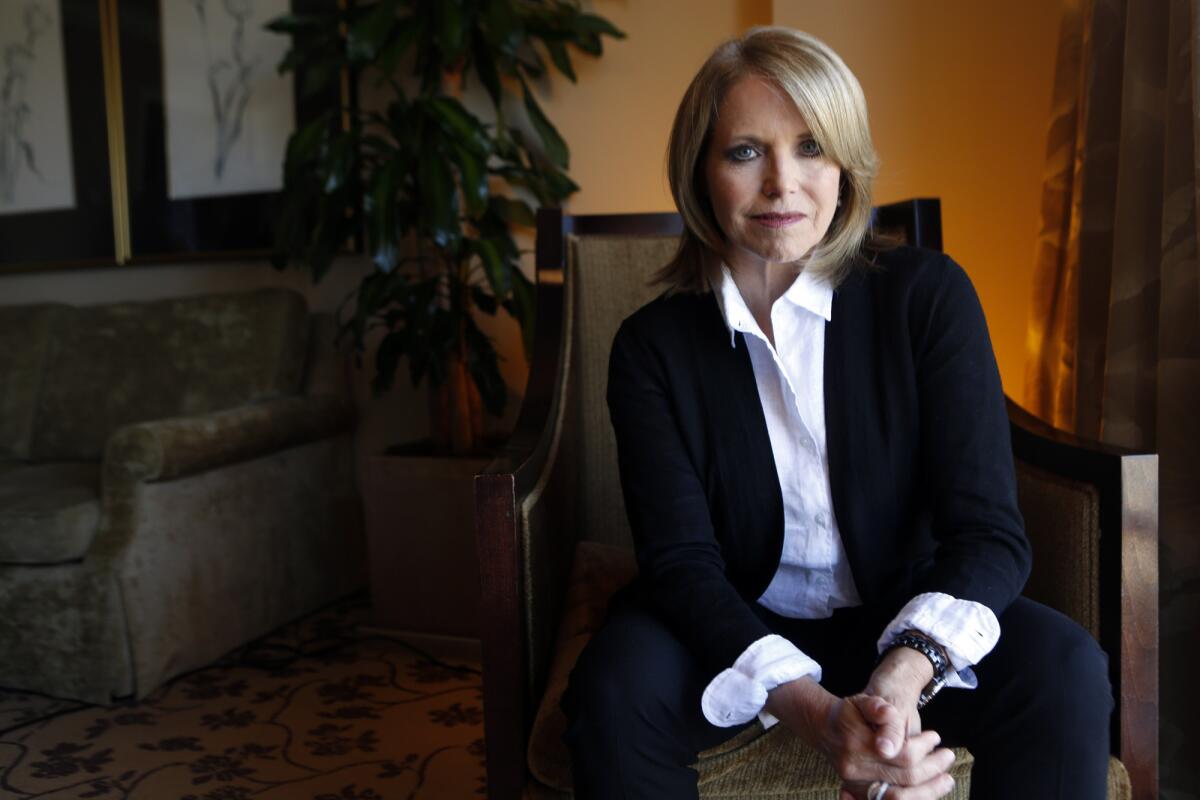 Pope Francis has soft hands. Such is the assessment of Katie Couric who met the pontiff recently while attending a conference on stem-cell research at the Vatican. Global news anchor for financially struggling Yahoo, Couric was in Los Angeles the other day for a very different reason; she was promoting "Under the Gun," a documentary she executive-produced and narrated about violence and America's gun culture that opens in Los Angeles on May 13.
Once a reigning television personality, Couric, who at CBS became the first woman to solo anchor a network evening news broadcast, is these days figuring out the metrics and rhythms of capturing Internet audiences. She's also gravitated toward documentaries, teaming with director Stephanie Soechtig for "Under the Gun" and "Fed Up" about diabetes, obesity and other health problems stemming from the food industry's heavy use of sugar.
Couric remains quick and precise, her voice huskier with time. She can slip from a smile to seriousness in a breath, just the way she did in her devastating interview with Sarah Palin in 2008. The following is an edited version of a conversation about guns, Donald Trump, the news business and the need for reinvention.
See more of Entertainment's top stories on Facebook >>
"Under the Gun," which premieres nationwide on the EPIX network on May 15, is one of a number recent documentaries about gun violence. A wide majority of Americans support tighter gun controls, but Congress appears more swayed by the power and money of the National Rifle Assn. Is it that simple?
If you peel the layers off the onion what you discover is the multitude of ways the NRA, or the gun lobby, operates. That's what this film unravels. Is it that simple and where are the fingerprints of the gun lobby when it comes to any efforts to enact stronger regulations? We show there is the impact of the gun lobby at every turn, whether it comes to the computerization of records and the ability of the Bureau of Alcohol, Tobacco, Firearms and Explosives to trace weapons or whether it comes to studying gun violence as a public health issue. It's almost like a puzzle how all this fits together in a lack of serious action on the part of legislators and the public.
The NRA is quite politically adept and tactical in the way it works Washington.
The NRA was at one point a completely nonpolitical operation until a 1977 revolt among its members in Cincinnati when it was taken over by extreme elements of the organization. It's become such a political and lobbying machine.
Much of the resistance faced by those calling for stricter gun regulations is the sanctity of the 2nd Amendment. Is there a way to untangle the passions around a constitutional right from the daily scourge of gun violence and body counts?
We are not challenging the 2nd Amendment. We believe that people do have a right to bear arms. But we want to look and see how do we reduce gun violence. People can be anti-gun regulation or anti-gun, but nobody's against stopping gun violence. That's something we can all agree on.
We are not challenging the 2nd Amendment. ... People can be anti-gun regulation or anti-gun, but nobody's against stopping gun violence. That's something we can all agree on.
— Katie Couric
Why isn't the gun debate a larger part of the presidential campaign?
I think it actually has been lately. Bernie Sanders and Hillary Clinton talk about it a lot. In the Republican Party, the gun lobby holds these candidates hostage in a way. They're afraid they won't get the support, and some of the Republican base are avid 2nd Amendment rights voters, so they (candidates) can't afford to even allow any wiggle room to enter the picture when it comes to the gun conversation.
Many say we're in a golden age of documentaries. Why do you like working on them?
You don't see as much anymore the specials TV networks used to do in tackling big, important issues. Because of the fragmentation of the media oftentimes television outlets have to try to do things that have mass appeal, and I think some of the more controversial or wonky issues don't necessarily get the time and attention they should. One of the reasons documentaries appeal to me is that you can take a long time and take a deep dive to understand an issue and spend 90 minutes explaining it. I think in many ways documentaries are the new journalism.
Let's talk about Donald Trump. He went from novelty to contender to presumptive nominee. Has the media, notably TV, been too easy on him?
I think in the early days of the campaign there was just too much unfettered access to the airwaves for Donald Trump. His rallies were covered from start to finish without a lot of contextualizing of his message. The ratings spiked every time he was on, and (journalists) were slightly reticent to ask him super challenging questions. There has been a correction to that in the last month or so. His feet are being held to the fire a little more. When there's real commercial pressure to get high ratings then sometimes it's very easy not to really consider the impact of the decisions you're making. Let's face it, Donald Trump is good television.
How has your transition been from network news to Yahoo and the rhythms of the Internet?
I feel really proud of the work I'm doing. I'm able to do a lot of election coverage in a much more relaxed setting. One day, I'm interviewing Samantha Bee and the next doing an explainer video on artificial intelligence or Syrian refugees in Rome. It's been challenging at times, but I've really learned so much compared to a lot of people just doing television. I'm one of those people who thinks it's important to keep learning and trying new things and exploring new venues. I'm happy I did it.
Twitter: @JeffreyLAT
ALSO:
How 'The Good Wife' created TV's New Woman
'Damien's' Barbara Hershey has grown up in front of a camera
Review: 'Janis: Little Girl Blue' reveals Joplin as a smart, funny, vulnerable feminist conundrum
Get our L.A. Goes Out newsletter, with the week's best events, to help you explore and experience our city.
You may occasionally receive promotional content from the Los Angeles Times.