Overrated/Underrated: Fall TV's ongoing revivals and 'Baroness Von Sketch Show'
UNDERRATED
The anthology series: Call it the "Black Mirror" effect, or maybe the result of so many daunting long-form series narratives available to stream, but single-episode storytelling has been enjoying a boost of late. Recent shows include "Room 104," the Duplass Brothers' barbed hotel room saga on HBO, and TBS' comic-leaning "The Guest Book," from Greg Garcia, creator of "My Name Is Earl." Also coming this fall is Amazon's "Lore" (Oct. 13), a potentially vivid mix of documentary, animation and "cinematic scenes" boosted by the likes of "Fargo's" Adam Goldberg in a six-episode run of true, scary stories from Aaron Mahnke's hit podcast.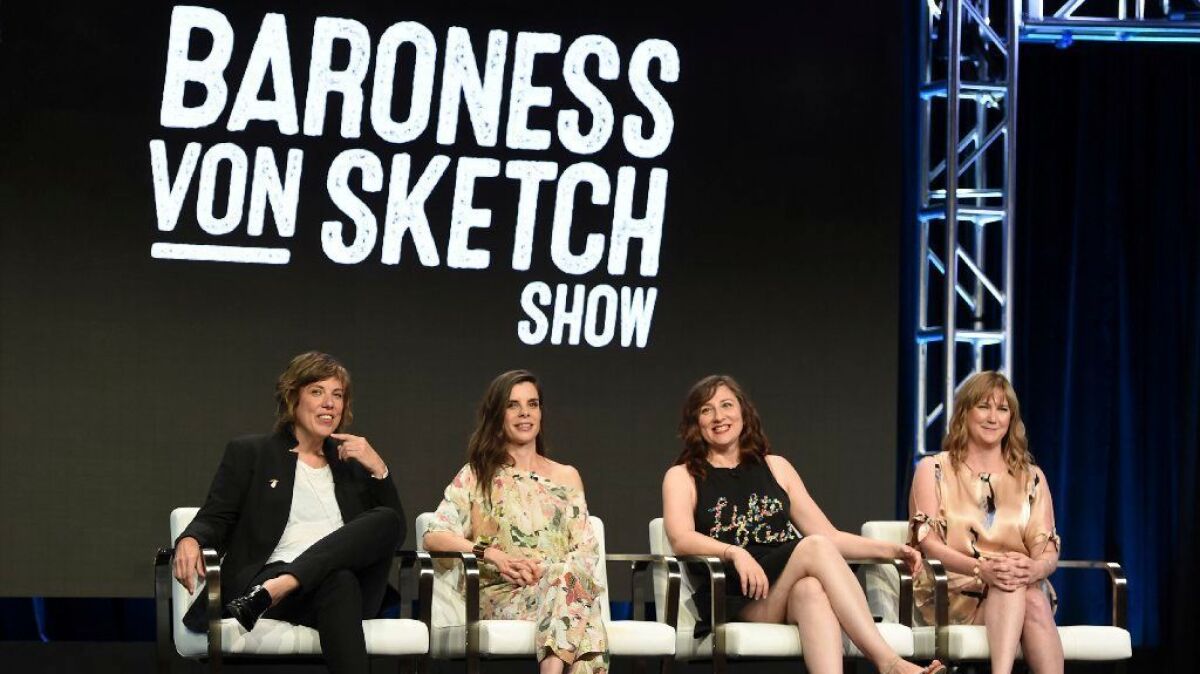 FULL COVERAGE: Fall 2017 TV preview »
'Baroness Von Sketch Show' on IFC: If "SCTV," "The Kids in the Hall," and of course the creator and many north of the border cast members of "Saturday Night Live" taught us nothing else, it's that Canadians know sketch comedy. This import from Canada's CBC is a worthy continuation of that line. Now entering its second season (Sept. 13) and featuring the disparate and deeply strange talents of Aurora Brown, Carolyn Taylor, Jennifer Whalen and Meredith MacNeill, the series breathes some welcome new life and perspective into the genre by taking on a wide range of topics, an absurd, even surrealist wit and, best of all, knowing just the right moment to find an ending.
OVERRATED
The CBS All Access gambit: When you think about progressive, forward-looking television, the CBS retirement home for classic sitcom stars is the first network that comes to mind. To that end, the network's very expensive newcomer "Star Trek: Discovery" will boldly arrive for fans on Sept. 24 — first on the network but then exclusively on its nascent streaming platform, CBS All Access. There's a logic here as the future — so we've heard — is online, but not providing access for current cable subscribers and OTA viewers may mute the show's impact, much like its other All Access effort, "The Good Wife" spinoff "The Good Fight." Which does the network want more: viewers watching ads or coughing up subscription dollars?
Series revivals: Let's see what happens when "Will & Grace" reemerges as if sealed in amber for 11 years once its second life begins on Sept. 28, followed by "Roseanne" in 2018. But with the genie out of the bottle this long, "conversations" are also happening to resuscitate "Frasier" and "The Office," the latter of which ended way back in 2013. For all the clean-burning fuel generated by nostalgia, isn't pulling up a streaming service and rewatching the originals a purer form of comfort food? Nobody gets old, we all know how it ends and unlike, say, "The X-Files" (and so many others), the show never gets worse.
This story is part of The Times' 2017 Fall television preview. Check out the complete coverage here.
Follow me over here @chrisbarton.
ALSO:
Edie Falco lays down the law in 'Law & Order True Crime: The Menendez Murders'
Overrated/Underrated: An 'Atypical' 'scene-stealer and New York celebrates itself in 'Meet Me in the Bathroom'
Overrated/Underrated: Somebody stop 'Game of Thrones' from becoming 'The Walking Dead'
Get our L.A. Goes Out newsletter, with the week's best events, to help you explore and experience our city.
You may occasionally receive promotional content from the Los Angeles Times.