The black-white drag divide: 'White Famous,' Chris Rock and Tyler Perry on saying yes to the dress
Tom Hanks, Robin Williams, Adam Sandler, David Duchovny, John Travolta and Dustin Hoffman took different paths to stardom. But the actors' journeys all have one article of clothing in common.
Each of them, at some point, said yes to the dress.

For the record:
3:25 p.m. Dec. 10, 2017An earlier version of this article said Dustin Hoffman won an Oscar for "Tootsie." He was only nominated.
Hanks and the others have all appeared in sketches or roles in which they have rocked frocks, following in the tradition of Milton Berle, Bob Hope and other classic entertainers. Some of the comic masquerades have been career highlights — Hoffman was nominated for an Oscar for "Tootsie"; "Mrs. Doubtfire" was a smash hit for Williams; and Hanks' early "Bosom Buddies" sitcom role was the launching pad for his rise to elite Hollywood status.
Male comedians appearing in drag seemingly has universal appeal that cuts across cultural lines. Eddie Murphy, Martin Lawrence, Jamie Foxx, Kenan Thompson of "Saturday Night Live" and Tyler Perry are among the African American performers who have generated laughs by cross-dressing.
But despite the popularity of Perry's gun-toting, insult-hurling Madea, Lawrence's turns as Sheneneh on his sitcom "Martin" and the cranky title character in "Big Momma's House" and the various women Murphy has played in "The Nutty Professor" films and "Norbit," some observers inside and outside African American creative circles say the sight of black male performers in drag also carries troubling cultural baggage. They contend the caricatures are no laughing matter and jeopardize the image of African American masculinity.
Todd Boyd, a professor of critical studies at USC's School of Cinematic Arts, said the roles "humiliate and emasculate black men — it renders them less than powerful."
But others feel that the comic power of the images and their obvious visceral impact with audiences go a long way in softening and outweighing the concerns about political and gender baggage.
"It's a constant debate, and one of the hottest topics in the world of black comedy," said Tim Story, an executive producer of Showtime's "White Famous," which centers on a moderately successful comedian, Floyd Mooney (Jay Pharoah), torn about compromising his integrity to achieve crossover success — i.e., appealing to a wider, more mainstream audience.
The question of donning drag takes center stage in the "White Famous" pilot as Foxx, playing himself, encourages a reluctant Mooney to wear a dress for a new film, saying it will help raise his profile and earn him widespread fame. He cites his own experience, detailing how he went from playing Ugly Wanda, the "ugliest woman in the world" on Fox's sketch comedy series "In Living Color," to winning a best actor Oscar for the 2004 Ray Charles biopic "Ray."
"Everybody's always tripping on the dress," says Foxx, who is wearing a cheerleaders' skirt in the scene. He notes that one day it was Wanda and the next it was " 'I'd like to thank the academy.' "
The pressure to go against his values deeply troubles Mooney in the comedy, the first season finale of which airs Dec. 10.
Story and co-creator Tom Kapinos say the theme was important to address in the show, which is partially based on the experience of Foxx, who also serves as an executive producer of "White Famous." (He declined to be interviewed for this story.)
"When I first met with Jamie, he told me lots of stories about his early days and 'the dress,' " Kapinos recalled. "It was interesting — white comedians don't have the same sort of challenge when it comes to this."
He added, "It was a great way into the show—to dramatize the flow of a character who has to make a choice when he has an opportunity, but there might be an element of selling out."
Story added that the decision to wear or not wear the dress is complicated by the fact that many of the cited representations — Murphy, Lawrence, Perry, et al. — are beloved by audiences.
"When you look at that kind of success, it makes the argument not to do it hard," he said.
Underscoring Story's perspective is the recent box-office triumph of Perry's "Boo 2! A Madea Halloween." The film, which debuted at No. 1, was a sequel to last year's "Boo! A Madea Halloween," which also topped the box office and collected close to $75 million.
Perry's detractors have long labeled Madea a cartoonish and outrageous stereotype. But the writer-producer-director points to his massive legion of fans, who continue to flock to movies and plays in which he portrays the character. He believes they feel a deep connection to Madea, who also helps deliver Perry's message of family, love and faith.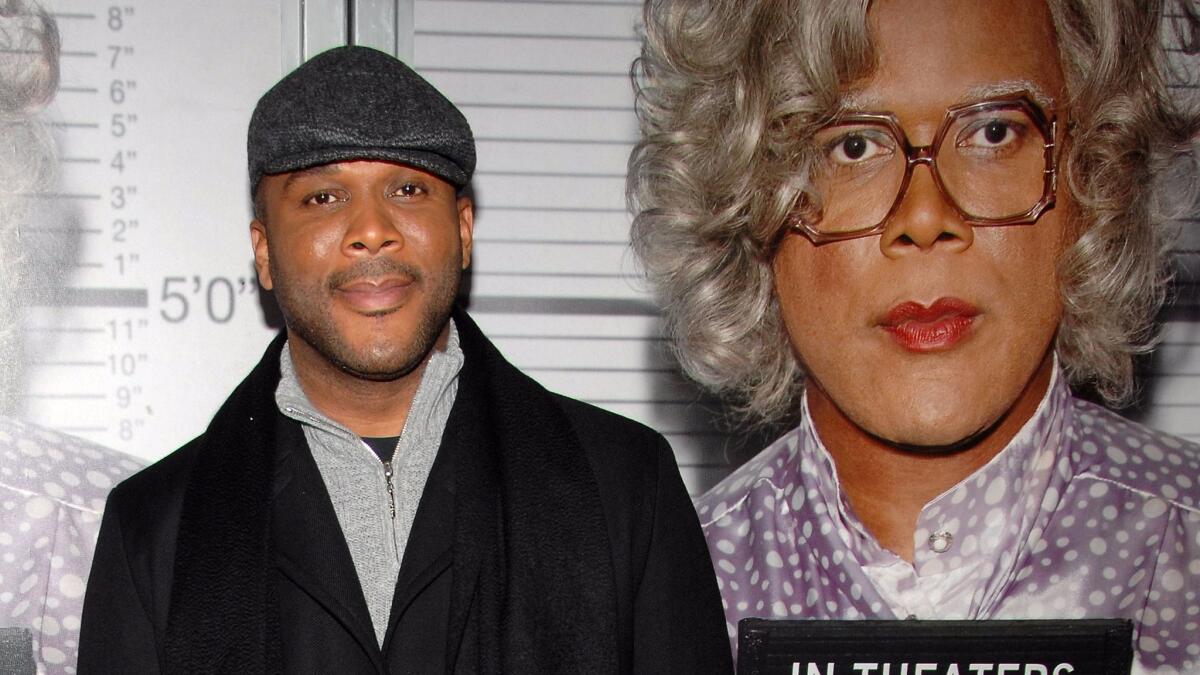 "Madea got her start in front of black people," Perry said. "I own the character. No one told me to do it. People relate to the realness of the character — she's not politically correct. It's like a member of your family. It's comedy. It's what's needed now."
Actor-comedian Chris Rock said that characters like Madea parallel other comic touchstones that have stood the test of time.
"Men dressing as women is a comedy staple, like a pie in the face," Rock said. "For a lot of film critics, the greatest comedy ever made is 'Some Like It Hot,' where Jack Lemmon and Tony Curtis dress up as women. I like Madea. I got no problem wth Madea."
But USC professor Boyd said Madea and other characters played by black men in drag send an offensive and culturally insensitive message that isn't analogous to the white actors.
"You have to dive into the deep waters of slavery to understand it," Boyd said. "During those times, the black man was thought to be a physical threat, violent. One way white [slave owners] thought of to deal with that, short of murder, was castration as a way to emasculate them."
Indeed, in the "White Famous" pilot, Mooney is finally persuaded to put on a dress but discovers in horror — during a fantasy sequence — that he no longer has male genitalia. He's as smooth as a Ken doll. In reality, Mooney never puts on the dress.
Pharoah, like his character, said he is firm in his beliefs about staying honest to himself.
"I stick to my guns," said the former "Saturday Night Live" star. "There are people who look up to me, parents who have kept me grounded. I don't feel like you have to sell out. Talent is talent. Talent transcends everything."
The controversy over black comics in drag was not as fevered nearly five decades ago when Flip Wilson, one of the few African American stars to host a successful network variety series, struck gold on his NBC show with Geraldine Jones, the brash, finger-snapping girlfriend with the catchphrase "The devil made me do it."
Times have changed, said Darryl "D'Militant" Littleton, author of "Why We Laugh: Black Comedians on Black Comedy." "Putting on a dress can be seen as a form of selling out," Littleton said "Some say it takes away your street credibility."
In that vein, some prominent black entertainers have sworn off wearing the dress, most prominently Dave Chappelle, who declared several years ago he would never do it, saying it was demeaning. In an interview with the Wall Street Journal, Marlon Wayans — who donned both a dress and whiteface for the film "White Chicks" with brother Shawn — took a different line in response to that declaration, saying, "I'm a big fan of just comedy. I don't look at it and go, 'Man, you wear a dress, you ain't funny.'… There's no vanity in comedy, you go get it, a lot of people have done a lot of great, funny things in a dress."
Kenan Thompson, who has played several female figures such as Oprah Winfrey and Maya Angelou during his 15 seasons on "Saturday Night Live," took a stand in 2013 when he refused to put on any more skirts until the series hired black female cast members. At the time, he and Pharoah were vocal about the absence of black female "Not Ready for Prime Time" players.
Further complicating the issue in the current Hollywood climate is the growing conversation about transgender roles and the argument over whether non-transgender performers should play trans characters. And that's to say nothing of the tangentially problematic but persistent idea that by playing women men are seen as "less powerful."
Story maintained that the debate over black comics in drag can be primarily resolved with some key questions.
"Is it funny?' Story said. "Is it something that you can be proud of later? Is it against your personal morals or is there a means to the end?"
He added that the portrayals can be enlightening, which should also help soothe concerns.
"I love Madea because I know that person," he said. "That's what makes it funny, it's a presentation of that kind of character that we find endearing. Men may have observations that maybe the female gender may not have. It comes from a place of love and us saying, 'These characters are important. We can pull back the curtain and have some fun.'"
Twitter:@GeBraxton
Get our L.A. Goes Out newsletter, with the week's best events, to help you explore and experience our city.
You may occasionally receive promotional content from the Los Angeles Times.