'My Brilliant Friend': How HBO's Elena Ferrante adaptation overcame every obstacle thrown at it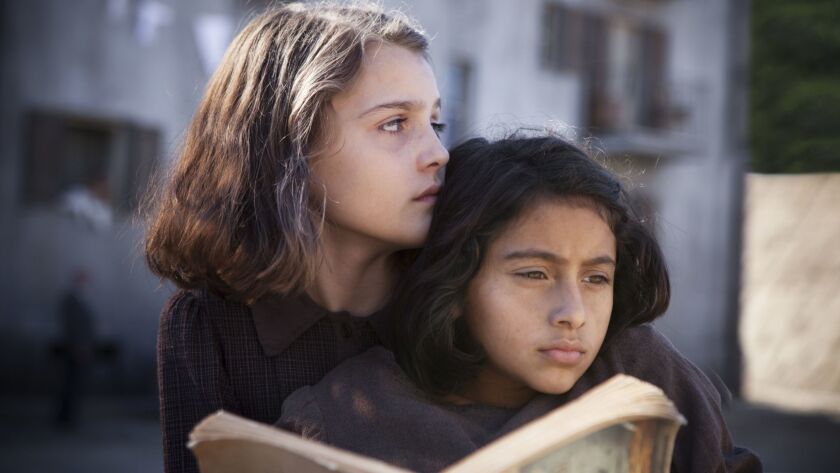 HBO, which has been celebrated for distinctive and groundbreaking programming, is about to launch its first foreign-language series, "My Brilliant Friend." It wasn't an easy undertaking.
Based on the bestseller of the same name by pseudonymous Italian novelist Elena Ferrante — the first in a four-book series, the project presented several challenges, including guiding young, inexperienced actors and re-creating a 1950s post-World War II Naples. And to keep the story authentic, characters speak in their native Italian tongue; English subtitles have only been added for American audiences.
The eight-episode season follows Elena Greco, a now-elderly woman who has discovered that the most important friend in her life, Raffaella "Lila" Cerullo, has mysteriously disappeared. She starts to write the story of their stormy relationship, and her narration tells of the love-hate bond and their adventures.
The girls are played by four different young actresses. Newcomers Elisa Del Genio and Ludovica Nasti play the young Elena and Lila, respectively, while the girls in their teens are portrayed by Margherita Mazzucco and Gaia Girace.
Through flashbacks starting in their first year of primary school in 1950s Naples, the series covers more than 60 years of friendship as Elena tries to describe her fascination with her brilliant friend.
The show was originally going to be made for an Italian audience in Italy without any U.S. involvement. Jennifer Schuur, now executive producer for the show, was a mega-fan of the novels — to the point where she wrote a love letter to Ferrante gushing about how much the books meant to her — and was willing to fly to Italy to be a part of the show in any way possible.
Producers at that time were initially resistant to Schuur, but grew more receptive a few months later.
"I read the books long before I ever got involved with this project and I was completely obsessed with them, like everyone else who reads them," Schuur said during an interview last summer. "I think the producers at that time had spent enough time with the project and realized it could be much bigger, that there was a way to make it go global. That's when they brought on an American writer and producer to speak to American storytelling sensibilities so they could take on a partner like HBO. That's when I threw my hat into the ring."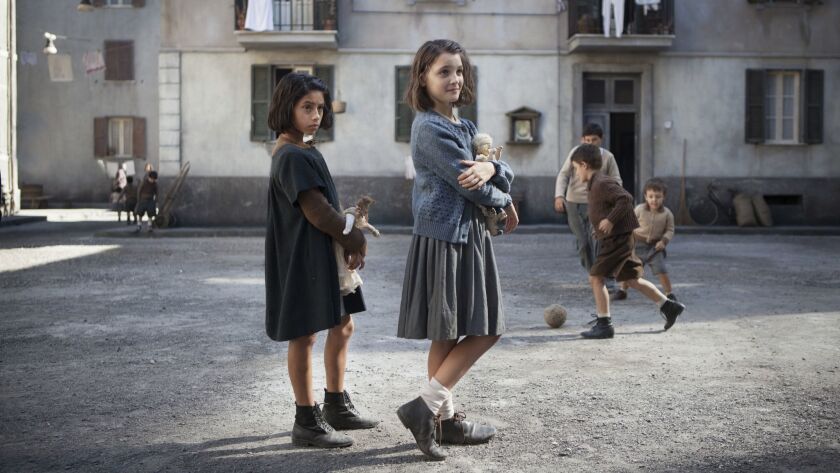 Though the story is told with children and teens at the forefront, the themes and subject matter are mature. The children are adapting to an intense world that includes envious women, cheating men, violence and poverty.
Saverio Costanzo directed each episode — he had such a clear vision, Schuur said, that "there was no way to give it to someone else."
Costanzo spent months creating the world that would be their home for the 2 ½ years of production. Because the look of a broken-down Naples no longer existed, 14 exterior apartment buildings, five interior sets of apartments, a church and a tunnel had to be built. He said it took over 100 crew members to create 215,000 square feet of sets.
More significantly, the show needed actors who could not only match the physical features from the novel's heroines but who could embody the fiery intelligent spirit of Lila and capture the quiet, gentle but curious Elena. Also required were two young actresses who when aged looked like the older set of actors.
After auditioning around 8,000 girls, dark-haired 10-year-old Nasti came in one day to audition for Lila. Schuur and Costanzo said it was chilling how much she was able to capture the girl's spirit. They said separately that once they found their Lila, they felt prepared for the challenge; it was "a miracle." They later found Elena in blond-haired 10-year-old Del Genio.
"These girls [Nasti and Del Genio] are 10, so they're very, very young, it's special," Costanzo said in English. "It's like they're all adults when they're acting. We basically just somehow made it familiar [for them] where they could express themselves taking out what they are [and putting that] into the characters."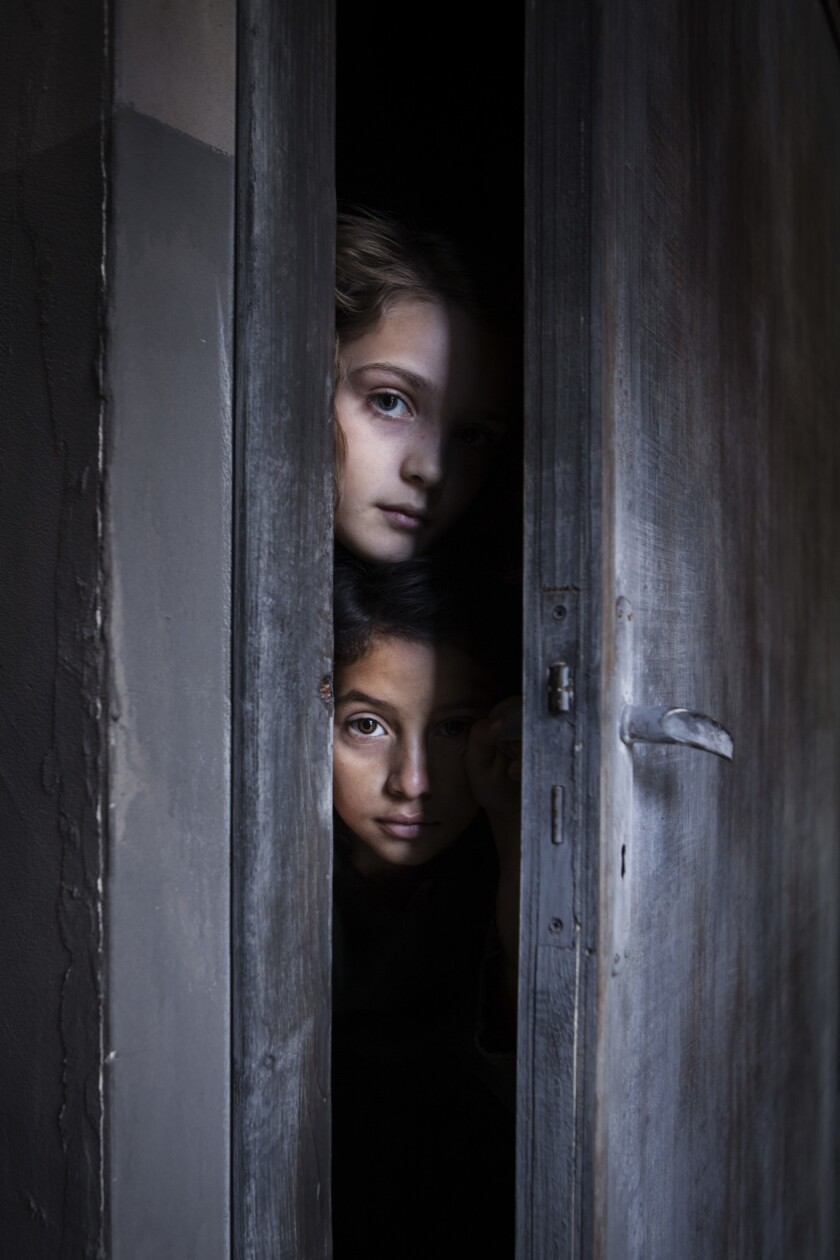 Costanzo spent a few weeks workshopping with all four girls so they could interact together, move around the set and practice the Neopolitan dialect that was necessary for the episodes. They would be working with 1,000 other child extras so he wanted them to feel at home.
According to the girls who are equally as intelligent as their character counterparts, Costanzo's patience and kindness meant everything to them. Having a mutual trust allowed them to give their best performances.
"It has been truly a wonderful experience, not only because we were acting for the first time but because of the friendships that we developed," Nasti, now 12 years old, said through a translator. "We played, we had fun, especially with Saverio. Saverio was a person who strongly believed in us and helped us."
All four talked to The Times together in one room in L.A. with the help of a translator and their energy was not only vibrant, but it seemed like these girls could be sisters. Their chemistry was obvious even though the pairs never appeared on camera together in the series. The teen versions of Elena and Lila aren't introduced until Episode 3, so the younger girls carry the first two episodes.
Mazzucco, 16, and Girace, 15, had time to develop what they wanted for their characters and pull from their younger selves when needed.
A major storyline in "Brilliant Friend" is Lila's excellence at such a young age and how the Italian patriarchy restricts her from proudly expressing it. Their teacher, played by Dora Romano, who is introduced at the beginning of the series, fosters Lila's potential.
In real life, all four girls are mature beyond their years. They know multiple languages, have an appreciation for their craft and for their education.
"I actually had a teacher this year that supported me [like the show's teacher] a lot while I was filming. She was my Latin, ancient Greek and Italian teacher and she told me I could do both things, I could study and could film," Mazzucco said. "And that's just what I did, I would film and then go to school and take my tests and she treated me like every other student."
After a few minutes of talking, their character traits naturally came out.
Del Genio and Mazzucco, like Elena, are soft-spoken, observant and empathetic. Like Lila, both Nasti and Girace are smart, strong-willed and funny.
"I feel really close to Elena. We are both shy," Del Genio said softly. "I think we are both internally much stronger than people would think if they saw us from the outside."
Nasti, who is extroverted, also mentioned that if Lila were a kid today, she would wear Adidas sneakers like she herself does.
"I'm as determined, as insecure and as fragile as she [Lila] is," Girace said. "But if I can find a difference, I would say I'm more explicit than Lila. If I don't like a person, I can't hide it I have to say it —"
"Well, so would Lila," Nasti interjected.
"OK, then maybe you're right. I'm more similar to Lila than I think. Forget what I said," Girace concluded.
'My Brilliant Friend'
Where: HBO
When: 9 p.m. Sunday, Nov. 18
Rating: TV-MA (may be unsuitable for children under the age of 17)
---
Inside the business of entertainment
The Wide Shot brings you news, analysis and insights on everything from streaming wars to production — and what it all means for the future.
You may occasionally receive promotional content from the Los Angeles Times.