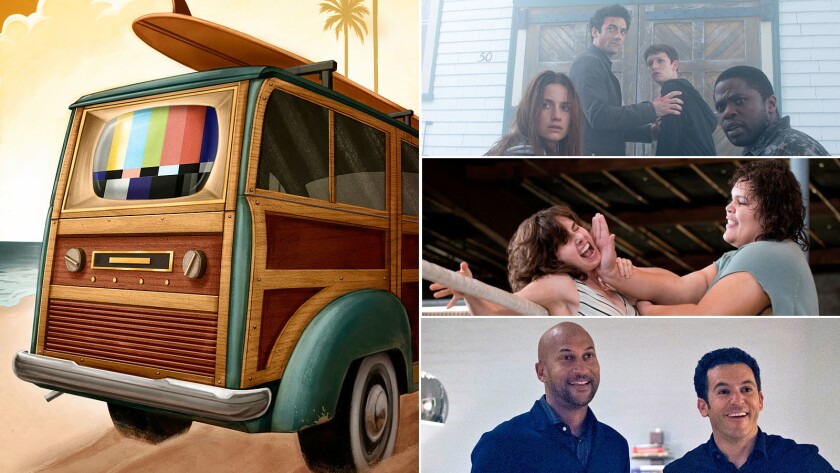 Television Critic
When Beach Boys Brian Wilson and Mike Love wrote "All Summer Long" back in 1964, they did not think to include watching television along with miniature golf and spilling Coke on one's blouse to capture the delights of the season. TV took a kind of summer vacation itself back then, filling prime time with reruns.
Well, things have changed.
Trends emerge. At least six new series this summer are set in the 1970s or '80s, four of those take place in Los Angeles, and two of them involve "The Tonight Show." Two mess around with Shakespeare; two adapt Stephen King. Pick a few or watch them all — ha! Here's a partial guide to what's in store.
---
Monday, May 29
"Still Star-Crossed"
Executive producer Shonda Rhimes delivers a fantasy of old Verona (developed by "Scandal" scribe Heather Mitchell from Melinda Taub's young-adult novel) in which Romeo and Juliet's double date with death has had zero calming effect on their totally crazy families. (ABC, 10 p.m.)
Sunday, June 4
"I'm Dying Up Here"
A more or less affectionate, bittersweet, believable take on the early-1970s L.A. stand-up scene, with Melissa Leo as a club owner who is not exactly the Comedy Store's Mitzi Shore and Ari Graynor vivid as a woman comic struggling to be heard in a little boy's world. (Showtime, 10 p.m.)
Sunday, June 11
"Claws"
Niecy Nash stars as a Sarasota nail salon owner out to own a better salon, a dream that involves her with criminal types — though you could cut the crime from this story and still have characters good enough to go on. Carrie Preston, Judy Reyes and Jenn Lyon are in her crew; Harold Perrineau plays her brother. (TNT, 9 p.m.)
Monday, June 12
"The Putin Interviews"
It's nonfiction on the face of it, but viewers will still have their work cut out sorting fact from fancy when Oliver Stone and Vladimir Putin rub their agendas together in this four-part chat. Episodes air consecutively across the week. (Showtime, 9 p.m.)
Sunday, June 18
"My Mother and Other Strangers"
Pastoral family-drama set in Northern Ireland during the Second World War. Features céilí bands, schoolboys in short pants and American airmen in aviator glasses amid young and less young love. (PBS, 8 p.m.)
See our complete summer TV preview »
Thursday, June 22
"The Mist"
Stephen King's Maine-set novella becomes a full-blown series, with Frances Conroy and Isiah Whitlock Jr. Don't go in the mist, basically. (Spike, 10 p.m.)
Friday, June 23
"GLOW"
Alison Brie (desperate, determined) and Marc Maron (weary, grumpy) star in Liz Flahive and Carly Mensch's spunky comedy of 1980s cable-TV women's wrestling. (Netflix, to stream)
Sunday, June 25
"Prime Suspect: Tennison"
Prequel detective series features the 1973-model Jane Tennison (Stefanie Martini) before she grew up to be Helen Mirren. (PBS 10 p.m.)
Monday, June 30
"Gypsy"
Movie star Naomi Watts takes the lead in a drama about a New York City therapist (Watts) who crosses lines therapists are not supposed to cross. (Billy Crudup, who plays her lawyer=husband, is a movie star too.) (Netflix, to stream)
Wednesday, July 5
"Snowfall"
"Boyz n the Hood" director John Singleton co-created this glossy, well-acted tale of crack cocaine coming to L.A. in 1983. With Mexican cartels, rogue CIA agents and neighborhood dealers all in each other's business, it's one of those stories in which everyone's bad, but some are worse than others. (FX 10 p.m.)
Monday, July 10
"Will"
William Shakespeare is a hot twentysomething among hot twentysomethings in this Young Guns of Elizabethan Theater drama from regular Baz Luhrmann scripter Craig Pearce. Southwark represent! (TNT, 9 p.m.)
Tuesday, July 11
"The Bold Type"
Print is still where it's happening in this series set around a women's magazine. Melora Hardin plays the editor in chief (partly modeled on executive producer Joanna Coles, who ran Cosmopolitan); (Freeform, 9 p.m.)
Wednesday, July 12
"Salvation"
CBS, which likes to stick with what it knows, marks another summer with a sci-fi serial. This one has an asteroid heading to Earth, possibly — hopefully, did I hear you say? — to finish the work of the one that killed the dinosaurs. Santiago Cabrera is the Elon Musk-alike who thinks he can stop it. (CBS 9 p.m.)
Thursday, July 13
"Hooten & the Lady"
In the old spirit of plugging the summer season with British imports, comes this globe-trotting, treasure-hunting riff on "Romancing the Stone" and "Indiana Jones." Michael Landes is an American regular guy, Ophelia Lovibond is an aristocratic curator. Together they're [see title]. (CW, 9 p.m.)
Friday, July 14
"Friends From College"
Into each generation a "Big Chill" is born. Reunion comedy directed by Nicholas Stoller ("Forgetting Sarah Marshall") makes it official that Keegan-Michael Key, Fred Savage, Cobie Smulders, Nat Faxon, Annie Parisse, Jae Suh Park and Billy Eichner are no longer young. (Netflix)
Friday, July 21
"Raven's Home"
Or, "That's Still So Raven." Raven-Symoné returns to her old network and character, now the mother of twins, sharing a house with former castmate Anneliese van der Pol, who has a kid of her own. Listen, it worked for "Fuller House." (Disney, Channel 10 p.m.; moves to 8:30 p.m. July 28)
Monday, July 24
"Midnight, Texas"
Other books by "True Blood" author Charlaine Harris are the basis of this more whimsical than dark small-town mystery. François Arnaud stars as a psychic medium lying low in a hamlet whose other residents include a witch, a vampire, an angel and a werewolf. There are weirder places in Texas. (NBC, 10 p.m.)
"Somewhere Between"
Ten-episode thriller finds San Francisco news producer Paula Patton attempting to protect her 8-year-old daughter from a murder she somehow knows will happen — don't ask me how. (ABC, 10 p.m.)
Friday, July 28
"Room 104"
Mark and Jay Duplass ("Togetherness") are behind this anthology series, which sets a dozen different stories in the same "corporate chain hotel" room. (HBO, 11 p.m.)
Wednesday, Aug. 2
"The Sinner"
In the first season of what's meant to be an anthology series, Jessica Biel stars as a young mother who commits an apparently random act of violence; Bill Pullman plays a police detective trying to work out why. (USA, 10 p.m.)
Thursday, Aug. 3
"What Would Diplo Do?"
Viceland ventures into scripted comedy with a series starring James Van Der Beek as a fictionalized version of EDM star Diplo. Exactly as you might have expected. (Viceland, 10 p.m.)
Wednesday, Aug. 9
"Mr. Mercedes"
David E. Kelley adapts Stephen King's 2014 detective novel. Brendan Gleeson plays an ex-cop taunted out of retirement by letters from crazy killer Harry Treadaway. (DirecTV/AT&T, 8 p.m.)
Sunday, Aug. 13
"Get Shorty"
Ray Romano and Chris O'Dowd co-star in a series inspired by the Elmore Leonard novel. O'Dowd plays a contract killer who wants to get out of that business and into the business called "show"; Romano is his reluctant new producing partner. (Epix, 10 p.m.)
Wednesday, Aug. 16
"Marlon"
Marlon Wayans plays a wacky dad co-parenting with ex-wife. He's the father as child, and yet also the child as father. (Nods thoughtfully.) (NBC, 9 p.m.)
Friday, Aug. 18
"Marvel's The Defenders"
Superhero collab brings crime fighters from "Daredevil," "Jessica Jones," "Luke Cage" and "Iron Fist" into a single series. Will it be four times the fun or just divided into quarters? (Netflix, to stream)
Thursday, Aug. 24
"There's … Johnny!"
Nebraska teen Ian Nelson winds up working on "The Tonight Show" after its move to L.A. Co-created by Paul Reiser, who was there (a little later), with Jane Levy as a talent coordinator, Tony Danza as Fred de Cordova and old footage of Johnny Carson as Johnny Carson. (Seeso, to stream)
Friday, Aug. 25
"The Tick"
Third adaptation (second live-action) of Ben Edlund's comical comic, with Peter Serafinowicz as the hard-to-kill, blue-suited superhero. (Amazon, to stream)
"Disjointed"
From Chuck Lorre and former "Daily Show" head writer David Javerbaum, a workplace comedy with Kathy Bates running an L.A. pot dispensary. This is indeed a changing world. (Netflix, to stream)
Read more stories from our summer television preview here.
Follow Robert Lloyd on Twitter @LATimesTVLloyd
---