With new show 'Snowfall,' John Singleton tells the story of how cocaine radically changed L.A.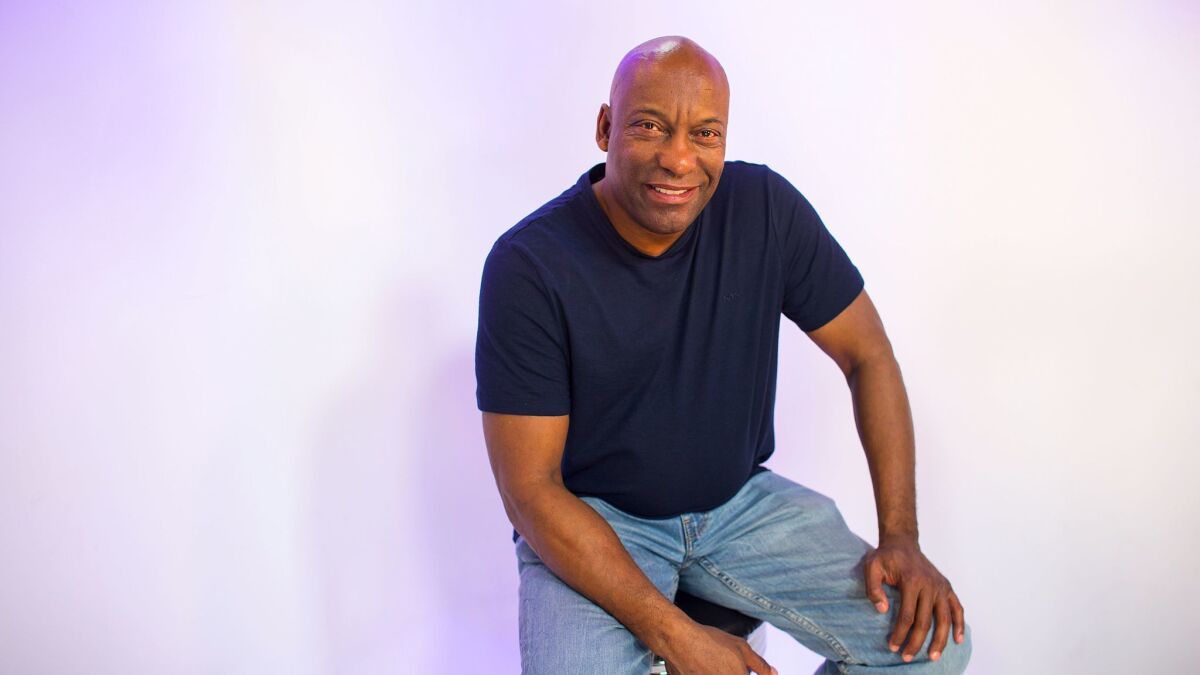 For John Singleton, relief is not being part of the YouTube generation — or rather, not having to forge a career in the thick of it.
"I don't think I could ever have accomplished what I have if I started now," says Singleton, 49. "How do you break through the clutter, man? What everyone wants is to get their voice heard and by as many people as possible. But how do you quantify that in this world? I don't know, I don't know. It's not for me."
That's not to say Singleton is inflexible to the shifts hitting Hollywood. The prolific producer-director, whose work often examines social issues, is having a late evening lunch at the Millennium Biltmore Hotel in downtown L.A. during a break from production on his latest project: a television series called "Snowfall." It's his second show this year.
See our complete summer TV preview »
After more than two decades working in film and making his mark with flicks such as "Boyz N the Hood" and "2 Fast 2 Furious," Singleton is taking a bolder leap into the world of television. Following a steady buildup of episodic directing for such series as "Empire," "The People v. O.J. Simpson: American Crime Story" and "Billions," he is strengthening his TV imprint.
Singleton launched the BET police drama "Rebel" — which he wrote, directed and executive produced — in March. July brings the unveiling of his more high-profile offering: FX's drug drama "Snowfall," in which he serves as the co-creator and an executive producer.
"I have a whole lot of stories to tell," the L.A. native says. "With television, I'm like making a movie every week. What filmmaker doesn't want to have the opportunity to do that?"
I don't think I could ever have accomplished what I have if I started now.
— John Singleton
"Snowfall," set in 1983, explores the early days of the crack cocaine epidemic in the inner-city neighborhoods of Los Angeles. The 10-episode first season interweaves the stories of a number of characters, including Franklin Saint (Damson Idris), a young street entrepreneur on the quest for power; Gustavo Zapata (Sergio Peris-Mencheta), a Mexican wrestler caught up in a power struggle within a crime family; Teddy McDonald (Carter Hudson), a CIA operative running from a dark past who begins an off-book operation to fund the Nicaraguan Contras; and Lucia Villanueva (Emily Rios), the self-possessed daughter of a Mexican crime lord.
"It's an untold story," Singleton says. "It's the story about how cocaine changed Los Angeles. There's a whole kind of oral history, folk tale about this era. And no one has dramatized it. I wanted to do that. It's a nostalgic show. But very, very edgy."
Singleton, wearing a black sweatshirt with the word "REBEL" emblazoned on the back, has returned to the presidential suite of the hotel to finish the final scenes on the last day of shooting for "Snowfall." He is directing the episode, and a scene involving Hudson's Teddy walking into the hotel to meet with some Colombians becomes more than just a simple walking shot to Singleton.
"About halfway through the take," Hudson later analyzes, "I thought that I had forgotten something, and I sort of turned but then realized I had my briefcase and kept going. I thought it was a rehearsal. John was like, 'I don't know what you're doing there, but keep that. Now we're going to go in and do a real tight close-up.'
"He went into this long explanation about the ways in which Italian directors of spaghetti westerns pioneered this idea of the tension that is created when you contrast a really wide establishing shot with real tight close-up of someone's face and how it makes the audience uncomfortable because they aren't expecting to jump perspective that quickly," Hudson adds. "I mean, it's just a scene of me entering a hotel, but he's using it to make people feel really unsettled. That's John."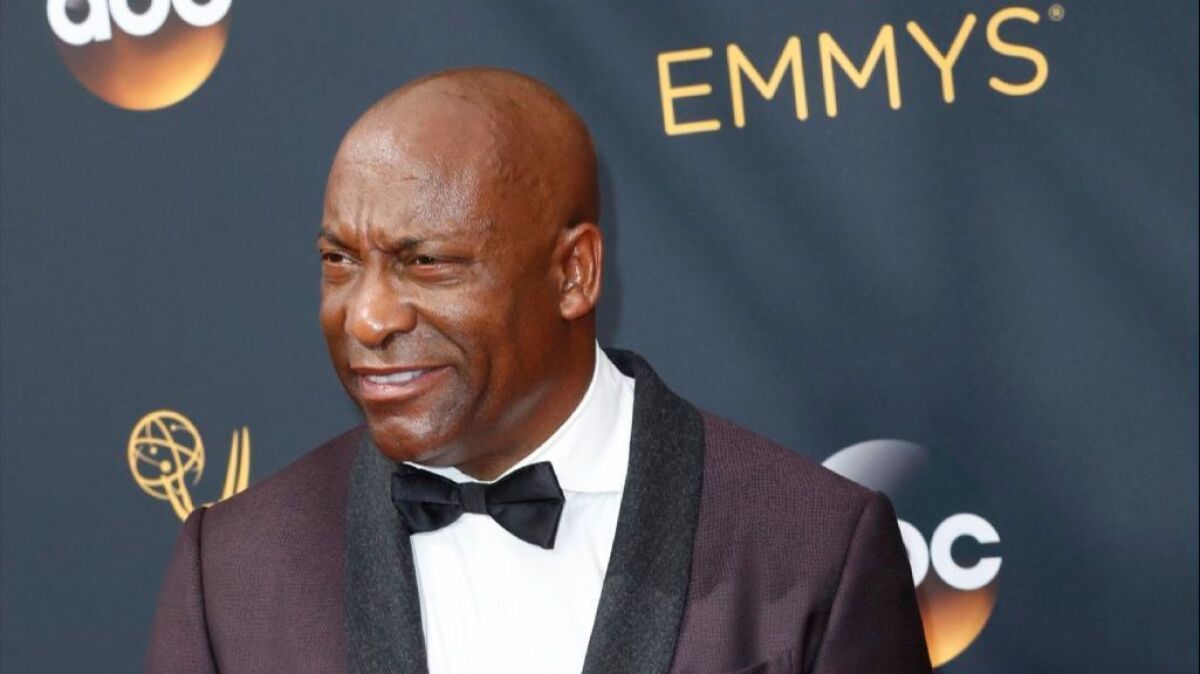 It's an untold story. It's the story about how cocaine changed Los Angeles.
— John Singleton
The series, which had originally been set at Showtime before making its way to FX, is a homecoming of sorts for Singleton. Filming took place in South-Central and the Valley, where he grew up and went to school. But he's quick to point out that this is not his story.
"My life changed when I went to school in the Valley, when I was in eighth grade," he says. "It was the first time I went on the 405 freeway. They were rich in Encino, Tarzana. You see a different life. Everyone was changed by the crack problem in my neighborhood. I remember ice cream trucks and you realize the ice cream truck isn't selling ice cream, they're selling crack.
"There's an audience that lived through it," Singleton adds, "and there's another audience that were too young or not born that don't know the repercussions of how things got the way they are."
Reached later by phone, Eric Schrier, president of original programming at FX Networks, says Singleton's relative newness to the world of television helped elevate the series.
"It's like when he made 'Boyz N the Hood' — there was a freshness to it," Schrier says. "His freshness to television brings a level of innovation and excitement to the piece."
Singleton, back on the set, pauses for a moment to reflect on the timing of his foray into television.
"I think I came in at the right time for me," he says. "Honestly speaking, I was bored with the whole industry. I was spending time on my boat in the marina, sailing up and down the coast. I became kind of an ocean vagabond — just reading and writing. I was disillusioned.
"I like to be on the next level of what's new, but I was sitting in these meetings with people who don't know anything about the outside world of Hollywood," he continues. "It changed because Lee Daniels asked me to direct 'Empire.' And it was re-energizing. I was like, I could do this. I could create something. And I started writing."
But to realize that when television is overstuffed with programming — a conditionFX chief John Landgraf has termed "peak TV" — would seem to be fraught with obstacles. Singleton brushes that off.
"For me it's great," he says. "I used to run track in high school. The marketplace in television is so competitive, only the strong survive. I'm not going to put anything on TV that's boring. I think different from the norm. I'm totally out of the box."
Read more stories from our summer television preview here.
Twitter: @villarrealy
ALSO
Meet Carter Hudson: The guy tackling the crack epidemic in FX's 'Snowfall'
---
Get our L.A. Goes Out newsletter, with the week's best events, to help you explore and experience our city.
You may occasionally receive promotional content from the Los Angeles Times.