Trevor Noah strikes a nerve – and ratings gold – as he steers 'The Daily Show' into the Trump era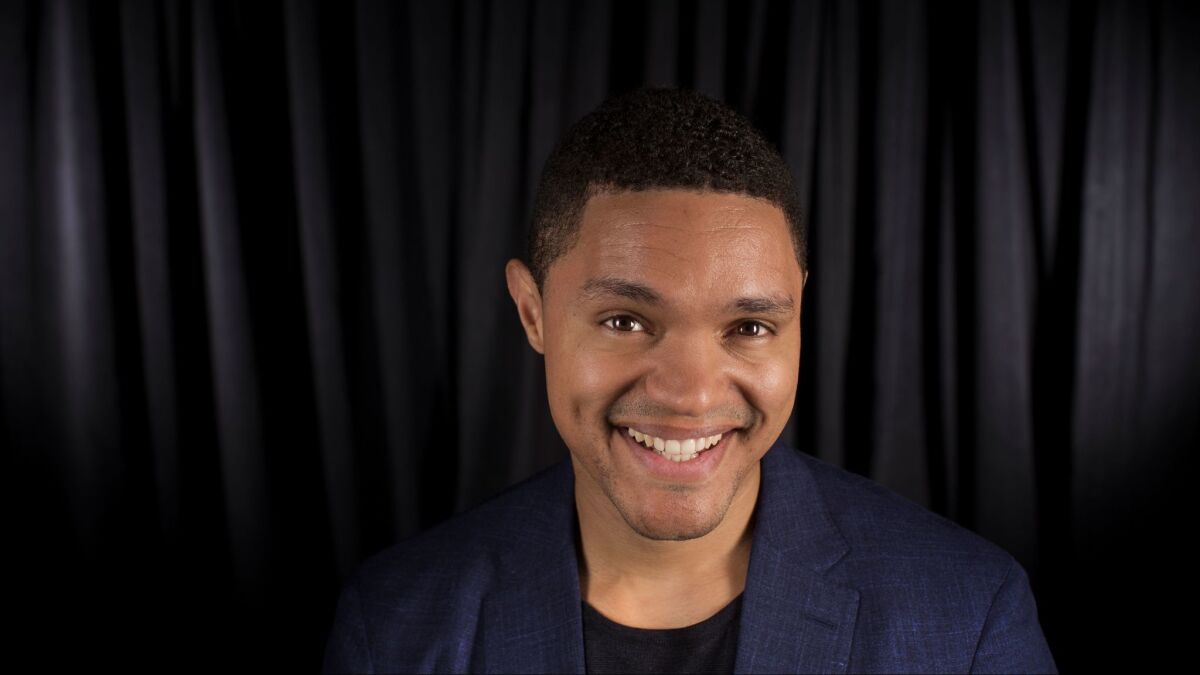 Trevor Noah came under a bright and somewhat harsh spotlight when he took over Jon Stewart's hosting chair at Comedy Central's "The Daily Show." The South African comedian was relatively unknown in America, and he received mixed responses in his first weeks.
But almost two years after his debut, Noah and "The Daily Show" have landed in the top tiers of the highly competitive late-night arena. He scored one of the last White House interviews with President Obama. He notched his most-watched week ever in May, with more than 1 million viewers. Boosting his victory lap is his bestselling memoir, "Born a Crime," his humorous and heartbreaking account of growing up poor in South Africa and having mixed parents.
During a recent stop in Hollywood, Noah discussed his journey, why he doesn't watch Fox News, "Trump fatigue" and what it's like hosting a daily political show when news breaks almost hourly.
---
Was there a particular point when you felt the show was finally finding its rhythm and hitting its groove?
The Republican National Convention in Cleveland. It was the first time we had gotten out of the building and the show was in an unfamiliar space. Because of that, we were now engaged in this completely different thing, and we were all learning together. It was also when Donald Trump became real. Up to that moment, every fantasy of him being somewhat denounced by the Republicans was still lingering in people's minds. Cleveland is when it all became real.
What was it like for you interviewing President Obama?
Magical, surreal. It was a really momentous occasion for me, personally and for the show. He said [goes into Obama impression], "Hope we're, uh, going to have a serious conversation. Hope you're, uh, not going to make me play games. Let's talk." It was him seeing us as an important show. saying, "This is not the place where I'm coming to be frivolous."
Never, ever in my wildest dreams did I imagine I would be on a first-name basis with the president of the United States of America.

— Trevor Noah
Never, ever in my wildest dreams did I imagine I would be on a first- name basis with the president of the United states of America. Especially the first black president. And maybe the last. Hopefully not.
What's it like to be in a situation where news is constantly breaking? Are there times when the show is ready, you're going on and then a huge story breaks and you have to respond?
I love it. It's put us in a place where we can never be comfortable, where we have to viscerally react to what is happening with measure and thought. It's really fun to be in a space where you can't settle into a rhythm, you can't completely know what your day is going to be. Now we see the show as a living organism that adapts and responds to what's happening.
Is there any potential danger of "Trump fatigue"?
I definitely think so. But I believe people aren't often good with separating Trump from what is happening within the the world he inhabits. Donald Trump is the president of the United States. That is something that some people still refuse to acknowledge, nor do they wish to accept as a reality. That's the first mistake people make, in my opinion. And this president in particular has an impressive ability to create and sustain scandal and news like no one before.
I don't think of Donald Trump as the story. I see this as America's story, and Donald Trump is the antagonist. America is dealing with Donald Trump, not the other way around. That character offers up the opportunity to have conversations about things that people may not have otherwise been interested in. On the griddle of "The Daily Show's" barbecue, we cook different foods every day. But the fuel we use to cook that food is Donald Trump.
Do you watch Fox News?
No. Fox is trying to convince me that what Trump is doing is not scandalous. If I'm watching CNN, I'm watching a shouting match half the time. I watch very little cable news, to be honest. I read everything.
There was a lot of outrage and advertiser pullout when the sexual harassment controversy and the Bill O'Reilly furor broke out at Fox News. Yet there was very little criticism through the years when O'Reilly, Megyn Kelly and other Fox personalities made what could be considered openly racist comments.
The tipping point of outrage or justice is very strange sometimes. I struggle to understand it myself. When the Fox thing happened, I found it particularly intriguing that these people who had been saying the most racist things for so long were now being taken to task for something that in some ways paled in comparison. What I've come to realize in America, which is really scary, is that many people don't see black people as human beings. They see them as being predisposed to crime, people who celebrate poverty and suffering. I think part of it is — and it's a painful thing to say — is that maybe there aren't enough people in America who have a personal connection with black people for them for them to be as outraged by those statements as they are about sexual assault. Everyone knows a woman. Not everyone knows a black person.
It's 2017, and you are the only host of color of a late-night show.
You would hope there would be more. I'm excited to see Robin Thede's show coming on BET. That's not just a host of color, but a female host of color. Also, I may have only one show, but I can have many people on that show who have diverse voices. That's what I try and do.
Would you like to interview Donald Trump?
Absolutely. I have many questions for him I don't think many people would ask.
You've reached out to conservatives for your show. Your interview with conservative firebrand Tomi Lahren went viral. You were very respectful to her.
It's showing the leaks in the wall. It's important to expose the flaws of their argument. When I can sit across from Tomi Lahren and she says black people are protesting because they're crybabys and [NFL quarterback] Colin Kaepernick shouldn't kneel during the National Anthem, that's not the right way to protest, then I get to ask, "When is the right time for black people to protest?" And when she can't answer that question, whether she likes to admit it or not, she has now realized the irrationality of the position she is in or put everyone else in.
You spend all week doing the show and then hit the road doing stand-up instead of taking weekends off ...
Stand-up comedy is my therapy; it's where I thrive; it's what I've done for more than a decade; it's the purest expression of how I think and who I am. Second, it helps me hone my message and how I communicate with people. When you're in front of an audience, you can connect with them on what they're thinking. You can lose sight of that in a TV studio.
How long do you think you'll be doing "The Daily Show"?
As long as I feel I can positively contribute to a conversation in the community that I'm in, whether it's late night or the political discourse, I will continue the show as long as I'm having fun. I'm just getting started, I'll tell you that much.
OVERTIME: What are you reading these days?
"The Hip Hop Wars" by Tricia Rose. I'm re-reading "The Autobiography of Malcolm X." "The New Jim Crow" by Michelle Alexander.
Twitter: @GeBraxton
ALSO:
If President Trump's got the whole world in his hands, Trevor Noah says we're in trouble
Trevor Noah grills Tomi Lahren about 'the right way' for black people to protest in America
The late night comedy hosts Stephen Colbert and Trevor Noah weigh in on the dismissal of Bill O'Reilly from Fox News
---
Get our L.A. Goes Out newsletter, with the week's best events, to help you explore and experience our city.
You may occasionally receive promotional content from the Los Angeles Times.