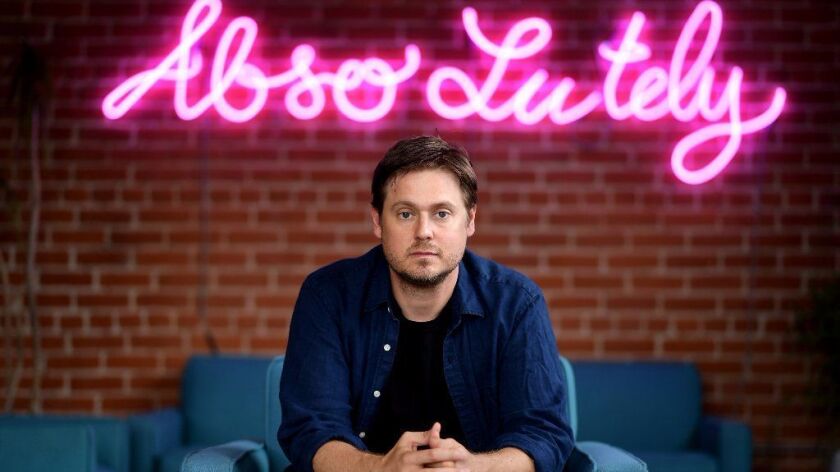 Television Critic
Gregg Turkington, the comedian, was speaking of Tim Heidecker, the comedian.
"Tim is just such a busy creative guy and always has stuff up his sleeve. He's the kind of guy when he's got some leisure time, he would call up and say, 'Hey, you want to work on something? You want to write a screenplay?'"
Heidecker is best known as the Tim of Tim and Eric, with Eric Wareheim; "Tom Goes to the Mayor," "Tim and Eric Awesome Show, Great Job!", "Tim and Eric's Bedtime Stories" are among the series they have created for Adult Swim. It's an ongoing collaboration: Their summer "Ten Year Anniversary Awesome Tour" ends Aug. 9 at the Ace Hotel in Los Angeles, and they are assembling a new series of "Bedtime Stories."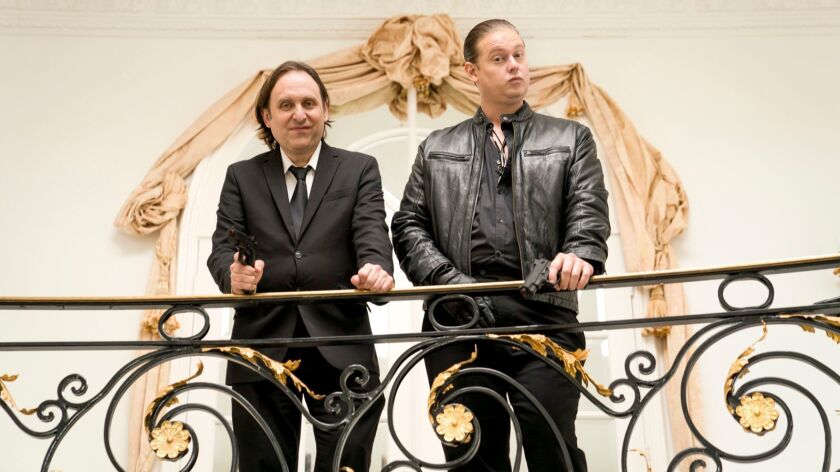 But it's not an exclusive relationship. Heidecker and Turkington, also known as the argumentative bad comic Neil Hamburger, are also collaborators. They were working together in 2012 as actors on Rick Alverson's film drama "The Comedy," and between takes, Turkington recalled, "Tim just gets out his phone and says, 'Let's do a podcast.'"
That podcast became the Web series "On Cinema at the Cinema," a narrative tale of passive-aggressive co-dependence and intermittent disaster disguised as a movie-review show, whose ninth season has just concluded on AdultSwim.com. Its magnificently off-kilter spinoff, "Decker," born in 2014, is currently airing on the Adult Swim cable TV block.
In the world the shows share, Heidecker plays a character named Tim Heidecker, who hosts "On Cinema" and who has also created an ultra-low-budget, poorly acted series in which he plays a character named Jack Decker, an all-American superspy who is suspicious of the government he is grudgingly sworn to protect. "Tim Heidecker is Tim Heidecker is Jack Decker" would be the Hollywood way of putting it.
In "Decker," Gregg, Tim's constant "guest" on "On Cinema," plays a character named Jonathan Kington, whose mastery of codes reflects his "On Cinema" character's obsessive cataloging of his library of videotapes. Both in "On Cinema" and "Decker," Tim and Gregg are locked in a kind of quantum state of cooperation and conflict. Gregg wants to talk about movies; Tim, who doesn't even bother to watch them, wants to talk about himself, which forces Gregg to talk about Tim.
The fans contribute so much by the way they talk about it and the sides they take.
Tim Heidecker
As Heidecker put it to me, "The dynamic is, if there was anybody else for us we'd be out of there."
We were sitting off his kitchen on a recent sunny day. Although he plays disturbing and difficult people at work, Heidecker is offstage a friendly family man who lives in the hilly, leafy northern reaches of Glendale. ("In Glendale" is the name of the album he released last year — there is a musical component to his career, as well. He has a podcast, too, "Office Hours," in which he takes calls from listeners.)
Though either series can stand alone – I was won over by the first season of "Decker" before I had ever seen "On Cinema at the Cinema" – it's impossible to fully appreciate the workings of one series without knowledge of the other.
"There are things in the new season of 'Decker' that will be confusing to you unless you understood that [Tim] was recently in a fire, for example – this guy has only one working hand," said Heidecker. "There's a scene where Gregg walks into a big mansion we're shooting in and he's like, 'Oh, this reminds me of 'Citizen Kane,' a movie I've seen over 15 times.' And if you know ["On Cinema"] well, you know that I claim that he's never seen 'Citizen Kane.' And so that's his way of correcting the record."
The Deckersphere doesn't stop with the series. In between shows it lives on Twitter, where Heidecker and Turkington post as their "On Cinema" alter egos, and in the YouTube comments section, where fans add their support for Tim or Gregg.
"They realize it's all character-driven and they become a character as well," said Turkington. "We're trying to produce the 'Decker' episodes as if the 'On Cinema' guys are really making them, and that the audience is willing to play along so deep blows me away. They totally get that for everything to work everyone has to be on the same page. That's the way it is with the crew we work with down to the grips, everyone's on the same page as to what the mission is."
Heidecker agrees: "The fans contribute so much by the way they talk about it and the sides they take. And we give them lots of material to discuss -- we create problems for them to argue about."
It manifests in the physical world in events like the annual Decker-Con, where new episodes are screened and the cast appears as their "On Cinema" characters. The most recent, which included actor Joe Estevez (who plays the president on "Decker") and members of Tim's in-the-series rock band Dekkar, took place at the end of May in downtown Los Angeles before a packed crowd at the Regent Theater. (Note: I moderated, to use a word that implies more control than is actually involved, two previous Decker-Cons at the more compact Cinefamily at the Silent Movie Theatre.)
The evening was full of conflict and manipulation and power plays, of guarded silences and stormings offstage. Fans asked questions designed to poke the bear, and the panelists did not disappoint them. "How sour was that?" Heidecker said, laughing happily while coming offstage afterward.
In the course of "On Cinema," Tim has endured brain surgery, infection from dirty acupuncture needles; he has been married and divorced, had a child and lost that child, a death upon which he built a self-serving charitable foundation. He has been burned in a fire. As the last season ended, he was facing possible prison time over deaths from poisoned vape pens at a rave he hosted, in his sideline as an EDM deejay.
"Some people are like, 'It's gotten too dark for me,'" says Heidecker. "And I totally understand that. I don't know, it's just always been in our work – it's funny to us because it's wrong. It's not that a kid dying is funny. The comedy comes in the way that I [that is, the character Tim] exploit it. It's not, 'Hey, that kid died' – that would be weird."
The world, meanwhile, has supplied a new context. Jack Decker is right-wing paranoia personified as the "On Cinema" Tim endorsed the candidacy of Donald Trump. It is not an opinion Heidecker shares, although a few viewers suspect otherwise: "We did notice there are some people commenting that they think it's like a 4-D chess, double-agent kind of thing where I'm subversively signaling that these are the right beliefs," Heidecker said. "But it's not that sophisticated."
Indeed, Heidecker remembered of the presidential campaign, which coincided with filming the current season of "Decker," "It was stressful the whole time. Everybody was watching the news; it was all we were talking about. When it went down it was really nuts. The first scene we were going to do [the morning after the election] was where Decker becomes president, and it's me saying, 'The first thing we're going to do is cut the EPA and get rid of all federal regulations.' That was like the first setup of that day. And I gave a speech to the crew, and it was very emotional, because everyone felt fully unmoored. And I just was like, 'We're here to make fun of this guy. That's what we're here to do. So let's do that today.'"
Follow Robert Lloyd on Twitter @LATimesTVLloyd
ALSO:
Seth Meyers on the scramble for news in the age of Trump
Anthony Anderson explains how 'black-ish' can go there with no fear
Trevor Noah strikes a nerve - and ratings gold - as he steers 'The Daily Show' into the Trump era
---