The new 'Queer Eye' guys have love in their hearts — and plenty of tips — for guys (and gals)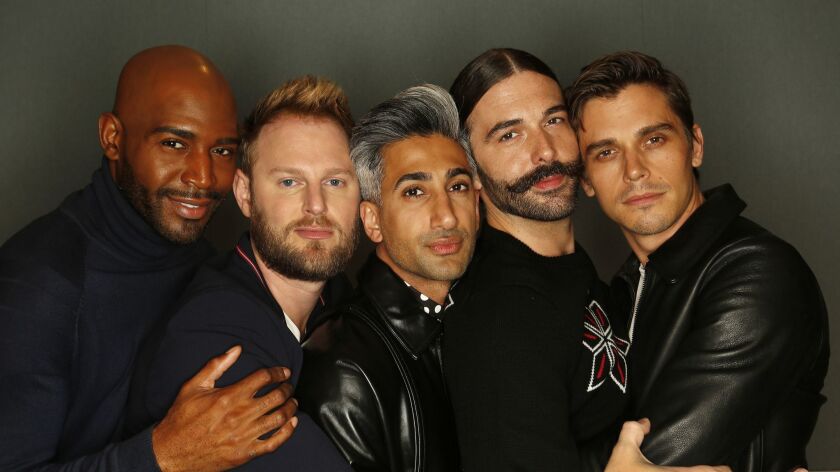 Browse the Instagram feeds of any of the "Queer Eye" hosts and see their comments to each other, and it'll be hard not to question the depth of the friendships in your own life. The new Fab Five — Bobby Berk (design), Karamo Brown (culture), Tan France (fashion), Antoni Porowski (food and wine) and Jonathan Van Ness (grooming) — post such heartfelt declarations to each other as "I live for any sort of cropped anything on you even when you insist on undershirts, love you more than food delivery apps" and "You give me life every single day! You will always be my Beyoncé!"
That camaraderie, positivity and encouragement has also been put to use on the show's stagnant makeover participants in need of a life boost. And it's made Netflix's contemporary reboot of "Queer Eye for the Straight Guy" — now simply titled "Queer Eye" — something of a heartwarming cult favorite since its February launch.
What has this ride been like for you guys?
Bobby Berk: Crazy goodness. It went from 0 to 100 in a week. It's been very heartwarming and humbling to see the reactions from fans.
Jonathan Van Ness: I was just thinking that it reminds me of Britney [Spears] and Christina [Aguilera] à la 1999 or 2000. I'm just feeling like there's very many fans. It's like album, tour, interview, album, tour, next interview, album, tour. I feel like just last week, I was just laying down this little demo track on this little thing called "Genie in a Bottle" and now we're everywhere.
There were complicated feelings about the idea of there being a reboot. What did you think about that?
Berk: Before the show came out, there wasn't a lot of positive press about the reboot. People didn't really seem to think A) it was necessary; B) it was time. It wasn't until the show actually came out and people started watching it that there was a positive reaction
Tan France: But we can't be arrogant enough to believe that because there was a show 15 years ago that it erased all the prejudice. That's not the case at all. I think that that conversation will need to continue until we get to the point where one of us walks down the street and we're not called whatever we may be called. And actually, even if we do get to the point where we are treated as equals, why isn't it necessary to have a show that celebrates what we all represent?
Karamo Brown: We're in a time right now where people are inundated with just mean ugliness, especially when you come to the reality TV genre, which I love. I watch reality TV and it's normally everyone's arguing and fighting, and this is a complete departure from that. We are only about love and supporting each other and lifting each other up.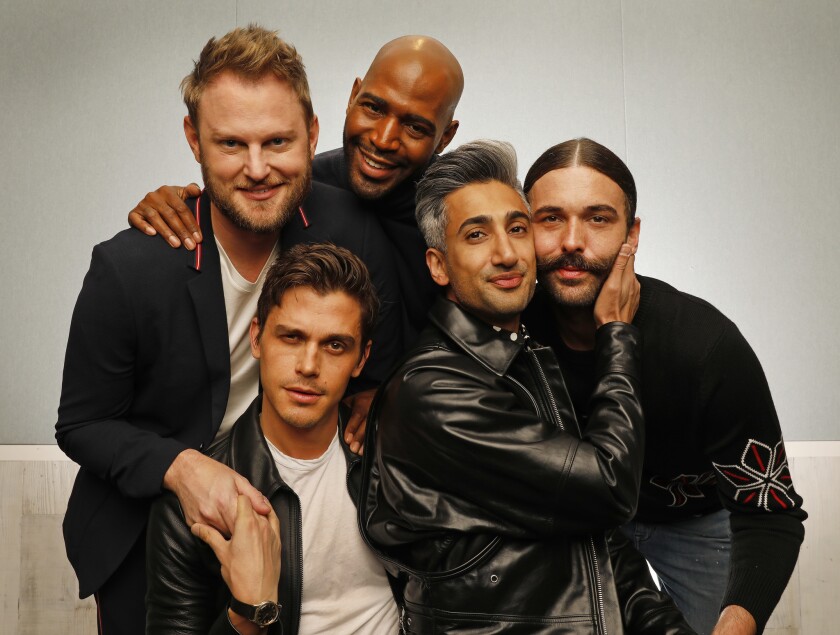 I feel like just last week, I was just laying down this little demo track on this little thing called "Genie in a Bottle" and now we're everywhere.
— Jonathan Van Ness, the grooming expert on "Queer Eye"
What was going through your heads during the first makeover?
Berk: Tom [Jackson] really was our very first baby. And it was cute because when we met him in that diner to pick him up, he's like, "How long you guys been doing this?" And I was like, "Oh, about five minutes."
Antoni Porowski: I remember the feeling of walking into [Tom's] apartment and it was such ... I think I'm the No. 1 fan of the de-straightening day when we go into their homes. I love to smell everything, taste things, put clothes on. For me, it's such a day of discovery where I just get to be a total kid. And there was just such freedom there because we didn't really know what the hell we were doing. We just went in exploring, which last time I remember doing that I was at Polish Catholic summer camp and I was 7. So it was very nostalgic for me. I love every time we walk into someone's house, you just get to learn so much about them.
Berk: Tom was so open. You wouldn't think he would have been. When I first saw him, I was like, "This is gonna be rough." But we started being open with him and playful with him, and he was really receptive just to the love we were giving him. He was kind of like that plant that hadn't gotten any water for years, and you just put a little water on it and it just soaked it up and just started blooming. I think it really set the tone, not just for the fans watching but for us, to see what we could do with the super powers we had.
How has this experience been eye-opening for you?
Berk: That literally by virtue of me being who I am and walking into a room means something. People being moved by me being me is surprising because it doesn't move a hair on my head for me to do that.
Van Ness: That people would be moved by it. I didn't realize that me just living my little baby truth would be such a thing.
Porowski: I was very ignorant of the fact that people really want to know about us and what makes us tick and the little weird and sometimes adorable habits that we have.
People being moved by me being me is surprising because it doesn't move a hair on my head for me to do that.
— Bobby Berk, design expert on "Queer Eye"
Had you watched the original version?
Van Ness: I loved it. I felt like there were very earnest takeaways and at the time, and even now, I was a really big fan of the tone. I liked everything about it. It was so new and different and amazing. I was so into it and Kyan [Douglas] was and still is someone who I would find so attractive and full of good information.
Porowski: My sisters watched the show and they were, I think, in their early 20s or late teens at the time and they, for me, anything that they did was the symbol of open-mindedness, from the music that they listened to, to the clothes that they wore and the people they hung out with. So them watching it, sort of, it really normalized it for me, and it was always with a little bit of shame and trepidation — I would walk through a living room and not want to look too hard. I was not out at the time. I had no idea who I was.
The reboot has a lot of celebrity fans. Who has been the most 'Oh my God, I can't believe they watch our show' for you?
Brown: Chrissy Teigen. We all woke up with her telling us how much she loved us and is following all of us on social media.
Berk: Hilary Duff, Meghan Trainor.
Van Ness: My new best Instagram friend of all time is Nancy Birtwhistle, Season 1 winner of "Great British Bake Off." Like we're literally best friends; we talk all the time on Instagram now. And I'm interviewing her when we go to London. I'm obsessed with her. So her, and then also Dax Shepard and Kristen Bell.
Brown: Beyoncé loves us.
Van Ness: What? No, she doesn't.
Brown: I'm putting it out there so that way she'll read it.
Porowski: I discovered "Lemonade" four days ago.
Van Ness: He didn't just say that. It's a slip of the tongue. English is his fourth language.
Porowski: I stand by it. I just think I wasn't ready for it. Céline Dion has exclusivity over every radio station and billboard in Canada.
Van Ness: Don't say to the L.A. Times that you discovered "Lemonade" four days ago. Please, I am imploring you. Let me help you with this, Boo.
What can you share about what viewers can expect from Season 2?
Brown: So in Season 2, we get the first female that we make over. Our very first.
Berk: We shatter the glass ceiling.
Brown: At the end of that episode, she actually says to each of us: "You didn't even realize you were ordained a long time ago to do this work." So when you talk about the fact that we've all been living this way and trained. Every experience we've had has brought us to a place where we can be open, where we can be honest, where we can lead with love, and I think you see that throughout.
We also have a trans man in Season 2. These are parts of, first of all, the LGBT community that you never see. We talk about trans women a lot in the media, but we never talk about the experience of trans men. And the fact that "Queer Eye" is going to go and do it in such a real and loving and touching and educational way....
Twitter: @villarrealy
---
The complete guide to home viewing
Get Screen Gab for everything about the TV shows and streaming movies everyone's talking about.
You may occasionally receive promotional content from the Los Angeles Times.