Will audiences turn out in record force for 'Star Wars'?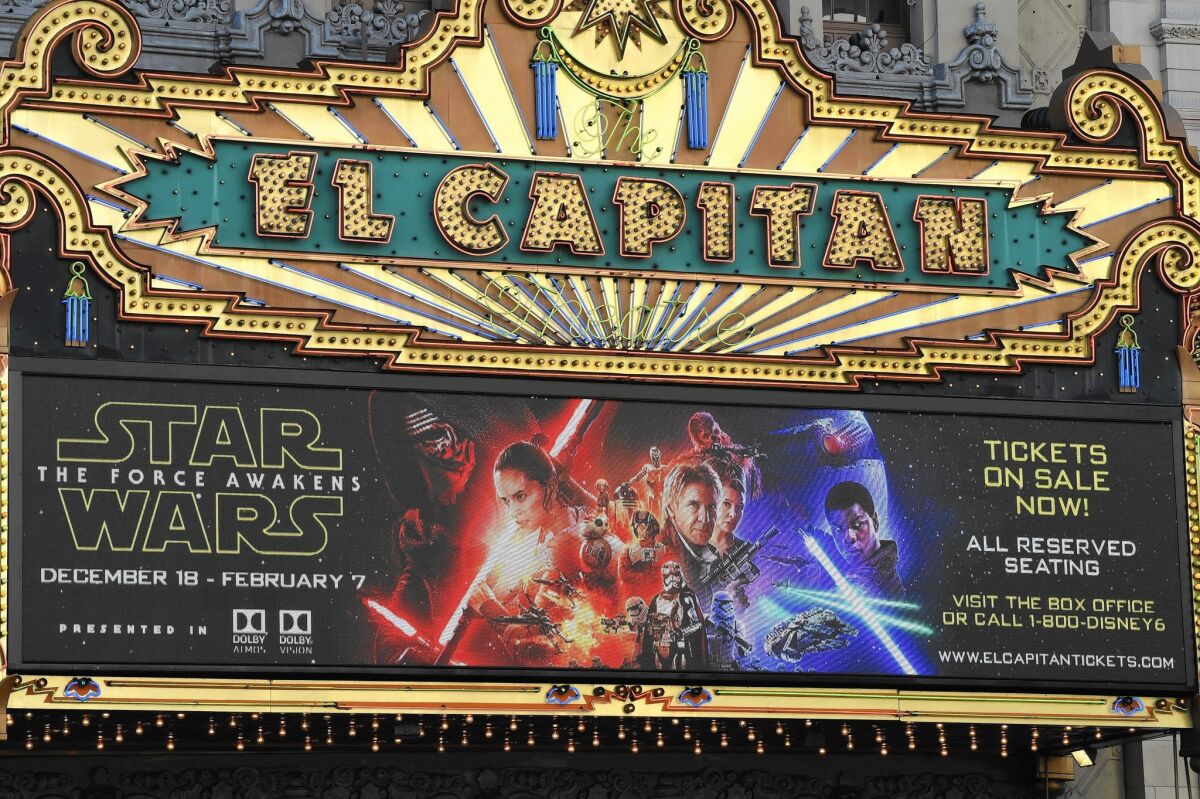 How far will "Star Wars" go?
The betting has begun on just how big Walt Disney Co.'s new space opera, "Star Wars: The Force Awakens," will be when it hits theaters in mid-December.
The film is expected to gross $175 million to more than $200 million in the U.S. and Canada in its opening weekend, according to people who have seen prerelease audience surveys. And many analysts say it could break the record for the biggest domestic opening ever, which was set in June by "Jurassic World." That Universal Pictures sequel grossed nearly $209 million in its initial weekend.
FULL COVERAGE: 'Star Wars: Episode VII - The Force Awakens'
"I would be very, very surprised if it came in below $175 million," said Bruce Nash, president of film industry research firm Nash Information Services. "But it's an interesting question because the really huge weekends have been during the summer. We are talking about something that is just such a huge outlier from a [typical] December release."
The five largest North American debuts of all-time have occurred during the summer months. The record for the biggest December opening of all time is held by "The Hobbit: An Unexpected Journey," which debuted at $84.6 million in 2012.
There are distractions competing for consumers' attention in December, to be sure. Many people are likely to be wrapping up their holiday shopping during the weekend the "Star Wars" film opens. Others could be contending with inclement weather or traveling. And, fewer than 20% of schools are out for holiday break on the day the film premieres, said Dave Hollis, Burbank-based Disney's head of distribution.
"We will measure success by the total run, when we are months and months from December, looking back on what we expect to be a fantastic film experience … and something that has hopefully delivered on and exceeded the expectations of not only 'Star Wars' fans but moviegoers everywhere," he said.
Early ticket sales for the film, which will be shown in 3-D and on Imax screens, are buoying expectations for a record-breaking weekend.
The hoped-for blockbuster has already racked up more than $50 million in advance domestic ticket sales, a record for the industry, according to people familiar with the movie's performance. (Not all the advance sales are for screenings during the first weekend.) That number is sure to increase as Disney ramps up its promotional campaign in the weeks before the debut.
"The Force Awakens" should be a capstone for what is widely anticipated to be a record year for the North American cinema industry, which is expected to end 2015 with more than $11 billion in box office receipts. The "Star Wars" sequel officially launches in the U.S. on Dec. 18, but it will begin its run the night before.
It is not yet clear how many movie theater screens will be showing "The Force Awakens," but the film is expected to play in more than 4,000 theater locations.
First Order stormtroopers are shown in a scene from "The Force Awakens."
(Film Frame / Associated Press)
Shown is Captain Phasma, played by "Game of Thrones" star Gwendoline Christie, in a scene from "The Force Awakens."
(Film Frame / Associated Press)
Domhnall Gleeson stars as General Hux in "The Force Awakens."
(David James / Associated Press)
Rey (Daisy Ridley), left, the pint-sized droid BB-8, and Finn (John Boyega) make a break for it in a scene from "The Force Awakens."
(Film Frame / Associated Press)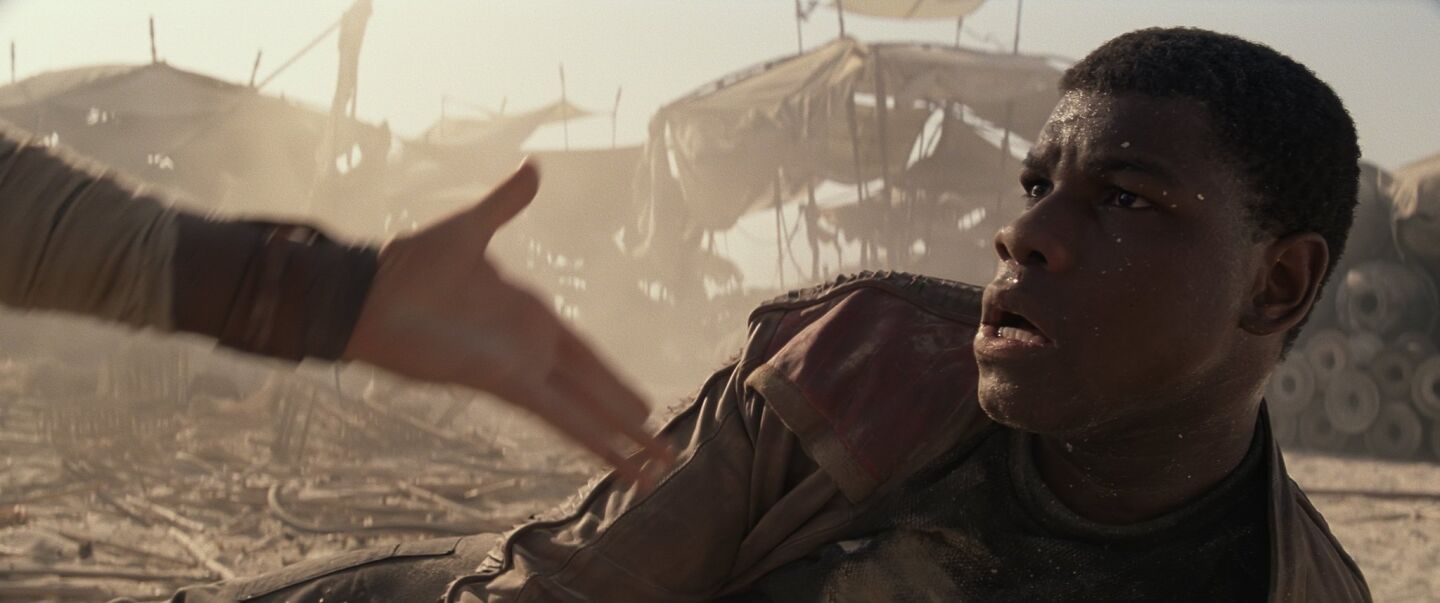 Finn gets a helping hand in a scene from "The Force Awakens."
(Film Frame / Associated Press)
One positive sign for the space saga are the details that have emerged from the prerelease audience surveys. They show that "The Force Awakens" is generating high levels of interest among males and females, under and above age 25. That makes for a prime example of what the movie industry calls a "four-quadrant" film. Interest is slightly higher among men than women.
The movie, which stars franchise newcomers John Boyega, Oscar Isaac and Daisy Ridley alongside veterans including Harrison Ford, is the first in the series made by Disney.
The entertainment juggernaut bought "Star Wars" producer Lucasfilm for $4.06 billion in 2012. It is also the first movie in the franchise in more than a decade, following "Star Wars Episode III: Revenge of the Sith," which was released in May 2005. That movie premiered to a domestic box office haul of $108 million and eventually brought in about $849 million globally.
The new film, directed by J.J. Abrams, is key to Disney's overall movie strategy because it is the first of multiple planned "Star Wars" pictures, including sequels and spinoffs. It also is expected to generate outsized returns in merchandising and other areas.
Hollis said he expects "The Force Awakens" to have a strong "multiple," meaning it could deliver big box-office returns for many weeks after its opening. He highlighted other December releases — "Avatar" and "Titanic" among them — that became blockbusters and tallied huge weekends well into the following year.
"The onus falls on [us] making a great film and we know we have something that is extraordinary," the Disney executive said. "From what we've seen so far with the very limited audiences who have seen it, the suggestion is there that there is going be great repeatability."
Analysts agree.
"I think it is going to have a lot of legs — I think you are going to see a very strong December and into January," JPMorgan analyst Alexia Quadrani said. "I think people will see it several times."
That sort of repeat viewing enabled "Titanic" and "Avatar" to become the two highest-grossing films of all-time. The latter picture from director James Cameron set the global box-office record — taking in $2.8 billion — but debuted to just $77 million domestically. That record could be in sight for the new "Star Wars" picture.
The international box office will be important to the film's overall performance. It opens worldwide virtually everywhere in December, except for China. During the month of December the Chinese government tends to block non-Chinese movies from theaters. "The Force Awakens" does not yet have a release date in that country.
"To say it is going to break the all-time record is a very lofty thing to say," Quadrani said. "But does it have a shot? Absolutely. This is a very, very passionate fan base."
Two movies are daring to open alongside "Star Wars." Universal's R-rated Tina Fey-Amy Poehler comedy "Sisters" could collect roughly $13 million over the weekend, while "Alvin and the Chipmunks: The Road Chip" from Fox is tracking at around $17 million.
ALSO:
Tomorrowland at Disneyland revamps with Season of the Force ahead of new 'Star Wars' movie release
J.J. Abrams reveals 'Star Wars' fake audition tapes on 'SNL'
'Star Wars Battlefront' looks and feels like 'Star Wars.' Is that enough?
---
The complete guide to home viewing
Get Screen Gab for everything about the TV shows and streaming movies everyone's talking about.
You may occasionally receive promotional content from the Los Angeles Times.