Former presidential candidate and billionaire businessman Ross Perot died Tuesday at the age of 89. Perot was most famous for his surprise bid for the presidency in 1992, where he received 19% of the popular vote, the most for an independent candidate since 1912.
Like every presidential contender since the show's launch in 1976, Perot was prime fodder for parody on "Saturday Night Live." Dana Carvey, one of the series' most beloved impressionists, did the honors.
His aw-shucks impersonation portrayed Perot as a rambling billionaire who was wildly out of touch. Carvey's ability to channel Perot's particularities and the Texan's twang, while never coming off as mean-spirited, catapulted Perot into the pop-culture conversation.
From 1992-97, Carvey appeared on "SNL" as Perot 10 times. Here's a look back at some of his more notable send-ups.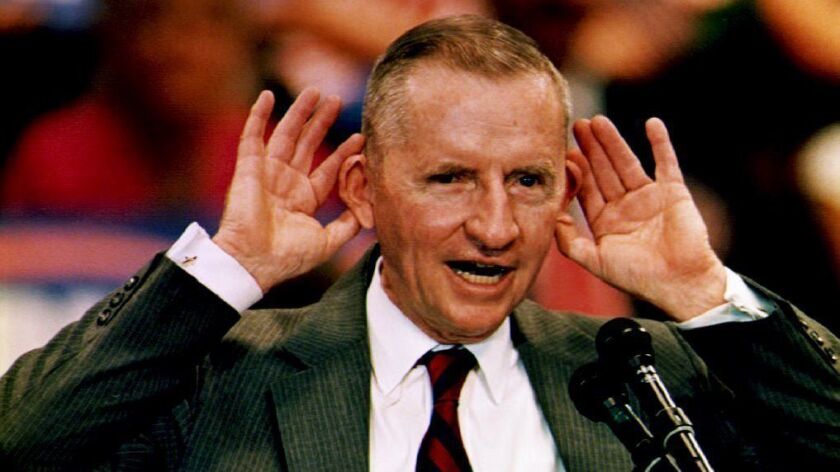 Ross Perot for President Cold Open: In Carvey's first appearance as Perot, he let the country know of the deep wealth of the 1992 presidential hopeful.
Powerful Ross Perot: Money was still power for Ross Perot in this sketch, even after briefly exiting the 1992 presidential race.
Ross Perot Campaign Announcement: In October 1992, Perot's re-entry into the presidential race let Carvey revive his impression.
Perot Talks Dirty Tricks: In this sketch that aired less than a week before the 1992 election, Perot made it clear, kind of, that Republicans played dirty tricks on him.
An Anti-NAFTA Message from United We Stand America: Perot was not a fan of NAFTA and presented to the world the first "victim" of the agreement.
Larry King Live With Third Party Candidates: With Will Ferrell as TV host King, Perot looked to expose the weaknesses of the other 1996 third-party presidential hopefuls.
---