Saturday's TV highlights and weekend talk shows: 'Ransom' on CBS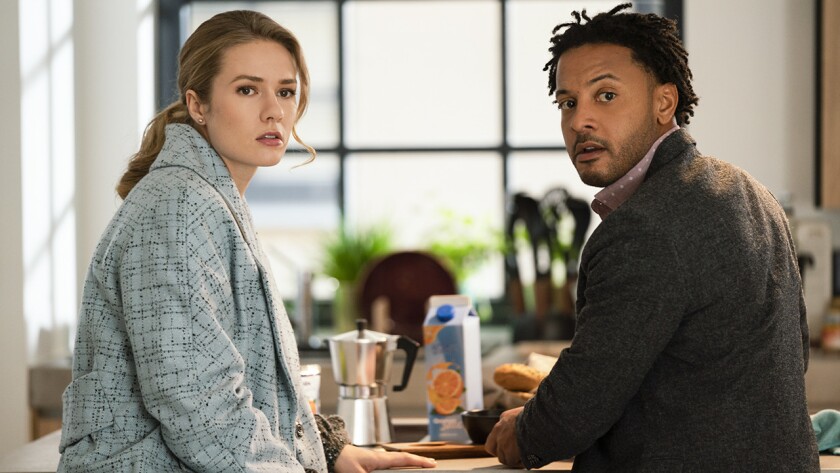 SERIES
Riviera Following her discovery in the safe room, Georgina (Julia Stiles) attempts to track down her husband's (Anthony LaPaglia) elusive art collector. 7 p.m. Ovation
Ransom After the team agrees to take on a provocative case involving the disappearance of an escort who caters to a high-end clientele, they discover she is entangled in a complicated relationship with a dangerous drug dealer and a cop who is obsessed with a vendetta in this new episode. Luke Roberts, Karen LeBlanc, Tori Anderson and Brandon Jay McLaren star. 8 p.m. CBS
Saturday Night Live John Mulaney hosts with musical guest Thomas Rhett. 8:29 and 11:29 p.m. NBC
The Polar Bear Family and Me Veteran wildlife cinematographer Gordon Buchanan and his team find a polar bear birth den in Svalbard, Norway, in the premiere of this documentary series. 9 p.m. BBC America
MOVIES
Victor/Victoria Julie Andrews earned an Oscar nomination for her performance in this gender-bending comedy set in the 1930s. She plays an entertainer who can find work only by posing as a man cross-dressing as a woman. James Garner, Robert Preston, Alex Karras, Lesley Ann Warren and John Rhys Davies also star. 7:15 p.m. TCM
Avatar Writer-director James Cameron's Oscar-winning science fiction saga uses extensive "motion capture" animation as a paraplegic Marine (Sam Worthington) is brought to the planet Pandora, where his scientifically engineered alter ego, or "avatar," is enlisted to help mine the planet for resources desired on Earth, but his goal changes as he empathizes ever more deeply with the native population. 8 p.m. Cinemax
Skyscraper Rawson Marshall Thurber wrote and directed 2018 action movie starring Dwayne Johnson as a former FBI agent who is forced to rescue his family from a newly built skyscraper after criminals take over the building and set it on fire. Neve Campbell, Chin Han, Noah Taylor, Byron Mann and Pablo Schreiber also star. 8 p.m. HBO
WEEKEND TALK
SATURDAY
Good Morning America (N) 7 a.m. KABC
SUNDAY
Good Morning America (N) 6 a.m. KABC
State of the Union With Jake Tapper North Korea Venezuela ISIS: National security advisor John Bolton. Michael Cohen's testimony; the Mueller investigation: Sen. Mark Warner (D-Va.). National Security; North Korea: Sen. John Kennedy (R-La.). National Emergency; Michael Cohen's testimony: Rep. Justin Amash (R- Mich.). Panel: Bakari Sellers; Amanda Carpente; Jennifer Granholm; David Urban. (N) 6 and 9 a.m. CNN
CBS News Sunday Morning Julianne Moore. Immigration attorney Judy Wood, the subject of the film "Saint Judy." (N) 6:30 a.m. KCBS
Fareed Zakaria GPS North Korea; Israel Prime Minister Benjamin Netanyahu's legal troubles; Israeli electionsL: Richard Haass; Matthew Kroenig; Robin Wright. India and Pakistan: Ravi Agrawal; Mosharraf Zaidi. 5G technology: Chuck Robbins, Cisco. (N) 7 and 10 a.m. CNN
Face the Nation National security advisor John Bolton. Rep. Adam Schiff (D-Burbank). Author Sen. Doug Jones (D-Ala) ("Bending Toward Justice"). Panel: Jeffrey Goldberg, the Atlantic; David Nakamura, the Washington Post; Paula Reid; David Sanger, the New York Times (N) 8 a.m. KCBS
Meet the Press Sen. Mark Warner (D-Va.). Rep. Jim Jordan (R-Ohio). Panel: Matt Bai, Yahoo!; Helene Cooper, the New York Times;; John Podhoretz; the New York Post; Heidi Przybyla, (N) 8 a.m. KNBC; 3 p.m. MSNBC
This Week With George Stephanopoulos Michael Cohen's testimony: Rep. Jerrold Nadler (D-N.Y.); House Minority Leader Kevin McCarthy (R-Bakersfield). Presidential campaign plans: Gov. Jay Inslee (D-Wash.). Panel: Matthew Dowd; Sara Fagen; Maggie Haberman, New York Times; Michael Tomasky, Daily Beast. (N) 8 a.m. KABC
Fox News Sunday With Chris Wallace National security advisor John Bolton. Panel: Ben Domenech, the Federalist; Jane Harman; Gillian Turner. (N) 8 a.m. KTTV; 11 a.m., 4 and 11 p.m. FNC
Reliable Sources with Brian Stelter Maggie Haberman, the New York Times; CPAC; Olivia Nuzzi, New York Magazine Bill Kristol. Behavior of the White House press office during the Hanoi summit: Jim Acosta. Adam Moss, outgoing editor in chief, New York Media. (N) 8 a.m. CNN
MediaBuzz Guy Benson; Clarence Page, Chicago Tribune; Sara Fischer, Axios; John Roberts; Mara Liasson, NPR; Emily Jashinsky, the Federalist; Shana Glenzer. (N) 8 a.m. and midnight FNC
60 Minutes A non-profit focuses on getting girls into computer science; children file an unusual lawsuit. (N) 7 p.m. KCBS
SPORTS
College Basketball Kansas visits Oklahoma State, 9 a.m. CBS; Michigan State visits Indiana, 9 a.m. Fox; Syracuse visits Wake Forest, 9 a.m. KDOC; LSU visits Alabama, 9 a.m. ESPN; NC State visits Florida State, 9 a.m. ESPN2; Kentucky visits Tennessee, 11 a.m. CBS; Butler visits Villanova, 11 a.m. Fox; Pittsburgh visits Virginia, 11 a.m. KDOC; Ohio State visits Purdue, 11 a.m. ESPN; Iowa State visits Texas, 11 a.m. ESPN2; George Mason visits St. Louis, NoonNBCSP; Miami visits Duke, 1 p.m. CBS; UCF visits Houston, 1 p.m. ESPN; Texas Tech visits TCU, 1 p.m. ESPN2; Loyola Marymount visits San Francisco, 1 p.m. SportsNet; La Salle visits Saint Joseph's, 2 p.m. NBCSP; North Carolina visits Clemson, 3 p.m. ESPN; Bradley visits Loyola-Chicago, 3 p.m. ESPN2; Baylor visits Kansas State, 5 p.m. ESPN2; Gonzaga visits Saint Mary's (Calif.), 7 p.m. ESPN; Arizona visits Oregon, 7 p.m. ESPN2; San Jose State visits San Diego State, 7 p.m. FS Prime
Gymnastics American Cup, 10 a.m. NBC
NHL Hockey The Chicago Blackhawks visit the Kings, 1 p.m. Fox Sports Net
Women's Soccer 2019 SheBelieves Cup: United States vs. England. From Nashville, Tenn. 1:30 p.m. Fox
MLS Soccer The Chicago Fire visit LA Galaxy, 5 p.m. FS1; FC Cincinnati visit the Seattle Sounders, 7 p.m. FS1
NBA Basketball The Golden State Warriors visit the Philadelphia 76ers, 5:30 p.m. ABC; the Lakers visit the Phoenix Suns, 6 p.m. SportsNet
For more sports on TV, see
the Sports section.
Customized TV listings are available here: www.latimes.com/tvtimes
Click here to download TV listings for the week of March 3 - 9, 2019, in PDF format
---
Get our daily Entertainment newsletter
Get the day's top stories on Hollywood, film, television, music, arts, culture and more.
You may occasionally receive promotional content from the Los Angeles Times.