What's on TV Friday: 'Gloria and Emilio Estefan: Library of Congress Gershwin Prize for Popular Song' on PBS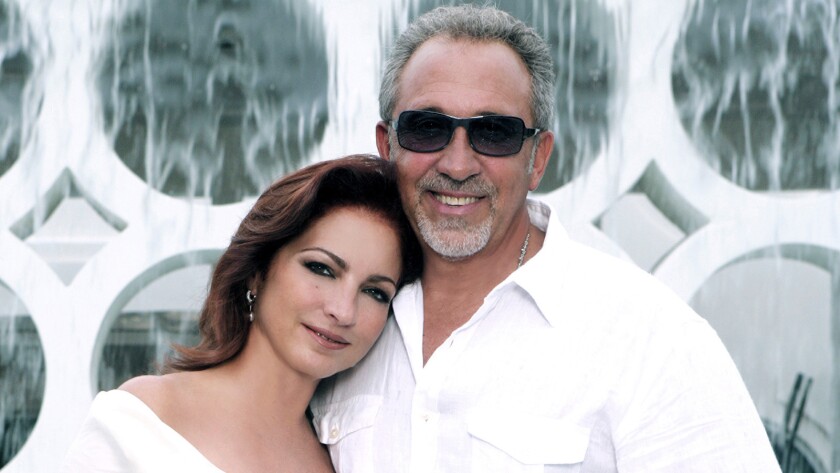 SERIES
MacGyver Matty's (Meredith Eaton) ex-husband (Brendan Hines) asks her to commit treason to help when a criminal organization kidnaps his wife and daughter. Lucas Till also stars in this reboot of the adventure series. 8 p.m. CBS
The Blacklist When multiple children are abducted under similar circumstances, the task force rushes to find the kidnapper. James Spader and Megan Boone star. 8 p.m. NBC
Dynasty Fallon (Elizabeth Gillies) prepares for the launch of Liam's (Adam Huber) book, but a shocking announcement could derail everything in this new episode of the prime-time soap. 8 p.m. CW
The Cool Kids Hank (David Alan Grier) is excited to give his son the perfect wedding gift. Martin Mull, Leslie Jordan and Vicki Lawrence also star in this new episode of the geriatric comedy. 8:30 p.m. Fox
Hawaii Five-0 McGarrett (Alex O'Loughlin) helps his sister (Taryn Manning) spy on her neighbors in this new episode of the police drama. 9 p.m. CBS
Proven Innocent Easy (Russell Hornsby) takes on an immigration case to help a young DREAMer who was convicted of murder while Madeline (Rachelle Lefevre) and the rest of the team double down on their investigation of Rosemary's (Casey Tutton) murder as the showdown between Madeline and Bellows (Kelsey Grammer) begins. 9 p.m. Fox
Diners, Drive-Ins and Dives Host Guy Fieri lands in Chico for breakfast where he visits a spot that serves french toast and spiced potatoes. 9 p.m. Food Network
Blue Bloods DNA evidence in a murder case leads Danny and Maria (Donnie Wahlberg, Marisa Ramirez) to identical twins (guest stars Matthew and Russel Dennis Lewis) who have identical alibis. Tom Selleck also stars in this new episode of the family-police drama. 10 p.m. CBS
20/20 A woman discovers her biological father is actually her mother's former fertility doctor in this new episode of the newsmagazine series. 10 p.m. ABC
Warrior Transporting precious cargo via stagecoach through the Sierra Nevada, Ah Sahm and Young Jun (Andrew Koji, Jason Tobin) are forced to spend the night with three strangers at a frontier saloon in the middle of nowhere in this new episode. 10 p.m. Cinemax
SPECIALS
ScreenTime: Diane Sawyer Reporting Diane Sawyer documents the impact of screen time, technology and social media on families in this new special. Apple Chief Executive Tim Cook is interviewed. 8 p.m. ABC
Gloria and Emilio Estefan: Library of Congress Gershwin Prize for Popular Song This new special celebrates the Gershwin Prize given to Gloria and Emilio Estefan, a couple who have 26 Grammy Awards between them, marking the first time the prestigious honor has been awarded to a married couple and to musicians and songwriters of Hispanic descent. Rita Moreno and Andy Garcia host. 9 p.m. KOCE
MOVIES
At the Heart of Gold: Inside the USA Gymnastics Scandal Based on years of research by producers and Olympic Movement participants David Ulich and Steven Ungerleider, filmmaker Erin Lee Carr's new documentary explores the sexual abuse scandal that shook the sports world in 2017. 8 p.m. HBO
Elizabeth Harvest Sebastian Gutierrez wrote and directed this 2018 science fiction thriller starring Abbey Lee as a young bride whose new husband Henry (Ciaran Hinds) gives her the run of his palatial estate, except for a single basement room he forbids her to enter. Matthew Beard, Carla Gugino and Dylan Baker also star. 8 p.m. Showtime
Father Figures Owen Wilson and Ed Helms star as a pair of adult fraternal twins who seek their biological father, who they recently learned is not dead as their mother (Glenn Close) had always told them. J.K. Simmons, Terry Bradshaw, Harry Shearer, Ving Rhames, June Squibb and Christopher Walken also star. 8:05 p.m. Cinemax
TALK SHOWS
CBS This Morning (N) 7 a.m. KCBS
Today Anna Wintour; Zac Efron; Rebel Wilson; the Kentucky Derby; Carla Lalli Music. (N) 7 a.m. KNBC
KTLA Morning News (N) 7 a.m. KTLA
Good Morning America Emily Maynard; Rachel Lindsay; Ali Fedotowsky. (N) 7 a.m. KABC
Good Day L.A. Dr. Drew Pinsky; chef Anne Burrell; Grae Drake, Ms. Moviefone; Jefferson Starship performs. (N) 7 a.m. KTTV
Live With Kelly and Ryan Ryan Reynolds ("Pokémon Detective Pikachu"); Retta ("Good Girls"). (N) 9 a.m. KABC
The View Diane Sawyer; Rebel Wilson; Aarón Sanchez. (N) 10 a.m. KABC
The Wendy Williams Show Sherri Shepherd ("Mr. Iglesias"). (N) 10 a.m. KTTV
The Real Author Valerie Jarrett ("Finding My Voice: My Journey to the West Wing and the Path Forward"). (N) 11 a.m. KTTV; 1 p.m. KCOP
The Doctors Toilet dilemmas; instant treatment to reduce tremors; fake cancer news; baby bump pump; dog doctor. (N) 11 a.m. KCOP
Strahan & Sara Chef Tim Laird. (N) noon KABC
The Talk Janelle Monáe. (N) 1 p.m. KCBS
Steve Michael Ealy and Meagan Good. (N) 2 p.m. KNBC
Rachael Ray Jenny Mollen. (N) 2 p.m. KTTV
Dr. Phil An admitted liar comes face-to-face with three of his victims. (N) 3 p.m. KCBS
The Ellen DeGeneres Show Kenan Thompson ("Saturday Night Live"). (N) 3 p.m. KNBC
The Dr. Oz Show The parents, sister and sister-in-law of missing Utah mother Susan Cox Powell. (N) 3 p.m. KTTV
Washington Week Atty. Gen. William Barr's testimony; subpoena dispute between the White House and Capitol Hill: Carrie Johnson, NPR; Dan Balz, the Washington Post; Laura Jarrett, CNN; Ed O'Keefe, CBS. (N) 7 p.m. and 1 a.m. KOCE
Real Time With Bill Maher Presidential candidate Gov. Jay Inslee (D-Wash.); musician Moby; Bakari Sellers; Bret Stephens; Kara Swisher. (N) 10 and 11:30 p.m. HBO
The Issue Is...With Elex Michaelson Democratic presidential candidate Marianne Williamson; John Kobylt, KFI Radio; atty. Areva Martin; Melanie Mason, Los Angeles Times. (N) 10:30 p.m. and 1:30 a.m. KTTV
Amanpour and Company (N) 11 p.m. KOCE; 1 a.m. KLCS
The Late Show With Stephen Colbert Craig Ferguson; wrestler Ronda Rousey. (N) 11:35 p.m. KCBS
Nightline (N) 12:37 a.m. KABC
Last Call With Carson Daly Steve Lemme and Kevin Heffernan; Durand Jones & the Indications perform; Kirby Howell-Baptiste. (N) 1:38 a.m. KNBC
SPORTS
NHL Hockey The New York Islanders visit the Carolina Hurricanes, 4 p.m. NBCSP; the Dallas Stars visit the St. Louis Blues, 6:30 p.m. NBCSP
NBA Basketball The Milwaukee Bucks visit the Boston Celtics, 5 p.m. ESPN; the Denver Nuggets visit the Portland Trail Blazers, 7:30 p.m. ESPN
Baseball The Dodgers visit the San Diego Padres, 7 p.m. SportsNet LA
For more sports on TV, see
the Sports section.
Customized TV listings are available here: www.latimes.com/tvtimes
Click here to download TV listings for the week of April 28 - May 4, 2019, in PDF format
---
The complete guide to home viewing
Get Screen Gab for weekly recommendations, analysis, interviews and irreverent discussion of the TV and streaming movies everyone's talking about.
You may occasionally receive promotional content from the Los Angeles Times.