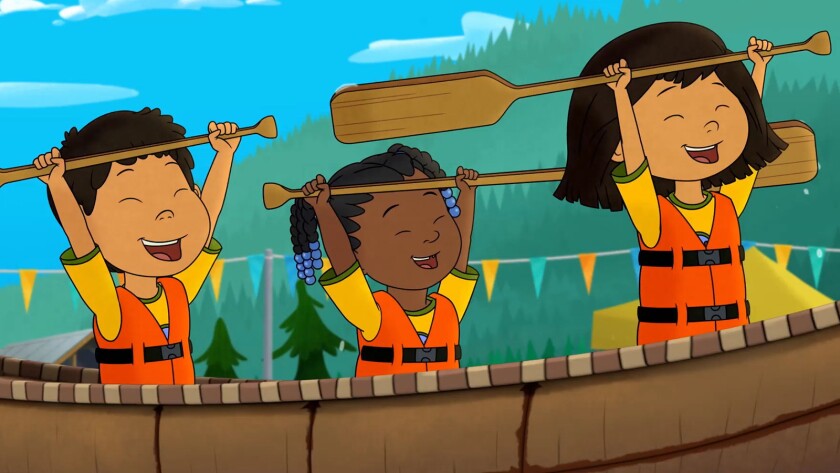 SERIES
Molly of Denali This new animated kids show features a Native American character (voice of Sovereign Bill), a 10-year-old Alaska resident whose natural curiosity leads her and her friends to explore the wonders of her state. Lorne Cardinal and Ron Harris also are in the voice cast. Mondays through Thursdays, 8:30 a.m. KOCE and KPBS; 10 a.m. KVCR
American Ninja Warrior This new episode moves to Los Angeles to open the competition's City Finals round. Akbar Gbajabiamila and Matt Iseman are the hosts. 8 p.m. NBC
Penn & Teller: Fool Us Featured magicians include Adiran Carratala, Kevin Blake, Ryan Stock, AmberLynn and Christopher Castellini. 8 p.m. CW
The Bachelorette Hannah spends time with each of the four remaining suitors in this new episode. 8 p.m. ABC
Years and Years Viv Rook (Emma Thompson) becomes British prime minister after the coalition government collapses in this new episode of the futuristic drama. Also, Celeste (T'Nia Miller) confronts Stephen (Rory Kinnear) about his affair, and he leaves home and moves in with Elaine (Rachel Logan). Russell Tovey, Maxim Baldry, Ruth Madeley and Jessica Hynes also star. 9 and 10:30 p.m. HBO
POV Filmmaker Robert Greene's new documentary "Bisbee '17" looks at Bisbee, Ariz., as locals reenact the 100th anniversary of one of the darkest chapters in the history of their once-thriving mining community. On July 12, 1917, nearly 2,000 striking miners — many of them immigrants who had aligned with the IWW union — were violently taken from their homes by a force organized by the sheriff and the large mining corporations. They were forced into cattle cars, then abandoned in the middle of the New Mexico desert. 10 p.m. KOCE
Divorce Frances and Robert (Sarah Jessica Parker, Thomas Haden Church) disagree on how to handle Tom's (Charlie Kilgore) college applications. Also, Robert's sister (Amy Sedaris) shows up unannounced, creating tension between Frances, Robert and Jackie (Becki Newton). 10:02 p.m. HBO
SPECIALS
Sharks National Geographic has its own summer series of shark-related programming. Tonight's begins with two new episodes of "When Sharks Attack" at 8 and 9 p.m. At 10, in the "Great Shark Chow Down" scientists and cinematographers recalling thrilling encounters with sharks feeding en masse.
TALK SHOWS
CBS This Morning Author Colson Whitehead. (N) 7 a.m. KCBS
Today (N) 7 a.m. KNBC
KTLA Morning News (N) 7 a.m. KTLA
Good Morning America (N) 7 a.m. KABC
Good Day L.A. Veterinarians Ross and Ryan Henderson ("Hanging with the Hendersons"); Melissa Peterman ("Punchline"). (N) 7 a.m. KTTV
Live With Kelly and Ryan Joel McHale ("Card Sharks"); Ryan Eggold ("New Amsterdam"); Gone West performs. (N) 9 a.m. KABC
The View (N) 10 a.m. KABC
The Wendy Williams Show (N) 10 a.m. KTTV
Strahan & Sara (N) noon KABC
The Talk Norah O'Donnell. (N) 1 p.m. KCBS
Rachael Ray Clinton Kelly; Alan Alda. (N) 2 p.m. KTTV
Dr. Phil (N) 3 p.m. KCBS
The Dr. Oz Show Big-name restaurants and well-known chefs jarred pasta-sauce offerings; hair removal horror stories. (N) 3 p.m. KTTV
To the Contrary With Bonnie Erbé Democratic strategist Hilary Rosen; Rina Shah. (N) 6 p.m. KVCR
The Daily Show With Trevor Noah (N) 11 p.m. Comedy Central
The Tonight Show Starring Jimmy Fallon Jesse Eisenberg; Fran Lebowitz; Denzel Curry performs. (N) 11:34 p.m. KNBC
The Late Show With Stephen Colbert Ricky Gervais; X Ambassadors perform. (N) 11:35 p.m. KCBS
Amanpour and Company (N) midnight KOCE, KVCR; 1 a.m. KLCS
Late Night With Seth Meyers Laura Dern; Megan Rapinoe; Catherine Cohen; Raghav Mehrotra performs. (N) 12:37 a.m. KNBC
Nightline (N) 12:37 a.m. KABC
SPORTS
Baseball The San Francisco Giants visit the Colorado Rockies, 11 a.m. MLB; the Dodgers visit the Philadelphia Phillies, 4 p.m. ESPN (subject to blackout) and SportsNet LA; the Angels host the Houston Astros, 7 p.m. Fox Sports Net
NBA Summer League Basketball Final, 6 p.m. ESPN2
For more sports on TV, see the Sports section.
Customized TV listings are available here: www.latimes.com/tvtimes
Click here to download TV listings for the week of July 14 - 20, 2019, in PDF format
---