Friday's TV highlights: 'Grammy Salute to Music Legends' on 'Great Performances' and more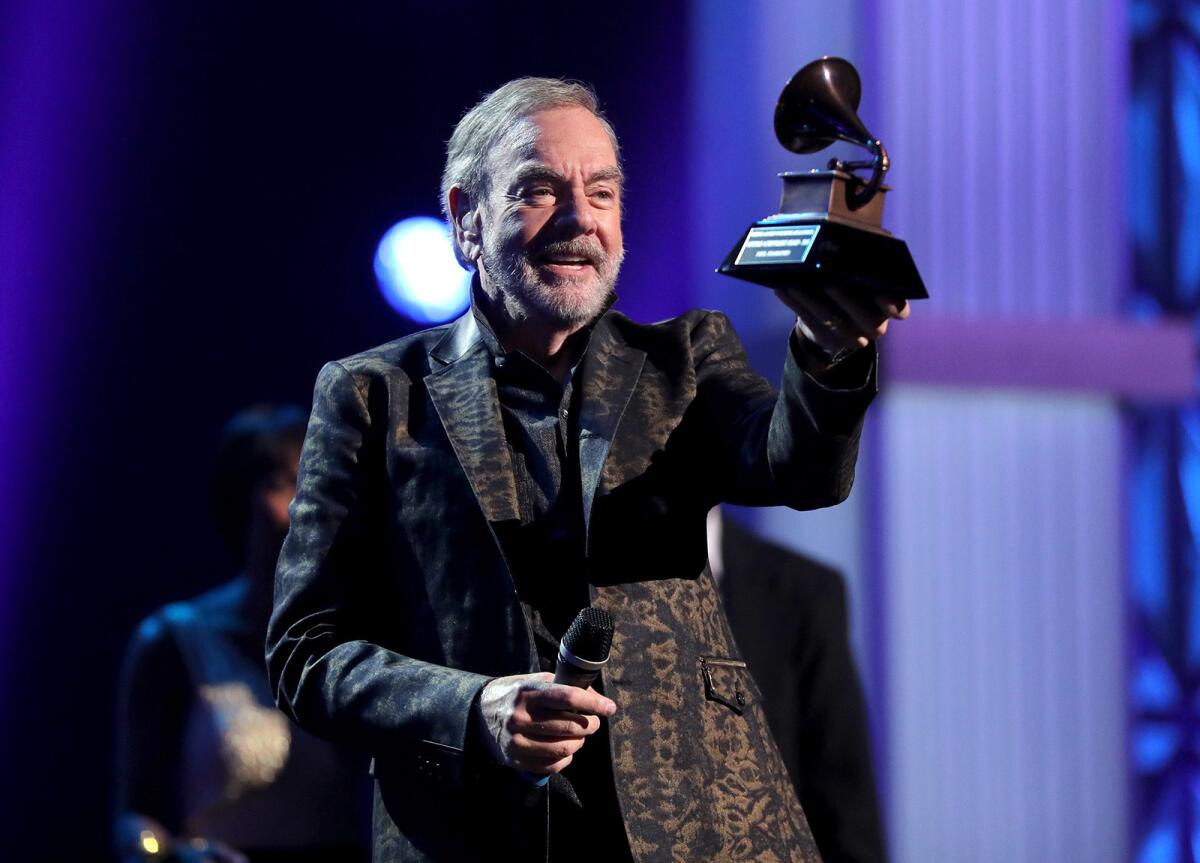 SERIES
MacGyver Jack (George Eads) receives an emergency distress call from an old Delta buddy who has been falsely accused of terrorism in this new episode. With Lucas Till. 8 p.m. CBS
Masters of Illusion Featured magicians in the season finale include Chris Funk, Murray SawChuck, Spidey and Ed Alonzo. 8 p.m. KTLA
Fresh Off the Boat This sitcom starring Randall Park and "Crazy Rich Asians'" Constance Wu is back for a fifth season. Former Lakers Kareem Abdul-Jabbar and Michael Cooper and "Family Matters'" Jaleel "Urkel" White guest star. 8 p.m. ABC
Speechless Maya (Minnie Driver) travels to England to confront her estranged father (Monty Python's John Cleese) in the sitcom's Season 3 premiere. 8:30 p.m. ABC
The Cool Kids Margaret (Vicki Lawrence) is in no mood to celebrate her birthday in the new episode "Margaret Turns 65." 8:30 p.m. Fox
Great Performances Queen, Neil Diamond, Emmylou Harris, Tina Turner, "Star Wars" composer John Williams and New Orleans funk band the Meters are feted as part of a "Grammy Salute to Music Legends 2018." 9 p.m. KOCE
Z Nation "The Walking Dead's" Katy O'Brian joins the cast of this post-apocalyptic action-horror-comedy as it begins Season 5. 9 p.m. Syfy
Van Helsing Vanessa (Kelly Overton) must confront her family's legacy as in this action horror series' Season 3 opener. 10 p.m. Syfy
Comedy Central Stand-Up Presents... Devin Field and Emmy Blotnick are the featured comics as this stand-up showcase returns with back-to-back new episodes. 11 and 11:30 p.m. Comedy Central
Unprotected Sets The inaugural installment of this new stand-up comedy showcase features actress-comic Zainab Johnson. 11 p.m. Epix
SPECIALS
Zombies Halloween Cast Party The stars of the 2018 TV-movie musical reunite for fun and games in this new special. 8:30 p.m. Disney Channel
MOVIES
Close Encounters of the Third Kind An Indiana lineman (Richard Dreyfuss) and others make contact with extraterrestrials in Steven Spielberg's blockbuster 1977 sci-fi fable. 8 p.m. KCET
TALK SHOWS
CBS This Morning (N) 7 a.m. KCBS
Today Al Roker; Rita Wilson performs; Chassie Post. (N) 7 a.m. KNBC
KTLA Morning News (N) 7 a.m. KTLA
Good Morning America Helen Hunt; Anita Cochran performs. (N) 7 a.m. KABC
Good Day LA Guitarist and author Steve Lukather; L.A. City Councilman Mitch O'Farrell; TV producer Ashley Colburn. (N) 7 a.m. KTTV
Megyn Kelly Today Fortune's Most Powerful Women Summit; Joy Bauer. (N) 9 a.m. KNBC
Live with Kelly and Ryan Tom Selleck; Chelsea Clinton. (N) 9 a.m. KABC
The View Authors Donna Brazile, Yolanda Caraway, Leah Daughtry and Minyon Moore ("For Colored Girls Who Have Considered Politics"). (N) 10 a.m. KABC
The Wendy Williams Show Hot Topics; Mario performs; comic Ali Wentworth; criminal justice expert Dr. Darrin Porcher. (N) 10 a.m. KTTV
The Dr. Oz Show Dangers of fiery hot chips and cheese snacks; Tim Tebow. (N) 10 a.m. KCOP, 3 p.m. KTTV
The Real Keith David ("Greenleaf"). (N) 11 a.m. KTTV
The Doctors Tonsillectomy complication; recipes for people on a budget; earwax removal video; squash; mom hack. (N) 11 a.m. KCOP
The Wendy Williams Show Remy Ma and Papoose (VH1's "Meet the Mackies"). noon KCOP
The Talk Tracee Ellis Ross; guest co-host Carrie Ann Inaba. (N) 1 p.m. KCBS
The Real Fashion model Tess Holliday. 1 p.m. KCOP
Steve Job interviews; Carrie Keagan ("Up Close With Carrie Keagan"); Dr. V. (N) 2 p.m. KNBC
Rachael Ray Drew and Jonathan Scott ("Property Brothers"); Tiffani Thiessen; beer-cheese soup. (N) 2 p.m. KTTV
Dr. Phil A man says his mother is unstable and conspired with his exes to file false charges against him. (N) 3 p.m. KCBS
The Ellen DeGeneres Show Highlights from Season 16 include visits from Cher, Nicki Minaj, Kate Hudson and Goldie Hawn. (N) 3 p.m. KNBC
Washington Week The FBI report into sexual misconduct claims against Supreme Court nominee Brett Kavanaugh. (N) 7 p.m. KOCE
Amanpour and Company (N) 10 p.m. KVCR, 11 p.m. KOCE, 1 a.m. KLCS
Real Time With Bill Maher Historian Doris Kearns Goodwin; Jeff Bridges; former Rep. David Jolly (R-Fla.); journalist Soledad O'Brien; commentator Andrew Sullivan. (N) 10 p.m. HBO
The Issue Is … With Elex Michaelson L.A. Times owner/bio-tech entrepreneur Dr. Patrick Soon-Shiong; LAUSD board member Nick Melvoin; attorney Anahita Sedaghatfar; comedian Rod Man. (N) 10:30 p.m. KTTV
The Tonight Show Starring Jimmy Fallon Mark Ruffalo; rapper Travis Scott; comic Jaboukie Young-White. (N) 11:34 p.m. KNBC
The Late Show With Stephen Colbert Ellie Kemper; Sam Elliott. (N) 11:35 p.m. KCBS
Jimmy Kimmel Live Riz Ahmed; Brad Garrett; Avril Lavigne performs. 11:35 p.m. KABC
The Late Late Show With James Corden Curtis "50 Cent" Jackson; Hayley Atwell; Snow Patrol performs. 12:37 a.m. KCBS
Late Night With Seth Meyers Kevin Hart; Kristen Bell; Hari Nef. 12:37 a.m. KNBC
Nightline (N) 12:37 a.m. KABC
Last Call With Carson Daly Rob Riggle; Aquilo performs; director Terence Nance. 1:38 a.m. KNBC
SPORTS
Baseball The Dodgers host the Atlanta Braves in Game 2 of the NLDS. 6:30 p.m. FS1
For more sports on TV, see
the Sports section.
Customized TV listings are available here: www.latimes.com/tvtimes
Click here to download TV listings for the week of Sept. 30 - Oct. 6, 2018, in PDF format
Get our L.A. Goes Out newsletter, with the week's best events, to help you explore and experience our city.
You may occasionally receive promotional content from the Los Angeles Times.