Saturday's TV highlights and weekend talk shows: 'Watergate' on History Channel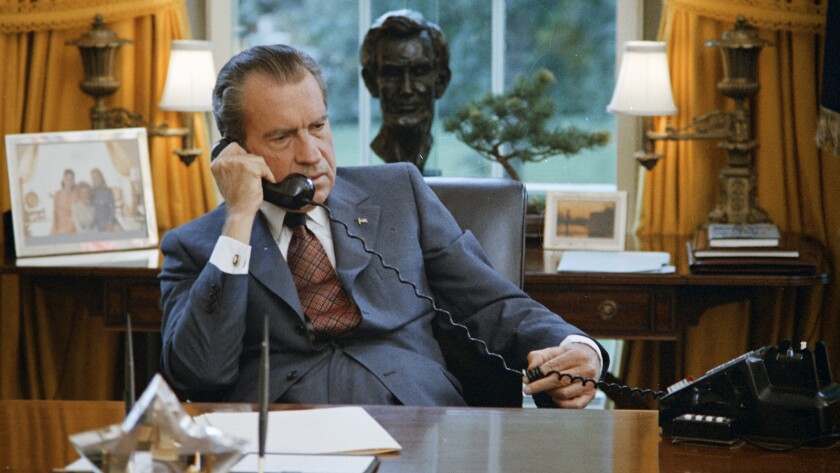 SERIES
Versailles After Maintenon (Catherine Walker) returns to Versailles, Louis (George Blagden) makes her a member of the council, while Phillip (Alexander Vlahos) begins to suspect that the Vatican is involved in the mystery of the man in the iron mask. 7 p.m. Ovation
Saturday Night Live Jonah Hill returns as host with musical guest Maggie Rogers. 8:29 p.m. NBC
Watergate As the cover-up begins to crack, White House counsel John Dean turns on President Nixon in this new episode of the historical documentary series. 9 p.m. History
Chad Loves Michelle This new unscripted series takes viewers on the path to the altar with vocalist Michelle Williams of Destiny's Child and her fiancé, Chad Johnson, a chaplain for several professional sports organizations. 9 p.m. OWN
Shut Up and Dribble LeBron James and Maverick Carter are executive producers of this three-part documentary series, which takes its title from conservative Fox News host Laura Ingraham's caustic advice to James when he declined an invitation to the Trump White House. The first episode is an exploration of the league's social and cultural influence. 9 p.m. Showtime
MOVIES
Christmas Joy A market researcher (Danielle Panabaker) rushes home to North Carolina when her aunt is hospitalized and unexpectedly reunites with an old crush (Matthew Long) who is now the hospital administrator in this new holiday romance. 8 p.m. Hallmark
Fifty Shades Freed The third and final entry in the "Fifty Shades" film adaptations of E.L. James' erotic novels opens as newlyweds Anastasia and Christian (Dakota Johnson, Jamie Dornan) cut their honeymoon short when her former boss (Eric Johnson) initiates a campaign of revenge against the couple for having him fired for sexual assault. 8 p.m. HBO
Paul, Apostle of Christ Awaiting execution in prison for being deemed a threat to the Roman Empire, the apostle Paul (James Faulkner) reflects with the evangelist Luke (Jim Caviezel) on events in his life that led him to that moment in this 2018 biblical drama from writer-director Andrew Hyatt. Yorgos Karamihos, Olivier Martinez, Joanne Whalley and John Lynch also star. 8:15 p.m. Starz
An Ordinary Man Bosnian Serb military officer (Ben Kingsley) known only as "The General" is in hiding in the former Yugoslavia, where he keeps a low profile to avoid arrest and trial for war crimes. Writer-director Brad Silberling's 2018 drama revolves around his interaction with a maid (Icelandic actress Hera Hilmar) he has just hired. Peter Serafinowicz also stars. 11:02 p.m. Starz
WEEKEND TALK
SATURDAY
Good Morning America (N) 7 a.m. KABC
SUNDAY
Good Morning America (N) 6 a.m. KABC
State of the Union With Jake Tapper Georgia Gubernatorial candidate Stacey Abrams (D). RNC Chair Ronna McDaniel. DNC Chair Tom Perez. Panel: Van Jones; Rick Santorum; Mary Katharine Ham; Jennifer Granholm. (N) 6 and 9 a.m. CNN
CBS News Sunday Morning Civics education: Supreme Court Justices Sonia Sotomayor and Neil M. Gorsuch about their efforts to foster. Jeff Goldblum. New England autumn foliage: Jeff Folger. TV producer Chuck Lorre ("The Big Bang Theory"). Max Richter. Midterm election polls: Anthony Salvanto. Jonestown massacre survivor Jackie Speier (D-Hillsborough). (N) 6:30 a.m. KCBS
Fox News Sunday With Chris Wallace Secretary of State Mike Pompeo; Sen. Chris Van Hollen (D-Md.); Sen. Thom Tillis (R-N.C.). Panel: Brit Hume; Karl Rove; Marie Harf; Juan Williams. (N) 7 a.m. KTTV; 11 a.m., 4 and 11 p.m. FNC
Fareed Zakaria GPS Midterm elections: James Fallows; Anthony Scaramucci; Katrina vanden Heuvel. Bolsonaro's election as President of Brazil; Angela Merkel stepping aside in Germany; democracy around the world: David Miliband. India: Ravi Agrawal. Social media; U.S. midterm elections: Reid Hoffman, LinkedIn. (N) 7 and 10 a.m. CNN
Face the Nation Secretary of State Mike Pompeo. Sen. Mark Warner (D-Va.). RNC chair Ronna McDaniel. Midterm election polls: Anthony Salvanto. Ed O'Keefe. Panel: Shawna Thomas, Vice News; Amy Walter, Cook Political Report; Nancy Cordes; Ben Domenech, The Federalist. (N) 8 a.m. KCBS
Meet the Press Georgia Gubernatorial candidate Stacey Abrams (D). Gov. Bill Haslam (R-Tenn.). Senate candidate State Atty. Gen Josh Hawley (R-Mo.). Sen. Chris Van Hollen (D-Md.). Panel: Cornell Belcher; Tom Brokaw; Savannah Guthrie; Hugh Hewitt; Kasie Hunt (N) 8 a.m. KNBC; 3, 7 and 10 p.m. MSNBC
This Week With George Stephanopoulos Midterm election analysis: Rick Klein and Nate Silver, FiveThirtyEight. Midterm elections: Matthew Dowd, Chris Christie; Donna Brazile. Closing arguments for the midterms: RNC Chair Ronna McDaniel and Sen. Chris Van Hollen (D-Md.). (N) 8 a.m. KABC
Reliable Sources Coverage of midterms: Molly Ball, Time magazine; Nicole Carroll, USA Today; Eliana Johnson, Politico; David Zurawik, The Baltimore Sun. Accusations that Trump's lying and fearmongering hits new heights: Daniel Dale, Toronto Star; author Marvin Kalb ("Enemy of the People"). Polling: Harry Enten; Margie Omero. Conspiracy theories about George Soros and the migrant caravan: Patrick Gaspard, president, Open Society Foundations. 'News deserts': Penny Abernathy (N) 8 a.m. CNN
MediaBuzz Mollie Hemingway; Susan Ferrechio, Washington Examiner; Capri Cafaro; Washington Examiner; Philippe Reines; pollster Frank Luntz. (N) 8 a.m. and midnight FNC
60 Minutes First responders change their protocols regarding mass shootings; the Senate race in Texas; surfing. (N) 7 p.m. KCBS
SPORTS
College Football UCLA visits Oregon, 4:30 p.m. Fox and USC is at Oregon State, 7 p.m. FS1. Also, Louisville at Clemson, 9 a.m. ABC; Nebraska at Ohio State, 9 a.m. Fox; Georgia Tech at North Carolina, 9 a.m. KDOC; Texas A&M at Auburn, 9 a.m. ESPN; Michigan State at Maryland, 9 a.m. ESPN2; Oklahoma State at Baylor, 9 a.m. FS1; Iowa State at Kansas, 9 a.m. FSN; Syracuse at Wake Forest, 9 a.m. FS Prime; Georgia at Kentucky, 12:30 p.m. CBS; Florida State at North Carolina State, 12:30 p.m. ABC; West Virginia at Texas, 12:30 p.m. Fox; Iowa at Purdue, 12:30 p.m. ESPN2; Kansas State at TCU, 12:30 p.m. FS1; Penn State at Michigan, 12:45 p.m. ESPN; Duke at Miami, 4 p.m. ESPN2; Notre Dame at Northwestern, 4:15 p.m. ESPN; Alabama at LSU, 5 p.m. CBS; Oklahoma at Texas Tech, 5 p.m. ABC; BYU at Boise State, 7:15 p.m. ESPN2; California at Washington State, 7:45 p.m. ESPN.
NBA Basketball The Lakers visit the Portland Trail Blazers, 7 p.m. SPST
NHL Hockey The Kings host the Columbus Blue Jackets, 7:30 p.m. FSN
For more sports on TV, see
the Sports section.
Customized TV listings are available here: www.latimes.com/tvtimes
Click here to download TV listings for the week of Nov. 4 - 10, 2018, in PDF format
---
Inside the business of entertainment
The Wide Shot brings you news, analysis and insights on everything from streaming wars to production — and what it all means for the future.
You may occasionally receive promotional content from the Los Angeles Times.