Thursday's TV highlights: 'Mom' on CBS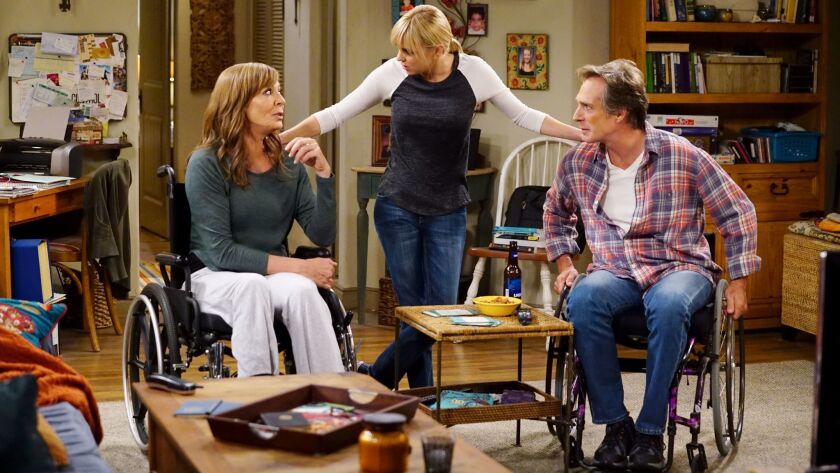 SERIES
The Big Bang Theory Sheldon (Jim Parsons) wants to settle an old grudge after his friends left him out of an investment that could have yielded big profits. Also, a video from 2010 reveals a relationship secret for Leonard and Penny (Johnny Galecki, Kaley Cuoco). Simon Helberg, Kunal Nayyar and Mayim Bialik also star. 8 p.m. CBS
Supernatural With their search for Jack running into one roadblock after another, Sam and Dean (Jared Padalecki, Jensen Ackles) reluctantly try to steal a trunk from the demon Barthamus (guest star David Cubitt) in exchange for a locater spell. 8 p.m. KTLA
Gotham Sofia (Crystal Reed) becomes a pawn in Gordon's (Ben McKenzie) effort to reach an accord with Penguin (Robin Lord Taylor), while Alfred (Sean Pertwee) is concerned by Bruce's (David Mazouz) behavior. Donal Logue, Morena Baccarin, Erin Richards and Cory Michael Smith also star. 8 p.m. Fox
Young Sheldon Sheldon (Iain Armitage) wants to prove his genius to a school visitor from NASA, who doesn't pay much attention to him. Jason Kravits ("The Practice") guest stars. Zoe Perry, Lance Burton and Annie Potts also star, and Jim Parsons narrates. 8:30 p.m. CBS
Project Runway The designers from this season reunite with Tim Gunn to discuss their experiences and try to get to the bottom of the cheating scandal. 9 p.m. Lifetime
Van Helsing The group is reeling from the disappearance of one of it members and warily accept sanctuary in a town that's run by a sheriff and his intimidating troops. Meanwhile, Dmitri (Paul Johansson) slowly but inexorably inches closer to achieving a dark goal. Kelly Overton, Jonathan Scarfe and Vincent Gale also star. 9 p.m. Syfy
Mom Bonnie (Allison Janney) gets a taste of Adam's (William Fichtner) world when an accident puts her in a wheelchair temporarily. Anna Faris, Mimi Kennedy, Jaime Pressly and Beth Hall also star. 9 p.m. CBS
The Orville A mysterious spatial anomaly damages the Orville and has pronounced effects on the crew in this new episode. Adrianne Palicki, Seth MacFarlane, Penny Johnson Jerald, Scott Grimes, Halston Sage and J Lee also star. 9 p.m. Fox
Life in Pieces At an anniversary dinner, Heather and Tim (Betsy Brandt, Dan Bakkedahl) feel obligated to finish all 20 courses their server (guest star Padma Lakshmi) brings them. 9:30 p.m. CBS
S.W.A.T. When criminals posing as a S.W.A.T. team commit home invasions, Hondo (Shemar Moore) begins to suspect the victims have something in common. Los Angeles Mayor Eric Garcetti guest stars as a sports agent. Stephanie Sigman and Alex Russell also star. 10 p.m. CBS
The Menendez Murders: Erik Tells All This new five-part series retells the story of the infamous crime.10 p.m. A&E
The President Show A new holiday episode finds the 45th president of the United States (Anthony Atamanuik) and his vice president (Peter Grosz) celebrating the holiday with a cavalcade of both new and old friends in an hour of music, comedy, jingle bells and dog whistles. 10 p.m. Comedy Central
SPECIALS
A Charlie Brown Christmas Charlie Brown sees materialism during the holidays and needs Linus' help to learn the true meaning of Christmas, in the animated holiday special that includes "Charlie Brown Christmas Tales," featuring a vignette for each "Peanuts" character. 8 p.m. ABC
The Wonderful World of Disney: Magical Holiday Celebration Disney's American tourist resorts in California and Florida are the main settings for this new two-hour special. Musical acts include Ciara, Darius Rucker, Fifth Harmony, Lea Michele ("The Mayor"), Jason Derulo and Hanson. 9 p.m. ABC
TALK SHOWS
CBS This Morning (N) 7 a.m. KCBS
Today Pentatonix. (N) 7 a.m. KNBC
KTLA Morning News (N) 7 a.m. KTLA
Good Morning America Margot Robbie; Tory Johnson. (N) 7 a.m. KABC
Good Day L.A. Performance from Cavalia; Heavenly Kime ("Married to Medicine"); chef Cat Cora; Grae Drake, Rotten Tomatoes. (N) 7 a.m. KTTV
Megyn Kelly Today (N) 9 a.m. KNBC
Live With Kelly and Ryan Debra Messing; Ben Mendelsohn; Old Dominion performs. (N) 9 a.m. KABC
The View Diana Ross. (N) 10 a.m. KABC
The Wendy Williams Show Kevin Nealon ("Man With a Plan"). (N) 11 a.m. KTTV
The Talk Seth MacFarlane; Adrianne Palicki; Jaymes Vaughan. (N) 1 p.m. KCBS
The Dr. Oz Show Possible toxic effects of hair treatments; burglars. (N) 1 p.m. KTTV
The Doctors Veteran families get a gift; holiday parties; beauty items; avoiding holiday weight gain; Santa. (Part 1 of 2) (N) 2 p.m. KCBS
Steve Carol Burnett; the cast of "Married to Medicine." (N) 2 p.m. KNBC
Dr. Phil British model Chloe Ayling claims she was abducted by masked men and held for six days. (N) 3 p.m. KCBS
The Ellen DeGeneres Show Chelsea Handler; Sam Smith performs; "Poker Princess" Mary Bloom. (N) 3 p.m. KNBC
The Real Cleo Anthony ("She's Gotta Have It"). (N) 3 p.m. KTTV
The Daily Show With Trevor Noah Henry Louis Gates Jr. ("Finding Your Roots"). (N) 11 p.m. Comedy Central
Conan Josh Hutcherson; Daveed Diggs. (N) 11 p.m. TBS
The Tonight Show Starring Jimmy Fallon Kumail Nanjiani; Kristaps Porzingis; Miguel performs. (N) 11:34 p.m. KNBC
The Late Show With Stephen Colbert Kate Winslet; Chuck Schumer; Wolf Alice performs. (N) 11:35 p.m. KCBS
Jimmy Kimmel Live Elizabeth Banks; Matt Smith. (N) 11:35 p.m. KABC
Late Night With Seth Meyers Allison Williams; Ben Mendelsohn; Jacob Banks performs; Will Dorsey Jr. performs. (N) 12:36 a.m. KNBC
The Late Late Show With James Corden Jennifer Garner; Bryan Cranston. (N) 12:37 a.m. KCBS
Nightline (N) 12:37 a.m. KABC
Tavis Smiley Computer scientist Jaron Lanier. (Part 1 of 2) (N) 1 a.m. KOCE
SPORTS
NHL Hockey The Kings visit the Washington Capitals. 4 p.m. FSN
NBA Basketball The Utah Jazz visit the Clippers. 7:30 p.m. FS Prime
For more sports on TV, see the Sports section.
Customized TV Listings are available here: www.latimes.com/tvtimes
Click here to download: TV listings for the week of Nov. 26 - Dec. 2, 2017 in PDF format
---
Get our daily Entertainment newsletter
Get the day's top stories on Hollywood, film, television, music, arts, culture and more.
You may occasionally receive promotional content from the Los Angeles Times.