Saturday's TV highlights and weekend talk shows: 'Homegrown Christmas' on Hallmark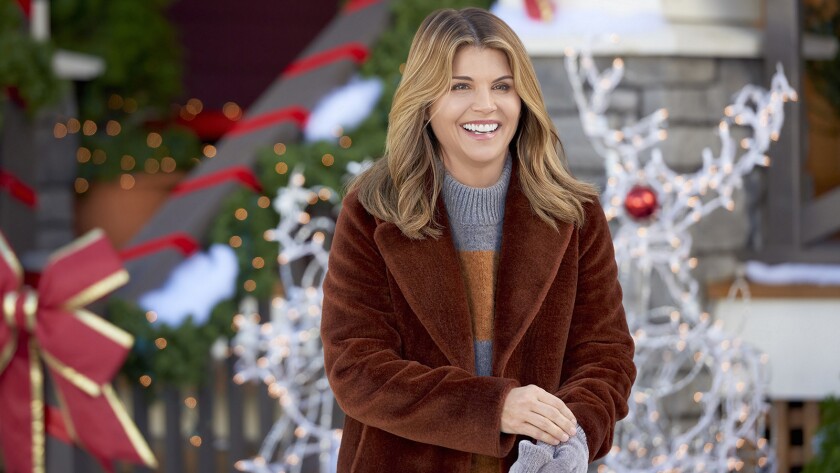 SERIES
Versailles Looking to the future and his legacy, King Louis XIV (George Blagden) seeks to reconnect with his people, and reconcile his family in this new episode of the opulent drama. Alexander Vlahos also stars. 7 p.m. Ovation
Saturday Night Live Jason Momoa ("Aquaman") hosts with musical guest Mumford & Sons. 8:29 p.m. NBC
Ghost Adventures Zak and the crew investigate the March Field Air Museum in Riverside, where there have been reports of voices and things mysteriously moving. 9 p.m. Travel
SPECIALS
Animated holiday classics Up first, the reindeer with the incandescent nose guides Santa's sleigh through a bad storm on Christmas Eve in "Rudolph the Red-Nosed Reindeer," based on the song by Johnny Marks. Then an animated adaptation of Romeo Muller's story "Frosty the Snowman," narrated by Jimmy Durante. John Goodman and Jonathan Winters are heard in the sequel "Frosty Returns." 8, 9 and 9:30 p.m. CBS
Disney's Fairy Tale Weddings: Holiday Magic Married dancers and choreographers Allison Holker and Stephen "tWitch" Boss cohost this all-new installment of nuptials held at Walt Disney World Resort in Florida. Country music superstar Martina McBride performs. 8 p.m. Freeform
Oprah at Home With Gabrielle Union, Dwyane Wade & Their New Baby Oprah Winfrey visits the actress and the NBA star and meets their baby girl, Kaavia, in this new special. 8 p.m. OWN
MOVIES
Homegrown Christmas After spending years running her own company, a shoe designer (Lori Loughlin) sells the business and accepts her mother's (Gwyneth Walsh) invitation to come home for Christmas and reconnect with her long-ignored family and an old boyfriend (Victor Webster) in this new holiday romance. Kate Isaac also stars. 8 p.m. Hallmark
Ready Player One Ernest Cline co-adapted his own best-selling 2011 novel for Steven Spielberg's 2018 science fiction adventure, which uses live-action and animation to conjure a dystopian near-future of 2045, where much of humanity has retreated into a virtual-reality software program to escape their bleak reality. Tye Sheridan, Olivia Cooke, Ben Mendelsohn, T.J. Miller, Simon Pegg and Mark Rylance star. 8 p.m. HBO
Santa's Boots When a business woman (Megan Hilty) makes her annual Christmas trek back to her hometown, she's shocked to learn that the family business, a department store, is on the brink of foreclosure in this new holiday gender-switched spin on "Cinderella." Pitching in as a Santa's helper, she takes a liking to Nick (Noah Mills), the store's young Santa, who suddenly leaves, and the only clue to find him is a black boot he left behind. 8 p.m. Lifetime
WEEKEND TALK
SATURDAY
Good Morning America (N) 7 a.m. KABC
The Alec Baldwin Show Sarah Jessica Parker. 10 p.m. ABC
SUNDAY
Good Morning America (N) 6 a.m. KABC
State of the Union With Jake Tapper Sen. Marco Rubio (R-Fla.). Rep. Jerrold Nadler (D-N.Y.). Panel: Nina Turner; Rick Santorum; Jennifer Granholm; Rep. Adam Kinzinger (R-Ill.). (N) 6 and 9 a.m. CNN
CBS News Sunday Morning The life-long friendship between former Sec. of Transportation Norman Mineta and former Sen. Alan Simpson (R-Wyo.), who met more than 70 years ago as Boy Scouts living on opposite sides of the barbed wire at a Wyoming Japanese internment camp; Cardi B; designer Ralph Lauren. (N) 6:30 a.m. KCBS
Fox News Sunday With Chris Wallace National Economic Adviser Larry Kudlow; Sen. Angus King (I-Maine). Panel: Former Rep. Jason Chaffetz (R-Utah); Guy Benson; Jane Harman; Charles Lane. (N) 7 a.m. KTTV; 11 a.m., 4 and 11 p.m. FNC
Fareed Zakaria GPS French riots; Brexit vote: R. Nicholas Burns; George Osborne, Evening Standard; Sophie Pedder, the Economist. China's future in AI: Author Kai-Fu Lee, ("AI Superpowers: China, Silicon Valley, and the New World Order") The Trump Administration's war on bureaucracy: Michael Lewis, the Atlantic. (N) 7 and 10 a.m. CNN
Face the Nation Sen. Marco Rubio (R-Fla.). U.S. Trade Representative Robert Lighthizer.; Sen. John Thune (R-S.D.). Rep. Adam Schiff (D-Burbank). Christine Lagarde, IMF. Yemen: Elizabeth Palmer. (N) 8 a.m. KCBS
Meet the Press Sen. Rand Paul (R-Ky.); Governor elect Tony Evers (D-Wis.). Sen. Angus King (I-Maine). Panel: Kimberly Atkins, the Boston Herald; Eddie Glaude Jr.; Jonah Goldberg, Los Angeles Times; Peggy Noonan. (N) 8 a.m. KNBC; 3 p.m. MSNBC
This Week With George Stephanopoulos The economy; trade talks: Larry Kudlow, White House National Economic Council. Sen. Marco Rubio (R-Fla.). Sen. Chris Murphy (D-Conn.). Panel: Terry Moran; Alex Castellanos; Julie Pace, Associated Press; Shawna Thomas, Vice.(N) 8 a.m. KABC
Reliable Sources A flurry of bad news for President Trump: Carl Bernstein; Susan Glasser, the New Yorker; Jeffrey Goldberg, the Atlantic. A toxic culture and new misconduct allegations at CBS: Rachel Abrams, the New York Times. The Weekly Standard's uncertain future; another example of the Trump-Fox merger: Max Boot, the Washington Post; David Zurawik, the Baltimore Sun. Subscriptions for news media: Rob Wijnberg, the Correspondent. (N) 8 a.m. CNN
MediaBuzz Sara Fischer; Mollie Hemingway; Richard Fowler; Anthony Scaramucci; Charlie Gasparino; Emily Jashinsky. (N) 8 a.m. and midnight FNC
60 Minutes Elon Musk; a study of the effects of heavy screen use on the adolescent brain; Ryan Speedo Green. (N) 7 p.m. KCBS
SPORTS
College Football NCAA FCS Championship: Colgate at North Dakota State, 9 a.m. ESPN; Navy versus Army, Noon CBS.
NHL Hockey The Kings host the Vegas Golden Knights, 1 p.m. FSN
NBA Basketball The Lakers visit the Memphis Grizzlies, 5 p.m. SPST; the Clippers host Miami Heat, 7:30 p.m. FS Prime
College Basketball Notre Dame visits UCLA, 7:30 p.m. ESPN2
For more sports on TV, see
the Sports section.
Customized TV listings are available here: www.latimes.com/tvtimes
Click here to download TV listings for the week of Dec. 9 - 15, in PDF format
---
The complete guide to home viewing
Get Screen Gab for weekly recommendations, analysis, interviews and irreverent discussion of the TV and streaming movies everyone's talking about.
You may occasionally receive promotional content from the Los Angeles Times.