'13 Reasons Why' returns with troubling questions and troubling answers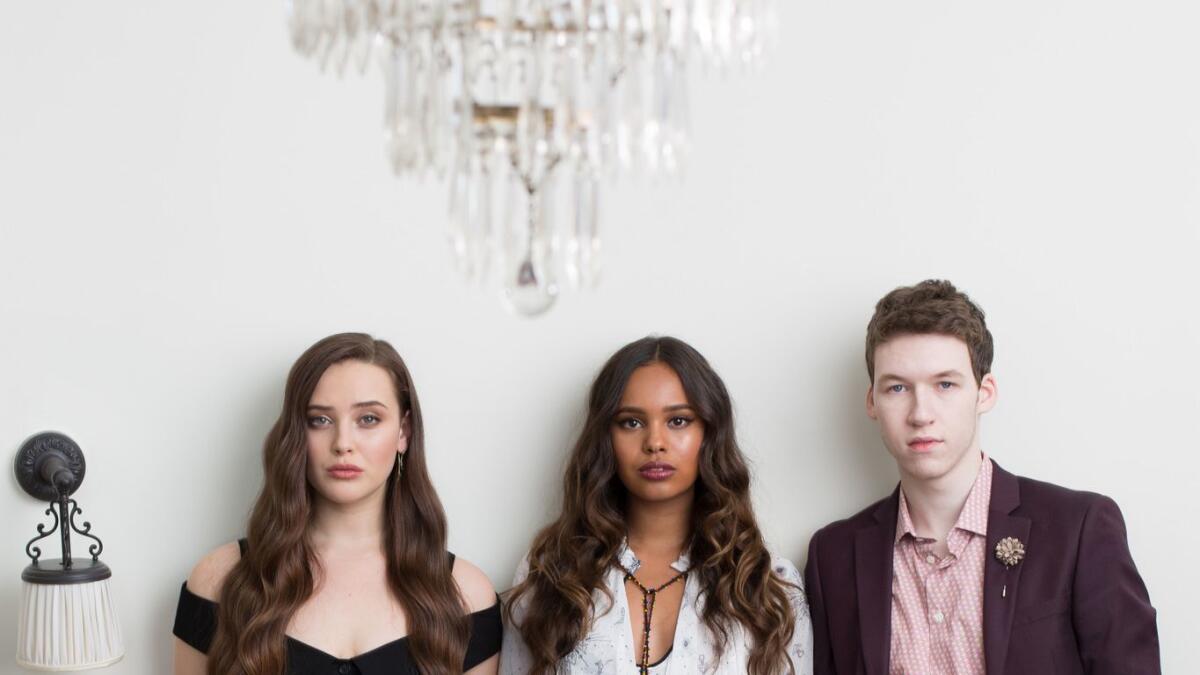 Netflix's "13 Reasons Why" had everyone talking when it launched last year — and it wasn't all good.
The series chronicled the aftermath of the suicide of teenager Hannah Baker (Katherine Langford), who left behind a series of cassette tapes chronicling her inner torment. The drama cast a harsh light on the tough truths of teen-dom, such as social media harassment, slut-shaming and sexual assault.
Based on Jay Asher's bestselling young novel, the series almost instantly became a streaming fixture on the mobile devices of young viewers. But the drama also sparked a firestorm of debate among adults over whether it glamorized suicide. Some concerned school officials around the country even issued warnings to parents about allowing their kids to watch.
When the possibility of a second season was floated, a question quickly emerged: With Hannah dead and Season 1 exhausting its source material, was this a narrative that really needed to continue?
"People said, 'the story is told,' that the characters' lives end there, we heard all 13 tapes," said executive producer Brian Yorkey, who shepherded the project. "I was always the kid who would finish a book and wanted to know what happens next to characters. So, to me, I can't imagine these kids don't go forward, still struggling to deal with what they were a part of, to come out the other end, to recover."
Netflix and producers felt the series' overall mission to expose uncomfortable truths was worth risking more outrage, and moved forward with a second season.
The continuation of "13 Reasons Why," which launched a few weeks ago to tepid reviews, further explores the impact of Hannah's suicide on her friends and family, as well as the school's culpability. But the show's writers, who developed the story arc with the aid of mental health consultants, intensified their focus on teen sexual assault.
The result is a season that is just as provocative and disturbing as the first.
Things pick up with Hannah's estranged friend Jessica Davis (Alisha Boe) trying to settle back into normalcy after being raped by jock classmate Bryce Walker (Justin Prentice) last season. (For the uninitiated, Hannah was also sexually assaulted by Bryce in the first season)
A major source of outrage is a scene in the final episode of the season, in which school photographer Tyler Down (Devin Druid), a loner at the school, is brutally raped by three student-athletes, led by jock Monty, in a school bathroom. At one point, Tyler is sodomized with a mop handle.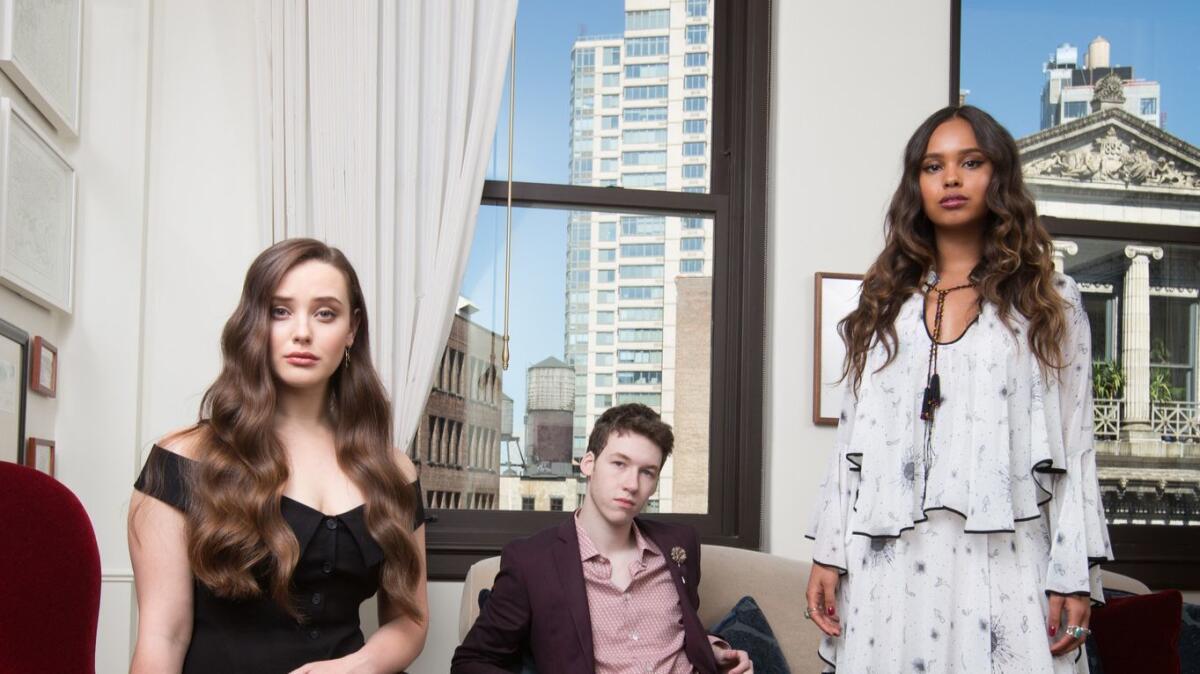 The Parents Television Council, an L.A.-based advocacy group that monitors media decency, called on Netflix to cancel the series.
Said PTC program director Melissa Henson, who watched the entire second season, in a statement, "For kids who are already at risk, who are being bullied or abused, the show may only serve to trigger those feelings and create dangerous real-life circumstances. We urge parents and schools to be alert and on guard in the weeks and months ahead."
Yorkey stands by his decision to spotlight troubling themes and elements in the series.
"I understand the temptation to want to shield [kids] from everything," said Yorkey, who is not a parent. "But when we cover things with silence, we tend to cover them with stigma and with shame and when we don't talk about things, people who experience it feel incredibly isolated and don't have any sense that anyone will ever understand what they've been through."
The new episodes arrive as Hollywood — and society at large — continues to feel the ripple effects triggered by the recent spate of sexual harrassment and assault allegations against powerful individuals.
"We watched as these issues really kind of exploded onto the scene in our culture," Yorkey said. "And they're very much issues that are central to Season 2. Not only sexual assault, but serial sexual assault. The ways it systematically enabled the way insitutions, whether intentionally or through inaction, allow it to continue and to continue as a kept secret."
When we cover things with silence, we tend to cover them with stigma and with shame ...
— Brian Yorkey, the showrunner of "13 Reasons Why"
As Boe sees it, the fortuitious development presents an opportunity to do some good. The 21-year-old actress said she received hundreds of messages last year from young viewers who identified with Jessica's story as a sexual assault victim. But she also remembered how her character had been vilified by some.
"I think it just parallels what happens in the real world — how people victim-blame," Boe said. "They don't believe the survivor and just side with the attacker. But it's crazy how much has changed in the past year."
Langford, whose character's presence this season is seen in flashbacks and as an apparition of sorts, said Hannah's story is an example of why such stories need to be told.
"Hannah was a victim of sexual assault and what happened to her at that point in her life … it wasn't something she could live with," the actress said. "I think there are some incredibly important discussions to be had from this show."
The series expanded the conversation to include male sexual assault, Yorkey said, because the writers felt, in doing research, that male-on-male sexual assault was "kind of an epidemic."
"As we did with the sexual assault in Season 1, we wanted that scene to do justice to what young men actually experience in those moments and try not to smooth it out," Yorkey said.
For Druid, acting in the scene proved harrowing. "I remember being really nervous just because it's such a traumatic scene that real people have gone through, and I think that that's what needs to be remembered — that real people have gone through this."
Netflix declined to comment on the backlash the graphic depiction has received. Yorkey, though, noted the scene was intensely debated within the writers room, as well as with studio and Netflix executives.
In exploring the turmoil of sexual assault came the question of justice. Yorkey said two orange note cards on the wall of the writers room guided the season: "What is justice" and "Can you find justice in an unjust world?" Yorkey cites a statistic from RAINN (Rape, Abuse & Incest National Network): Only six out of every 1,000 rapists will be incarcerated for their crimes.
By the end of the season, Bryce is on trial for raping Jessica and ultimately, upon conviction, receives a lenient sentencing — not unlike the 2016 case involving former Stanford University swimmer Brock Turner, who was sentenced to six months in jail for sexually assaulting an unconscious woman.
"I think many viewers will find what we delivered to be dissatisfying," Yorkey said. "And we feel that is as it should be, because unfortunately justice can be hard in the real world on this matter."
The trial against Bryce brought about a scene that nearly didn't make the final cut of the series out of concern that viewers would think the show was chasing the #MeToo story. In it, Jessica addresses her attacker, Bryce, as she recounts the traumatic experience of the assault. The scene then transitions to other female characters from the series, on the stand, recounting their own moments of being harrassed or attacked.
For Prentice, portraying serial attacker Bryce has allowed him to see how behavior that goes unchecked at a young age can be damaging.
"Bryce has grown up disrespecting women and feeling that the world is owed to him," Prentice said. "There are unfortunately too many Bryce's out there at this current moment in time. I think there is hope that all of that can change if we just start talking about these issues and what rape means and what sexual assault means and what consent is and influencing these young boys from an early age."
It's unclear if "13 Reasons Why" will contribute more to that discussion. A third season of the drama is yet to be confirmed.
'13 Reasons Why'
Where: Netflix
When: Anytime
Rated: TV-MA (may be unsuitable for children under the age of 17)
Twitter: @villarrealy
Get our L.A. Goes Out newsletter, with the week's best events, to help you explore and experience our city.
You may occasionally receive promotional content from the Los Angeles Times.