The first time: It took a Chuck Lorre comedy for Netflix to put Alan Arkin and Michael Douglas together on screen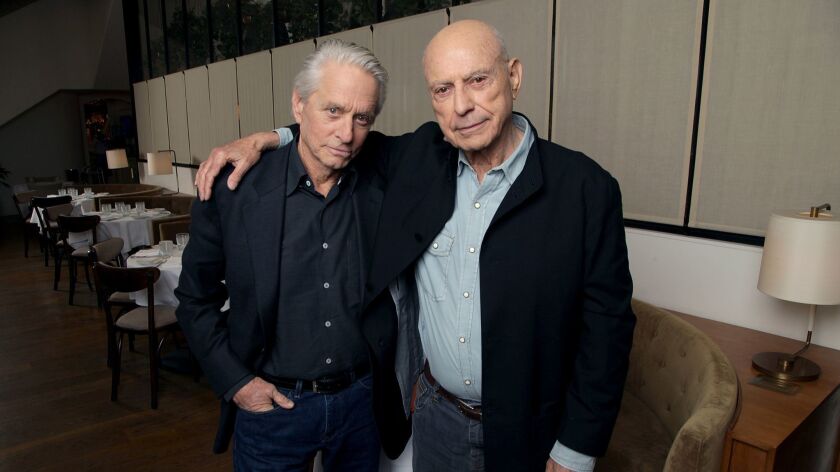 Hollywood heavyweights Alan Arkin and Michael Douglas have more than a century of acting experience between them, but it took a Chuck Lorre sitcom to finally bring them together on screen.
"The Kominsky Method," which debuts Friday on Netflix, follows actor and acting coach Sandy Kominsky (Douglas) and his agent (Arkin) as they maneuver their twilight years in Los Angeles.
Senior buddy comedies have a long and successful history on television — "The Golden Girls" just got its own cereal! — and "Grace and Frankie," also on Netflix, has been renewed for a fifth season. But Lorre says he just wanted to write a show about what he was going through. "The experience of getting older has a lot of facets to it," said the sitcom kingpin whose credits include "The Big Bang Theory" and "Mom." "Health issues, losing loved ones, that feeling of being estranged from the culture, I could go on. But I have a couple of good friends — we hang on to each other. It's something I wasn't able to write about in my other shows."
Arkin, 84, and Douglas, 74, sat down at the Montage Beverly Hills hotel last week to talk about finding the humor in aging, diving into TV and their thoughts on retirement.
Is this the first time you guys have worked together?
Douglas: First time we met.
Arkin: I was very surprised because … I found him to be a lot nicer than people told me he was going to be.
Douglas: Same thing. It's not true what they say about him. It's not true.
What appealed to you about this? Did TV seem more worthwhile?
Douglas: I started in a television show. There was a time when you did a television show, people saw you for free [but] you had to pay to go to the theater, right? That was what kept it kind of separate. And then this thing called streaming came along and all of a sudden you had to pay to see the actor on television. I've never seen it as less of a barrier.
I wasn't thinking about television, but I'm such a fan of ["The Big Bang Theory"] — it was something I spent [watching] with my kids for the last 10 years. It was just great writing. Alan was gravy. He was the gravy of the mix I never anticipated.
Arkin: Gravy? I thought I'm more of a salsa.
Douglas: Maybe you're right.
Arkin: I'd like to be called a salsa if you don't mind, in the future.
Before this project, had you been able to see the humor in aging?
Arkin: [Aging] becomes one more prejudice. You start thinking of people as old — if you start putting boxes around people, where do you stop? It's no different from sexual preference, it's no different from racial or religious. It's one more box to put somebody in so you don't think that you're like them. We're all alike, everybody's alike, everybody's got their own idiosyncrasies, everybody's got their own difference, but we're all —
Douglas: I didn't see much fun about getting old. I did not see a lot of laughs about getting older.
Arkin: It is for me.
Douglas: But you're a Zen master. He meditates for half an hour at least every day for 30 years.
Arkin: There are glorious things about getting old. Like I can't hear two-thirds of what people are saying to me. It makes me so happy. [People] getting up and giving you a seat, that's a nice thing.
Chuck says that he still thinks of himself as a certain age, but his body reminds him that he's not. Can you identify with that?
Douglas: I had this vision that as an adult, I would think differently. But I don't think I changed a lot. When you're younger, you just can't wait til you get your driver's license, and each month seems like a year. That's the only advice I have for kids: slow down. Because just when it's OK, you don't realize it's going kind of fast and then, it's just too late man, it's too late.
Arkin: My days, there's no time for boredom. I get up in the morning, I take my pills, that takes care of I think until about 10 a.m. If I drop one on the floor my morning is gone. I'm looking for the pill, and having somebody help me get up.
Men of a certain age in Hollywood don't face the same barriers as their female counterparts, but do you have any frustrations with the types of roles you're offered?
Arkin: I look to see what page I die. That's the first thing I look for. And when I'm going on a gurney. I like when I'm on a gurney, because you don't have to talk very much. You just lie there and people feel sorry for you.
Douglas: I don't have anywhere the energy or the ambition I had 25, 30 years ago, so I'm just really happy that there's still options available I like.
What has it been like to see the industry change so much?
Douglas: Only two things have struck me: how close streaming is to what it used to be like in the film industry in the '70s and '80s, -- more creative freedom, less interference from the studio. The other change is digital [cinematography]. I know some filmmakers aren't happy, but for actors, we couldn't be happier … it helps keep your momentum going.
Arkin: It may be in my imagination, but it felt like there used to be more of a sense of community, which I miss terribly. When I look back at the things that made me happy — the projects — it was always the ones where me and other people were all working for the same reason and had a kind of mission.
Like "The Russians Are Coming" — we were terrified when we made that movie. We thought it was going to be a national uproar against the film and the opposite took place. But we were prepared for resistance. When we did "The Heart Is a Lonely Hunter," we had a mixed-race cast and we went to Southern Alabama, and we didn't know what the hell was going to happen. What happened was that we got there six months after the march and so the whole town of Selma went out of their way to try to change their image [and] bent over backwards to be decent with us. But we had no idea. With "Little Miss Sunshine," after the first day we all knew that something special was going on and it was a very tough tone. We banded together and very quietly created a sense of community. It doesn't happen a lot and I miss it.
Are you glad you started when you did? Could you imagine trying to get your start now?
Arkin: Oh, my God, it would be a nightmare now.
Douglas: Well, the social media thing — my heart goes out to … you can't burp the wrong way anymore. I think I told you, [Alan], I was watching, with my 18-year-old son, an old Eddie Murphy stand-up performance on Netflix. He was 22-23 years old. Funny, [but] you could not say one thing today that would've not insulted. It's a very difficult time on a number of fronts.
This past year and a half, we've seen the #MeToo movement take shape challenging some of Hollywood's behavior. Michael, you had an issue arise from it. [In January, reporter Susan Braudy accused him of sexual harassment, which Douglas has denied.] What was it like to be caught up in that?
Douglas: I personally don't want to touch the subject.
Arkin: There was a poem a few years ago talking about the different words you can say about different minorities. What he ended up saying is something that I absolutely, fully support. Words don't matter. The words are not going to cure anything, they're not going to help anything because you can say beautiful things but if your heart is closed, it's going to come through. If people can sense your love, your concern, then the words don't make a damn bit of difference.
At a certain point in everyone's career, people start asking about retirement. Is it something you've ever considered?
Arkin: I'm retired six months out of the year, when nobody gives me an offer. We spend half our lives being retired.
Douglas: Alan is a little older than I am, he's my inspiration, like my father was. It's fantastic to be in a business that you love and you still can do.
Arkin: People give you enormous accolades for just being able to stand up. "Look at him! " Here's a standing ovation. "He's standing up. Give the guy a hand!"
Twitter: @villarrealy
---
The complete guide to home viewing
Get Screen Gab for everything about the TV shows and streaming movies everyone's talking about.
You may occasionally receive promotional content from the Los Angeles Times.