Review: Starz 'American Gods' is as stellar as it is supernatural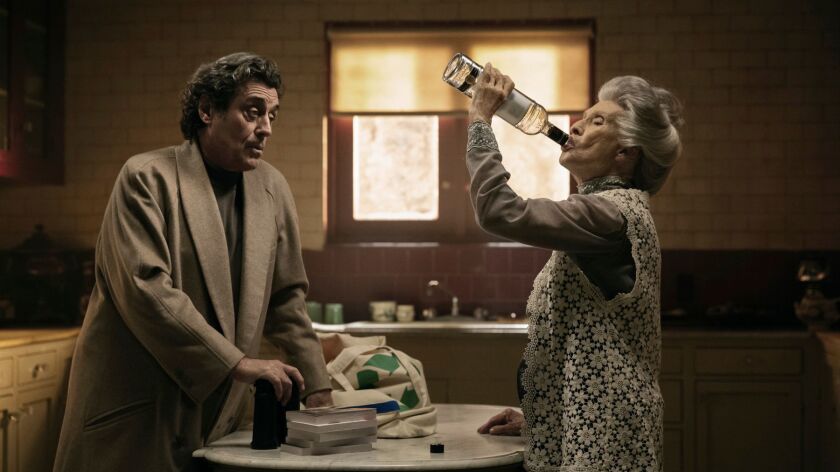 Television Critic
Deities from ancient Egypt, Europe, Africa and Ireland take the form of overworked cabbies, slippery con men, exasperated homemakers and habitual drunks in the new Starz series "American Gods."
Once adored and feared, the gods and goddesses of old have fallen on hard times since the glory days of pagan harvest rituals, fire worship and human sacrifice.
Humanity stopped worshiping them in favor of monotheistic faiths, and now a new set of gods who deal in media, technology and modernity are taking over. Enter a battle of otherworldly proportions.
Based on Neil Gaiman's graphic novel of the same name, "American Gods" (which premieres Sunday) mixes old world superstition with modern-day cynicism for one of the best supernatural Season 1 debuts since HBO's vampire saga, "True Blood."
And who couldn't use a little magic these days, whether it comes courtesy of a 6-foot-plus leprechaun with a penchant for bar fights or a cab-driving Jinn with literal fire in his eyes?
"American Gods" ushers us into this world of mythological gods and creatures alongside Shadow Moon (Ricky Whittle), an ex-con who in the first episode knows as much as we do about the ethereal world he's entering.
He's served a three-year prison sentence only to find his wife, Laura (Emily Browning), has died in a car accident days before his release.
On the plane to her funeral, he meets the smooth-talking, creepy yet charming Mr. Wednesday (a role made for the master of foreboding charisma, Ian McShane). Wednesday is on a mission across America to unite the old gods and take back power. He convinces Shadow to work as his bodyguard, yet never makes it clear what business he's in … or why he requires protection.
The pay is too good to pass up, yet, within hours, Shadow's brawling with the leprechaun Mad Sweeney (played with gusto by Pablo Schreiber). Sweeney can pull gold coins out of thin air but has a drinking problem and has misplaced his luckiest charm, and the result is a terrible streak of bad fortune.
And that's before things get really weird.
Shadow is nearly beaten to death by the goons of Technical Boy (Bruce Langley), a new god who rules over all things technological. He's as cocky, annoying and insecure as a Silicon Valley start-up nerd, a self-consciously hip Microsoft commercial and Justin Bieber combined.
After pixelating to life, he traps Shadow inside a white limo and, while vaping some sort of rare toad, demands to know what the so-called Mr. Wednesday is up to.
In the meantime, Shadow's deceased wife has miraculously risen from the grave and hopes to atone for her past misdeeds.
Mr. Wednesday's true identity — is he Hades, Neptune, Osiris? — is one of many mysteries that lends "American Gods" the same sort of addictive lure as other hit series that sounded absurd at their outset ("Six Feet Under," "Lost," "Game of Thrones") but became national obsessions.
And the challenge of creating eight hourlong episodes around Gaiman's novel shouldn't be underestimated.
There was a high probability that a TV adaptation of "American Gods" would be a confusing mess. How do you bring to life a deity like Easter, the god formerly known as Ostara, Goddess of Spring, before she was upstaged by Jesus? Or Media, a new god who speaks to Shadow in the form of Lucille Ball during an episode of "I Love Lucy"? Or a sister god who watches the constellations to protect mankind, and can literally pluck the moon out of the sky?
You hand the task to executive producers Bryan Fuller ("Pushing Daisies") and Michael Green ("Heroes") and procure a cast that includes Gillian Anderson as Media, Cloris Leachman as Zorya and Kristin Chenoweth as Easter. And as the cunning, wrathful trickster Mr. Nancy (the African god Anansi), Orlando Jones has found an indelible role.
The result is a wonderfully eclectic mix of gory bloodlust and fairy whimsy, ethereal beauty and tenement apartment realism.
Special effects are masterfully used throughout "American Gods" to thrust viewers into alternate dimensions or let us know something otherworldly is about to happen.
And when "American Gods" does get all supernatural, it's beautiful: Mr. Wednesday blows on a dandelion, its seeds rise into the sky, parting the clouds, stirring the heavens, shifting the universe. After the goddess of Love Bilquis (Yetide Badaki) literally consumes her lovers, they are reborn in the glittering cosmos.
The power of faith is important here, but not a requisite to believing in "American Gods."
In a media landscape littered with real-life villains and fictional superheroes, everyone could use a little godly intervention.
'American Gods'
Where: Starz
When: 9 and 10:05 p.m. Sunday
Rating: TV-MA (may be unsuitable for children under the age of 17)
ALSO:
The deities behind 'American Gods' are off to a bloody start
Angelenos talking to Angelenos: Covering the L.A. riots when local news still mattered
'Catastrophe' co-creator Rob Delaney on his show's third season and exploring the realities of marriage
---
The complete guide to home viewing
Get Screen Gab for weekly recommendations, analysis, interviews and irreverent discussion of the TV and streaming movies everyone's talking about.
You may occasionally receive promotional content from the Los Angeles Times.