'Catastrophe' co-creator Rob Delaney on his show's third season and exploring the realities of marriage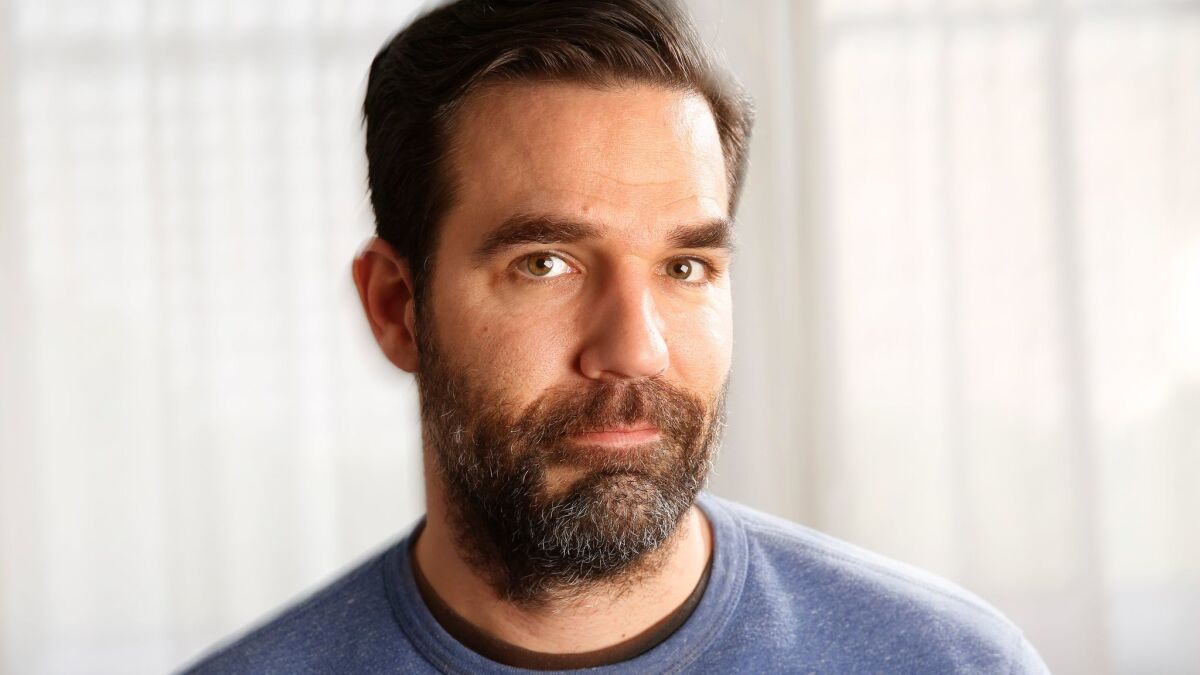 There's a strange sort of symmetry at work when, midway through speaking with "Catastrophe" star and co-creator Rob Delaney on a transatlantic phone call, the comic abruptly asks to cut an interview short.
"Listen, I apologize but I have to get my other children from school," says Delaney, who had said he spent part of the interview from his London home with his 1-year-old "staring beautifully into my eyes."
Gamely, he answered questions for another five minutes, but it's that intrusion of real life into any existing plans that forms the backbone of "Catastrophe," which arrives for its third season on Friday, when all six episodes appear on Amazon. The series debuted on Britain's Channel 4 earlier this spring and has already been renewed for a fourth season.
In the show, which was co-created by Sharon Horgan, Delaney portrays Rob Norris, an advertising executive who is traveling in the U.K. when he meets an Irish school teacher portrayed by Horgan. The two have a passionate, extended one-night stand, but when Horgan's character becomes pregnant, Rob upends his life and moves to London where they ultimately learn to become a family.
While that sounds like natural rom-com material, "Catastrophe" has built a reputation for being something more. The series pilot earned Horgan and Delaney an Emmy nomination for writing, and the gleefully vulgar first season found its main characters getting to know each other as they confronted real-world problems with a bracing honesty seldom seen on TV. The second jumped forward to a second child as the show touched on post-partum depression, infidelity, financial struggles and the daily challenges that come with sustaining a long-term relationship.
"Marriage is just fascinating and it's really hard to do in film, TV and even novels," says Delaney, who cites Richard Linklater's "Before" trilogy as a touchstone for writing "Catastrophe." "I know people had found [the third film] 'Before Midnight' depressing but I didn't. They're choosing to make it work, and that's a big element, maybe the biggest, of a successful marriage."
Delaney is married with three kids, a number that, he clarifies, he and his wife arrived at "on purpose" ("I really like walking in the door and having children climb all over me," he admits). But even as "Catastrophe" evolved into a show about parents, Rob and Sharon's children are often a backdrop, a choice that maintains focus on the show's core relationship while also serving as an acknowledgment of its limitations.
"In real life I would rather spend time with children than adults, nine times out of 10," Delaney says. "Kids are so much more spontaneous and amazing and interesting … Sharon and I, we sit around laughing at each other, sure, we think we're funny — but are we going to write something funnier than [what] a real little kid's going to say? No, we're not that funny."
In addition to the return of Carrie Fisher as Rob's mother in one of her final on-screen appearances ("It's staggering how brilliant she is," Delaney says), "Catastrophe" ventures down an even darker path this season as Rob — who like Delaney is an alcoholic in recovery — , starts drinking again. While Season 2 ended with his character crashing off the wagon, the lapse is depicted as something more insidious as he sneaks a few drinks here and there and liquor is noticed on his breath during a job interview.
Delaney has been very open about his (still intact) sobriety, notably in his nonsensically titled 2013 memoir, "Mother. Wife. Sister. Human. Warrior. Falcon. Yardstick. Turban. Cabbage." But he credits Horgan for drawing from his experience for the series. "I had just lived [through getting sober] so it, for some reason, didn't occur to me that might be fruitful down the road," he says, noting the response this season generated in Britain.
"People are very discomfited watching Rob sort of pick up speed in terms of drinking," he says. "I enjoy their discomfort."
Prior to "Catastrophe," Delaney was best known for his Twitter presence (@robdelaney). Born in Marblehead, Mass., he moved to L.A. in 2001 and was a struggling stand-up comic before the social media platform provided him an outlet for the surreally absurd, wickedly imagined one-liners about bodies, pop culture and sex he had amassed while pitching late-night jokes (many of which can't be reproduced here). Delaney accrued a following 140 characters at a time with musings like "On the 1st episode of Casper the Friendly Ghost, Casper the Friendly Boy was eaten by a clown behind his grandparents' barn."
Armed with an expanding social media presence (now at over 1.4 million followers), Delaney's career also began to grow with a Netflix stand-up special in 2013. Twitter also brought him together with Horgan, who lives in London with her husband and two children and was then known for the distinctively raunchy 2006 BBC series "Pulling."
The two began working together on "Catastrophe" as their schedules allowed, and in 2014 the show was picked up and Delaney moved his family to London. Since then his relationship with Twitter has shifted.
"It's nowhere near as fun [now]," says Delaney, whose dryly measured voice in real life can be considerably more reserved than his unhinged online presence. Lately, his tweets are primarily angled toward political causes, which includes support for the Democratic Socialists and universal healthcare, something he's become more conscious of since moving to a country with socialized medicine.
"I pretty much go on Twitter just to, you know, disseminate propaganda and not to craft jokes," he deadpans. "Jokes I do on TV now."
While his comic chops on social media have taken a back seat, so too has his stand-up. Right now, he says, "Catastrophe" and his children are the focus. "I really try to fight my workaholic impulse. And kids help me do that because they will cry and be sad and blackmail me emotionally to be home more," he says. "That type of approach works with me."
See the most-read stories in Entertainment this hour »
'Catastrophe'
Where: Amazon Prime
When: Anytime, starting Friday
Rating: TV-MA (may be unsuitable for children under the age of 17)
Follow me over here @chrisbarton.
ALSO:
What 'SNL's' coast-to-coast live experiment says about our streaming habits, second screens and the Trump factor
The ever-changing 'Archer' finds inspiration in classic L.A. noir
Judd Apatow and Pete Holmes get real about comedy in HBO series 'Crashing'
Get our L.A. Goes Out newsletter, with the week's best events, to help you explore and experience our city.
You may occasionally receive promotional content from the Los Angeles Times.