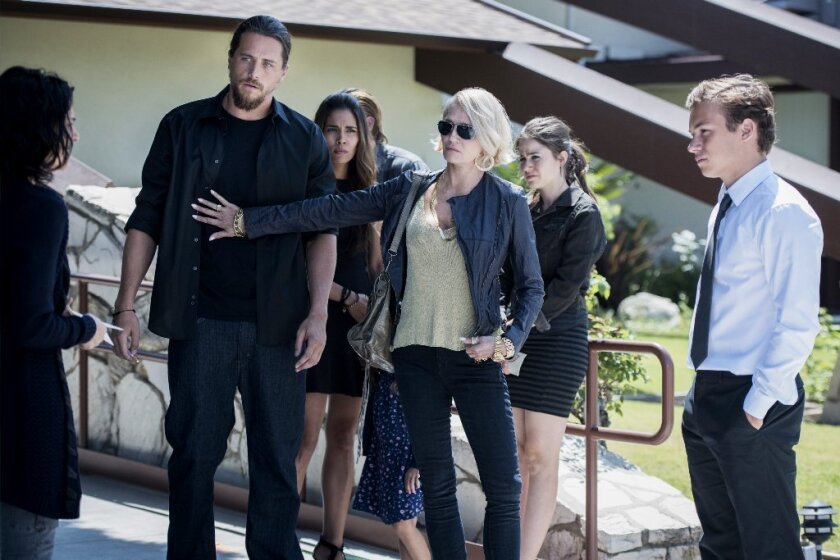 "Animal Kingdom," a new drama premiering Tuesday on TNT, begins quietly, with paramedics entering a house where a woman is unconscious on a couch; next to her, a teenage boy watches television.
"What's she taken?"
"Heroin," says the boy (Finn Cole), whose name is Josh but is called "J."
Later, an orphan, he will call his grandmother – a stranger for 11 years – and she will come and fetch him.
FULL COVERAGE: See our complete Summer TV preview
And so we are gently eased into the world of the Codys, an Oceanside crime family – sun-drenched California beach towns can have crime families too – with Jonathan Lisco ("Southland," "Halt and Catch Fire") adapting David Michôd's 2010 film about a modern Australian Ma Barker (Ellen Barkin) and her frequently shirtless sons (Ben Robson, Jake Weary, Shawn Hatosy). When not doing cannonballs into the backyard pool or surfing off the San Onofre Nuclear Generating Station, they rob banks and jewelry stores and pick up whatever they see lying around.
With her California-girl sunglasses and sharp-cut blond hair, her boxer's profile, her dare-you-not-to-look, lean-in decolletage, Barkin's Smurf is a woman whose domestic bustling and seemingly laissez-faire attitude about what goes on around her upscale ranch house never quite mask her need for control and a lack of boundaries. Making cupcakes, juicing juice, she is a kind of domestic sociopath, a mother and grandmother with a need for, and a use for but something shy of, a love for kin. The not-so-casual juxtaposition of strawberries and bundles of cash in one shot is a nice visual metaphor for her character.
Scott Speedman, from "Felicity" and "Last Resort" – a buff, boyish 40, amazingly – is Barry "Baz" Blackwell; among the characters who are not J, Baz is the nearest thing the series has to a responsible adult, with the coolest head and tenderest heart perhaps because he's not a Cody. (That he wasn't another brother is not exactly clear, given the literal closeness of the characters, and the fact that Smurf seems to regard his daughter as her granddaughter – but that might be a whole other kettle of plot lines.)
On TNT's "Animal Kingdom," Ellen Barkin portrays the matriarch of a Southern California family whose excessive lifestyle is fueled by criminal activities.
(Eddy Chen / TNT)
Scott Speedman as Barry "Baz" Brown in "Animal Kingdom."
(Doug Hyun / TNT)
Finn Cole as Joshua "J" Cody in "Animal Kingdom."
(Doug Hyun / TNT)
Jake Weary as Deran Cody in "Animal Kingdom."
(Eddy Chen / TNT)
Scott Speedman and Ellen Barkin in "Animal Kingdom."
(Eddy Chen / TNT)
Ben Robson as Craig Cody in "Animal Kingdom."
(Michael Muller / TNT)
Shawn Hatosy as Andrew "Pope" Cody in "Animal Kingdom."
(Eddy Chen / TNT)
Ben Robson, from left, Scott Speedman and Jake Weary in "Animal Kingdom."
(Eddy Chen / TNT)
Finn Cole in "Animal Kingdom."
(Eddy Chen / TNT)
Ellen Barkin and Finn Cole in "Animal Kingdom."
(Doug Hyun / TNT)
J, whose expression will stay defensively Sphinx-like throughout, is the obvious protagonist, whose acceptance or rejection of the ways of his newfound family – and their acceptance or rejection of him – engage the viewer's early concerns; the concerned viewer will of course want him to get as far away from them as possible, somewhere he can do his math homework in peace. At the same time, most every character gives you something to relate to; each has his secrets and cares.
Executive producer John Wells ("Southland," "The West Wing") directed the opening episodes; and the series is expertly made, and subtler than the premise suggests. As someone who distrusts the antiheroic attitude, and movies and TV shows in which people who are up to no good are made extra-glamorous by the fact that the people who play them are beautiful and charismatic, I take more convincing than some. But I went with this.
'Animal Kingdom'
Where: TNT
When: 9 and 10:04 p.m. Tuesday
Rating: TV-MA-LSV (may be unsuitable for children under the age of 17 with advisories for coarse language, sex and violence)
---
MORE:
TNT's 'Animal Kingdom' is a crime-family drama with a particularly tough matriarch
Robert Redford explores 'American West' on AMC
Summer TV refresher course: A look back at what happened on 'Mr. Robot,' 'UnREAL' and more
21 Summer shows worth staying in to watch
---