Apple Music bets on 'Carpool Karaoke' to help elbow its way into original programming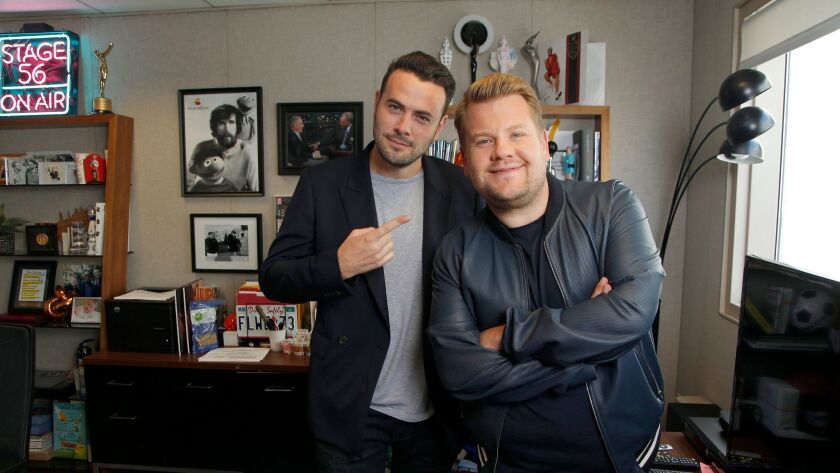 "How many people have watched the video?"
James Corden is thumbing through texts on his cellphone inside his "Late Late Show" office at CBS Television Studios in the Fairfax district. It's the day after the latest Carpool Karaoke segment — featuring the vehicular vocals of R&B star Usher — has aired and Corden wants to know whether executive producer Ben Winston, seated next to him, has the latest intel on the video's viral status.
"I haven't heard back," Winston, also checking his phone, says to Corden. "On YouTube, it slows down. So it's usually double the amount — on the first day, it will be either double or triple the amount of showings. It says 2.3 million. So, it's probably around 4 million."
"It's still No. 1," Corden replies, verifying its ranking on YouTube. (By the time this article went to press, the number would grow to more than 11 million.)
In the three years since he took over as host of the CBS late night talk show, the British comedian has made riding in cars with stars Must Search-and-Click TV. The popular segment, in which Corden helms the wheel as he sings along with some of music's most popular artists, has featured everyone from Adele and Stevie Wonder to Justin Bieber and Britney Spears — and has quickly emerged as a worthwhile venue for celebrities to let loose and jam out like no one is watching (except millions of people).
And now Apple, one of the richest companies in technology, is hoping the segment's viral heft will help bolster its subscription service, Apple Music, in its original programming ambitions as the company looks to strengthen its presence in entertainment.
"Carpool Karaoke: The Series," a supersized digital adaption of the crowd-pleasing "Late Late Show" bit, makes its debut on Apple Music on Aug. 8.
"They are at the forefront of music," Corden says. "So, a music-based show with all these different people — it just seemed like Apple Music would be the right partners for us."
When, not if, Apple would dive into the original programming space and challenge streaming companies such as Netflix and Amazon has long been a question industry insiders have wondered.
The company announced earlier this year its plan to more earnestly join the original programming space to help distinguish Apple Music, the tech giant's $9.99 month music streaming service, from such rivals as Spotify and Tidal — but the company has taken a mostly unhurried approach. It unveiled its first series, "Planet of the Apps," a tech-contest reality show in the vein of "Shark Tank," in June to little fanfare. Now comes its splashier follow-up, "Carpool Karaoke: The Series."
Signaling an even bigger indication of its Hollywood ambitions, the Cupertino, Calif.- based company announced in June that it had tapped two Sony television studio veterans, Jamie Erlicht and Zack Van Amburg, to oversee the company's growing original programming business.
Eddy Cue, Apple's senior vice president of Internet software and services, was careful not to make any bold claims about Apple's goals in the space — focusing on the company's current launch.
"For Apple Music, 'Carpool' is perfect," said Cue, who cites Bruce Springsteen's "Born to Run" as his go-to karaoke tune. "It's a natural extension to the customers and subscribers that we do have and keeping them coming to Apple Music even more often for more things. For other folks who may not have tried it, this may be the thing to bring them to try it out. On the Jamie and Zack front, it's too early … Hopefully, there will be a lot more from us to talk about."
But if anyone can make bold claims, it may be Apple, which has more than $250 billion in cash.
"Netflix proves one thing: If you have great technology and are willing to outspend your peers, you can have access to the best content," said Richard Greenfield, a media analyst at BTIG Research. "Apple has enough cash to buy essentially the entire legacy media industry. They have incredibly deep pockets to attack something … I don't think there's any way to stop them from making a major dent. Obviously, it's now an execution story. They've got to actually prove it."
"Carpool Karaoke: The Series" is at least helping to lay the foundation. And Apple seems hopeful about the partnership. At the unveiling of the iPhone 7 last year, just months after announcing its licensing agreement with CBS Television Studios for the series, a video of Corden driving around Apple Chief Executive Tim Cook, during which the two men delivered performances of OneRepublic's "I Lived" and Lynyrd Skynyrd's "Sweet Home Alabama," kicked off the event.
Hopefully, there will be a lot more from [Apple] to talk about.
Eddy Cue, Apple's senior vice president of Internet software and services
It's a turn of events that can be traced back to a call Corden received from music producer Jimmy Iovine, who spearheaded the launch of Apple's music streaming service.
It was 2015 and Iovine had just watched the Carpool Karaoke segment that featured music icon Wonder (a video that has since notched more than 35 million views on YouTube.).
"He said, 'I want you to come to Malibu and have dinner with me next week,'" Corden says. "We sat down on the beach and had this long chat. The great thing about Jimmy is nothing's impossible. We weren't even talking that night about making a show for Apple or anything. But he gave me, and us, a real confidence in what we were doing."
Corden and Winston couldn't quite pinpoint when the idea to expand the segment into a series began to germinate. But it started to take shape, they say, largely because so many artists were asking to be a part of it — and video views certainly showed an appetite for more.
"We've had to implement what we consider our sort of rules of when we do it on our show," Corden says. "We could probably do it every week is the truth, with the amount of people that call in and say that they'd love to do it. But we wanted to keep it special and keep it in that sort of rarefied air that it's occupied."
Adding nonmusic stars into the mix felt like a way it could stand alongside — and apart — from the flagship segment without diluting its charm, Winston says.
"We felt that doing it with other people — sports stars, movie stars, politicians — could be really interesting, because, sure, it's really great seeing people sing their hits, but what's great about the setting is the intimacy you get from having a conversation in a car with no crew around you. And we felt opening that up to more people would be fun."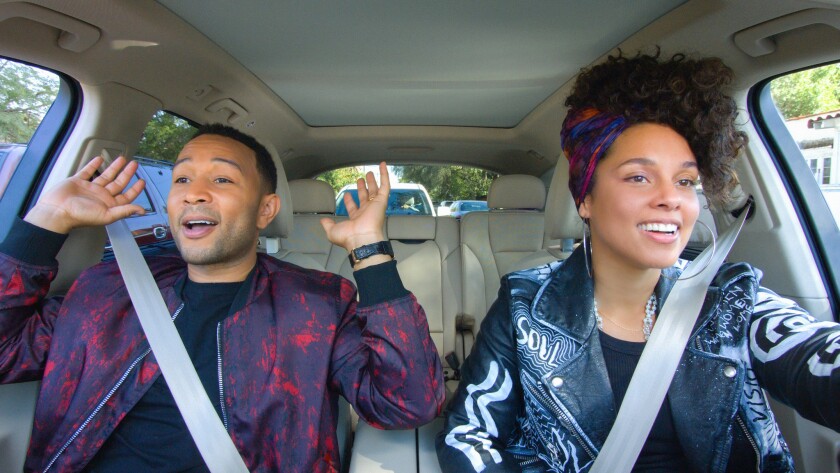 In exploring it as a standalone series, Corden knew he couldn't host the show — given his late night duties and mounting list of projects, which includes "Drop the Mic," another "Late Late Show" spin-off for TBS. An absence hard to overlook considering Corden is synonymous with the brand and has perfected the art of getting celebrities to let down their guard during the car-bound sessions. Corden thought a different host every week would keep viewers interested.
"I wasn't sure about the idea, because we were talking to different broadcasters and cable networks, and I think their feeling was 'Who are we hanging this series around?'" Winston recalls. "But then as we started realizing that Apple would be a partner for us, it became a lot more interesting because of seeing who we could [pair], and it started taking a life of its own."
While Corden is still in the proverbial driver's seat — making the occasional appearance and serving as host in the premiere and finale — the show's celebrity mash-ups take center stage. There will be 20 episodes, with pairings such as Alicia Keys and John Legend, Joe Jonas and Camila Cabello, Billy Eichner and Metallica, Shakira and Trevor Noah — yes, even other late night talk show hosts are eager to belt it out.
Corden and Winston enlisted Eric Pankowski, who had been working in the development department at CBS, as showrunner for the series. And from the first episode, Pankowski wanted to establish how the series would stand apart from its forebear.
"We wanted to say from the beginning, 'This is not the Carpool Karaoke that you see on 'The Late Late Show,'" he says. "This series goes to a different place."
Sometimes they arrive to that different place by helicopter — as seen in the premiere with Will Smith. Sometimes the different place comes courtesy of having Metallica sing Rihanna's "Diamonds." Sometimes the different place is literal — like taking the show to the streets of Barcelona for the Shakira-Noah episode.
"Filming was a lot of fun," Jonas says by email of his episode, which includes a trip to the dentist. "You forget it's filmed since it's karaoke… [and] pretending to be a dentist isn't something I do regularly!"
We wanted to say from the beginning, 'This is not the Carpool Karaoke that you see on "The Late Late Show."
Eric Pankowski, showrunner of 'Carpool Karaoke: The Series'
If there's one common thread Corden hopes comes across loud and clear, it's joy.
"There's something so ridiculously simple about watching celebrities sing their favorite songs in the very same scenario we all sing them on our way to work," he says. "Look, I'm constantly shocked by the success of it. Like, right now as we talk, the video we put out last night with Usher is the most watched video in the world on the biggest video website, and it went out on a regular Tuesday."
The most-read Entertainment stories this hour »
Twitter: @villarrealy
---