Actress Mary Tyler Moore died Jan. 25, 2017. She was 80. In 2002, Moore and Dick Van Dyke, her costar in the acclaimed sitcom that carried his name, reunited for a television adaptation of "The Gin Game." The two met with The Times' Susan King to discuss their new project as well as the legacy of their most famous collaboration.
Dick Van Dyke and Mary Tyler Moore could have played it safe. But they didn't.
Thirty-six years after they did their last scenes together as the irrepressible Rob and Laura Petrie on the classic 1961-66 sitcom "The Dick Van Dyke Show," the two award-winning performers have reunited. But instead of picking a nostalgic, charming project that would have their legions of fans letting out a collective sign of joy, Van Dyke and Moore decided to go dramatic as two unsympathetic residents of a nursing home in "The Gin Game."
"It was just a labor of love," says Van Dyke with a twinkle of his blue eyes. "We wanted to do it together."
Based on the Pulitzer Prize-winning 1977 play by D.L. Coburn, which he adapted for this TV presentation, "The Gin Game" focuses on the bittersweet relationship that develops between two lonely people at a rather ragtag old age home through a series of gin rummy games.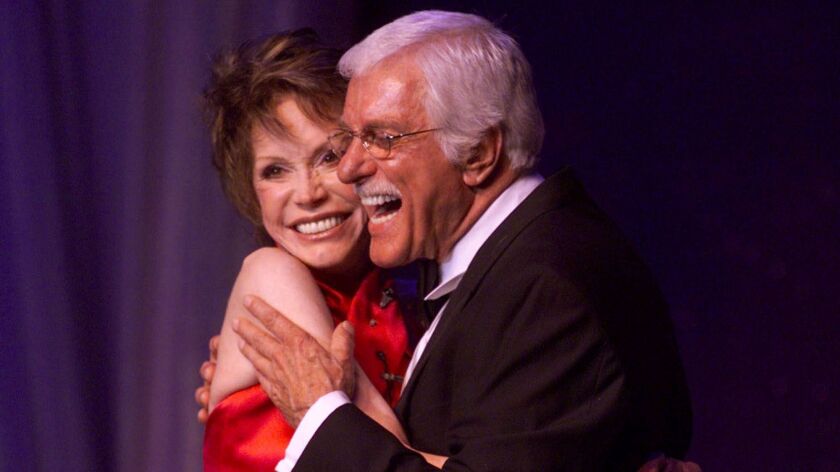 Van Dyke's Weller Martin, who swears like a stevedore, is the more accomplished gin player. But he quickly learns that the Bible-quoting Fonsia Dorsey (Moore) is the more adept player. During the course of several games, their relationship turns sour as they reveal their angers, fears and frustrations.
"The Gin Game" originally ran on Broadway for 500 performances. Directed by Mike Nichols and starring the venerable husband-and-wife team of Jessica Tandy and Hume Cronyn, the play was nominated for four Tonys, with Tandy winning for best actress. That production was done for PBS' "American Playhouse" series in 1981. In 1997, Julie Harris and Charles Durning appeared on Broadway and toured the country in an acclaimed revival.
The Van Dyke-Moore version will air early next year on the public television series "PBS Hollywood Presents." It was shot on high-definition video over a hectic 12-day period earlier this month at KCET Studios in Hollywood.
"I am living a blessed life," says Mary Mazur, senior vice president of programming and production for KCET, about her good fortune in getting the two stars. "It is not a sentimental play, and I think if someone was given the task of writing a piece for a reunion of Mary and Dick, or Rob and Laura, it would be perhaps quite sentimental. This is a rough piece and goes into some tough issues about life and how you have chosen to live it."
Though the play is tough, the set was relaxed and fun.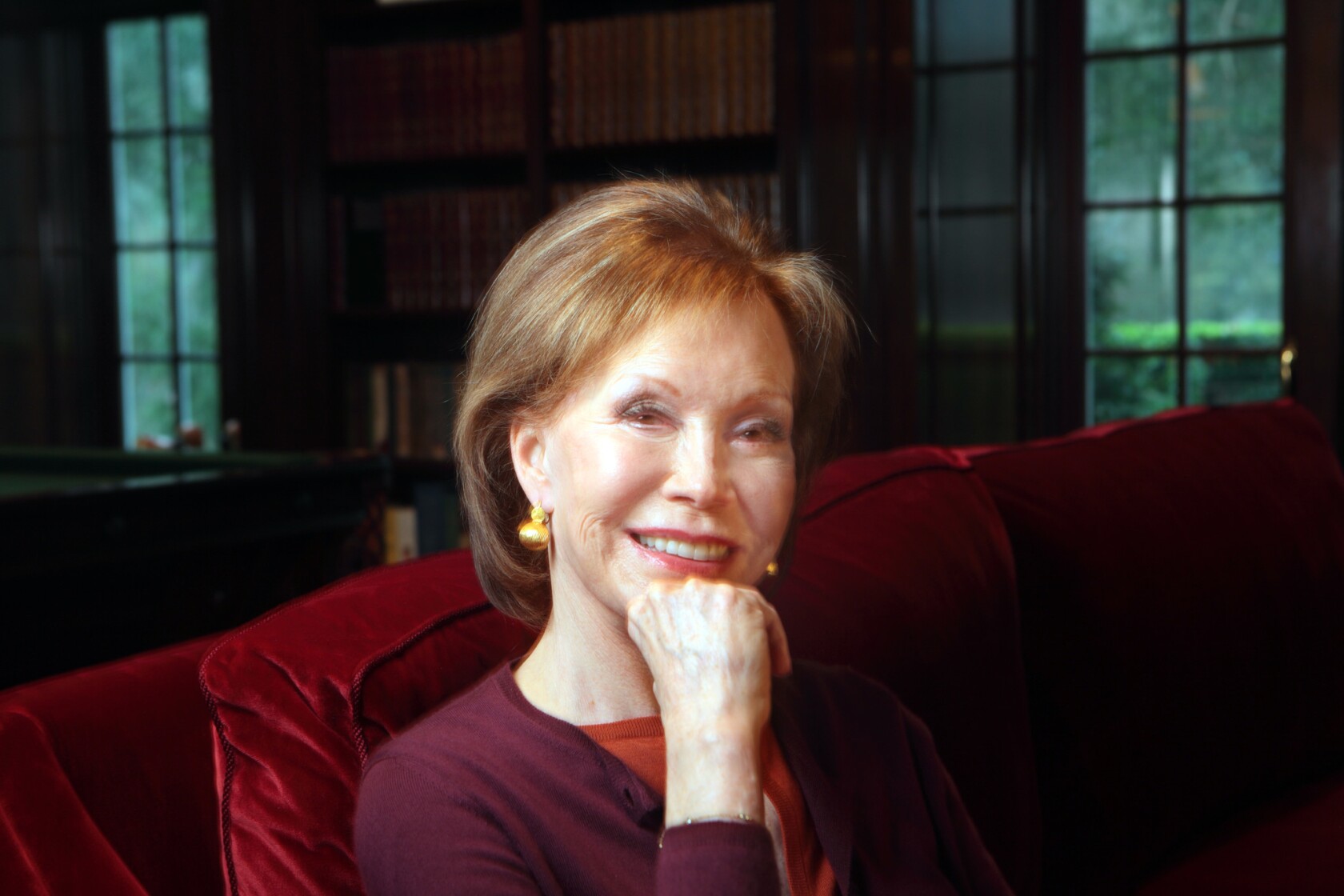 Mary Tyler Moore cemented her status as one of the great television actresses of all time with two timeless hits: "The Dick Van Dyke Show" and "The Mary Tyler Moore Show."

Moore was born in 1936 in Brooklyn Heights, but her family moved to Los Angeles when she was 8 years old. As a teenager, she aspired to be a dancer and appeared in several commercials at the beginning of her career.
(Carolyn Cole / Los Angeles Times)
Mary Tyler Moore arrives at the Emmy Awards in 2001.
(Lori Shepler / Los Angeles Times)
Mary Tyler Moore appears on the set of "The Dick Van Dyke Show."
(Paul Brownstein Productions)
Mary Tyler Moore accepts her Screen Actors Guild Life Achievement Award during the 18th SAG Awards show at the Shrine Auditorium in Los Angeles in 2012.
(Robert Gauthier / Los Angeles Times)
Mary Tyler Moore attends the 60th Primetime Emmy Awards in Los Angeles in 2008.
(Chris Pizzello / Associated Press)
Academy Award-nominated film and Emmy Award-winning television actress Mary Tyler Moore poses during a 1979 photo portrait session in Los Angeles.
(George Rose / Getty Images)
Dick Van Dyke, left, and Mary Tyler Moore, co-stars on "The Dick Van Dyke Show," appear backstage at the Palladium with their Emmys for best actor and actress in a series at the Television Academy's 16th annual awards show in 1964.
(Associated Press)
Mary Tyler Moore appears with her then-husband, Grant Tinker, at the Emmy Awards in Los Angeles in 1966.
(David Smith / Associated Press)
Actress Mary Tyler Moore and actor Michael Douglas attend a Juvenile Diabetes Research Foundation event in 1997. Moore had Type 1 diabetes.
(Getty Images)
Posing in a 1972 publicity photo for "The Mary Tyler Moore Show" are, back row, from left, Valerie Harper as Rhoda Morgenstern, Ed Asner as Lou Grant and Cloris Leachman as Phyllis Lindstrom, and front row, from left, Gavin McLeod as Murray Slaughter, Mary Tyler Moore as Mary Richards, and Ted Knight as Ted Baxter.
(CBS Photo Archive)
Mary Tyler Moore, center, and Dick Van Dyke, right, are colorized in the newly released "The Dick Van Dyke Show."
(Calvada Productions)
Moore auditioned to play Danny Thomas' daughter on "The Danny Thomas Show" but didn't land the part. However, Thomas later remembered her and recommended her for a role on another sitcom he was producing, "The Dick Van Dyke Show," based on creator Carl Reiner's time as a comedy writer for "Your Show of Shows." When Moore joined the series, playing Laura Petrie, the wife of Dick Van Dyke's Rob Petrie, she was just 23 years old -- 11 years younger than Van Dyke. The role made Moore a star and earned her two Emmy Awards.
(CBS Photo Archive / Getty Images)
After the end of "The Dick Van Dyke Show" in 1966, Moore went on to appear in a string of films for Universal, where she was under contract. Among them were "Don't Just Stand There," "What's So Bad About Feeling Good?" and "Thoroughly Modern Millie," shown, with Beatrice Lillie.
(Universal)
Mary Tyler Moore and then-husband Grant Tinker appear at a Hollywood event in 1966.
(Michael Ochs Archives / Getty Images)
Moore got her second sitcom, "The Mary Tyler Moore Show," in 1970. Moore played Mary Richards, a single TV news producer in Minneapolis, in this popular and critically acclaimed sitcom that ran for seven seasons. The series made stars of many people in its supporting cast, including Betty White, Ed Asner, Valerie Harper and Cloris Leachman. The final episode, which aired in 1977, featured the entire cast gathering for a hug and then slowly shuffling off camera together, still in hug formation.
(CBS Photo Archive / Getty Images)
In 1969, Moore founded her own production company, which produced "The Mary Tyler Moore Show" and its spin-offs, "Rhoda," shown, and "Phyllis," as well as many other TV series in the 1970s and '80s, including "The Bob Newhart Show," "WKRP in Cincinnati" and "Hill Street Blues." She also owned a record label, MTM Records, which specialized in country music.
(CBS Photo Archive / Getty Images)
With "Ordinary People," a wrenching domestic drama about the troubles of an upper-middle-class family after the death of their eldest son, Moore earned her first Academy Award nomination playing the grief-stricken mother opposite Donald Sutherland, left. She didn't win, but the film earned awards for best picture and director, among others.
(Paramount Studios)
After "The Mary Tyler Moore Show," Moore had a series of short-lived variety shows and sitcoms into the 1980s. After that, she made guest appearances on other series, including "That '70s Show," "Ellen" and "Hot in Cleveland." In 2002, she reunited with Dick Van Dyke for the TV movie "The Gin Game," based on the play about two elderly members of a senior citizens home who strike up a friendship. The next year, the cast of "The Dick Van Dyke Show" reunited for a TV special.
(Michael Ansell / KCET)
Former President Clinton leans in to chat with Mary Tyler Moore, the Rev. Billy Graham and Lauren Bacall at the 75th anniversary gala for Time magazine at New York's Radio City Music Hall on March 3, 1998.
(Sonia Moskowitz / Associated Press)
Moore has written two memoirs about her life. In the first, published in 1995, she revealed that she was a recovering alcoholic. In the second, published in 2009, she talked about living with Type 1 diabetes. She also served as the international chairman of the Juvenile Diabetes Research Foundation.
(Evan Agostini / Getty Images)
In 2000, Moore testified before Congress, along with actor
Michael J. Fox
, on behalf of stem cell research. In addition to her
diabetes
and stem cell work, she co-founded Broadway Barks, a New York City animal adoption event, and founded a center for Civil War studies in a house in West Virginia once owned by her great-grandfather and Maj. Gen. Thomas "Stonewall" Jackson.
(Kamenko Pajic / Associated Press)
Mary Tyler Moore accepts her Screen Actors Guild Life Achievement Award from Dick Van Dyke at the Shrine Auditorium in Los Angeles on Jan. 29, 2012.
(Robert Gauthier / Los Angeles Times)
"This will be my shining hour," Moore and Van Dyke sang in unison between scenes on a recent morning. During a reporter's two-hour visit, Van Dyke was usually telling jokes or breaking out in song. Sometimes he and Moore simply sat quietly next to each other as the crew set up for the next shot.
"He is just crazy about her," says executive producer Ellen M. Krass, who also was one of the executive producers of the "American Playhouse" adaptation. "And she's crazy about him. I wouldn't say she's smitten but it's like he's an older brother. It's a great set, and everybody has been great."
And both actors look great. Van Dyke, 76, actually is more handsome now with his white hair and mustache than he was 40 years ago on his series. Moore, playing about 10 years older than her 65 years, is whippet slim and beautiful even wearing an old lady wig of white hair and a modicum of makeup. And though they haven't worked together in more than three decades--the two have appeared on reunion shows, talk shows and in the 1968 CBS special "Dick Van Dyke and the Other Woman"--their timing is impeccable as they shoot a confrontational scene.
"Action," shouts director Arvin Brown.
" 'Transferred.' How many Rs are there in the word 'transferred'?" Moore says sarcastically as she puts down a card.
"Two," Van Dyke responds testily.
"Two? Ha," says Moore.
"Three! What the hell!" he retorts angrily.
As they repeat the scene several times, each take has a different vitality and venom.
When Van Dyke saw the original Broadway production, he knew it would make a perfect vehicle for the two of them. "I said to Mary, 'We'll do it when we are old enough.' "
The play piqued his interest on many levels. "It's kind of a comedy and then almost immediately they start to bicker like a married couple. But on the darker side of it I see them as hanging on to this gin game to keep their cognizance going and not falling into dementia like everyone else inside they keep talking about. This is the one thing they are clinging to."
Moore acknowledges their fans may be surprised at the play. "There is such a tremendous fondness for both of us," she says. "I think that adds so much to this play. I hope that the audience is prepared for it. It's not a light comedy, because toward the end you see these people reveal more and more of themselves and how twisted they are."
Though Brown hasn't previously directed "Gin Game," he was very familiar with it, having been artistic director of the Long Wharf Theater in Connecticut when Nichols directed the pre-Broadway production.
"The exciting thing about doing this material is that, in the hands of every fine actor, it transposes itself into something absolutely different," Brown says. "In this case, the two characters Dick and Mary are evolving are so rich and so totally different than what Hume and Jessie did. The play is almost like a different play. I feel because they haven't been married all of those years like Hume and Jessie, there is a very subtle, dynamic sexuality, a tension that is under the surface. In a couple of scenes we have already shot there is a really tremendous sense of romantic possibility between the two that I think will make it doubly heartbreaking at the end because each of their baggage gets in the way."
Neither Van Dyke and Moore can explain their chemistry. "I have no idea how to categorize it," Moore says with a smile. "We are just Dick and Mary."
Van Dyke recalls the first time he saw Moore arrive on the set of his series back in 1961. "I said, 'She's so beautiful,' " he recalls warmly. " 'And she's young.' But, boy, I tell you, within a couple of weeks we found out what a comedian we had. She didn't know it. She had never done any comedy and she just had the timing. We just lucked out with everybody on that show. What a romp."
The two return to the set to start rehearsing a scene in which Weller and Fonsia get into a heated, almost violent argument. The scene concludes with Weller shouting a cruel expletive at Fonsia and storming off the porch.
Moore quickly breaks the tension of the scene: "You've been wanting to call me that for 40 years," she says to Van Dyke. The entire crew breaks into laughter.
ALSO:
Hollywood Walk of Fame: Mary Tyler Moore
'The Dick Van Dyke Show' is back on CBS in living color
From the Archives Mary Tyler Moore's taboo-breaking shows seen in new light
---