Netflix animated comedy 'Big Mouth' provides a new take on adolescence
Reporting from New York —
Countless books, TV shows and movies have re-created the cringe-inducing traumas of adolescence, but perhaps none have been as simultaneously filthy and emotionally insightful as "Big Mouth."
The animated comedy, which recently returned to Netflix for a second season, puts a fictional spin on the decades-long friendship between co-creators Nick Kroll and Andrew Goldberg — a relationship that dates to the mid '80s, when they met as first-graders at their school in the suburbs of Westchester County.
Goldberg, who wore transitional lenses, immediately made an impression on Kroll. "He was that rare 6-year-old who looked like a serial killer," recalled the actor and comedian.
Backstage at the 92nd Street Y in Manhattan, Kroll was joined by Goldberg, series co-creators Mark Levin and Jennifer Flackett and stars Jason Mantzoukas and John Mulaney for a boisterous conversation about "Big Mouth" and the close bonds at the core of the series.
As Kroll explained, he and Goldberg truly became inseparable in middle school, when they bonded over their mutual love of "Wayne's World," "The Grind" and "American Gladiators" and began hosting talent shows.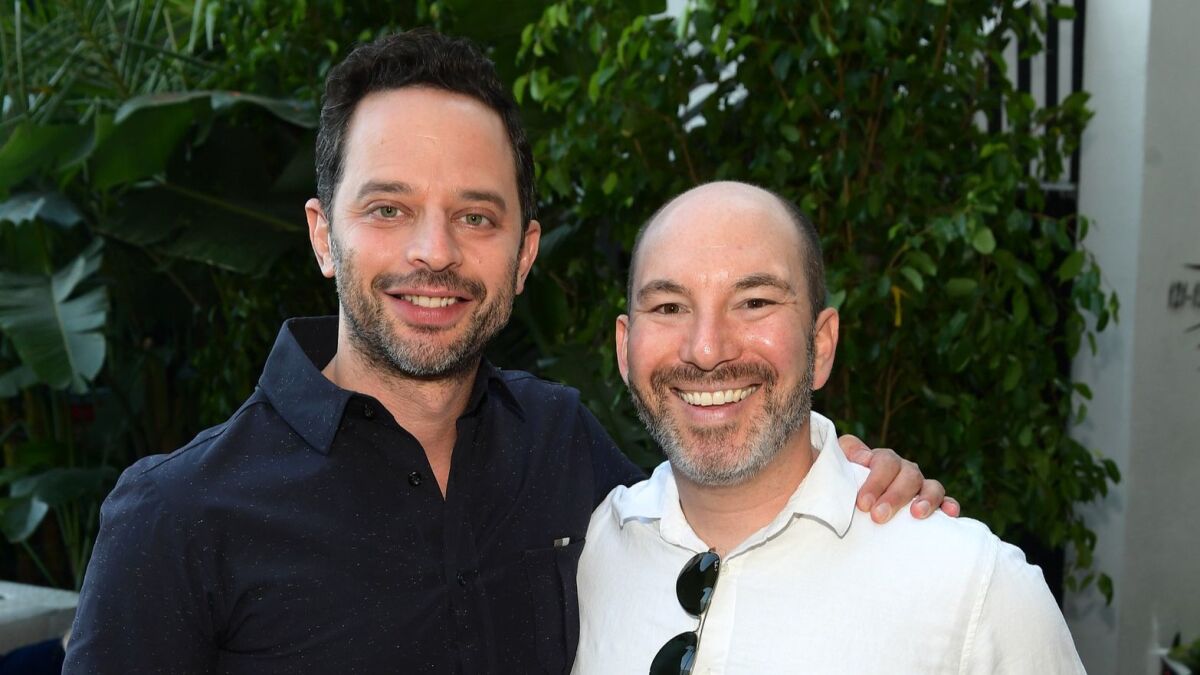 Not that they had everything in common. "Andrew was just like pounded with puberty and I was super late," Kroll said. "I went to a doctor and was medically diagnosed as 'smooth as a pluot.' Smooth as plum skin. I don't think I had any pubic hair until probably getting into high school and I was really short. I entered high school at 5 feet."
In contrast, Goldberg said he hasn't grown an inch since seventh grade. "I was 12 and then I was 40." He also had a peach-fuzz mustache his parents forcefully waxed from his upper lip — an incident that inspired an episode in the second season of "Big Mouth" — and spent a lot of time "worried that I was a sex fiend."
In the animated comedy, best friends Nick (Kroll) and Andrew (Mulaney) are seventh graders at vastly different stages in their development. Nick is a hairless pipsqueak, while tall and lumbering Andrew is deep in the throes of puberty — changes embodied in the Hormone Monster (also voiced by Kroll) named Maury, who looks like a deranged Maurice Sendak character, trails Andrew around and urges on his most depraved impulses.
"This show is a cathartic conversation about what we weren't talking about as children," added Kroll. "It was this weird thing where we were best friends, we shared so much, comedic sensibilities. Yet physically and emotionally, very different things were happening to both of us. And I think this show is an opportunity to illustrate the inability for kids to talk about what's happening to them — this feeling like 'I'm the only one this is happening to.' I think that's how puberty feels to a lot of people."
The show has taken raunchiness to surreal new heights — one particularly bonkers storyline involves a pregnant pillow — but it is also unusually thoughtful for a teen comedy. Its first season included an episode about sexual consent ("The Head Push") and a lesson in the female anatomy from a talking vagina voiced by Kristen Wiig ("Girls Are Horny Too").
It gives nearly equal time to female characters like Jessi (Jessi Klein), whose first period inspires an R.E.M.-esque musical number, "Everybody Bleeds," sung by a tampon that resembles R.E.M. frontman Michael Stipe, and who is soon visited by her own Hormone Monstress, Connie (Maya Rudolph). Her friend Missy (Jenny Slate) is a braces-wearing nerd obsessed with romance novels and actor Nathan Fillion .
The series boasts one of the most impressive ensembles in TV, including Richard Kind as Andrew's weak-stomached father, Fred Armisen as Nick's oversharing dad and Jordan Peele as the ghost of Duke Ellington, who lives in Nick's attic (long story). In its sophomore outing, "Big Mouth" takes even bigger risks, exploring body image and introducing a character called the Shame Wizard (David Thewlis). There are episodes devoted to the importance of Planned Parenthood and the body-positive magic of clothing-free Korean spas.
"Big Mouth" is the product of numerous long-standing relationships. Kroll and Mulaney frequently collaborate, hosting the Spirit Awards the last two years and starring together in "The Oh, Hello Show" on Broadway. They first met in fall 2000, when Mulaney, then a freshman, auditioned for the improv troupe at Georgetown — "College, not Prep," Mulaney clarifies, a timely reference to newly confirmed U.S. Supreme Court Justice Brett Kavanaugh.
Kroll, a senior, was the group's director and freshly returned from studying in Argentina.
"I thought he was from South America, because he kept referring to his time in South America. And he had an olive complexion," joked Mulaney, who joined Kroll in New York after college, where they started performing "Oh, Hello" downtown; he eventually landed a writing job at "Saturday Night Live."
Meanwhile, Goldberg was breaking into the business in L.A. One of his first jobs was assisting Levin and Flackett, who are married filmmakers ("Little Manhattan"), when he was in film school at UCLA. His wife also baby-sat their children, who now watch his kids. ("So, circle of life," Flackett said.) He also worked at "Family Guy."
A few years ago, he approached his former bosses with an idea for an animated series called "Bar Mitzvah Boys," about two Jewish boys in middle school. The idea evolved and they soon approached Kroll, who'd wrapped his Comedy Central sketch series "Kroll Show" and was winding down "The League" on FX, which costarred Mantzoukas. He'd bonded with Levin and Flackett during a serendipitous trip to Mexico City, where they watched Lucha Libre wrestling together.
The plan was always to make an animated series. Levin had been a writer on "The Wonder Years," and he said, "On that show, we only had two or three good years of Kevin Arnold before he aged out of it. We thought if it was an animated show, we wouldn't have to put these words in the mouths of real children. Also, Bart Simpson has stayed the same age for 25 years now. We can age them at the pace we want to age them."
Joked Kroll: "And like Bart Simpson, Nick Kroll is voiced by a lady." (In addition to Nick and the Hormone Monster, Kroll voices Coach Steve, a clueless gym teacher, and Lola, a wannabe mean girl.)
Another benefit of animation was that it could be used to embody the emotions that act on young people during puberty — e.g. the Hormone Monster, who was inspired by the experiences of Levin and Flackett's son, now 15, as he entered adolescence. The shaggy, double-horned creature is drawn as "a collection of penises," as Kroll put it, with a concave chest and a pot belly.
"He has a party body," Mulaney said. "Imagine if Ron Wood took his shirt off, you'd see that."
Rudolph — a friend of Armisen's from "SNL" — was an obvious choice to play Connie, said Kroll. "We were like, 'Who should be the Hormone Monstress? Should it be the most talented person... in... the... world?'" (These talents are on display in Season 2's Korean spa episode, in which Connie sings a Gloria Gaynor-esque disco number called "I Love My Body.")
"It really is a show entirely constructed of friends," Kroll said. "And Richard Kind."
See the most-read stories in Entertainment this hour »
'Big Mouth'
Where: Netflix
When: Any time
Rating: TV-MA (may be unsuitable for children under the age of 17)
Follow me @MeredithBlake
---
Get our L.A. Goes Out newsletter, with the week's best events, to help you explore and experience our city.
You may occasionally receive promotional content from the Los Angeles Times.