John Dickerson keeps Democratic debate on track despite last-minute shuffle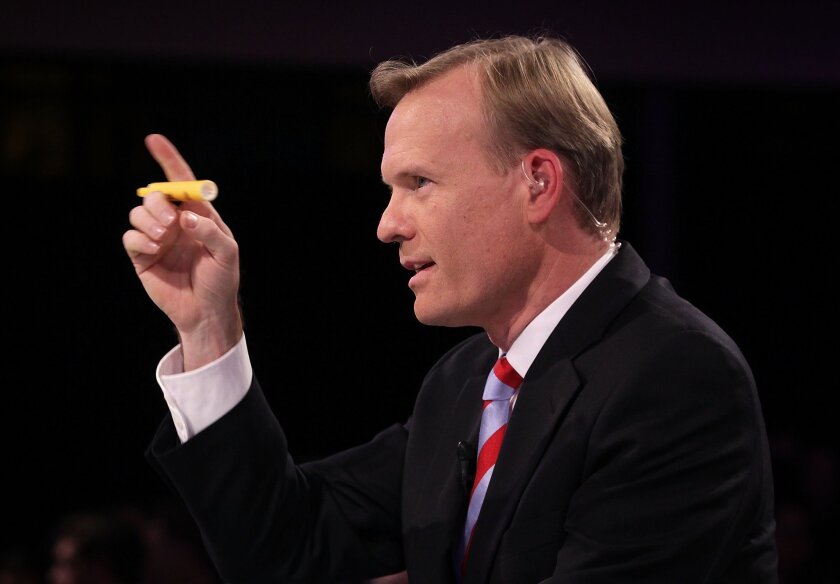 Reporting from DES MOINES —
CBS News political director John Dickerson had just finished his first rehearsal Friday for the Democratic primary debate when the words "this just in" came through his earpiece.
Steve Capus, executive editor for CBS News, told Dickerson, the moderator for Saturday's event at Drake University in Des Moines, early details of the deadly terrorist rampage in Paris.
NEWSLETTER: Get the day's top headlines >>
The shocking event, which left more than 120 dead, would scramble what had been weeks of planning by Dickerson and his team. Just that morning, they had finalized and scripted questions for front-runner Hillary Rodham Clinton, Sen. Bernie Sanders of Vermont and former Maryland Gov. Martin O'Malley. The plan was to drill down into their views on domestic issues that have been at the forefront of their campaigns.
Sitting in the presidential suite at the Des Lux Hotel earlier Friday, Dickerson's eyes were fixed on his binder of queries, looking up to ask whether a change in wording or a well-crafted follow-up would work to push the candidates off their stump speeches and away from the answers that had become pat over a number of interviews.
But many of those questions ended up on the cutting-room floor as Dickerson, Capus, CBS News congressional correspondent and debate co-moderator Nancy Cordes, Washington bureau chief Christopher Isham, "Face the Nation" executive producer Mary Hager and the rest of the network's team were forced to regroup.
"We had a good road map earlier today that now is in tatters on the floor because we're starting over," Capus said before heading back to the hotel. As executive producer of "CBS Evening News With Scott Pelley," he had other calls to make. Once the casualty figure in Paris hit 100, Capus decided to send Pelley to France to anchor on-site.
As Dickerson took in the news from Paris, he had an expression that indicated he knew that there would be a long night ahead and a different tone Saturday. "It's going to be heavier — and a lot more complicated," he said.
Democratic presidential candidates Bernie Sanders, left, Hillary Rodham Clinton and Martin O'Malley participate in a Democratic presidential primary debate on Nov. 14 in Des Moines.
(Charlie Neibergall / Associated Press)
Former Secretary of State Hillary Rodham Clinton talks to Sen. Bernie Sanders after the Democratic debate at Drake University in Des Moines.
(Charlie Neibergall / Associated Press)
Former Maryland Gov. Martin O'Malley makes a point as Hillary Rodham Clinton listens during the debate Saturday.
(Charlie Neibergall / Associated Press)
Bernie Sanders addresses an issue during the second Democratic presidential debate in Des Moines.
(Charlie Neibergall / Associated Press)
Martin O'Malley gets a turn to speak during the Iowa debate.
(Charlie Neibergall / Associated Press)
Drake University students react as they watch the Democratic presidential primary debate at their college.
(Nati Harnik / Associated Press)
Hillary Rodham Clinton laughs during the conversation that took place during a commercial break.
(Charlie Neibergall / Associated Press)
Sen. Bernie Sanders (I-Vt.), former Secretary of State Hillary Rodham Clinton and former Maryland Gov. Martin O'Malley wait on stage for the debate to begin.
(Alex Wong / Getty Images)
The shifting went on even as Dickerson, who took over the reins of CBS' Sunday public affairs program "Face the Nation" in June, and Hager made their way back to the Des Lux.
"We had written a transition for later in the debate that said, 'When you're president, a crisis can happen at any moment. You switch from talking about immigration to having a meeting in the situation room,'" Dickerson said. "Now it was going at the top."
Cordes said the team worked well past midnight to incorporate more foreign policy questions. "It was unexpected and stressful, but it's the kind of thing we do all the time," she said. "There was a lot of pizza. I may or may not have consumed three pieces — and a salad."
After quitting at midnight, the group convened again early Saturday. Dickerson, who wore a tie and a blue blazer all day Friday to be camera-ready for live segments on the evening news and on local affiliates, now had a University of Virginia baseball cap on his head and looked like he had come from an all-night poker game.
"We were rearranging questions up to a half-hour before the debate," he said.
Not everyone was happy about the course change for the evening. Isham called the campaigns Saturday morning to alert them that foreign policy was moving to the front burner. A representative for the Sanders camp "went nuts," he said. Naturally, the reaction was leaked to the press by one of Sanders' rivals.
CBS News had other logistical issues to deal with as well. Dickerson was supposed to anchor "Face the Nation" in Des Moines and then appear on the local network affiliate's public affairs show. But with the Paris attacks story unfolding, he and Cordes had to head back to Washington to do the program at the CBS bureau.
The network chartered a seven-seat jet that arrived back east at 2:30 a.m. "Got to bed at 4 and up at 5:45," Dickerson said. "The rest of the staff had slept at the office."
There were minor decisions to be attended to as well. Caitlyn Jenner, who as Bruce Jenner was a Drake Relays champion in 1976, was in Des Moines visiting the university campus with her reality show producers. Although a Republican, she asked for a ticket to the debate. The request went all the way up to CBS News President David Rhodes.
"Our person told her person that we don't have any tickets left, which happens to be factual." Rhodes said.
(Jenner told The Times that she did not get into the debate hall but that she was able to watch it on television with students on the Drake University campus. She said she still planned to vote Republican. "They didn't convince me," she said.)
Dickerson has spent most of his career reporting on politics as a print journalist, writing for Time magazine and Slate. He had never been the host of a news program before he took over "Face the Nation." He had never moderated a debate, either. Dickerson had no ritual to fall back on in his preparations.
But political TV journalism is in his blood. He is the son of pioneering Washington TV journalist Nancy Dickerson, who covered several presidential administrations while working for CBS, NBC and other outlets.
The author of a book about his late mother's barrier-breaking career, Dickerson thought a lot about her in the days leading to the debate. He keeps her rosary in his briefcase wherever he travels. For this trip, he also brought along the reporter's notebook she used when she was one of four network anchors invited to do a TV interview with President Richard M. Nixon in 1971.
"She is definitely on my mind in this process," he said before the debate. "Hopefully, they have good TV reception wherever she is."
While Dickerson is steeped in policy detail and history (he can offer comparisons of the circus-like atmosphere of the current campaign to the 1840 election), CBS also wanted to use its debate coverage to connect to digital media users.
The network partnered with Twitter, which showed real time reaction to the proceedings throughout the night on CBSN (the digitally streamed news channel operated by CBS News). Based on Twitter data, the producers came up with a solid question from a viewer that followed up on Clinton's statement suggesting that Wall Street favored her because of the work she'd done as a U.S. senator from New York after 9/11.
Even with the major shift in emphasis, Dickerson's performance went as smoothly as it had in rehearsal. He received kudos from both sides of the political spectrum the entire night on social media, and the debate was watched by 8.6 million viewers. Despite the disgruntlement in the Sanders camp about the changes, the candidate himself approached Dickerson onstage before the debate was over to offer his praise for conducting a fair and substantive discussion.
Dickerson's goal before the debate was to not become the story as other moderators have in this campaign season. But he did, as many pundits put him in the "winners" column.
Exhausted but gratified on Sunday morning, Dickerson only wanted to talk about the efforts of his CBS colleagues who scrambled to keep everything on track. "I'm pleased with the way it went, but you feel a little guilty — the team does the hard work," he said by phone after his Sunday broadcast. "I've always been a sole proprietor as a writer, and I'm still learning the incredible collaborative nature of television. I've learned that at 'Face the Nation' and again at the debate. It's like an invading army what they do."
Follow me on Twitter @SteveBattaglio
ALSO:
Democratic debate draws 8.6 million viewers for CBS
Congeniality Campaign 2016: Democrats continue to agree more than debate
Sanders and O'Malley step up attacks on Clinton in Iowa Democratic debate
---
The complete guide to home viewing
Get Screen Gab for weekly recommendations, analysis, interviews and irreverent discussion of the TV and streaming movies everyone's talking about.
You may occasionally receive promotional content from the Los Angeles Times.