In 'Marvel's Cloak & Dagger' on Freeform, racism and injustice are the real supervillains
In "Marvel's Cloak & Dagger," Tandy Bowen and Tyrone Johnson are two teenagers whose lives were forever changed after they each lost a family member one rainy night when they were children.
They also both happen to have superpowers.
Unlike the characters in other superhero shows, neither Tyrone nor Tandy take the emergence of their new abilities as a sign to become costumed vigilantes or code-named crime fighters working to thwart the latest plan of some supervillain.
They have plenty of other demons to deal with such as substance abuse, depression, strained relationships with parents and everything else that comes with just trying to survive as a young black man and a young white woman in America.
"We're not just telling a cool story about cool superheroes," said Olivia Holt, who plays Tandy opposite Aubrey Joseph's Tyrone in the series. "We actually get to tell a story about real damaged teenagers. What they go through and what their feelings are and not glamorizing it in any way. We're showing it in an authentic, raw way that I feel like television doesn't do that often."
Central to the drama, which premieres Thursday on Freeform, is the relationship between Tyrone and Tandy, who mysteriously saved each others' lives on that rainy night as children. That night Tyrone, a.k.a. Cloak, watched his brother get shot by a police officer (and get away with it), while Tandy, a.k.a. Dagger, was the passenger in the car accident that killed her father.
Their eventual reunion years later explosively awakens their hidden superpowers, and they must grapple with trying to figure out what their connection means.
A modern take on the characters first introduced in the pages of "Peter Parker, the Spectacular Spider-Man" No. 64 in 1982, "Cloak & Dagger" is not a show that requires any existing knowledge of comics or being up to date on the happenings of the Marvel Cinematic Universe.
"At the end of the day, 'Cloak & Dagger' is always about a young man and a young woman who are trying to figure out their lives and who have to come to the challenging [realization that] they are better off together than they are apart," said Jeph Loeb, head of Marvel TV and an executive producer on the show.
Setting the pair apart from other Marvel characters, according to showrunner Joe Pokaski, is that Cloak and Dagger were always equals, a dynamic that was reflected in the original comic books.
"It wasn't a sidekick and a hero," explained Pokaski. "They were two damaged people who needed each other. … So we made sure we understood who the characters were, understood what their relationship was. As long as we were being honest to Tandy and Tyrone, it felt right."
For the series, Tandy and Tyrone's story has been tweaked to better reflect current issues in a way that engages with millennial sensibilities. Tyrone, a star athlete at a private school, has parents who are as supportive as they are overbearing. Tandy, on the other hand, is a runaway who tries to make ends meet by stealing from unsuspecting people.
In the comic books, Tyrone was the poorer one while Tandy had money. Flipping Tyrone and Tandy's economic status, Pokaski explained, was meant to make sure race was separated from wealth in order to understand the effects of both.
"It was really just impressive the way that [their story] was updated," said director Gina Prince-Bythewood ("Love & Basketball"), who was drawn to the characters of Pokaski's script even before delving into "Cloak & Dagger's" comic book history. "It had to be updated. But at its core, Tandy and Tyrone were the same characters. And their relationship is the same."
Joseph praised the reversal: "I think that brings a huge dynamic into the show. Not every black person is in the hood and not every white person is rich or wealthy or well-off. I'm glad that we get to show the reality of the world."
This commitment to tackling racism, police corruption, sexual assault, substance abuse, grief and other topical issues is one of the driving forces behind "Cloak & Dagger."
"The most important thing was the authenticity of these characters," said Prince-Bythewood. "The things that these characters are dealing with, it's not fluffy and it's not romanticized. It's real. In dealing with real teenagers, you have to do that. … [Teenagers] can spot fakes in seconds."
Whereas some superhero stories take an allegorical approach to confronting various injustices, "Cloak & Dagger" directly calls out white privilege and society's hostility toward young black men. The series also depicts how white privilege and racism affect people regardless of class.
The goal, according to Joseph and Holt, is that the show foster discussions about these topics.
"For so many years in history, we didn't talk about it," said Joseph. "We just push everything under the rug and say that this is what it is and we're just going to keep moving. But I think the more that we talk about our situation and talk about how we feel, the more that we can understand each other and the more that we can connect."
Added Holt, "I think both of us feel so passionately about telling that story about what it's like to be a young black male in America in 2018 and what it's like to be a young white female in America in 2018. And letting it be known this is how we feel. Not everyone's going to feel that way. But there is a high percentage of people out there that do. And it's nice to let people know they're not alone."
Both actors explain that it's important that their characters be relatable so that they are able to honestly tell these stories without sugarcoating the issues many people still face today in hopes of affecting change.
But for them, it's also significant that "Cloak & Dagger" is a television show "that's not dehumanizing black culture and also not minimizing women."
"Even though we're creating something that is entertaining, we're also creating something that hopefully is a movement," said Holt. "I think that's a very important part of this show. And why it is a progressive show and why we want it to be impactful."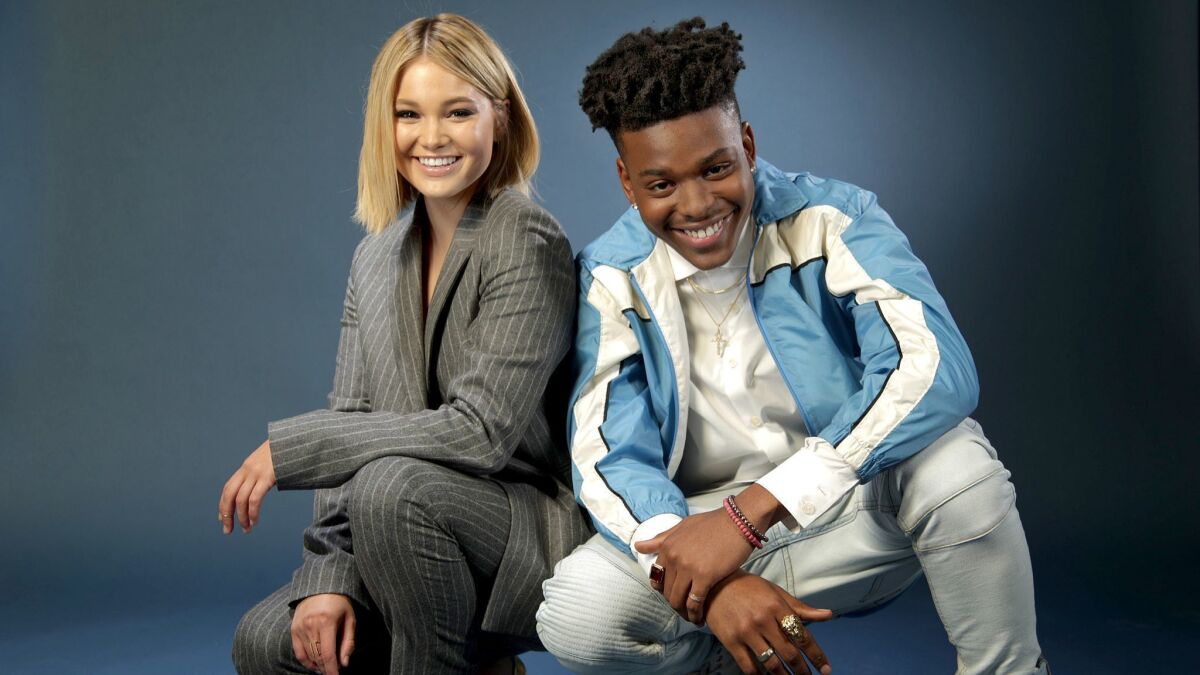 Get our L.A. Goes Out newsletter, with the week's best events, to help you explore and experience our city.
You may occasionally receive promotional content from the Los Angeles Times.