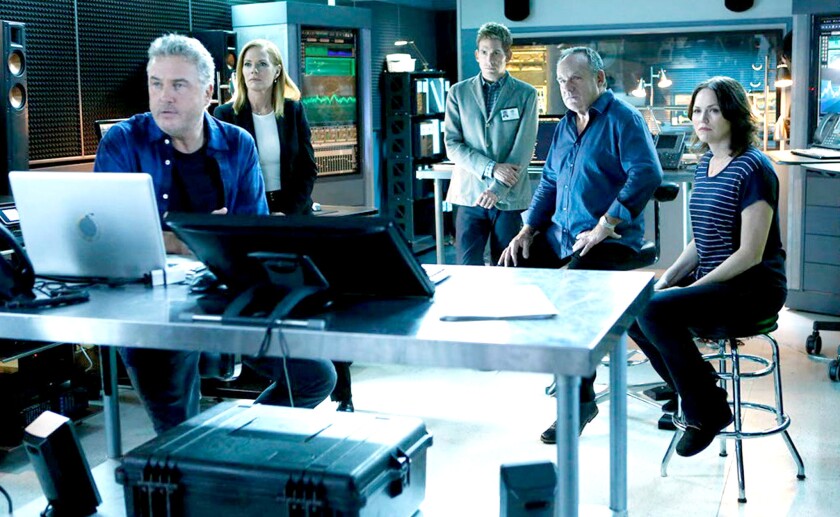 "Here comes the nerd squad."
That comment, dismissively muttered by a Las Vegas police officer when a couple of forensic analysts arrive at the scene of what appears to be a suicide, kicked off the pilot of "CSI: Crime Scene Investigation" on Oct. 6, 2000, on CBS.
That "nerd squad," headed by graveyard shift supervisor Gil Grissom (William Petersen) and investigator Catherine Willows (Marg Helgenberger), turned out to be a game-changer — for CBS and TV.
With its mix of quirky characters, science, gore and glitzy Vegas locale, "CSI: Crime Scene Investigation" transformed the TV crime-show genre. In its 15-year run, the drama far surpassed expectations, becoming a phenomenon not only in the U.S. but internationally. In addition to spawning three spinoffs, the program set the template for the mass of procedurals on the network's prime-time schedule that include the "NCIS" franchise and "Criminal Minds."
SIGN UP for the free Essential Arts & Culture newsletter >>
CBS is giving the series its final bow with a two-hour finale Sunday that unites current and former cast members and is highlighted by the return of Petersen, who left in 2009, and Helgenberger, who departed in 2012. With softening ratings and a stream of casting changes, "CSI" was canceled earlier this year.
"The finale touches on a lot of iconic moments," Petersen, who departed in the ninth season, said during a recent interview with Helgenberger in Beverly Hills. "As sad as it is that the show is ending, it's nice that CBS is doing something to say thank you."
Helgenberger, who exited during the 12th season, added: "It's bittersweet. But when I heard that they were doing this finale, I got very excited. The crime is interesting, but it's more about the characters getting back together. The die-hard fans will dig it."
Ted Danson, Jorja Fox, Eric Szmanda, Robert David Hall, Paul Guilfoyle, David Berman, Wallace Langham, Elisabeth Harnois and Jon Wellner are also appearing. As for the plot, producers are keeping it under wraps, disclosing only that Grissom and Willows are returning to the division "to help the CSI team solve a catastrophic case that paralyzes all of Las Vegas."
As they discussed the show's legacy, Petersen and Helgenberger displayed the chemistry that marked their time on the series. They excitedly traded anecdotes, often talking over each other. They said the joy on the set during the finale was palpable.
"It was like a reunion picnic," said Petersen. "We'd all get thrown together in a scene, and we all knew who we were. It was like we hadn't been away for seven minutes."
The finale is also bringing full closure for Anthony Zuiker, who created the series and served as an executive producer.
"The joy I feel that this is happening helps me to overcome my sadness," said Zuiker. "Lots of shows don't get the opportunity to have proper closure."
Asked why "CSI" was such a success, Zuiker said, "Our philosophy about what the show was always simple: On the worst day of your life, the CSI investigators would come in, solve the crime, and bring peace of mind to the survivors and/or the victim, and put the bad guy away. That translates and speaks to every language in the world."
Guided by the blockbuster sensibilities of movie mogul Jerry Bruckheimer and steered by Zuiker and the producing tandem of Carol Mendelsohn and Ann Donahue, "CSI: Crime Scene Investigation" and its early spinoffs ("CSI: Miami," "CSI: New York") succeeded in a TV era that preceded the days of binge-watching and streaming content.
The drama was not serialized, and viewers rarely got to see the home lives of the detectives. But in the course of crime solving, personal details were revealed about the characters, which only deepened their bond with the audience.
It's important to remember too that "CSI: Crime Scene Investigation" was cool: No other TV show could brag about having a theme song by the Who ("Who Are You?").
And on both sides of the camera, the show attracted an enviable list of Hollywood talent. Filmmaker Quentin Tarantino, an avid fan, directed the fifth-season finale, "Grave Danger," and got so immersed in the material that the show was stretched to two hours. The series' guest stars included John Mayer, Taylor Swift and Justin Bieber.
"The true legacy of 'CSI' is the halo effect," said CBS Entertainment President Nina Tassler. "It created that effect for so many other shows — the fact that we were able to spin off three successful series. It benefited the entire network schedule."
It was a roller-coaster journey with twists and turns, and more than a few dips. The launch in 2000 could hardly have been more unassuming — "CSI" was a last-minute addition to the fall lineup and scheduled for Fridays, traditionally a tough night to launch a show. At the time, network executives were far more upbeat about the prospects of its lead-in, a reboot of "The Fugitive" starring Tim Daly.
But "The Fugitive" quickly flamed out while "CSI" burned brightly with audiences.
"Our feeling had been that Tim Daly, along with 'The Fugitive' title, was a better launch pad for the evening," said CBS Corp. President and Chief Executive Leslie Moonves. "But literally within the first couple of weeks, 'CSI' exploded. It's very rare for a new show to do better than its lead-in. Three or four weeks in, we knew we had something extremely special."
He added that the show resonated because it transcended the crime genre: "It wasn't really a cop show. It was scientific investigation. It was about putting puzzles together. It also had a great deal of female appeal."
Petersen said the show connected with viewers who were looking for comfort at a time of heightened national uncertainty — anxieties over Y2K, the controversial 2000 presidential election and a general disillusionment over national affairs.
"Nobody knew what was going to happen, what we should be, who was lying to us. And 'CSI' comes along and says, 'This is the truth — science.' This tells the whole story. It's irrefutable, and there's nothing you can do to change it," he said. "People appreciated that. Science gives you a truth, and they grasped it."
Even with its wild successes, there were plenty of rough patches. The series, often derisively credited with starting a sub-genre of programming called "forensic porn," frequently came under fire for its graphic violence, particularly against women.
Also, the show had trouble finding its footing immediately after Petersen left. Laurence Fishburne was tapped to take over, but ratings steadily dropped and the actor left abruptly after 21/2 seasons. Finally, Danson was brought in.
Despite the show's cancellation, Petersen said the enthusiasm surrounding the finale demonstrates the vibrant life that powers the "CSI" mother ship.
"We could do one of these a year," he said.
------------
'CSI: Crime Scene Investigation'
Where: CBS
When: 9 p.m. Sunday
Rating: TV-14-LV (may be unsuitable for children under the age of 14, with advisories for coarse language and violence)
---