Why reality TV has nothing on the Democratic debates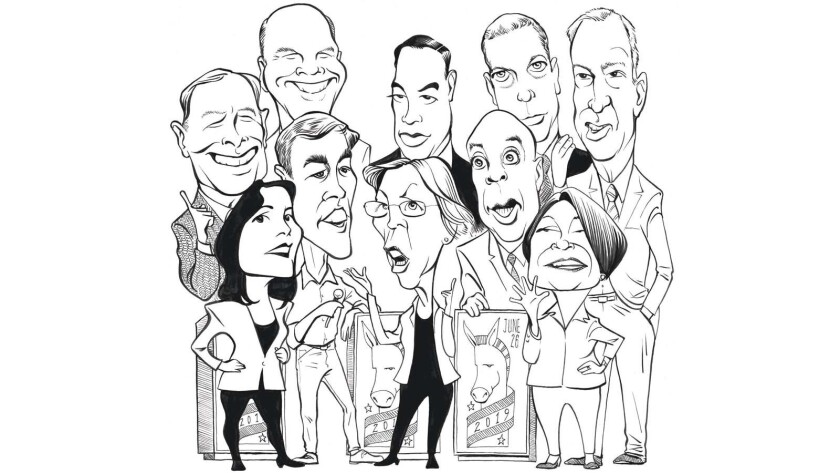 Television Critic
Two nights. Twenty contenders. Dozens of promises. One election that's still 17 months away.
Viewers, steel yourselves for the return of "The Campaign," with its ever-expanding roster of candidates, awkward meme-producing moments and more debates than can be explained by voodoo economics, fuzzy math, binders full of women or baskets of deplorables. With our handy guide to the candidates (and one non-participant), you'll be all caught up before next week's season premiere.
The returning hits: Joe Biden and Bernie Sanders | The one to watch: Elizabeth Warren | The freshman sensation: Pete Buttigieg | The sleeper: Kamala Harris | The midseason slump: Beto O'Rourke | The failure to launch: Cory Booker | The wild card: Andrew Yang | Fantasy island: Stacey Abrams
Yes, television's longest-running reality competition commences this week when NBC News, MSNBC and Telemundo host the first round of Democratic debates from Miami. And if this run-up to the primaries is anything like the last one, we'll have at least 10 more of these media-sponsored spectacles — "Naked and Afraid" for the clothed and ambitious — before the party chooses its nominee for president.
The fun begins Wednesday and Thursday, as a record number of White House hopefuls, including an unprecedented number of women, try to convince the blue base that they're the party's best hope in restoring sanity to a Washington Gone Wild.
Former Vice President Joe Biden enters the fray with the characteristically wordy promise: "Make America America Again." Sen. Elizabeth Warren's fist-in-the-air slogan is, like her, more direct: "Persist!" There's no catchphrase more indelible than the image of Sen. Bernie Sanders arguing the merits of democratic socialism, hair a mess, tie askew. His campaign sticker: "Bernie."
Whatever the slogan, the 20 of 23 announced candidates who qualified for the first bout were split into two groups of 10, and they'll debate one another for two hours, in two separate face-offs, over two nights at the Adrienne Arsht Center for the Performing Arts. Wednesday's contestants include Warren, Sen. Cory Booker, former Rep. Beto O'Rourke, Sen. Amy Klobuchar, former Rep. John Delaney, Rep. Tulsi Gabbard, former HUD Secretary Julián Castro, New York City Mayor Bill de Blasio, Rep. Tim Ryan and Washington state Gov. Jay Inslee.
Thursday's challengers are Biden, Sanders, Sen. Kamala Harris, South Bend, Ind., Mayor Pete Buttigieg, Sen. Michael Bennet, author Marianne Williamson, Rep. Eric Swalwell, Sen. Kirsten Gillibrand, entrepreneur Andrew Yang and former Colorado Gov. John Hickenlooper.
And if a busload's worth of folks from the same party arguing opposing views on a national stage isn't enough to fragment the base, there are several other aspirants with their hat in the ring -- Montana Gov. Steve Bullock; Miramar, Fla., Mayor Wayne Messam; and Rep. Seth Moulton — who didn't meet the Democratic National Committee's threshold to join the debate.
RELATED: Will the Democratic presidential primary debates be a boom or bust for TV news? »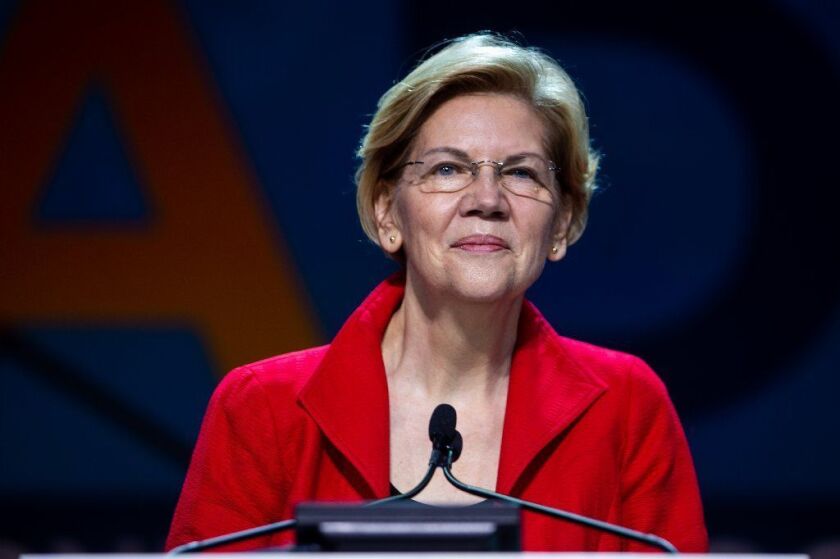 Qualifying for the debate required candidates to reach at least 1 percent in three polls or show they had at least 65,000 donors, with a minimum of 200 donors in at least 20 states.
Are you bored yet? How about overwhelmed? While you're deciding between the two, here's some more mind-numbing minutia.
The Democratic National Committee took the names of those who qualified and divided them into two buckets: candidates with polling averages of at least 2 percent and everyone else. Then came the random drawing. Officials determined the makeup of each night's group by plucking names from said buckets as if it were game night at the senior center. It's unclear if anyone actually yelled "Bingo!" when the results were announced.
The madness makes perfect sense, though, when you consider that the last cycle's early Republican debates were referred to as a cattle call, a circus and a hot mess due to the record number of contenders — and back then there were "only" 17. At the first meeting, the top 10 polling candidates took prime-time spot, while seven others met earlier for what was called the "happy hour" forum.
Not all seemed happy they had a few scant minutes apiece to unpack their complex policy plans, especially since the cameras were aimed at the one guy who used his time coming up with childish nicknames for his opponents: Lyin' Ted and Low-Energy Jeb. At least late-night hosts were amused.
The media are still fixated on Trump, albeit for entirely different reasons. The threat of impeachment, the repercussions from multiple obstructions of justice cited in the Mueller report and this week's red-herring act — Iran! Send troops to the Middle East! Deport thousands more immigrants! Lazy Joe! — are ratings catnip. And that's a problem for the upcoming debates.
Klobuchar and Inslee's arguments for better prescription drug coverage or stronger climate change legislation are unlikely to inspire the same sort of adrenaline rush. Where's that addictive knee-jerk nationalism, outrage and disgust that news outlets and audiences now expect?
Today's tabloid presidency aside, 2019's early round of debate candidates face an even bigger challenge heading into Wednesday and Thursday's live broadcasts: Shooting a hole in one another's theories without sinking the entire Democratic ship is a delicate operation.
If they cause too much damage to their competitors' reputations, they may end up handing the election to the enemy — meaning Trump, not the lefty senator at the podium next door). Do they all pile on Biden, the Democrats' surest path to the Oval Office, according to today's polls, or tread lightly? Then there's the question of who's pro impeachment and who's con. And for Pete's sake, don't forget to smile, because we've heard Buttigieg is the potential spoiler here and guys like Yang need all the help they can get.
The pressure ahead of such a critical election is palpable, and there's already been grumbling about the running order of the debate. The main criticism is that the lineup is lopsided: Thursday has more star power, featuring four of the five highest-polling candidates, while Wednesday now appears to be Warren's to win.
Where each candidate will stand during the debates was determined by polling, according to NBC. Warren and O'Rourke were awarded center stage Wednesday night. Biden and Sanders are the focal point on Thursday. Hickenlooper and Delaney will need flares or confetti cannons to be noticed.
A colleague here at the Times suggested a "Hollywood Squares" setup might be the fairest way for all those running to get their time. But with just nine boxes, someone would have to be cut or seated off camera at the "Kids Say the Darndest Things" table. It's a recipe for resentment. There were likely arguments on the old "Squares" set too over who earned the right to occupy the center box. Paul Lynde or Charo? Vincent Price, hands down.
The overcrowding has resulted in a logistical nightmare not dissimilar to what we're seeing across our own city, minus the rats and empty promises by local leadership.
So why are there more presidential candidates now than ever before on both sides of the aisle? The theory is that neither party is as unified as it once was. (In the Democratic race alone you've got moderates, liberals, progressives, democratic socialists and whatever Williamson stands for.) Today's small-fry entrants can reach millions of potential supporters directly via social media, and fundraising no longer means pandering just to big money: Click on any campaign website and you'll see "Donate" buttons starting as low as $5. When the price of admission is equal to a mediocre coffee-ish drink at Starbucks, everyone can afford to become invested in politics.
We buy in because the debates are a chance to see how our horse performs. Do they stumble or streak into the 2020 Democratic primaries? The key is pacing, because it's a marathon, not a sprint.
And then the presidential debates begin…
Season Preview: "The Campaign"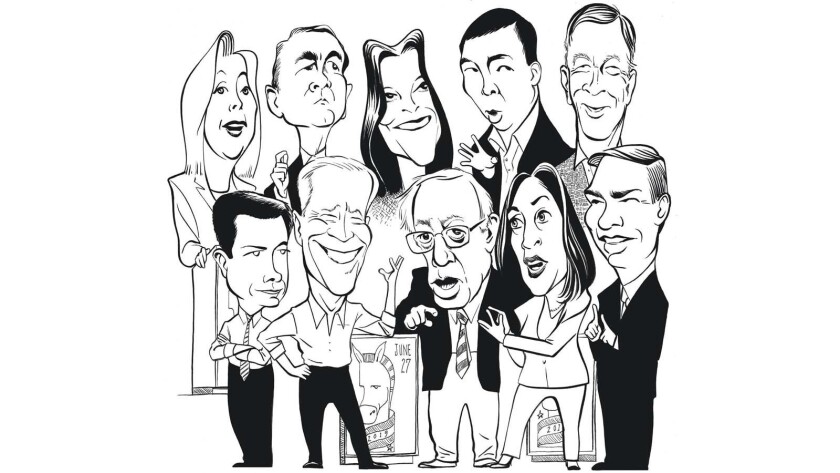 The stars! The feuds! The can't-miss moments! If there's anything that the 2016 election cycle taught us, from the campaign announcement videos to the eventual winner, politics truly is, among other things, a form of pop entertainment. Now, on the eve of the first primary debates of the 2020 cycle — the long-awaited Season 2, if you will — we break down the sprawling cast of characters who'll be part of your regularly scheduled programming for months to come.
The returning hits: Joe Biden and Bernie Sanders | The one to watch: Elizabeth Warren | The freshman sensation: Pete Buttigieg | The sleeper: Kamala Harris | The midseason slump: Beto O'Rourke | The failure to launch: Cory Booker | The wild card: Andrew Yang | Fantasy island: Stacey Abrams
Joe Biden
Like a long-running broadcast TV series, the former vice president leads the pack with a loyal fan base, industry cachet and more deep-pocketed sponsors than "The West Wing" at its peak. Early polls show he's the party's best shot at beating Donald Trump, but since polls were about as accurate as a divining rod in that last presidential election, it's best to look at what the man brings to the table. The former senator from Delaware has been called everything from a working-class hero to a one-man gaffe machine. He loves to talk, swings low when necessary and is known for unleashing zingers on the fly. In a 2008 Democratic primary debate, he said this of GOP contender Rudy Giuliani: "There are only three things he mentions in a sentence: A noun and a verb and 9/11. I mean, there's nothing else." And when he faced Paul Ryan in the 2012 VP debate, he made his Republican opponent nervous enough to sip a Sparklett's-tank worth of water. (Social media was flooded with ocean, river and Depends diaper memes.) Biden, whose new campaign slogan is "Our Best Days Lie Ahead," is the one Democratic hopeful who's truly rattled Trump's cage. He's said that the president would pose an existential threat to "the character of this nation" if voted in again. Trump, 73, called Biden, 76, a "loser." We'll see about that next season, if Biden is renewed for 2020.
Key moment: His surprise endorsement of same-sex marriage—before President Barack Obama had come out in favor of it—on "Meet the Press" in 2012.
Bernie Sanders
Sanders was the sleeper success story of 2016. He returns to the debate stage this month with less momentum and a few more dings, but he still has plenty of that Season 1 mojo in the back pocket of his rumpled, off-brand trousers. At 77, the Vermont senator will be the oldest of the 20 candidates in Miami, but he comes with a young, energized fan base who worship The Bern. Call him the Golden Girl of primary season, or perhaps the Bea Arthur of reform politics. The self-proclaimed democratic socialist is running on the same message — economic, racial, social and environmental justice for all! — with the same intensity and the same I-slept-in-my-car hairstyle. Comb or no comb, Sanders is still the most persuasive speaker in the lineup, and he's also the most interactive. Like "Black Mirror: Bandersnatch," he's asking his followers to get involved in the story, a narrative that he hopes will end with Trump's dethroning. His mission statement: "No one candidate, not even the greatest candidate you could imagine, is capable of taking on Donald Trump and the billionaire class alone. There is only one way we win — and that is together." His slogan: "Not Me. Us!" Sanders isn't likely to be canceled anytime soon.
Key moment: Telling opponent Hillary Clinton that "the American people are sick and tired of hearing about your damn emails" in a Democratic primary debate on October 13, 2015.
Elizabeth Warren
Jessica Jones. Supergirl. Black Canary. TV audiences can't get enough of female superheroes, and who better from 2019's team of avengers to put on the cape than Elizabeth Warren? She's fierce, helped stop predatory lenders in their tracks with a weapon called the Consumer Financial Protection Bureau, and she talks about affordable child care and fair wages with enough intensity to light a city. The senator from Massachusetts rose to third in the pre-debate polling average — she's even led Sanders in at least one national poll — and could leap to the front of the pack if she continues to focus on the widening gap between the nation's haves and have-nots. Warren, 69, has argued for financial regulation and creating a wealth tax on assets over $50 million, which has not endeared her to the 1%. Then again, superheroes are at their best when pulling for the underdog: "The way I see it, no one in this country should work full time and still live in poverty — period," Warren writes in her book, "This Fight Is Our Fight: The Battle to Save America's Middle Class." Warren is now a force in the race, and as the top contender of Night One, the debate is hers to win — or lose. Stay tuned to see if this formerly mild-mannered Harvard Law professor can transform into a caped crusader on stage, and save the nation from that ubiquitous villain, Corporate Greed.
Key moment: Her first of numerous appearances on "The Daily Show with Jon Stewart" in the aftermath of the financial crisis, April 2009.
Pete Buttigieg
His name is harder to pronounce than Season 2 of "Westworld" was to watch, but if Barack Hussein Obama can win the White House, so can Pete Buttigieg. Pronounced "boot-edge-edge" (or maybe it's "buddha-judge"?), the 37-year-old mayor of South Bend, Ind., has risen from relative nobody to viral sensation in the space of a few months. Charismatic, sharp and willing to do more speaking events than seem humanly possible, he and his campaign team have taken cues from Obama and leveraged social media for all it's worth. His hour-long town hall appearance during SXSW in Austin, Texas, hosted by CNN's Jake Tapper, was one such opportunity. His campaign sponsored 100 "watch parties" around the country, and when Tapper asked the mayor if Vice President Mike Pence would be a better president than Donald Trump, Buttigieg, who's openly gay, feigned a look of shock at the idea of the conservative Christian, an opponent of same-sex marriage, running the country. "How could he allow himself to become the cheerleader of the porn star presidency? Is it that he stopped believing in Scripture when he started believing in Donald Trump?" And a new Buttigieg meme was born. Criticisms are that the whip-smart mayor is all polish and no policy, an accusation that's sure to be tested Thursday when he faces off with big guns Biden, Sanders and Kamala Harris.
Key moment: His town hall appearance with CNN's Jake Tapper on March 10, 2019, after which his campaign raised more than $600,000 from 22,000 donors in 24 hours.
Kamala Harris
Like "Game of Thrones" way back in Season 1, California Sen. Kamala Harris is a game-changing phenom in the waiting. She comes off resolute and fierce like Daenerys Targaryen before the homicidal meltdown, and her new campaign slogan — "For the People" — would look fabulous stapled to the underbelly of a dragon. But she's also brilliant, measured and strategic like Tyrion Lannister, without the wine swilling and brothels. Harris, 54, has shattered ceilings as the second African American woman in history to be elected to the U.S. Senate, and the first to serve as attorney general of California. She's now running as a "lifelong public safety and civil rights leader," according to her campaign website. And "the People" like her: She inspired a Bernie-like swell of enthusiasm following the announcement of her candidacy, tying his record for the most money raised in the 24-hour period following a Democratic candidacy announcement. Just when her dragons will hatch and soar is still unclear, but this week's debates could be Harris' breakthrough episode.
Key moment: Her tough questioning of Attorney General William Barr during his Senate testimony about Barr's handling of the Mueller report, May 1, 2019.
Beto O'Rourke
"Countertops, Tables and Chairs I've Known" should be the name of Beto O'Rourke's daytime talk show if this politics thing doesn't work out. The former Texas representative has jumped onto all of the above, first during his meteoric rise to fame in the 2018 midterms and now as a presidential hopeful. Though at 6 feet 4 he hardly needed the height advantage, newcomer O'Rourke made an impression with the Democratic base when he ran a tight Senate race again incumbent Republican Ted Cruz. Voilà! Beto became the party's greatest hope for ousting Trump in 2020. But something happened on the way to the primaries: As more candidates entered the race, challenging O'Rourke's status as media darling, the 46-year-old's sheen began to fade. The debates are his chance to make a comeback — or become a has-been who never was. If this is O'Rourke's swan song and there's an empty chair left in his wake, at least Clint Eastwood will have something to chat with at the 2020 Republican National Convention.
Key moment: His wave of campaign appearances atop diner counters, bars, tables and even a minivan.
Cory Booker
On paper, it seemed like a good idea. They have everything it takes to capture the attention of the American electorate — experience, policy cred and ample time chatting on camera with the talking heads of MSNBC and CNN. But like "Gilligan's Island" spinoffs "The New Adventures of Gilligan" and "Gilligan's Planet," they can't seem to capture the magic of the real McCoy — and they're at risk of being canceled because of it. Former HUD secretary Julián Castro of Texas, Sen. Cory Booker of New Jersey, Sen. Amy Klobuchar of Minnesota, New York City Mayor Bill de Blasio, Gov. Jay Inslee of Washington and Sen. Kirsten Gillibrand of New York have all been sitting on cold launch pads for weeks or months, just waiting for ignition, or a moment, or something! Perhaps the debates are the pile of kindling they need to create a spark and achieve liftoff. Otherwise, they'll be lost in space à la Jeb Bush, Scott Walker and the rest of the crew squeezed off the GOP ship by The Donald four years ago.
Key moment: Booker's self-described "'I am Spartacus' moment" during then-Supreme Court nominee Brett Kavanaugh's hearing before the Senate Judiciary Committee.
Andrew Yang
Their chances of being the Democratic Party's choice for president in 2020 are about as likely as "Altered Carbon" winning an Emmy for best comedy series, but as we've learned, it's foolish to underestimate the fringe, the dreamers or the least qualified candidates. This year's weird-but-anything's-possible contenders include entrepreneur Andrew Yang, who's 76 reform policies include reimagining defunct shopping spaces in "The American Mall Act"; writer Marianne Williamson, author of books such as "A Course in Weight Loss" and "Enchanted Love" and Rep. Tulsi Gabbard, U.S. representative for Hawaii's 2nd congressional district. The most folks know about her is that she opposed unseating Syrian President Bashar Assad by force ... and she resides in paradise. All three of them rank below 1% in the pre-debate polls, which means we may soon have our first Mall President.
Key moment: Long shot Yang throwing his hat in the ring to begin with.
Stacey Abrams
The fantasy is that Stacey Abrams will throw her hat in the ring at the last minute. The former minority leader of the Georgia House of Representatives was the left's other rock star of 2018, emerging on the national stage with as passionate a following as Beto O'Rourke. The Democratic candidate for Georgia governor was beaten by Brian Kemp, but she won the hearts of the base — first by refusing to concede to Kemp, citing the "gross mismanagement" of the election, and then by delivering a rousing rebuttal to the State of the Union earlier this year. But anyone familiar with "Fantasy Island" knows that this Shangri-La is also filled with B-list stars cast in no-win narratives. Say a prayer for Rep. Tim Ryan of Ohio, former Rep. John Delaney of Maryland, Rep. Eric Swalwell of California, Sen. Michael Bennet of Colorado and Gov. John Hickenlooper of Colorado. They'll all get their time (or at least some time) Wednesday and Thursday, but it'll take nothing short of a miracle — or the resurrection of Mr. Roarke (Ricardo Montalbán) — to make their wishes come true.
Key moment: Abrams' response to the 2019 State of the Union.
'2020 Democratic Candidates Debate'
Where: NBC, MSNBC and Telemundo
When: 6 p.m. Wednesday and Thursday (Repeating at 10 p.m. both nights on MSNBC and at 8 p.m. on Telemundo)
---
Inside the business of entertainment
The Wide Shot brings you news, analysis and insights on everything from streaming wars to production — and what it all means for the future.
You may occasionally receive promotional content from the Los Angeles Times.