It hooked readers and podcast listeners — but can 'Dirty John' seduce TV viewers?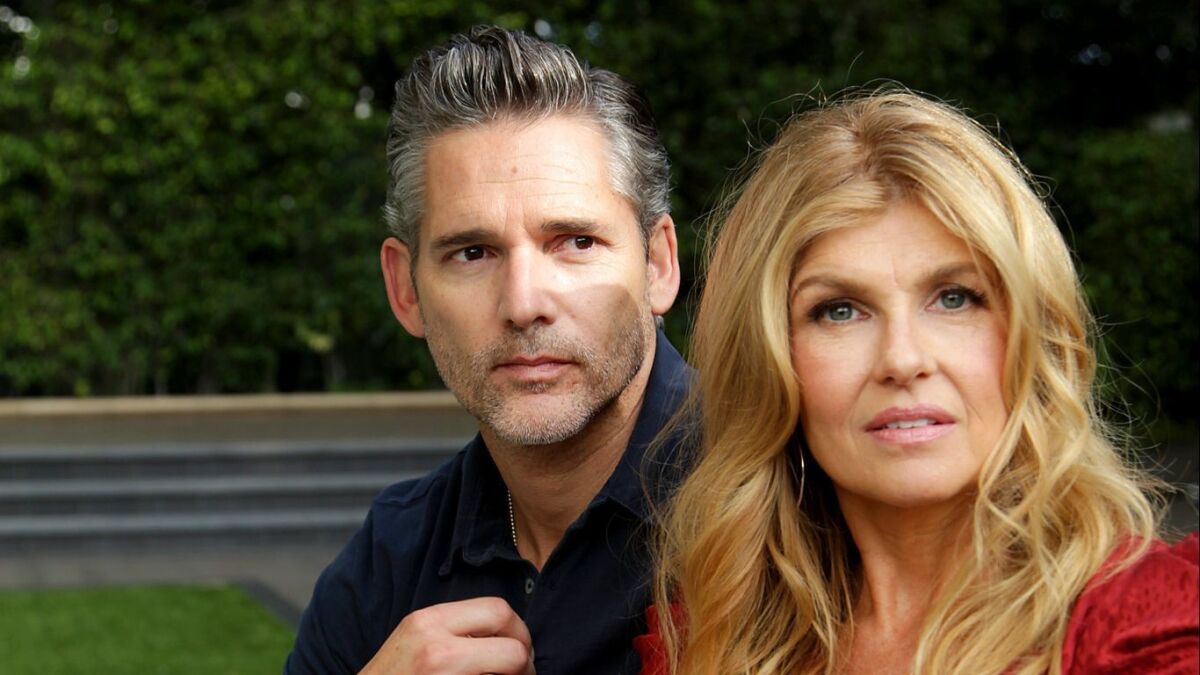 When asked to describe how she felt when she learned that Bravo was interested in adapting "Dirty John" into a scripted series, Debra Newell delicately offers just one word:
"Nervous."
Christopher Goffard's popular print series and podcast, published simultaneously by the Los Angeles Times last October, presented a dating horror story curled up in a true crime serial. Set in Orange County, the saga chronicled the real-life whirlwind romance between Newell, a wealthy interior design businesswoman, and John Meehan, an initially charming man whose mastery at manipulation and deception turned catastrophic.
The podcast was particularly successful — 30 million downloads since its launch — but for Newell the response was mixed. Many listeners and readers harshly questioned her choices. The attention, she says, "somewhat" hurt her company, Ambrosia Interior Design, and she eventually closed it.
"It created problems here because I had such a squeaky clean reputation," Newell says. "Some of them didn't want to be associated with murder." She now has a store just outside Las Vegas.
So, yes, the thought of another round of attention and, possibly, judgment, is unsettling to Newell. But she likes what she's seen of the Bravo series, which, at the time of this conversation, was the first episode.
The drama, which premieres Sunday, is a little out of Bravo's comfort zone as well, intentionally so. Starring Connie Britton and Eric Bana as Newell and Meehan, the eight-episode first season will follow the pair's fast-moving courtship, which began on a dating website, and tracks the increasingly disturbing twists and turns; compared with "Dirty John," MTV's real-life romance scam series "Catfish" feels like child's play.
Newell, a single mother after four marriages and divorces, was swept off her feet by Meehan when they met in October 2014. Before long, they were married — much to the dismay of Debra's daughters. Meehan's troubled past and run-ins with the law eventually came to light and, well, if you don't know what happened next, Google at your own discretion.
Dirty John | Part 1: The real thing »
Adapted by Alexandra Cunningham ("Chance," "Aquarius") for Universal Cable Productions in association with Atlas Entertainment and Los Angeles Times Studios (Goffard also served as a writer and producer), the series is an obvious attempt to put Bravo in the prestige drama game.
Mostly known as an addictive reality TV factory with offerings like "Vanderpump Rules" and the "Real Housewives" franchise, the NBCUniversal-owned network has been looking for a brand-changer for several years. But how do you make a story that, though true, plays like a classic Lifetime movie and make it feel grounded in reality on a network well known for outrageous reality TV?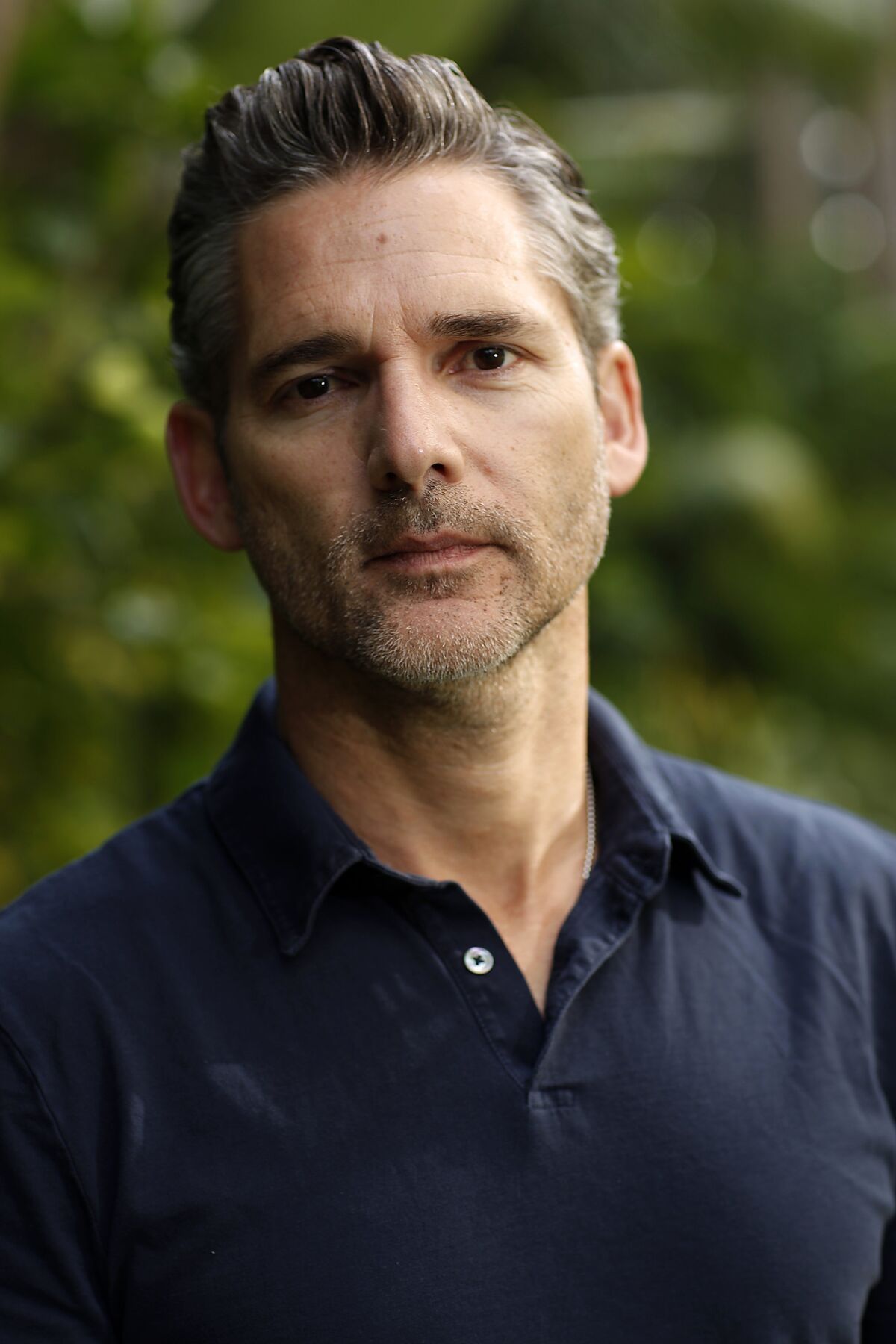 Leaning into the original brand helps. The premiere episode will follow the first installment of this season's "Real Housewives of Orange County" reunion, a fitting lead-in for Bravo die-hards who had already recognized similarities in Newell's story to a recent story line involving one of the housewives of that city — a topic that is discussed in Sunday's reunion. (Newell, for the record, is a fan of the show.)
And casting Connie Britton and Eric Bana doesn't hurt.
On the Agoura Hills set one morning in early October, Britton masters an expression of shock during a scene in which Newell and Meehan arrive at their Newport home and find a transient woman inside.
First introduced to The Times project while browsing LongReads.com in an attempt to delay having to rewrite a TV script, Cunningham recalls being drawn in by the image of a selfie taken by a shirtless Meehan that was embedded in the first installment.
"It's so iconographic for this show — middle-aged people taking selfies of their abs and butts," Cunningham says, noting there is a poster-size rendering of that selfie in her office, courtesy of the art department. "I clicked on the story immediately because it was such clickbait for me, as a true-crime fan. Then I realized it was a series. So I just kept clicking and clicking. The whole day was gone."
When Universal Cable Productions secured the rights to produce the series, Cunningham was brought in to discuss how she might adapt it. She remembers that one of the first questions from a Times executive concerned Newell's portrayal — wanting to ensure the show would not make her look obtuse.
"And I said, 'I don't think she's stupid,'" Cunningham recalls. "That was honestly why I was there. I just feel like so many people had their judgmental knee-jerk reaction to the whole thing — trying to create this distance between themselves and Debra. That's what I felt scripted could bring to this situation. I defy anyone — anyone — who has Eric Bana looking into their eyes and telling you that you're the only one — what, you're going to say, 'Nah, I don't believe you'?"
Exploring the psychological side of the story — especially the element of coercive control — and the ways in which women have been conditioned to relate to men was something Britton too was eager to delve into. The outside perspective, particularly the tendency to blame women for abuse they face, also became a motivation to join the series.
"People had this very strident reaction toward [Debra], and I didn't have that at all," Britton says. "She was behaving this way toward this man based on all the ways she had been told to behave by the culture, by her religion, by her family, by some of the tragedies that happened in her family. She had all these ideas about herself as a woman and who she was supposed to be in a relationship with a man, that impacted how she brought John into her life and how she made choices about that relationship. … I found that so relatable and I think it's such a relevant story right now and all the conversations that are happening."
Bana's challenge was being the perpetrator: "I was trying to get my head around the dynamic of how those [psychologically abusive] relationships work. It's never like we think."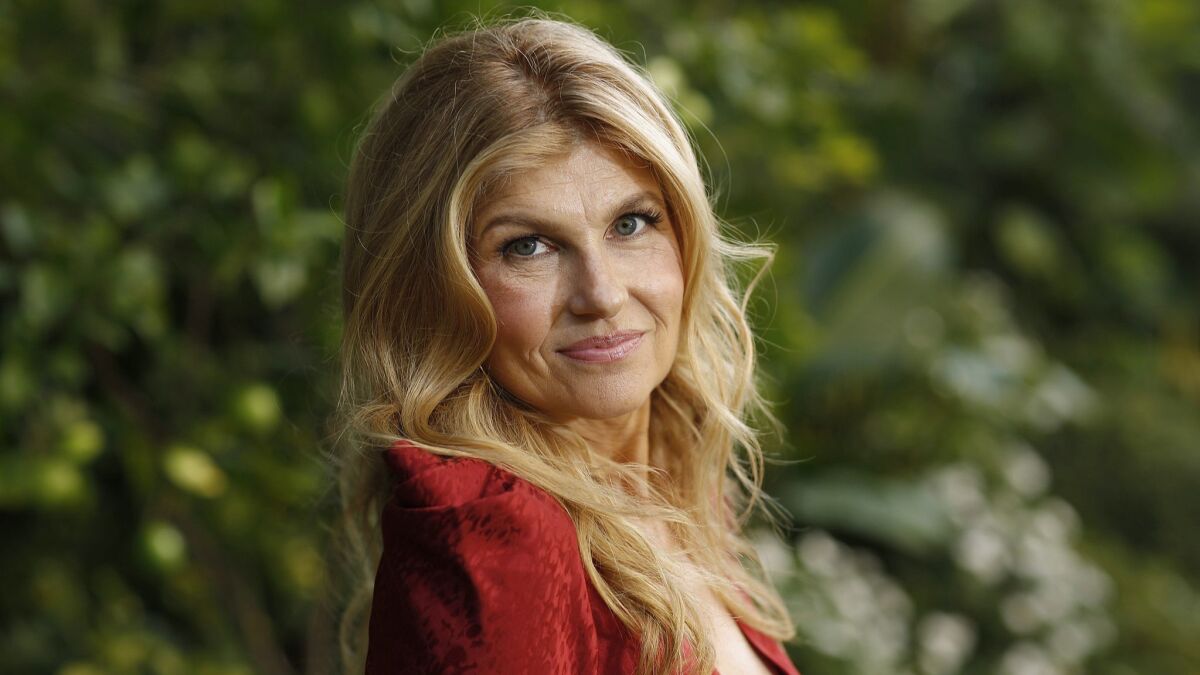 She had all these ideas about herself as a woman and who she was supposed to be in a relationship with a man that impacted how she brought John into her life.
— Connie Britton, who stars as Debra Newell in Bravo's "Dirty John"
"Dirty John" is just one of a number of podcasts being translated for the small screen — "Homecoming," "Dr.Death," "Alice Isn't Dead" — as Hollywood turns over every rock, and earbud, to feed the beast of Peak TV.
"There was something about the mood that ['Dirty John'] set," said Bill McGoldrick, president of scripted content at NBCUniversal Cable Entertainment. "It was the haunting introduction, the facts of the case, and the mood that it set that made me think it was something we had to get in some form."
But a hit for the ears doesn't necessarily translate to a visual story. For Cunningham, the main goal was to have viewers feel like they were inside the whirlwind of love, not listening to someone tell them about it.
"When it's investigative journalism, it's rolling out this amazing story with twists and turns, but you're not in it," Cunningham says. "The actors give you permission to put yourself in it with them in a way that I don't necessarily think the podcast does."
Character bonding is a crucial component in TV storytelling — most viewers seek ways to connect or sympathize with characters they return to hour after hour. So presenting three-dimensonal characters was paramount.
Cunningham had access to Goffard's reporting, including developments and anecdotes from people who came forward after the project had been released. She charted a timeline in the writers room, going back to before John and Debra met. It became a game of trying to figure out how much to mirror the podcast and how much to shape it into its own narrative: "The funny thing is, I don't know if [the audience] wants it to be different, you know?" Cunningham says.
(Early reaction seems to indicate that critics, though appreciating the efforts of Britton and, to a lesser extent, Bana, would have preferred more difference; the first three episodes have been dinged for sticking too close to the original narrative.)
When it's investigative journalism, it's rolling out this amazing story with twists and turns, but you're not in it.
— Alexandra Cunningham, showrunner of Bravo's "Dirty John"
Indeed most of the characters, and their quirks, made the jump to the series: Newell's zombie-show-loving daughter Terra (Julia Turner) and forgiving mother Arlane Hart (Jean Smart). There are some exceptions — Newell's daughter Jacquelyn is named Veronica (Juno Temple) in the series and her eldest daughter, Nicole, has become a son named Trey (Jake Abel).
Before she began shooting the series, Britton was determined to sit down with Newell. She wanted to take her to lunch at the Ivy. There the two, along with Terra, spent hours discussing everything about Newell's experience. (Debra, Jacqueline, and Terra also visited the set.)
"Connie picked my brain," Newell says. "One of her questions was, 'What do you see is the meaning of "love"?' And she wanted to know about my other marriages and what happened with John. She wanted to know about me. I was so appreciative of that."
Bana's performance, according to Newell, was a "little creepy for me. It brought back memories." Bana didn't have access to Meehan, so the actor leaned into the mystery surrounding him.
"There's probably a few different versions of John in my head," he says, on set and dressed in medical scrubs — a signature style choice for Meehan. "While he was very adept at manipulation, I also saw him as someone who actually wasn't that good at what he did. I don't think he was that polished. He was so desperate to be the bad guy — it was interesting to explore."
One thing Bana won't deny: "I literally felt dirty playing him," he said. "I've felt uncomfortable with how comfortable it's felt. I'm looking forward to shaking it."
"Dating sites are going to hate us," he added. "Sell your stocks now."
'Dirty John'
Where: Bravo
When: 10 p.m. Sunday
Rating: TV-14 (may be unsuitable for children younger than 14)
Twitter: @villarrealy
---
The complete guide to home viewing
Get Screen Gab for everything about the TV shows and streaming movies everyone's talking about.
You may occasionally receive promotional content from the Los Angeles Times.