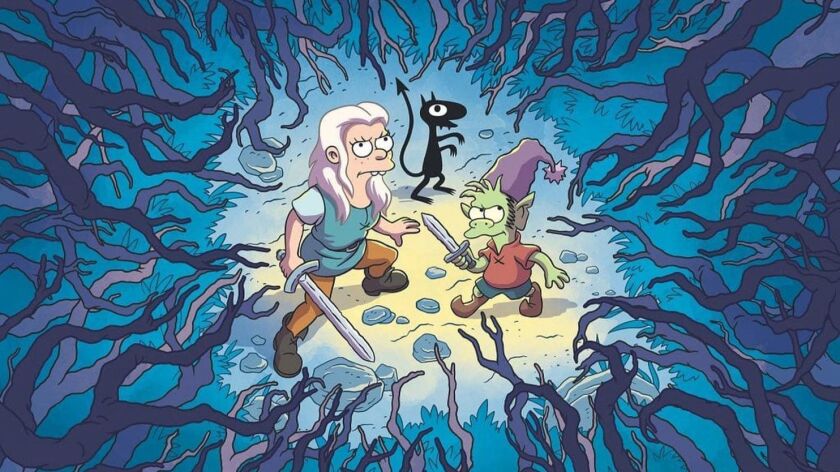 Television Critic
I sat down at a table recently — it was a round table, like the one King Arthur arranged his knights around, but in a Beverly Hills hotel, and there was lunch — to discuss a new fantasy-themed cartoon series with its creators, Matt Groening and Josh Weinstein, and two of its stars, Eric Andre and Abbi Jacobson. The series is called "Disenchantment," and it is Groening's third cartoon show, after, in reverse order, "Futurama" and a little thing called "The Simpsons," on both of which Weinstein also worked. It's his first for a streaming network, Netflix.
The new series, which plays with the tropes of fantasy fiction and fairy tales without completely mocking them, is set in a kingdom called Dreamland, where a rebellious (drinking, gambling, pants-wearing) princess nicknamed Bean (Jacobson) is about to be married off by her father, King Zog (John DiMaggio, who played Bender on "Futurama"), for the usual bad political reasons.
"I loved 'The Hobbit' and 'Lord of the Rings,'" said Groening, establishing his fantasy cred. (Full disclosure: I have known Groening since before there were Simpsons.) "And a little later Jack Vance, who wrote a series of books collected as 'Tales of the Dying Earth' that were very funny. And 'Fractured Fairy Tales' on 'The Rocky and Bullwinkle Show' and later 'Monty Python and the Holy Grail,' which still holds up as something amazing."
(On that note: Fans of British comedy will note the vocal presence of "Mighty Boosh" stars Matt Berry, Noel Fielding and Rich Fulcher.)
Headed Bean's way from different directions are an elf named Elfo (Nat Faxon), tired of the enforced cheeriness of Elfwood, and a demon named Luci (Andre), a black silhouette everyone mistakes for a cat and whose mission remains mysterious through the seven episodes I have seen. (There is a 20-episode order; the first 10 arrive Friday.) They will become the series' central trio, for whom, in a classic comedy equation, troublemaking and self-realization go hand in hand.
The show maintains the Groening look — the popped eyes, the weak chins, the overbites. Indeed, Elfo, who is rendered in a wobbly line, is more reminiscent of his own comic-strip work than of their animated descendants.
"All of the characters basically are inspired by how I drew when I was 12 years old," Groening said. "I had a character named Melvin who basically looked like Elfo and wore the little shorts. People are saying ,'Oh, it's like Bart,' but I go, 'No, like Melvin.' "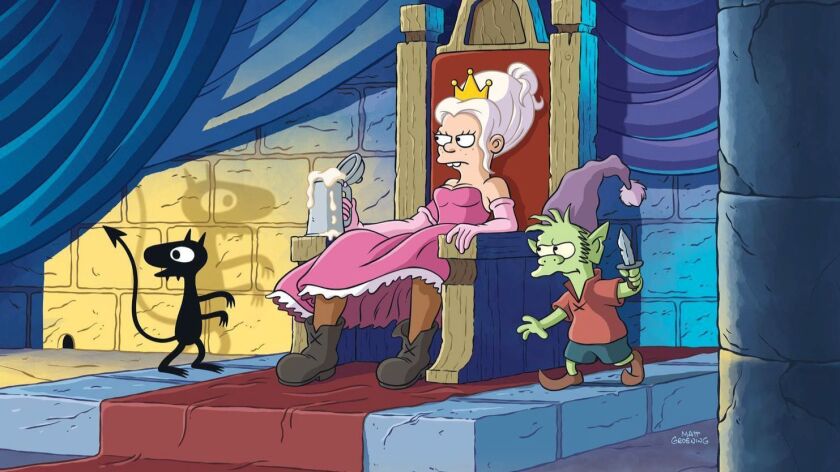 But the figures exist in a fresh environment, on backgrounds that have something of the hand-drawn sketchbook feel of 1960s and '70s Disney, rather than the hard lines and candy colors of "The Simpsons." The layouts, which often put small figures into big spaces, feel newly cinematic.
Possibly because of the more realistic milieu, they found, said Weinstein, "that when we have violence it has to be really funny or clever, otherwise it just seems crass or it's upsetting."
"It was bloodier at first," Groening added.
"We took out blood," Weinstein said.
"Well, there's some blood."
The show imports a host of "Futurama" talent — that show, says Weinstein, "felt like a family" and "Disenchantment" is the reunion they have "until 'Futurama comes back,' which I think people are secretly hoping it will." The writers room, he said, is half "old farts" and half "30 and under."
"I grew up watching 'Scooby-Doo,'" he continued, "but they grew up with 'The Simpsons' so they've evolved comedically more than we have. And they're willing to embrace emotion, where I think the older writers are likely to be, like, 'Oh, we have to undercut this.' "
Andre and Jacobson are, of course, writers in their own right, with shows of their own — Andre the host of the surrealist "The Eric Andre Show" on Adult Swim, Jacobson the Abbi of Comedy Central's "Broad City."
"We're huge fans of their work," Groening said. "My son Abe turned me on to 'The Eric Andre Show,' and it just broke my brain. I had never seen a thing on TV that interrupted itself so quickly, completely, like, left turn, right turn, over the cliff. And in a different way 'Broad City' is unbelievably fast and amazing and warm, with heart, but also full of surprises."
Both actors were reluctant to audition for "Disenchantment." "I never get anything from auditioning," said Jacobson, who didn't expect to get this either.
"I sent a voice memo out on, like, the last day," Andre said. "It's the deadline and I was, like, 'It's Matt Groening, I have to do this.' Even the callback, this is, like, how low my self-esteem is, I was, like, 'It's probably just gonna be a casting director's assistant recording me.' And I went into the studio, and I got there a little late — it was you guys, your producer, and I was, like [clears throat, deepens voice], 'Yeah, I'm ready!' "
"Part of Eric's comedy is impulsivity and you want a character that's truly impulsive. And Luci is just that," Groening said. "But then you pull back and make him a little more sensitive, 'cause although he's a demon, he's not all evil."
"He is emotionally volatile, which I love doing," Andre said. "He's an instigator and relishes in getting people in trouble and giving intentionally bad advice. It was the role I was born to play."
"One of his big secrets is that he's got a soft side," Weinstein said. "But it's also because Eric and Abbi, they're writers as well. So we'll do a couple takes as written but then say, 'Make it your own.' There's a lot of them in the characters, because a lot comes from them."
"I think that Bean and Luci and Elfo have soul," Groening said. "I attribute that partly to the simplicity of the design, but also to you guys," indicating the actors across the table. "They feel emotionally real. There's a tendency in cartoons, especially children's cartoons, to hit the ceiling of emotion over and over again. And it was fun to be able to vary the pace, to have quiet. We generally try to get the perfect performance, and it was so much fun to allow characters to stammer and stumble over their words and leave it in."
"Any performer has stuff they like to play without even realizing it," Jacobson said. "I like to play, like, an insecure side of Bean 'cause she has such bravado usually. So whenever I get to improvise I go in that direction — which I do on 'Broad City' all the time. I fumble my words, that's like my favorite thing to do."
"It was just kind of like a surreal dream job," she continued. "I feel very micro-managey about 'Broad City.' It basically, like, takes up my whole year. I'm in every little, like, 'What plate is on the table?'" On "Disenchantment," she said, "I get to play, and I totally trust it's gonna be absolutely incredible."
More so than in "The Simpsons" or even "Futurama" the point here is storytelling. (The style is "serial with detours.") Topical asides aside, any attempts to resolve the characters into agents of 21st century satire break down as they grow more and more themselves. The series is bingeable in the usual way: We want to see what happens.
"Everybody in 'The Simpsons' is locked into whoever they are," Groening said. "Homer's never going to get divorced, even if we fake in that direction. But on 'Futurama' there was a little bit of a tension romantically and also we tried to make people cry from time to time.
"And we've continued in that direction with this show. So you may think you know where it's going to go — get ready. Get out your handkerchiefs. And I say 'handkerchiefs,' plural."
'Disenchantment'
Where: Netflix
When: Any time, starting Friday
Rating: TV-14 (may be unsuitable for children under the age of 14)
Follow Robert Lloyd on Twitter @LATimesTVLloyd
---